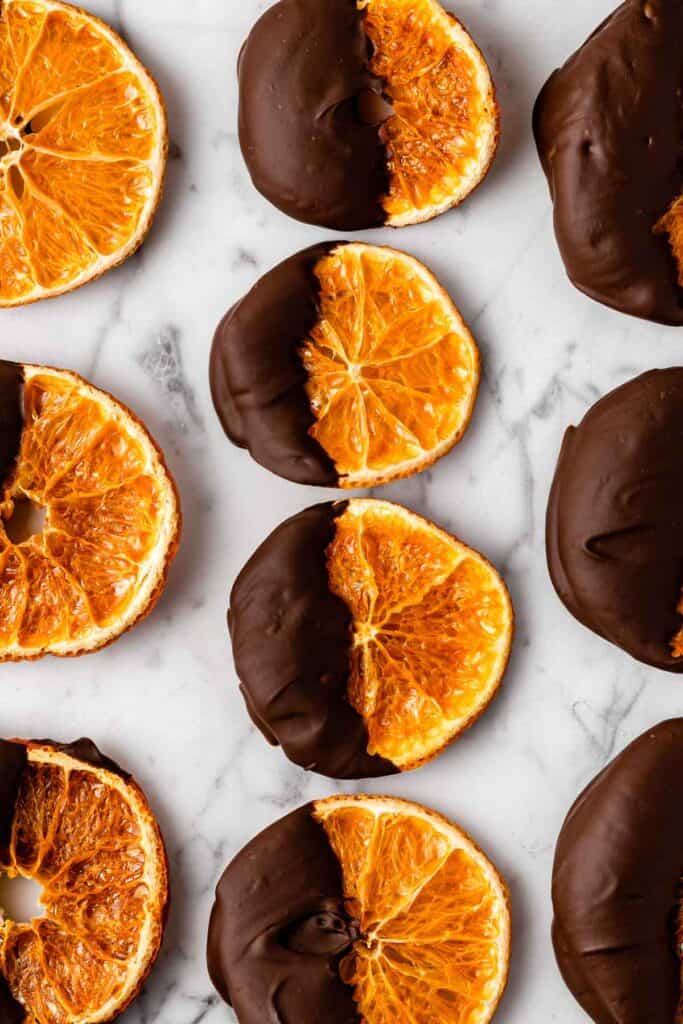 Delicious dried satsumas with three cooking options
Have you ever eaten chocolate-covered orange peels? They're often found at candy shops, which is where I discovered the winning combination of chocolate and orange as a kid. I've adored the two together ever since, and have been wanting to create my own version - and finally have!
What you'll love about this Chocolate-Dipped Dried Satsuma recipe:
They are very simple to make

Only two ingredients are required

They're full of flavor, thanks to the satsumas

They require little hands-on time

I've included three different ways to cook them so that you can use what you have

They're beautiful

It's chocolate + orange - one of the best flavor combos in the world
Great soft or crunchy
I've discovered through the trial process that these can be enjoyed whether you cook them until they're completely dehydrated and crunchy or until they're soft and chewy. The dehydrated version seems to last a little longer in the fridge. It's really up to your preference and how long you cook them. Warning: Either way, chew cautiously, especially with sensitive teeth.
Can oranges be used instead of satsumas? is there a taste difference if I use oranges or buy organic?
Absolutely! Cooking times just might be a little different, and they may not be as flavorful as satsumas. I love oranges, but satsumas are much more exciting - not just because they're small and cute and easy to peel, but because they typically have a more full bouquet of orangey flavor. Yet, whenever I have "conventional" satsumas, I'm disappointed now that I've experienced organic satsumas. I don't think I've ever had an organic satsuma I didn't like, they tend to be really bursting with flavor - so much so that I never buy conventional satsumas anymore. Organic are worth every penny.
Three cooking methods are included in the recipe: baking in the oven, air frying, and dehydrating. Below are examples of each.
DEHYDRATOR DRIED SATSUMAS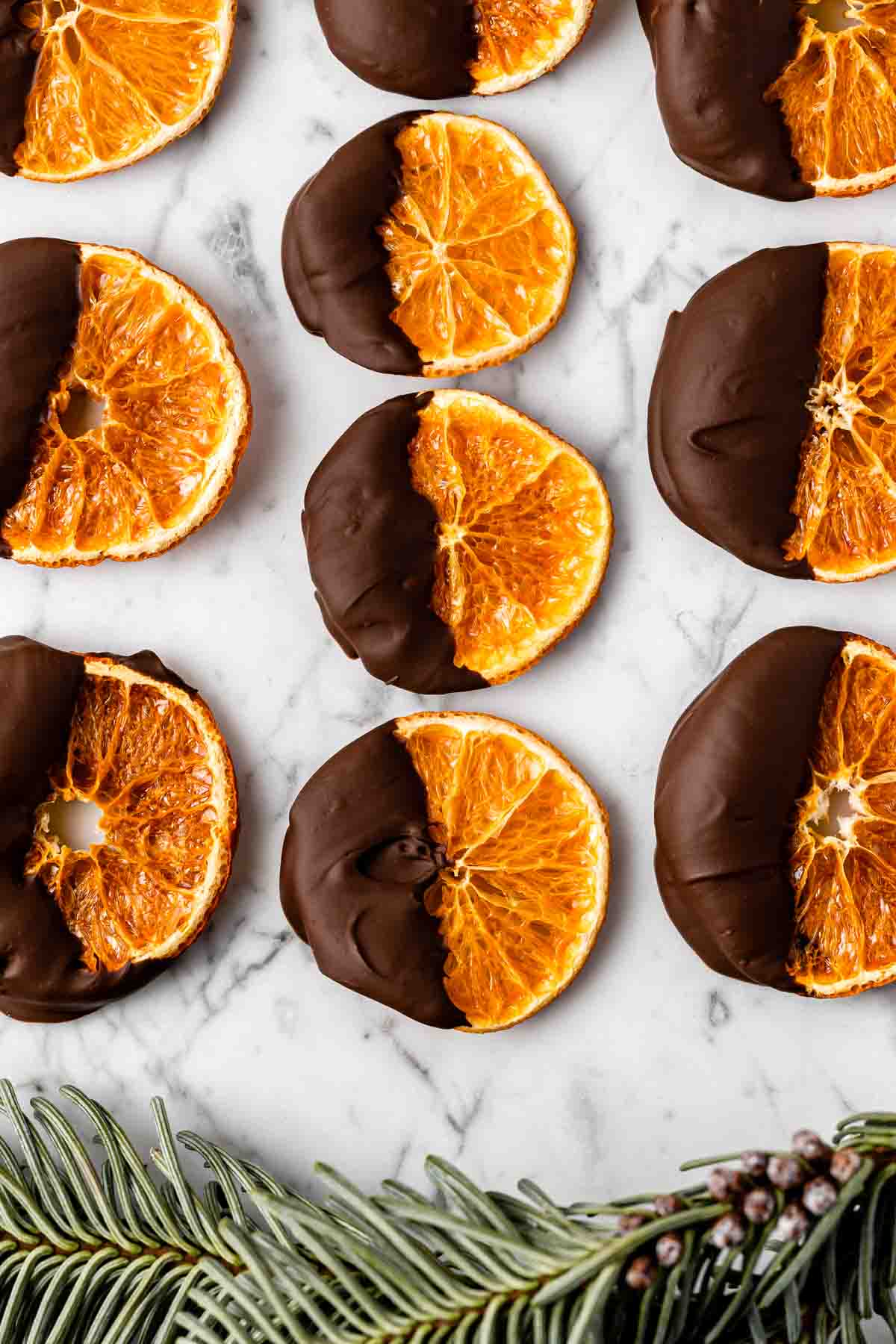 AIR FRYER DRIED SATSUMAS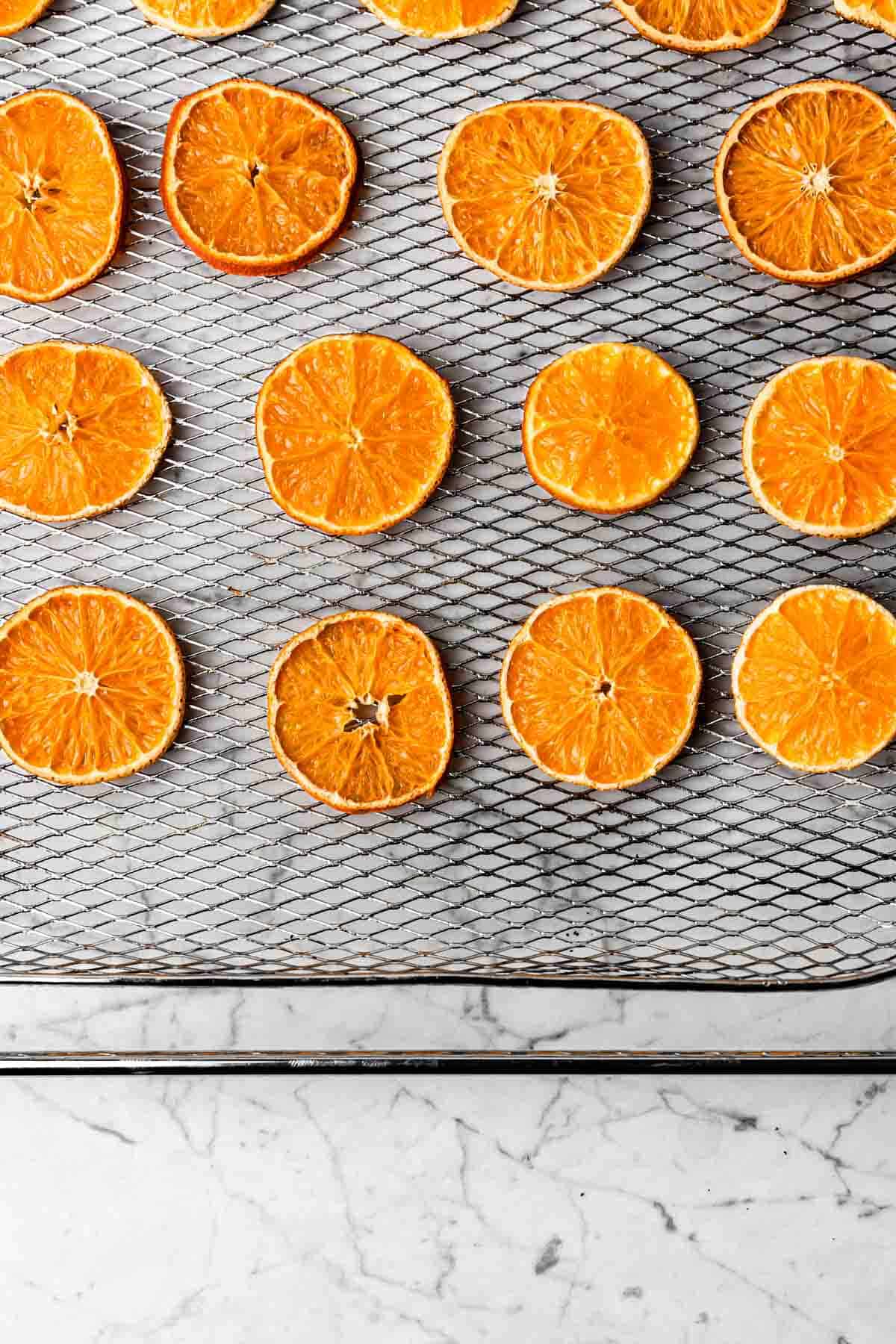 OVEN DRIED SATSUMAS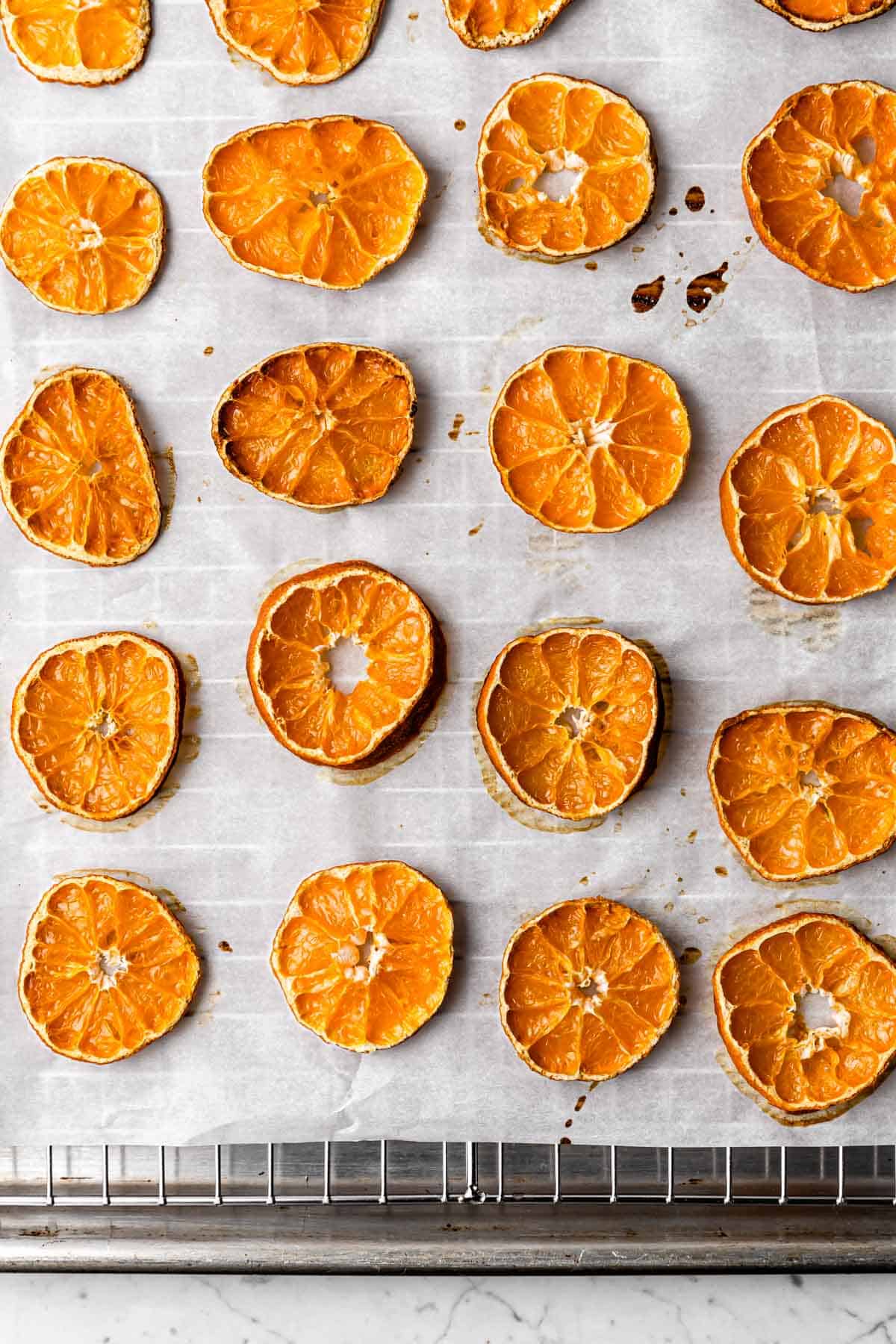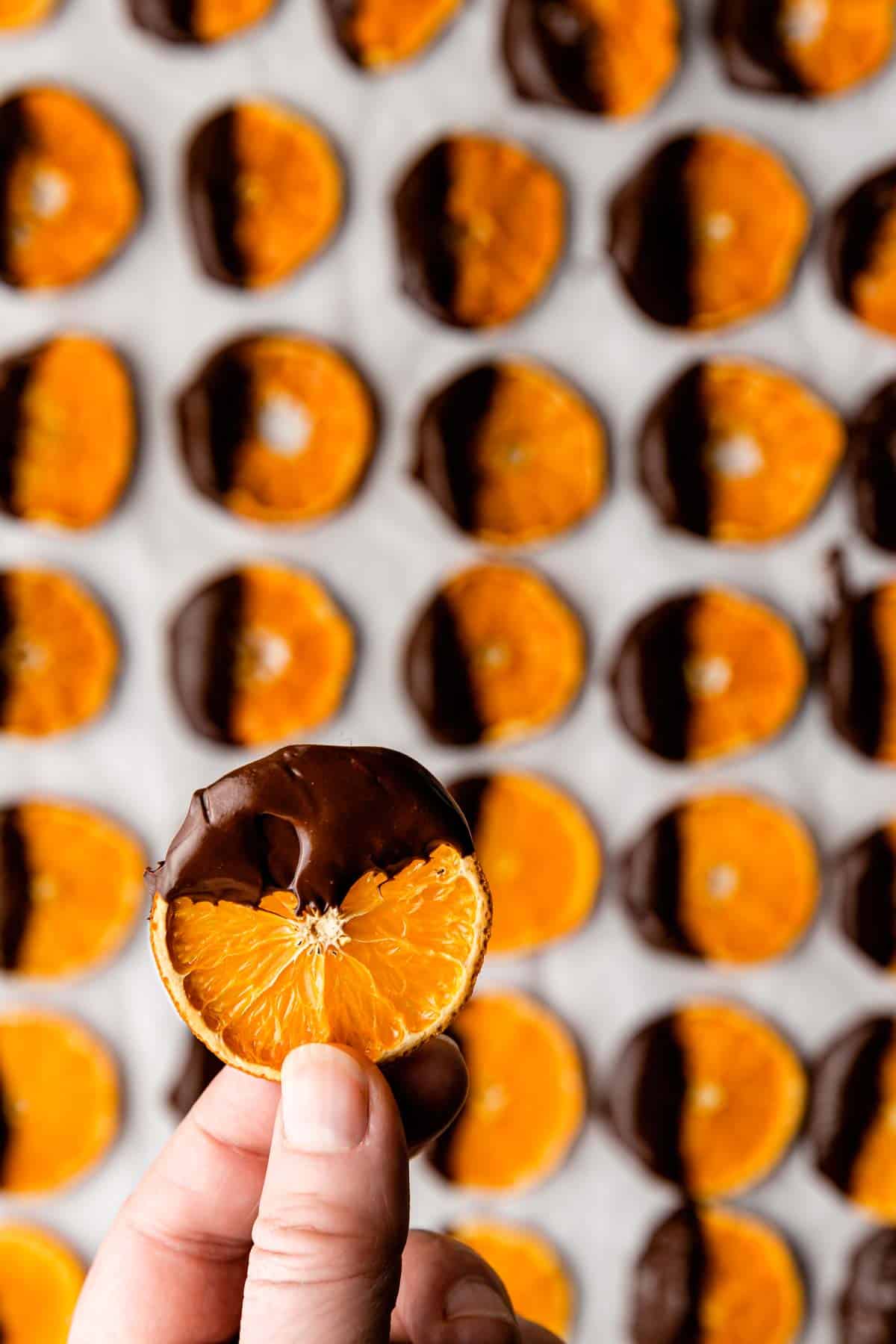 The Recipe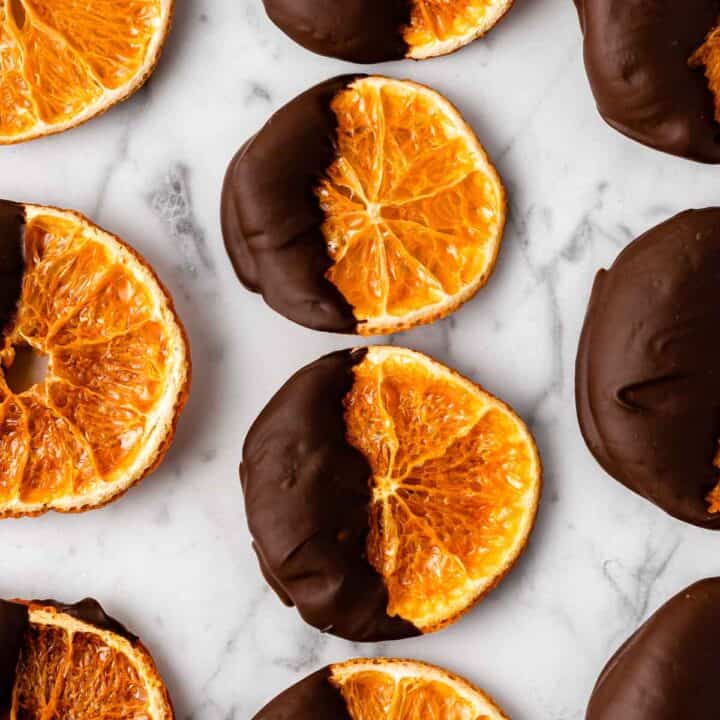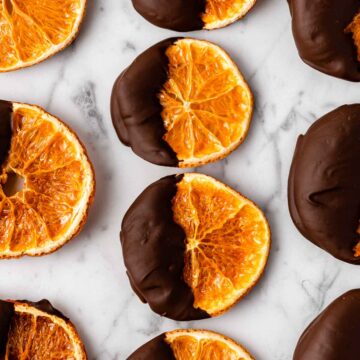 Chocolate-Dipped Dried Satsuma Orange Slices
Chocolate and orange flavor bursts from these delicious vegan dehydrated treats.
Print
Pin
Rate
Equipment
dehydrator (see Notes for oven and air fryer options)
Ingredients
6

medium

organic satsumas

thinly sliced (ideally just under ¼ inch)

1

cup

chocolate chips

dairy-free
Instructions
Once the satsumas are washed and dried, slice them thinly, ideally a little less than ¼ inch thick. Using a serrated knife helps achieve a clean, straight slice. Lay the pieces onto an appropriate parchment-lined surface for your cooking method.

Set the dehydrator to 12 hours at 160 degrees. Note: If you prefer them a little soft and on the sweeter side, cook until firm but slightly sticky in the middle. If you prefer them dry and crunchy, cook them longer until you achieve that consistency.

While the slices are cooling, pour the chocolate chips into a small double boiler. I don't have one, so I create one by placing a pan with about an inch of water onto the burner and then putting a small pot for the chocolate chips inside the pan. Heat over medium-low heat, stirring occasionally until the chips are completely melted.

Remove the pot from the heat and dip each dried satsuma slice so that about half of the slice is covered in chocolate. Twist a bit to stop any drips as you remove the slice from the chocolate and place the dipped slice back onto the parchment-lined cooking surface. Repeat with each slice, then place the dipped slices and parchment in the fridge to chill for at least 15 minutes.

Once chilled, serve or store in a sealed container in the fridge for up to week.
Notes
Note: If you don't have a dehydrator, the following can be used instead:
• oven set to 250 degrees f for 2 ½ - 3 hours.
• air fryer set to 200 degrees f for 50 minutes. 
Organic satsumas have the best flavor for this recipe; if you don't have them, organic oranges would be my second choice.
Caution: These can be a little challenging to chew for people with sensitive teeth, so chew carefully!
The conversions and nutrition information are calculated automatically and I cannot guarantee the accuracy of this data. I encourage you to confirm this information with your favorite unit conversion/nutrition calculator if you would like to be more certain.