For a colorful, crispy topping, radicchio is roasted using either an air fryer or oven.
I have long felt that radicchio is a vegetable that's way underrated. While its beauty is obvious, the flavor is wonderful when utilized well. The slightly bitter flavor requires other flavors to balance it out, which is why it's great with fruit, soft lettuce, and fennel, for example. Roasted, the radicchio becomes crispy and tender, and the tender part becomes sweet. This makes it wonderful used as a topping to finish off a dish, in a similar roll as that of crispy onions.
Why you'll love this roasted radicchio recipe:
No oil is required, yet the radicchio becomes nice and crispy

they're super easy to make, whether roasted in the air fryer or oven

they're really quick to make, with just 5 minutes of prep and 3-5 minutes of cook time (for the air fryer)

they provide a unique bittersweet flavor and nice crisp and tender texture, making them a great topping for most any fall or winter dish. Use them like you would kale chips.

they contain protein, fiber, and vitamins and minerals, including vitamins C & K, iron, copper, and zinc
The air fryer I use: Breville Smart Oven Air
The "Buy on Amazon" link below will take you there to learn more or purchase. Purchases made through the link provide a small commission to Beautiful Ingredient at no extra charge to you. Thanks for your support!
After our toaster died, we knew we wanted to replace it with a toaster oven, and after researching air fryers, this one won out because it uses stainless steel trays instead of nonstick. It also has so many functions we use regularly, like baking and dehydrating. It's a little pricey, but we've found it's well worth the money so far - we use it every day. Our conventional oven is used much less often now! This convection and air fry toaster oven cooks so much faster with crispier oil-free results, so it's now our go-to.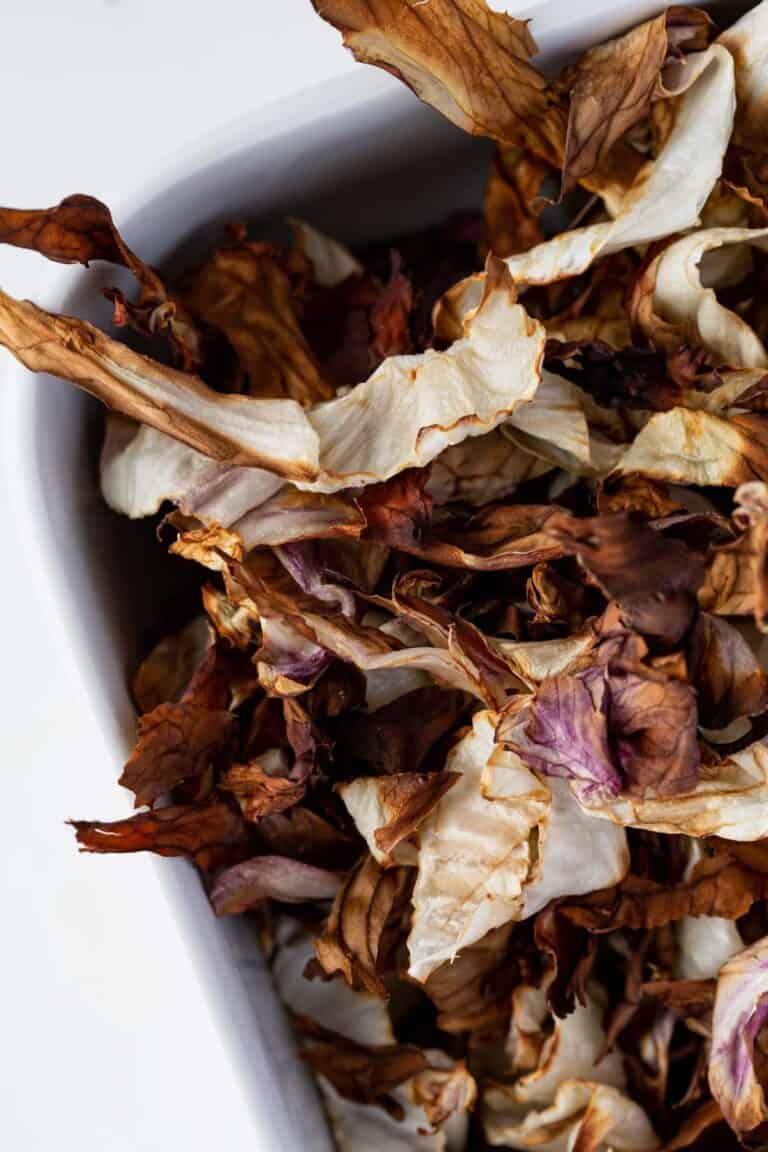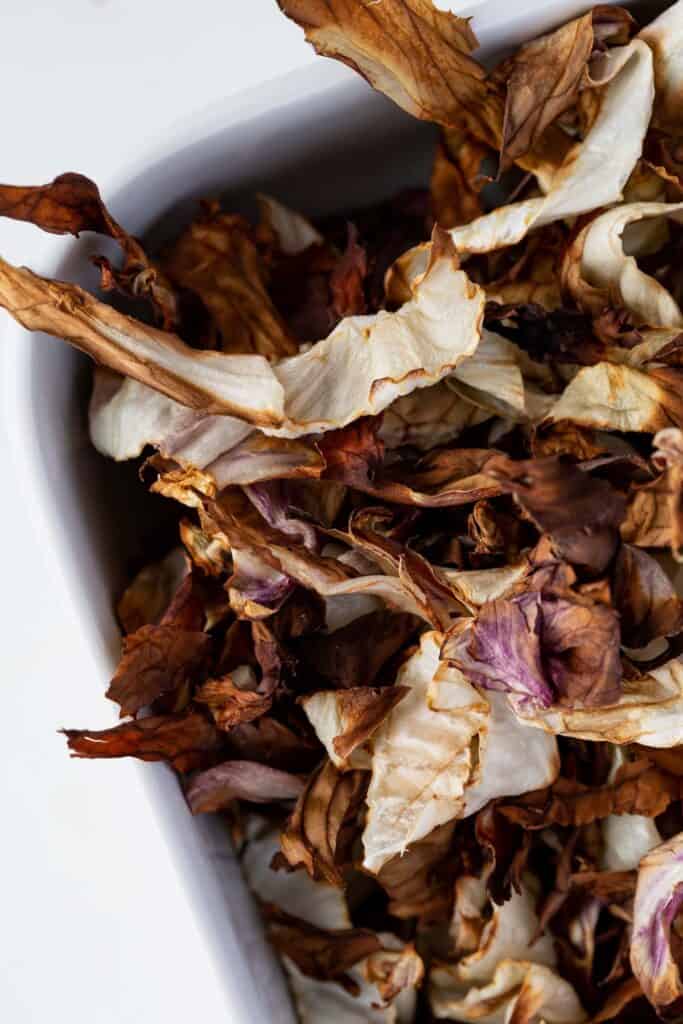 The Recipe
Crispy Roasted Radicchio, Oil Free
An easy way to add another layer of color and texture to your soups, salads, and other dishes. VEGAN • GLUTEN-FREE • OIL-FREE • REFINED SUGAR-FREE • EASY • 30 MINUTES OR LESS • SNACK • TOPPING • AIR FRY OR OVEN ROAST • AUTUMN • WINTER
Print
Pin
Rate
Equipment
air fryer

oven if no air fryer
Ingredients
1

radicchio

salt and pepper

to taste, optional
Instructions
Set the air fryer to 400 degrees (F) for 3 minutes. If using a standard oven, set it to 400 degrees F.

After washing and drying the radicchio, cut it in half, then slice each half into thin strips and place the strips on the air fryer tray in an even layer.

When the air fryer/oven is ready, put the tray in to roast. After three minutes, check if they're crispy enough - if not, add another minute or two until they are. If using a standard oven, roast for 10 minutes, then continue to add a few more minutes until the desired crispiness (though they may not be as crispy as pictured with a standard oven).

Add salt & pepper, if desired, and eat immediately as a topping or snack.
Notes
Note: The instructions are for air frying with an oven roasting option. Oven roasting will require more time and the texture may come out differently. Best eaten immediately, as they can soften in the fridge.