Colorful mini veggie sushi rolls make a fun packed lunch or snack! Vegan, gluten-free, easy, light, and satisfies a whole foods plant-based diet. A fun way to eat a variety of veggies.
It's been a challenge lately packing my teen's lunch.
A few years ago, she went through a phase where no matter what I packed her, even if we'd planned it in advance, nothing I put in her lunchbox satisfied her - to the extent that I finally offered to let her do it. She did, the rest of that year - and then was happy to have me do it again. Her tastes had changed a lot, her lunch scene changed - there had been a variety of factors that caused the problem, and fixed it. And there still are. Thankfully, we've found more ways to deal with them and we now work better as a team to figure out solutions. And she often lets me know now how much she appreciates me packing her lunch. Yes, a mother's dream. Now.
The latest challenge was about her wanting something quick & easy to eat on the go. She also wanted to eat less bread. Hmmm. I let her know I'd think about it and asked her to make a list of some things that she might like.
Here is the list she texted me of her idea for a good, quick, portable lunch day:
seaweed pack
vegetables (jicama, carrots, pea pods, red pepper)
pistachios
hummus
bottle of water with strawberry and lemon slices
chai tea with a little bit of cashew milk
(Yes, this came from her, not me. I know, right? Trust me, she hadn't always wanted such nutritious choices. It's been a journey, folks, but I can tell you it is possible!)
I had purchased seaweed snack packs at Costco. It had been a risk to buy a bazillion seaweed snacks of all things when we hadn't tried them, but fortunately she and I liked them. They do have a little oil and salt added, which make them a bit like eating chips. So my teen took these to school and they worked great. She wanted this as a regular option for lunch.
When I looked at the little seaweed rectangles, I thought they might be just big enough to roll up with something inside, like mini sushi. That way, she'd have less to juggle. Why not give it a try?
We were pleased with how they turned out. The seaweed snack packs we used have 10 rectangles, and I was able to fit all 10 mini sushi rolls in a little 3" x 4.5" container!
She loved the rolls, especially the ones with avocado. They were delicious and easy to eat on the go, just as we'd hoped. They work well made the day before, too.
Tips for making mini veggie sushi rolls
Veggies need to be thinly sliced so they can roll up. I had to restrain myself from putting too much in each roll. They just won't roll if there's too much. Ideal examples are a maximum of one teaspoon of quinoa with half a pea pod or a little piece of kale with a thin slice each of radish and avocado.
Are your kids sushi fans? If so, they will likely love these cute little roll-ups in their lunch, too. It just takes a little time to slice the veggies and roll these up. There is no need to pack a messy dip because the wrappers are already seasoned. And if your kids aren't sushi fans, don't worry - tastes change. If you're not sure if they're currently sushi fans, give this a try - they may surprise you.
The Recipe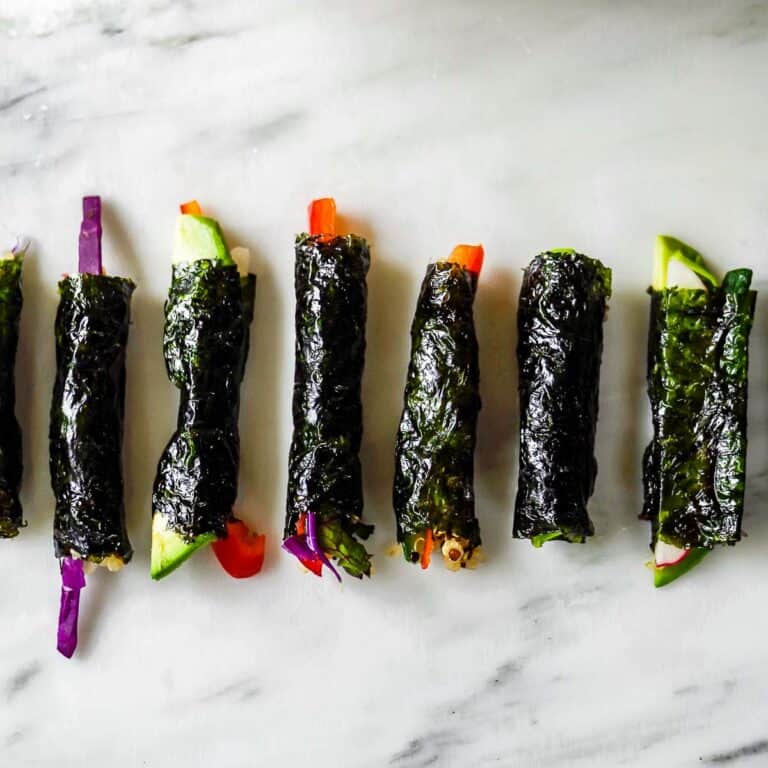 Mini Veggie Sushi Roll Recipe
QUICK & EASY LUNCHBOX-FRIENDLY Prep Time:  About 20 minutes Quantity:  1 serving of 10 mini rolls
Print
Pin
Rate
Ingredients
¼

cup

quinoa

prepared

¼

teaspoon

apple cider vinegar

½

cup

vegetables

Thinly sliced veggies like cabbage, kale, radish, sugar snap peas, jalapeno, red pepper, jicama, cucumber, avocado

10

seaweed snack sheets

nori

1

small bowl of water for sealing the wrappers
Instructions
Make quinoa ahead, at least the night before, according to package instructions. I usually use veggie broth instead of just water.

In a small bowl, combine the ¼ cup quinoa and ¼ teaspoon apple cider vinegar.

Have the vegetable slices ready on a small plate or cutting board, along with the quinoa mixture and water bowls.

Lay out a seaweed snack rectangle in front of you, vertically. Add a teaspoon or less of quinoa and a vegetable or 2-3 veggie slices horizontally along the short end closest to you. You can lay out several seaweed snacks and work assembly-line style if you'd like.

Carefully roll up the seaweed, using your fingers to hold the roll and control the stuffing. When almost to the end, wet your fingers with the water and run it along the end to wet the entire short end, then finish rolling. Leave the roll sealed side down for a few minutes so it can properly seal.

If packing in a lunchbox, place the sealed rolls in a container about 3" x 4.5" -just big enough to hold them so they don't jostle too much.
Notes
Note:  Make the quinoa in advance so it's chilled in the fridge, ready to go.
The nutrition facts calculation is based on 10 full-sized nori seaweed sheets rather than mini sheets.  1 full-sized sheet contains about .9 calories, .1 grams protein, 9.3 mg potassium, 1.2 mg sodium, along with vitamins, calcium, and iron. A mini sheet is about ⅛-1/4 of a full sheet as they both can vary.