This vegan sweet potato rose frosting requires no butter or oil! The color is naturally created by using purple sweet potatoes. Refined sugar-free, oil-free, and whole food plant-based.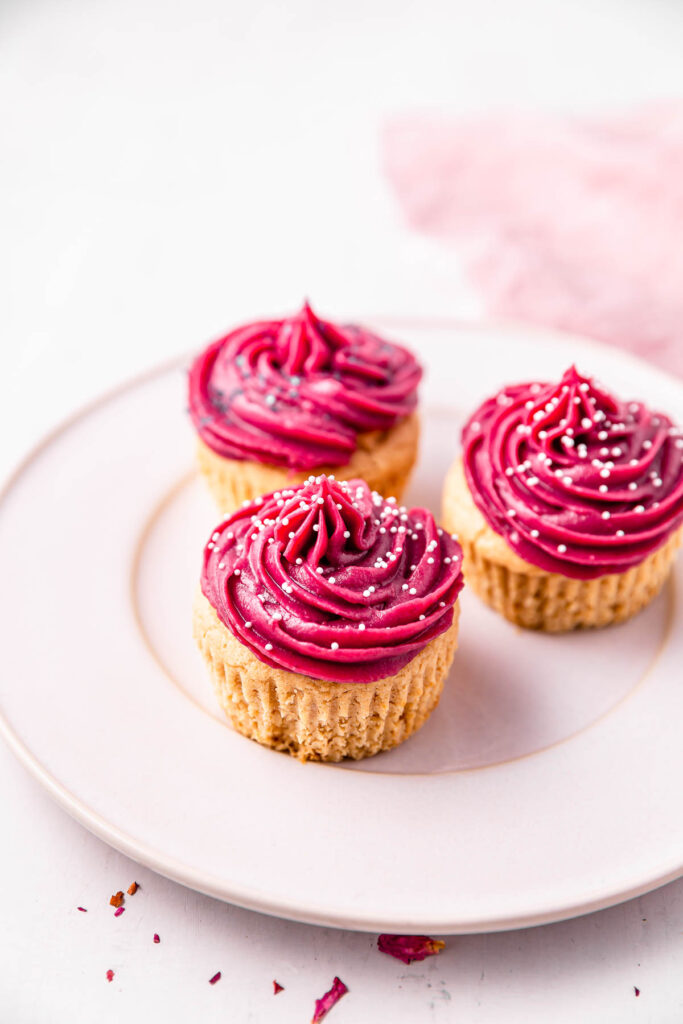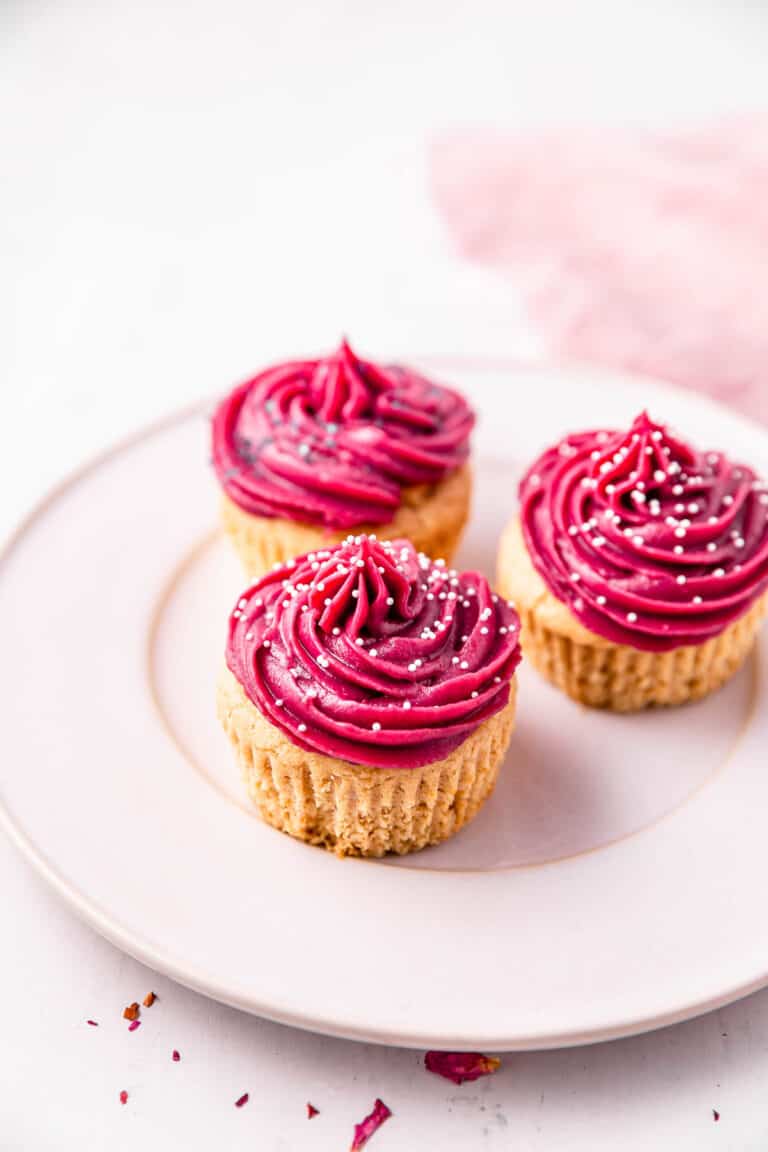 The base of this frosting is unlikely, yet maybe not so surprising these days: purple sweet potato! I just love seeing all the produce varieties out there, and whenever I come across purple potatoes, I've gotta have 'em! There have been times when I've made dishes that didn't exactly consider the natural food color I was working with, and after a few delicious but puce-colored dinners that my family wasn't so excited about, I learned to be more mindful of the pigment involved. In fact, I became fixated on using color in purposeful ways. So here is an example of working with that lovely purple color! No food coloring required - this color's all-natural, baby.
While the final product is glossy like icing, it's spreadable and easy to pipe like frosting, so I settled on calling it frosting. Use it on baked goods that call for a floral frosting, like a sweet tea party! How fun! Don't think this florally frosting is just for girls, though. Men love it, too! Thanks to the starchy sweet potato, it's light yet rich, with the floral notes right up front. Because the ingredients are run in the food processor for awhile, the texture is nice and smooth. It's not only great piped onto cakes - donuts are wonderful dipped in the stuff, especially my Gluten-free Lemon Baked Donuts.
Ingredients and Instructions
This frosting is made with just six ingredients. First, sweet potatoes are roasted. The shade of purple/pink varies some, depending on the purple sweet potato you have. Since I'm going for a rosy color with this frosting, my sweetener of choice is amber-colored coconut nectar to turn that purple into a purply-pink. I love using coconut nectar as a sweetener because it's rich in minerals and amino acids, plus it's low glycemic.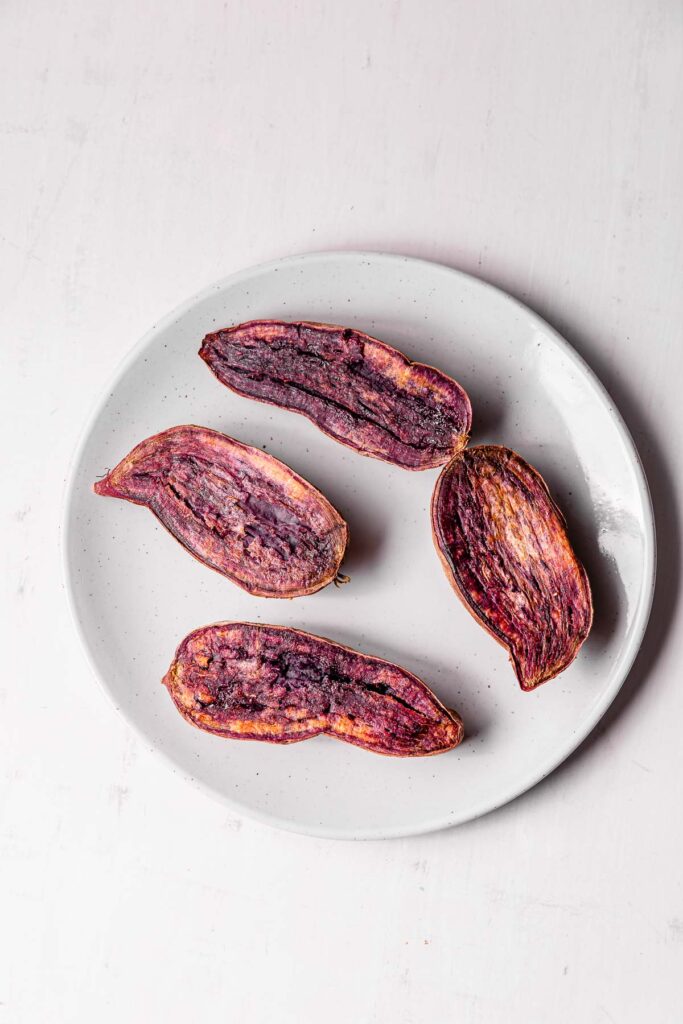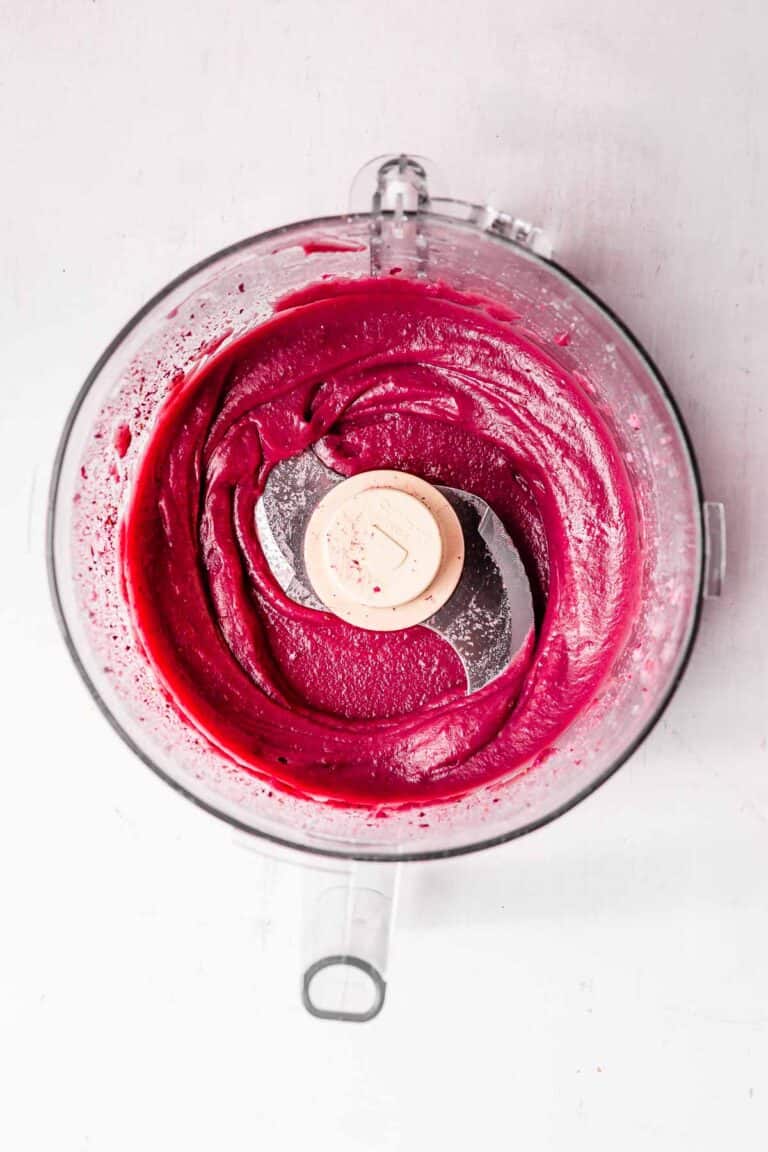 Rose water and edible dried rose petals bring that lovely floral flavor to the frosting, while lemon juice adds a brightness. Just a little plant-based milk gets this mixture to a frosting consistency (I used cartoned coconut milk here).
See that roasted crust on the purple sweet potatoes pictured? For the smoothest frosting, simply scrape off that thin top crust before scooping out the soft potato underneath to use for the frosting. Leave the skin behind.
Coconut nectar is nutrient-dense while being low glycemic, and its amber color helps provide the rosiness for this frosting. It has a tendency to crystalize in the jar, so if that happens, simply soak it in hot water for a bit to soften it enough to pour.
Equipment
Here's a quick list of the equipment you'll need for this recipe:
knife and cutting board
measuring cups and spoons
baking sheet with parchment or silicone liner
oven
food processor
spoon for scooping
large glass or other container for warming the coconut nectar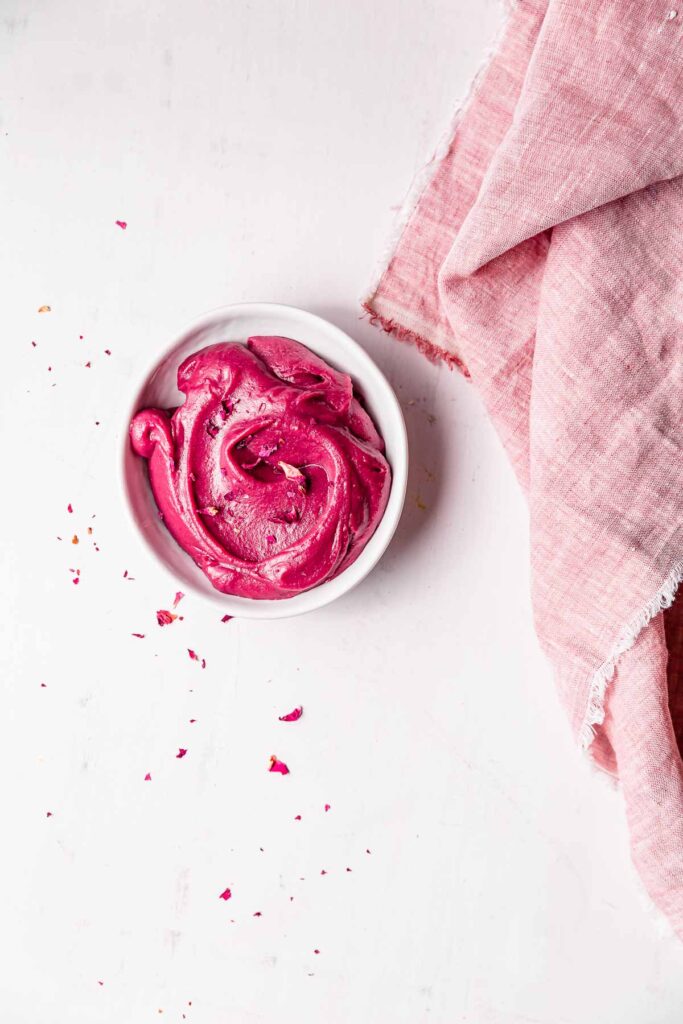 Enjoy Sweet Potato Rose Frosting on Gluten-Free Lemon Baked Donuts!
The Recipe
Vegan Sweet Potato Rose Frosting Recipe
This sweet potato rose frosting requires no butter or oil! The color is naturally created by using purple sweet potatoes. Refined sugar-free, oil-free, and whole food plant-based.
____________________________
Plant Diversity: Striving for 30 different plants per week
The number of plants in this recipe: at least 3 plants
Print
Pin
Rate
Equipment
knife and cutting board

measuring cups and spoons

baking sheet

with parchment or silicone liner

oven

food processor

large glass or other container

for warming the coconut nectar
Ingredients
1

sweet potato

purple enough for one cup roasted

¼

cup

coconut nectar

⅛

cup

plant-based milk

or up to ¼ cup

2 ½

teaspoons

lemon juice

¼

teaspoon

rosewater

1

tablespoon

dried rose petals

the edible culinary kind; plus more to decorate
Instructions
Roast the sweet potato: Preheat the oven to bake at 375 degrees. Cut the sweet potato in half length-wise and place it flesh down on a baking sheet lined with parchment.

Bake for 25-30 minutes, depending on the size of the sweet potato, until the sweet potato is soft and malleable when squeezed.

Set aside to cool for about 5 minutes while you gather the rest of your ingredients.

Get the coconut nectar up to room temperature by setting it in warm water or microwaving for 30 seconds or so.

Meanwhile, carefully scrape off the thin top crust of the sweet potato to help ensure a smooth frosting, then scoop the remaining soft potato into a food processor with an S-blade.

While the machine is running, add the coconut nectar through the tube, then the lemon juice and rosewater. Continue to run the machine for 5 minutes so that the frosting becomes smooth.

Slowly add the milk until the desired consistency is achieved. I like it with about ⅛ cup milk. Add one tablespoon of rose petals and process until well combined.

Serve on baked goods, decorating with more edible rose petals.
Notes
There are varieties of sweet potato that have purple skins but white flesh, so double-check with your market vendor or grocer if you're not sure. The shade of purple can vary, which will affect the color of the frosting. Coconut nectar, rose water and edible dried rose petals can be found in many grocery and health food stores. I have found them at Whole Foods. I've also found purple sweet potatoes there, as well as at Trader Joe's - and I found all of these as organic ingredients, woot woot!
Yield: A little over a cup, enough to generously frost about a half dozen cupcakes. Double recipe if desired.