When you need a fruity breakfast or snack in little time, this Quick Vegan Crisp with Frozen Fruit can be your go-to. It's ready in an instant (less than 5 minutes) and is so satisfying! A great way to eat your berries, especially in the winter. The recipe is vegan, gluten-free, refined sugar-free, oil-free, and so easy! Satisfies a whole food plant-based lifestyle.
I created this recipe as a way to eat more fruit without requiring much time or effort. The recipe helps you create single servings quickly and easily - we're talking about one minute to assemble ingredients and two minutes to cook.
This single serve quick snack is light yet satisfying, depending on the granola you choose. My fave is this orange pecan granola, which contains no oil or refined sugars. It's perfect when you're hangry! It's become my go-to in the evenings when I'm craving a dessert, or mid-day when I'm, well, craving dessert. Sometimes I have it for breakfast, too.
For a more authentic, full-on fruit crisp to bring to a gathering, try my Strawberry Rhubarb Crisp recipe, which is still vegan, gluten-free, oil-free, and refined sugar-free.
Jump to:
Ingredients
The only ingredients you really need for this recipe are granola and frozen fruit.
Frozen fruit: Choose a frozen fruit you like. I typically use blueberries, at least as a base, since they are so loaded with antioxidants and other nutrients. As long as they're in bite-sized pieces, however, you can choose any frozen fruit. Here, I've used frozen blueberries and raspberries.
Granola: Again, choose one you like. It can be store-bought, though they are often loaded with sugar, oils, etc. There are some on the market that are actually whole food plant-based, though, like the granola from Plantstrong. I love this Easy Oil-free Orange Pecan Granola recipe with it - perfect flavors to pair with fruit.
The following are delicious optional add-ons that are usually on my crisp:
Orange wedges or kumquat slices: Top with a bit of bright, refreshing citrus for an abundance of fruit flavors and nutrition.
Plant-based unsweetened vanilla yogurt: This adds a sense of creaminess and some nutritious fats along with that lovely vanilla flavor.
Ground flax meal, chia seeds, or hemp seeds: These add omega-3s, healthy fats, and other nutrients.
Fresh mint: If you're lucky enough to have this on-hand, add a few leaves. They bring such a nice, fresh flavor to the crisp, and look pretty while doing it.
See recipe card for quantities.
Equipment
nutrionfacts.org re microwaves
You just need a microwave and a microwave-safe bowl or ramekin to make this recipe.
Tip: Covering your bowl in the microwave with a microwave-safe napkin, plate, or other lid will keep it from splattering in the microwave.
Concerned about using microwaves?
I have wondered about this myself. I consider nutritionfacts.org a reliable source on this because Dr. Greger and his crew have built a science-based nonprofit that provides free updates on the latest nutrition research.
According to their research, "vegetables cooked in the microwave retained their antioxidant power significantly above those boiled or fried. Surprisingly, microwaved vegetables kept their healthy properties over their steamed or pressure-cooked counterparts."
"Foods microwaved in plastic have been shown to absorb hormone-disrupting compounds such as Bisphenol A, or BPA. Absorption may be increased when the plastic is in contact with fats and oils or with longer cooking times. By microwaving food in glassware, the estrogen-mimicking compounds are avoided."
You can learn more about this topic by watching their videos and reading their articles at nutritionfacts.org.
All that said, if you still would rather not use a microwave, you can still try making this recipe in a toaster oven or oven at 375 for 10-15 minutes or so.
Instructions
This recipe is as easy as can be!
First, select your frozen fruit and place it in a small microwave-safe bowl or ramekin.
Then, top with granola of your choice.
Next, cook in your microwave for two minutes.
Finally, top with any additional toppings you'd like.
Variations
One of the nice things about this super-quick recipe is that you can use whatever frozen fruit you have, as long as they're in bite-sized pieces.
Here are a few of our favorites:
Mixed berry (any varieties)
Blueberry peach
Blueberry mango
Cherry
Berry Cherry
Storage
Since this is an "instant" breakfast or snack recipe, it's meant to be eaten right away. If you are taking it on the go, store it in an insulated container, such as a thermos. If storing in the fridge, be sure to cover. Once prepared, they can be stored in the fridge for up to a few days.
FAQ
What if I don't have any granola?
Rolled oats can be used in a pinch. You could add granola items like nuts and seeds, as well. For a bit of sweetness, use a touch of maple or date syrup.
I don't have any frozen fruit. Can I use fresh?
Sure! Since frozen fruit is typically pre-washed and fresh isn't, be sure to wash the fresh fruit first. Then, cut into bite-sized pieces, if necessary. Also, you may find you need only about a minute in the microwave instead of two.
I don't have a microwave. Can I still make this recipe?
I would try heating the crisp in a toaster oven for 10-15 minutes at 375 degrees, though I haven't yet done this. Make sure your bowl is oven safe.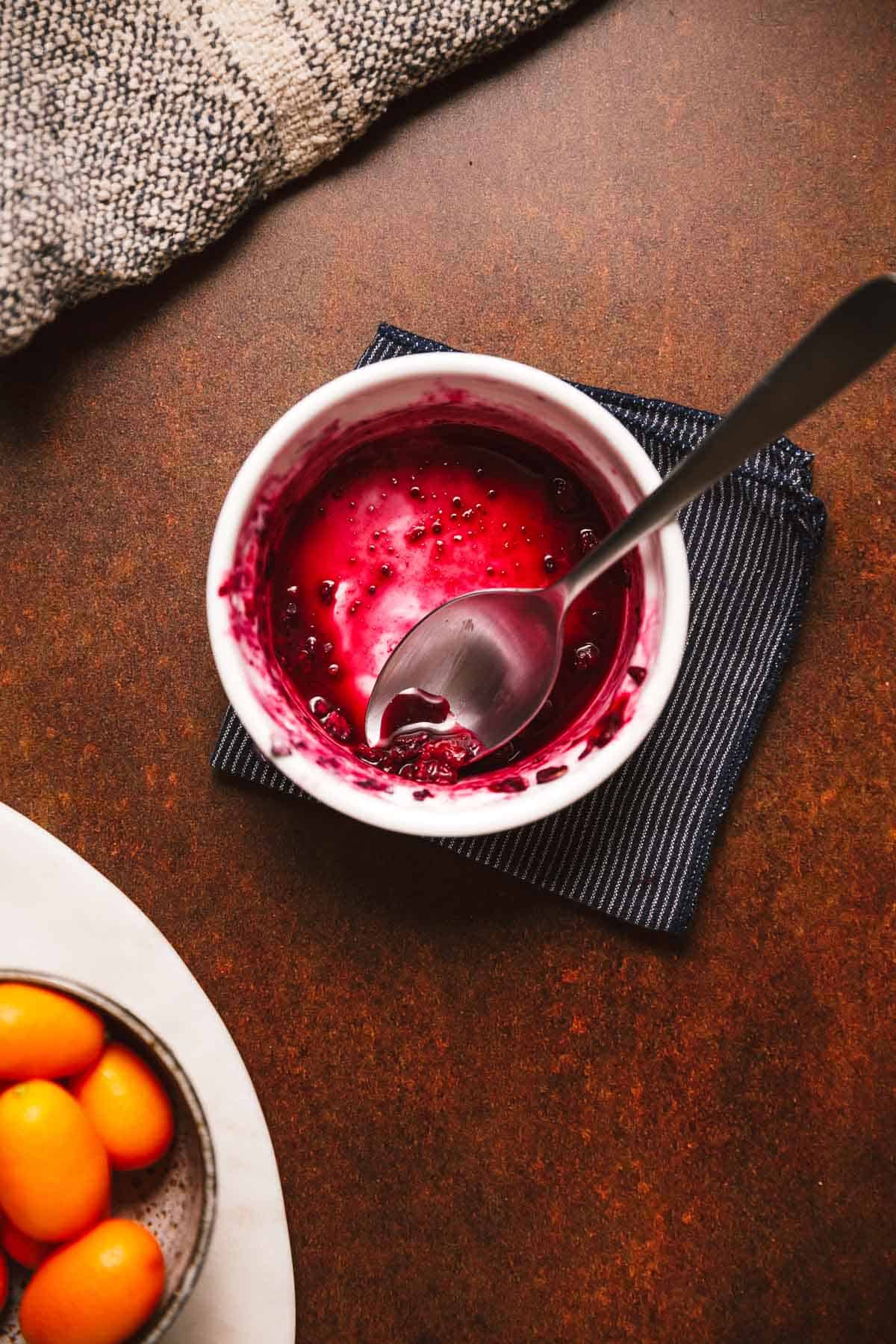 Related
Looking for other recipes like this? Try these:
Pairing
These are my favorite dishes to serve with [this recipe]:
The Recipe
Quick Vegan Crisp (Frozen Fruit)
Such a great way to eat your berries (or any fruit), and it's ready within 5 minutes! This recipe is vegan, gluten-free, refined sugar-free, oil-free, and so easy! Satisfies a whole food plant-based lifestyle.
____________________________
Plant Diversity: Striving for 30 different plants per week
The number of plants in this recipe: 2 plants minimum
Print
Pin
Rate
Equipment
microwave

small microwave-safe bowl

and lid (optional)
Ingredients
½

cup

blueberries

frozen; or other frozen fruit, up to one cup

¼

cup

Orange Pecan Granola

or granola of choice; gluten-free if necessary
Toppings (optional)
unsweetened vanilla nondairy yogurt

orange wedges

kumquats

sliced

flaxseed meal, hemp seeds, chia seeds

fresh mint
Instructions
Select frozen fruit from your freezer, cut into bite-sized pieces if necessary, and place ½-1 cup in a ramekin or small bowl.

Place the bowl/ramekin into the microwave, cover with a microwave-safe lid, plate, or napkin (optional), and microwave for two minutes.

Top with any other toppings you desire and serve.

The crisp can be stored in a sealed container in the fridge for up to a few days.

For eating on the go, place in an insulated container, such as a thermos.
Notes
Note: The fiber estimate does not include any toppings.
Concerned about microwaves? See the post above for more info. 
general food safety
Cook to a minimum temperature of 165 °F (74 °C)
Do not use the same utensils on cooked food that previously touched raw meat
Wash hands and ingredients well before using
Don't leave food sitting out at room temperature for extended periods
Never leave cooking food unattended
Use oils with high smoking point to avoid harmful compounds
Always have good ventilation when using a gas stove
See more guidelines at USDA.gov.