with Sweet Cashew Cream
An easy chocolate orange vegan semifreddo recipe that requires no cooking! Refined sugar-free and gluten-free, this is a nutritious and dreamy dessert - perfect for a romantic evening.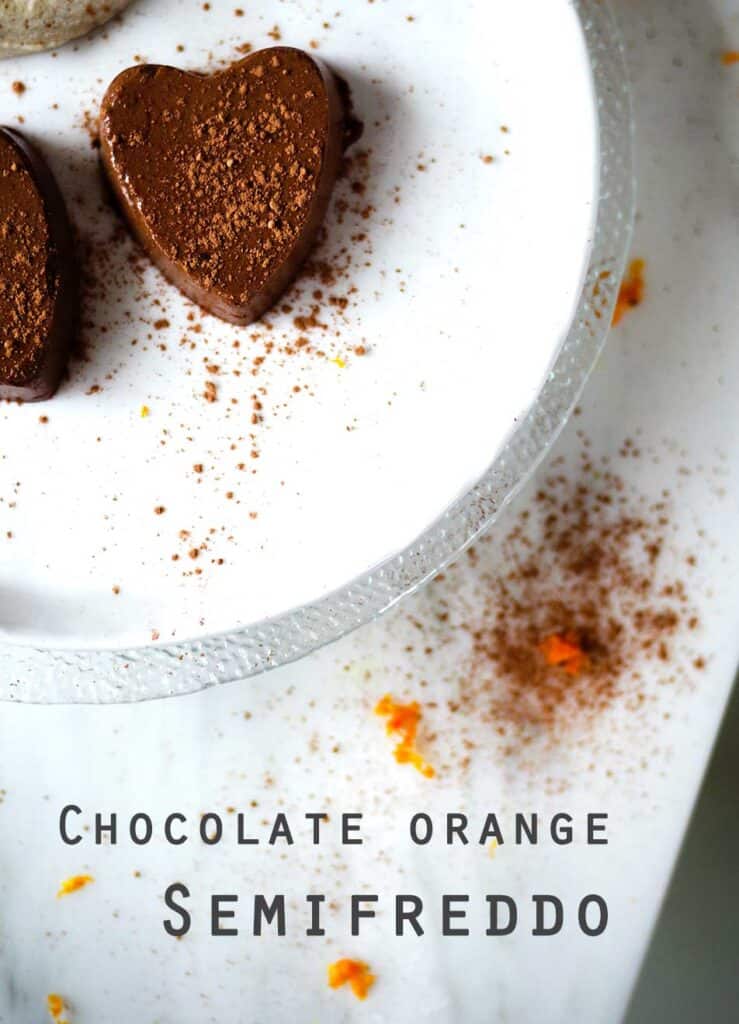 Refined Sugar-Free
Looking for a yummy Valentine's Day dessert that is super tasty AND happens to be refined sugar-free? I just watched That Sugar Film, so sugar-free is sounding good right about now. But let's be real: I will want chocolate on Valentine's Day. And sugar is everywhere. It would be so easy to just have some ooey gooey, sugary chocolatey special dessert to share with my sweetie. What other option do I have? Isn't there a way to enjoy sweet treats without flooding our systems with sugar?
Why yes, yes there is.  And this vegan semifreddo option is still ooey and gooey and tastes plenty sugary and chocolatey.  This particular method has some similarities to my Chocolate Rosemary Pine Nut Truffles from last week, but without the sugary chocolate chips.  Instead, this recipe is sweet with benefits:  the goodness of real fruit, including fiber and vitamins.  Not concentrated or refined.  A realistic amount of real fruit.  And chocolate.  Actually in its purest form:  cacao.  What's the difference between cacao and cocoa?  Cacao beans have been dried, fermented, and ground, without being roasted and processed like cocoa.  At the bottom of this post I've listed where to find ingredients like cacao, and here's what a source, Terrasoul, says about cacao:  "Cacao contains the highest concentration of magnesium and antioxidants of any food on the planet."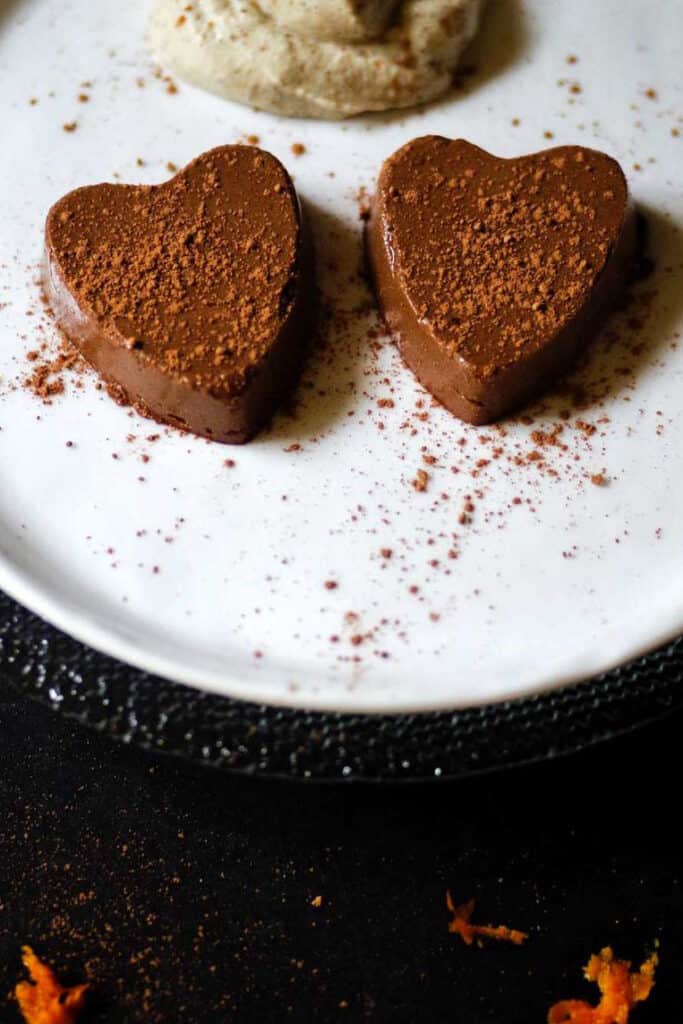 Chocolate and Orange, The Perfect Combo
Chocolate and orange are one of my absolute favorite food combinations. It has me dreaming of Italy, just like rosemary and pine nuts do. The zippy, cheerful brightness of the orange is the perfect counterpart to the mellow richness of the chocolate. So maybe it's not surprising that I decided to make this a version of the Italian dessert semifreddo, only without the typical sugar, cream, and eggs. Instead, this dessert is made of dates, cashews, and chia seeds. Do you think it still looks rich and decadent? How about ooey and gooey?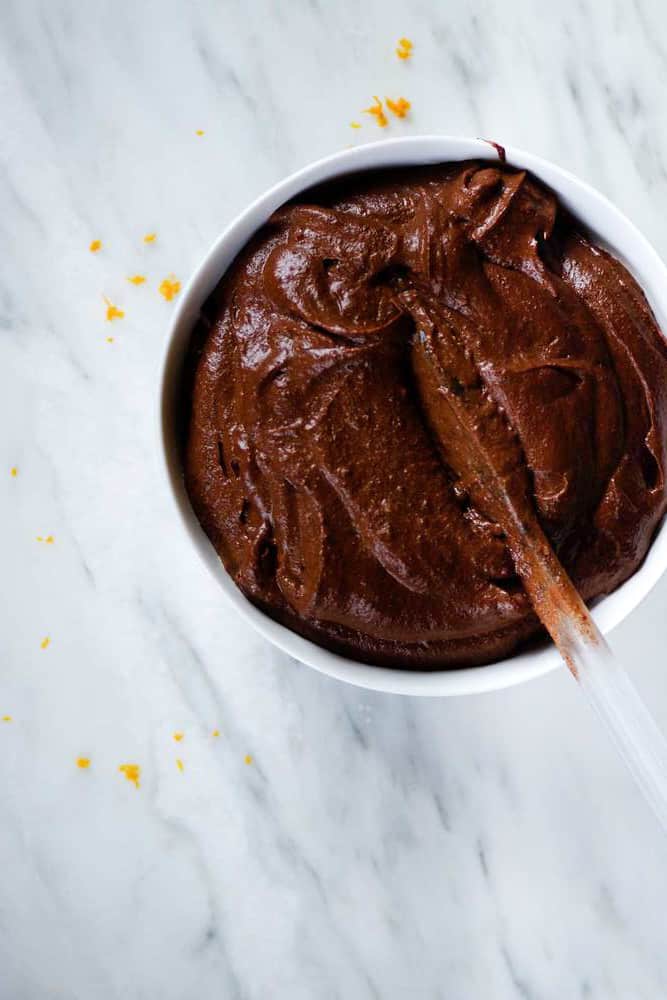 Vegan Semifreddo options
You can eat it right out of the bowl like chocolate mousse or frosting, and it's wonderful on toast, but it's so fun to take the steps to form it into little semifreddo truffles if you happen to have heart molds, or even mini cupcake liners. Once removed from the freezer and allowed to thaw a bit, these semifreddos become soft, light and creamy.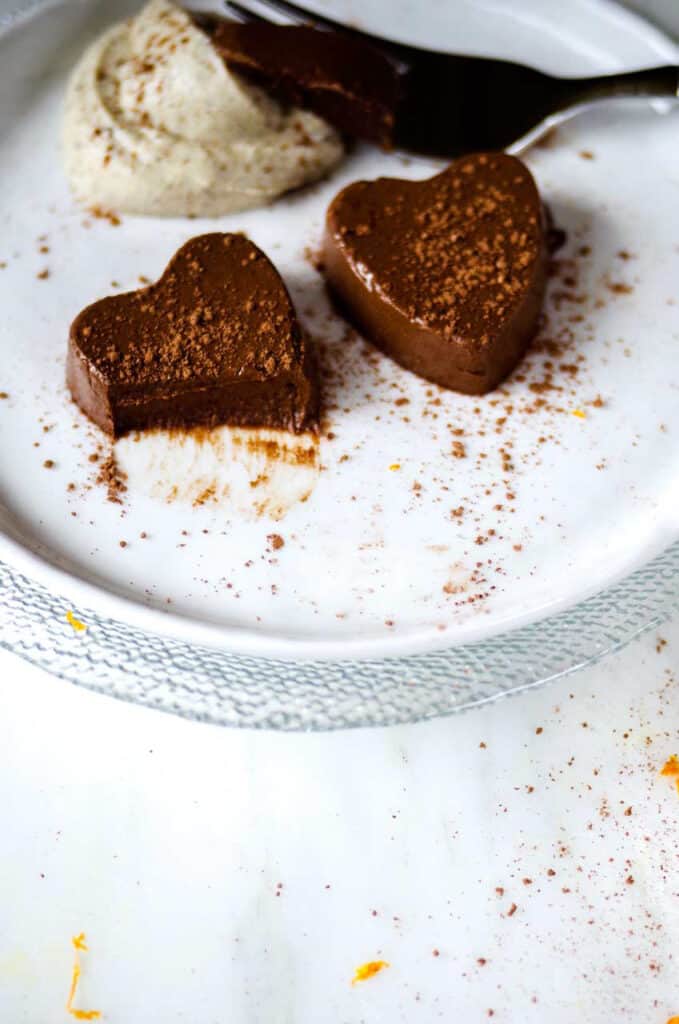 Bonus: Sweet Cashew Cream
I've included a recipe for Sweet Cashew Cream below the semifreddo recipe.  It's rich and satisfying like whipped cream, and you can control the thickness with the amount of water you add.  Cashews are so awesome because they're a soft nut, and after just a couple hours of soaking they can be blended easily to make milk, cream or sauces.
---
Chocolate Orange Semifreddo Vegan Recipe
Makes at least 4 dozen 1 ½" hearts.  Whatever doesn't fit in my candy mold goes in a bowl and into my fridge to spread on toast or eat by the spoonful! Note the cook time is actually the amount of chill time - yay, no cooking required for this recipe!
Print
Pin
Rate
Equipment
high speed blender

heart mold
Ingredients
1

cup

raw cashews

2

large

oranges

1

teaspoon

vanilla

½

cup

cacao powder

6

tablespoons

cacao nibs

4

tablespoons

chia seeds

10

medjool dates

optional

pinch

pink salt
Sweet Cashew Cream Recipe
½

cup

raw cashews

⅓

cup

filtered water

plus a bit more, if necessary

1

teaspoon

vanilla

or one vanilla bean

1

medjool date

pinch

salt
Instructions
Soak the cashews for at least two hours in enough filtered water to cover. Once soaked, drain the cashews and place them in a high speed blender.

Zest both oranges and add the zest to the blender, careful to drop the bits down to the bottom instead of getting it stuck on the sides. If that happens, use a spatula to scoot it to the bottom.

 Use a citrus reamer to juice both oranges. Add enough pulp to make one cup. If still shy of a cup, add water. Place in blender.

Add the vanilla, cacao powder and nibs, and chia seeds to the blender. Blend until smooth.

Add the pitted dates to the blender. Start with 10, blend until smooth, then taste. If you'd like it sweeter, add one or two more dates and blend until smooth.

Use a spatula to transfer the chocolate ganache into a bowl. Place your candy mold onto a baking tray. Spoon the chocolate into each mold to fill. Once all are filled, use a spatula to smooth the top.

Sprinkle the tiniest bit of salt onto each chocolate if desired. The semifreddo tastes great with or without salt. Place the tray into the freezer and chill for at least three hours. The semifreddo should be firm when done and pop out of the mold easily.

To serve, place a couple semifreddos onto each serving plate. Once thawed a bit (15-20 minutes or so), these do not transfer well, so they're best served directly on the plate. If desired, sprinkle with a bit of cacao powder and serve alongside cashew cream.
Sweet Cashew Cream Steps
Soak the cashews for at least two hours in enough filtered water to cover.

Once soaked, drain the cashews and place them in a high speed blender, then the water, vanilla, and date.

Blend until smooth. If too thick, add a bit more water to get the desired consistency.

Taste. Add a pinch of salt if desired.
Notes
The conversions and nutrition information are calculated automatically and I cannot guarantee the accuracy of this data. I encourage you to confirm this information with your favorite unit conversion/nutrition calculator if you would like to be more certain. 
more sweet ideas
*RESOURCES
I look for organic ingredients whenever possible so that the food I serve is not filled with chemicals and who knows what. When organic is not available, I at least make sure all my ingredients are free of GMOs. I don't see anything wrong with hybridizing two plants of the same type, but from what I understand, what's being done to the food supply today with GMOs is a very different thing. I don't know about you, but I don't give my consent for my family to be experimented with in this way.
Note: I only feature products on my site that I believe in. The links below to Amazon are for products I use regularly. I do receive a small percentage of sales from the links to Amazon that I include on my site.
Organic raw cashews: I've tried lots of different cashews, and my favorite source right now is Terrasoul. The quality is so much better than what I can find in the bulk bin at my grocery store. These have been consistently fresh, plump, beautiful cashews.
Organic cacao powder, organic cacao nibs, organic chia seeds, pink salt: Terrasoul also carries all of these, and I've found their products on Amazon as well as through the direct website. These ingredients can be found in many grocery stores, too. I've also found chia seeds at Costco.
Medjool dates: These are now more commonly found than they were a few years ago. They are at my local grocery store as well as Trader Joe's, Amazon, and Costco. Sometimes I can find organic. My local Costco currently has a box that are labeled non-GMO.
Heart candy mold: Mine is by Freshware, found on Amazon. It produces 28 hearts on a sheet.
HAPPY VALENTINE'S DAY! You are sweet all on your own.