A vegan chocolate orange semifreddo recipe! This chocolate mousse-like dreamy dessert is actually nutritious and easy to make, with only eight ingredients and no cooking required. Perfect for a romantic evening. You can make this recipe with candy molds or cookie cutters.
Chocolate and orange are one of my absolute favorite food combinations. It has me dreaming of Italy, just like rosemary and pine nuts do. The zippy, cheerful brightness of the orange is the perfect counterpart to the mellow richness of the chocolate. So maybe it's not surprising that I decided to make this a version of the Italian dessert semifreddo, only without the typical sugar, cream, and eggs. Instead, this dessert is made of dates, cashews, and chia seeds. It's a delightfully rich and decadent version while containing more nutrition, like fiber.
While this semifreddo has become a tradition at our place around Valentine's Day, it's wonderful any time of year. I love that it is very simple to make: Just blend, freeze, and serve.
Another delicious chocolate dessert that I like to make with a heart-shaped mold is my Easy Vegan Chocolate Rosemary Truffles.
Ingredients
You probably already have most of these eight ingredients in your pantry! As usual, I've included some options to make it easy, too.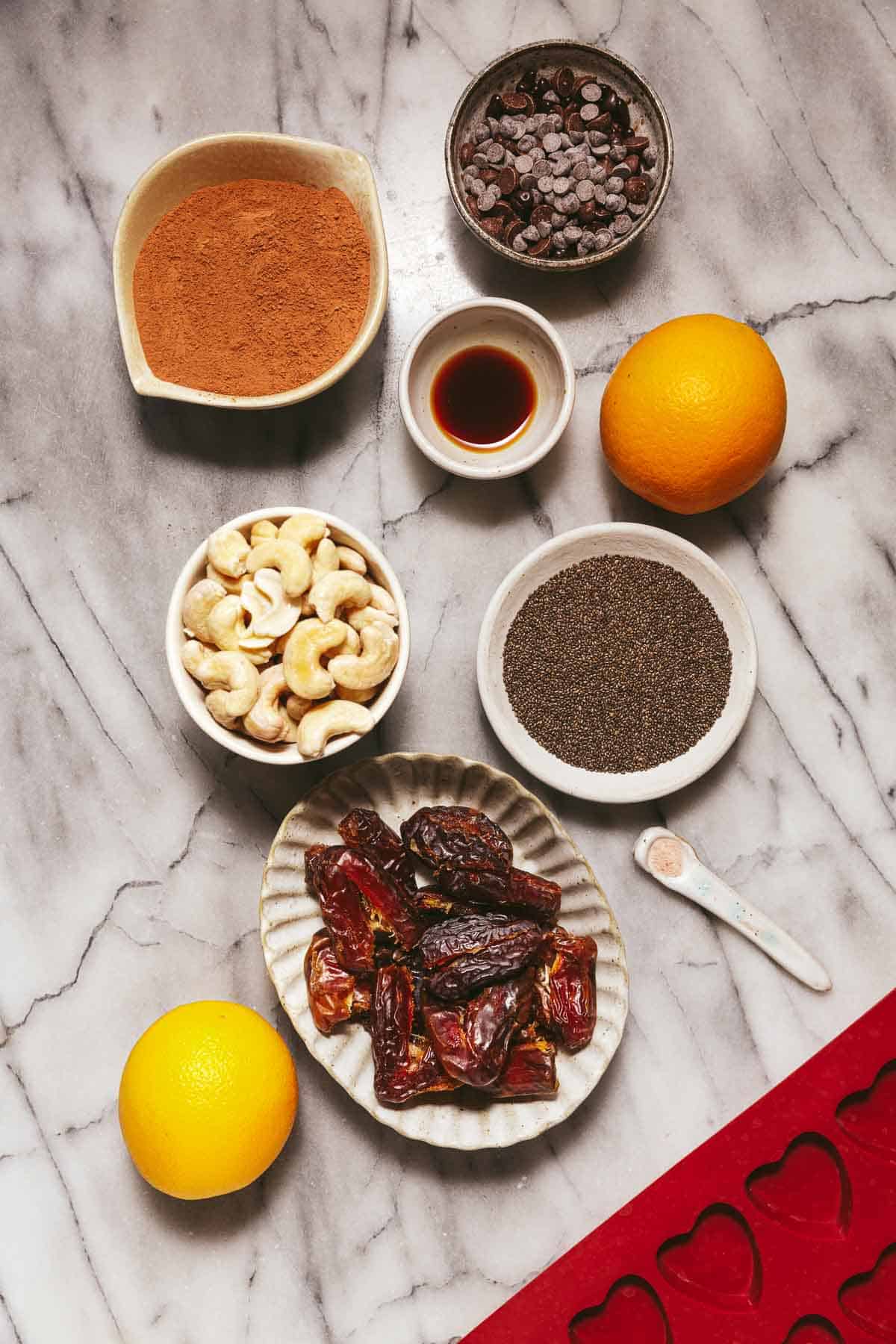 Cashews are soaked in advance for a couple hours or boiled for 15 minutes to soften. This provides the creamy mousse-like texture of the dessert.
Oranges: 2-4 large oranges (depending on how big and juicy) are needed for their zest and juice.
Cacao powder: bring on the chocolate!
Cacao nibs and/or chocolate chips: It's fine to use either or both for this recipe. The semifreddo will be sweet with the cacao nibs, but if you'd like an even sweeter version, use chocolate chips. Somewhere in the middle? Both. Pictured above, I am using the combination with both semisweet and dark chocolate chips.
Medjool dates are pitted and provide most of the sweetness.
Chia seeds: Since the ingredients are all blended until creamy, the chia seeds become unnoticeable. They play an important job, though, of binding the ingredients (while supplying Omega-3s!).
Vanilla rounds out the flavors beautifully. If you just don't have it, it's ok - I think it's still worth making without it.
Salt: Just a bit is added. Pictured, I'm using a pink salt - any neutral salt will do.
Instructions
Once the ingredients are blended, there are two main options for shaping the semifreddo: with candy molds or cookie cutters.
Candy mold method
Blend the ingredients in a strong blender with a tamper.
Spoon the mixture into heart-shaped candy molds to fill.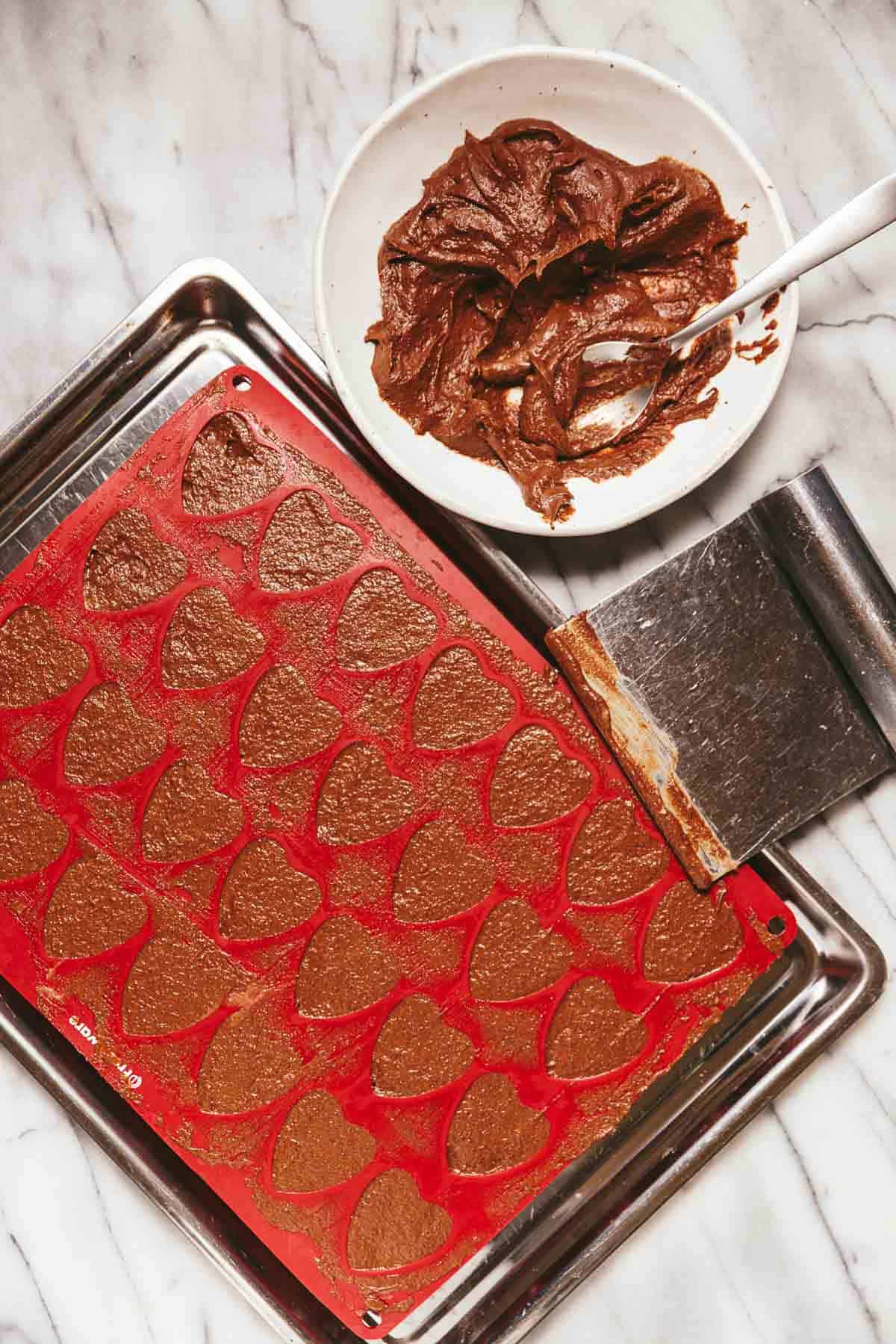 Scrape the tops with a bench scraper to smooth them out. Freeze.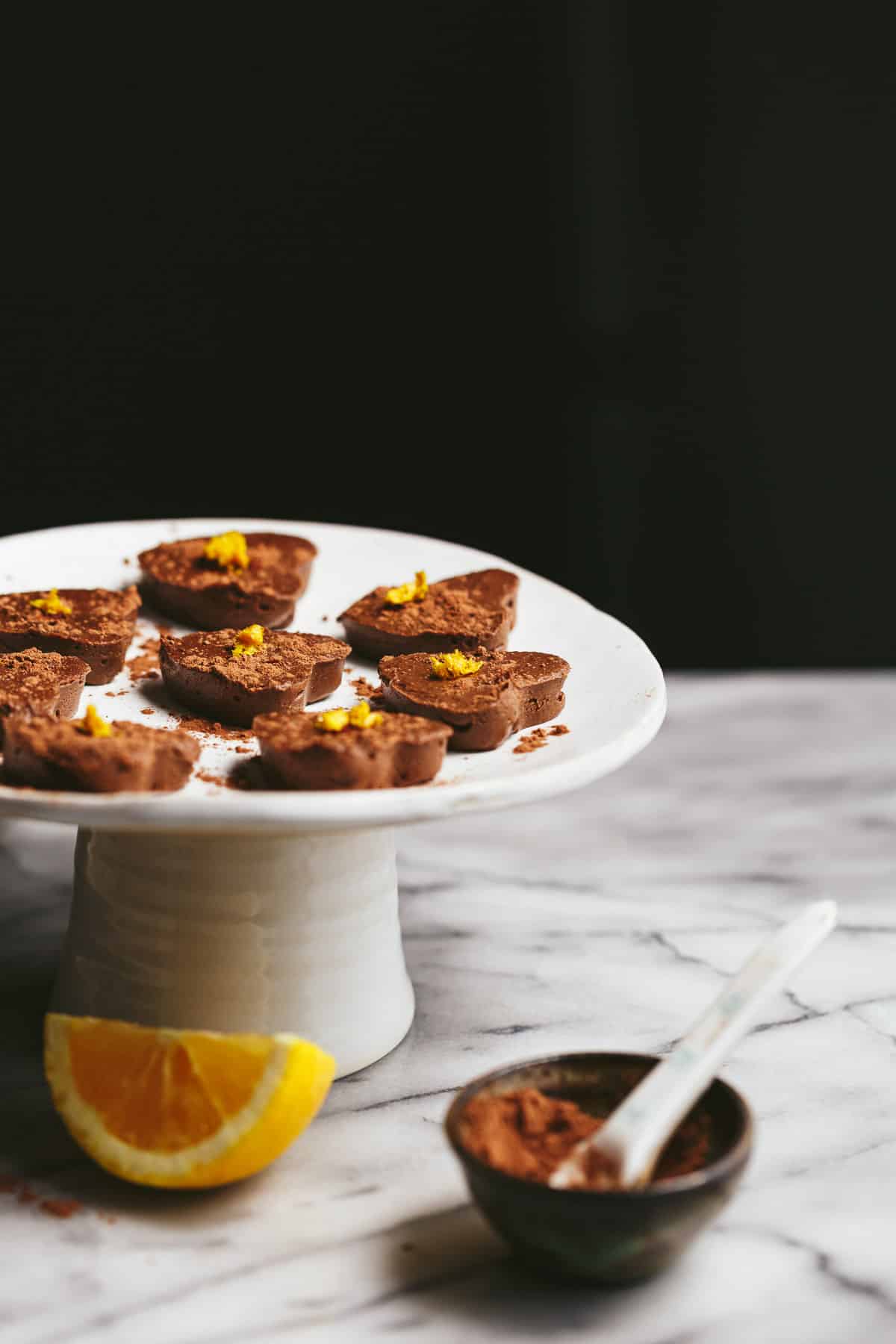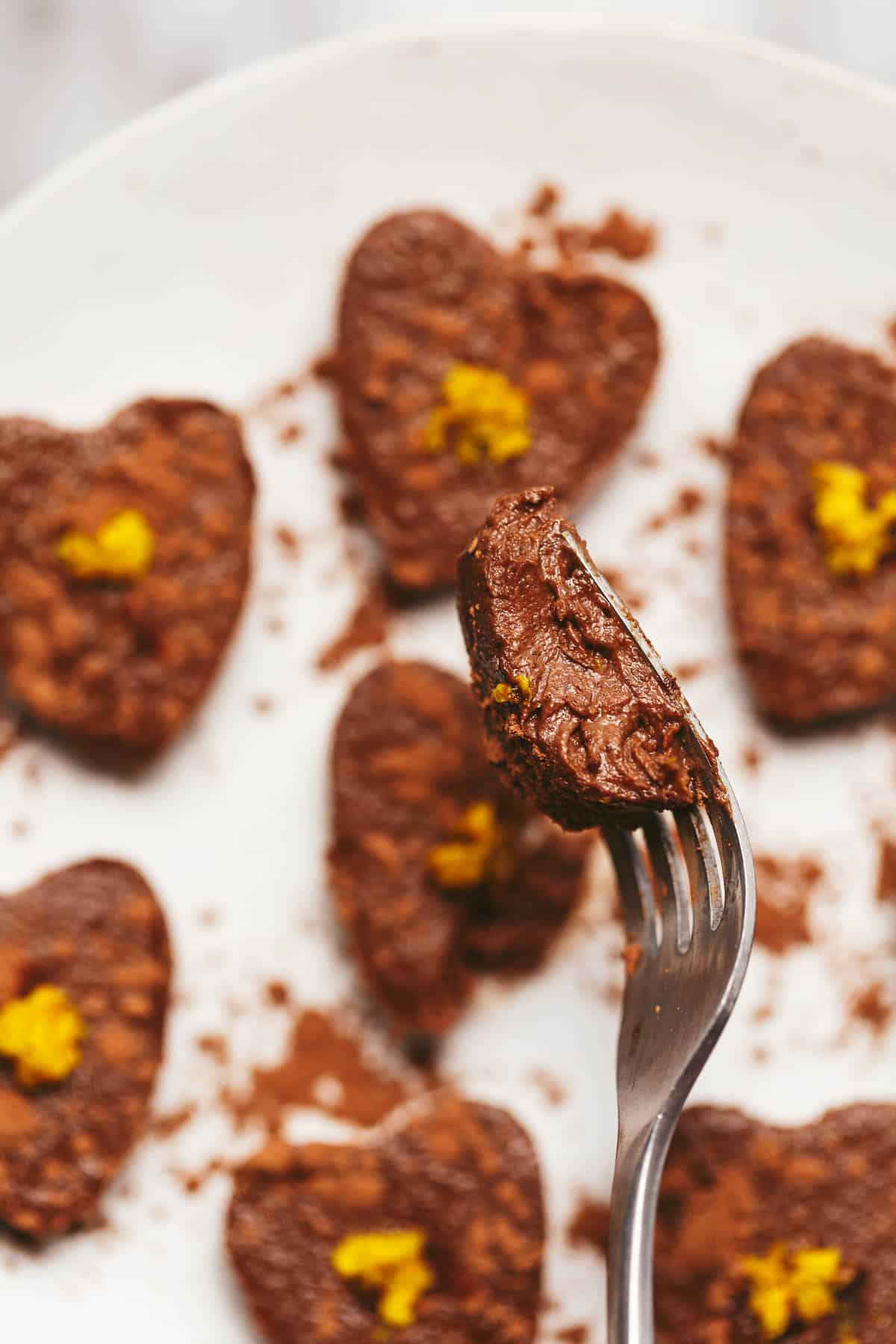 Cookie cutter method
Spoon the mixture into cookie cutters set on top of a parchment-lined baking sheet until filled nearly to the top. Freeze.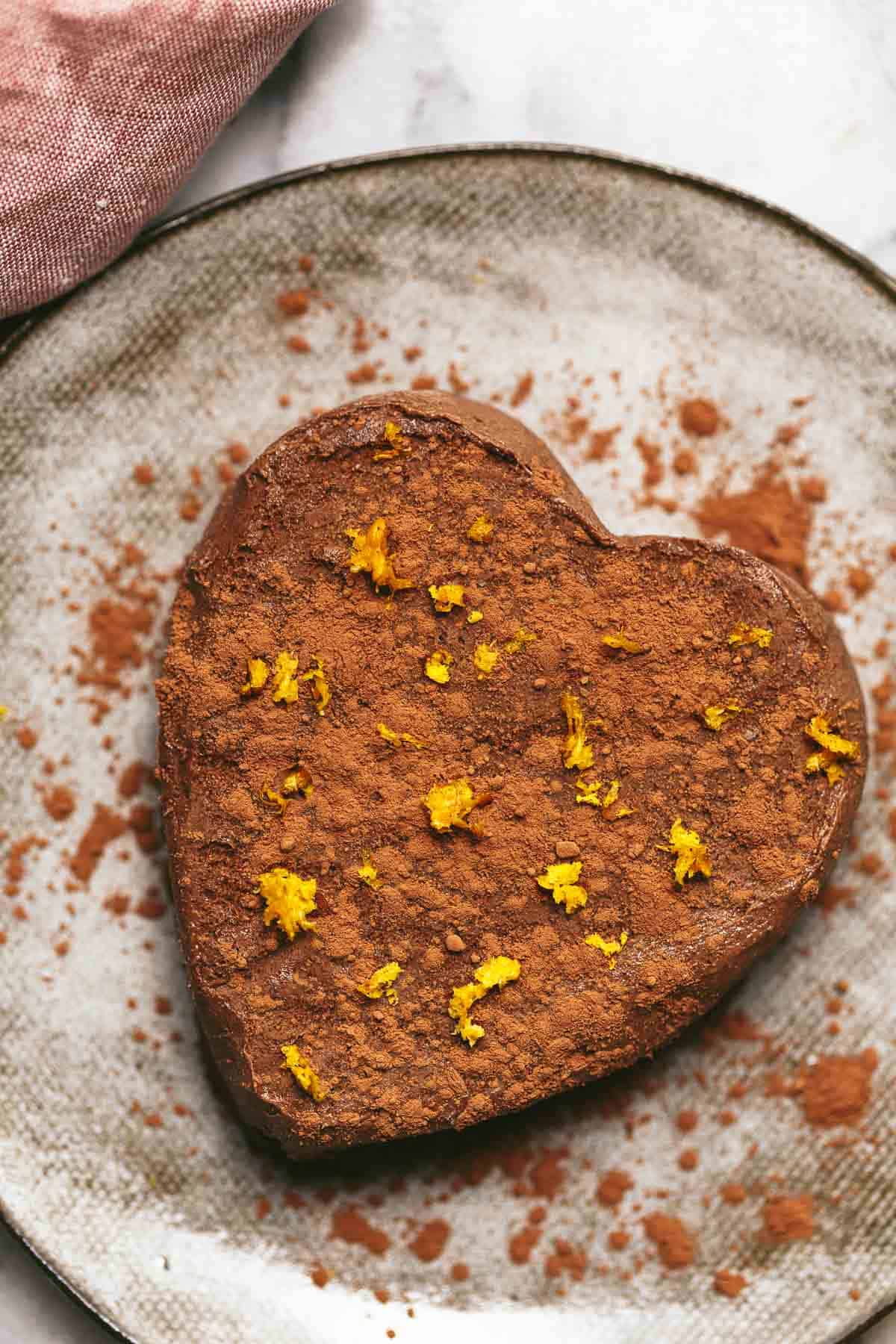 This semifreddo heart was made with the filled cookie cutter on the left - sized for four (or very generously for two).
Other ways to enjoy this semifreddo
You can eat this chocolate treat right out of the bowl like chocolate mousse or frosting, and it's wonderful on toast. Parchment or silicone baking cups could work if you don't have candy molds or cookie cutters.
Once removed from the freezer and allowed to thaw a bit, the semifreddo becomes soft, light and creamy.
Storage
If somehow the entire batch isn't eaten at once, store the remaining in a freezer-safe sealed container in the freezer for up to a few months.
Alternatively, the semifreddo can be stored in a sealed container in the fridge for up to a few days and will be soft like chocolate mousse.
---
The Recipe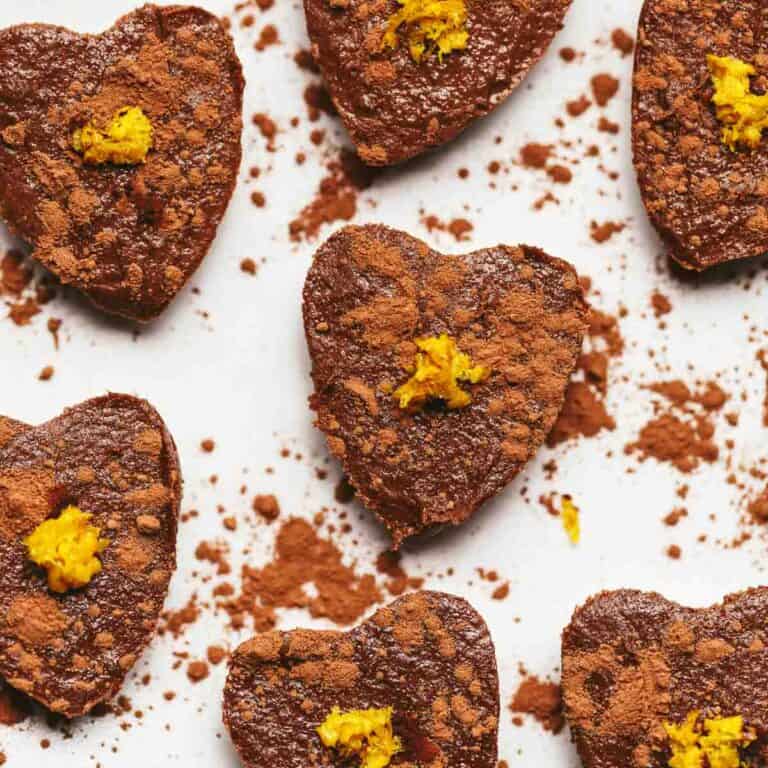 Easy Vegan Chocolate Orange Semifreddo Recipe
This chocolate mousse-like dreamy dessert is actually nutritious and easy to make, with only eight ingredients and no cooking required. Perfect for a romantic evening. You can make this recipe with candy molds or cookie cutters.
________________________________________
Plant Diversity: Striving for 30 different plants per week for optimal health
The number of plants in this recipe: 5 plants
Print
Pin
Rate
Equipment
high speed blender

with tamper

heart-shaped candy mold

or cookie cutter(s)

small baking tray

to fit in freezer

parchment sheet

if using cookie cutters
Ingredients
1

cup

raw cashews

softened

3

tabelspoons

orange zest

from 1-2 oranges (reserve a 4th tablespoon for topping, if desired)

1

cup

orange juice

fresh, from the zested oranges + up to 2 more

1

cup

medjool dates

about 10-12, pitted

1

teaspoon

vanilla

¼

cup

cacao powder

⅓

cup

cacao nibs

or chocolate chips, or a combo

4

tablespoons

chia seeds

⅛

teaspoon

salt

scant (optional)
Optional toppings
orange zest

cacao powder

non dairy whipped cream
Instructions
Before starting: Soak the cashews for at least two hours to soften, or boil 15 minutes.

Once softened, drain the cashews and place them in a high speed blender.

Zest both oranges and add the zest to the blender, careful to drop the bits down the middle to keep from sticking to the sides of the blender. If that happens, use a spatula to scoot it to the bottom.

Use a citrus reamer to juice the oranges, using the juice and pulp to make one cup. Pour into the blender.

Add the dates, vanilla, cacao powder and nibs/chocolate chips, chia seeds, and salt to the blender. Blend on high using the tamper, until smooth.

Use a spatula to transfer the chocolate ganache into a bowl.

Place your candy mold onto a baking tray that will fit in your freezer. If using cookie cutters instead, line the tray with parchment.

Spoon the chocolate into each mold to fill. Once all are filled, use a bench scraper or spatula to smooth the top.

Place the tray into the freezer and chill for at least three hours, until the semifreddo is firm and pops out of the mold easily.

To serve, place the semifreddo onto each serving plate. Once thawed a bit (15-20 minutes or so), these do not transfer well, so they're best served directly on the plate. If desired, add toppings.

Serve immediately. Store any leftovers in a sealed container in the fridge (the hearts may soften too much to hold their shape but will be like chocolate mousse).

If storing in the freezer, return any unused portions immediately to the freezer before thawed and keep in a freezer-safe sealed container.
Notes
Whatever doesn't fit in my candy mold goes in a bowl and into my fridge to spread on toast or eat by the spoonful! Note the cook time is actually the amount of chill time - no cooking required!
general food safety
Cook to a minimum temperature of 165 °F (74 °C)
Do not use the same utensils on cooked food that previously touched raw meat
Wash hands and ingredients well before using
Don't leave food sitting out at room temperature for extended periods
Never leave cooking food unattended
Use oils with high smoking point to avoid harmful compounds
Always have good ventilation when using a gas stove
See more guidelines at USDA.gov.