After much trial and error, this is the best oil-free hummus I've tasted, and when using canned chickpeas, this recipe comes together in just 5 minutes!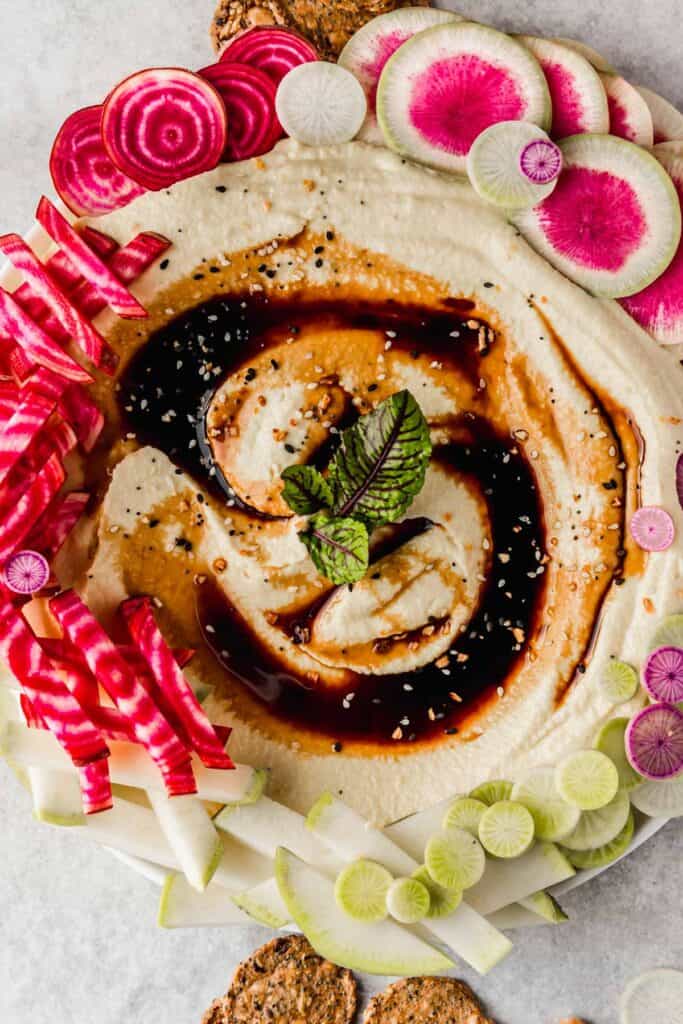 So you want to make your own hummus, but you've tried several recipes and they're just not what you're after? I can relate. For some time, I've been frustrated with homemade hummus. Not smooth enough, not quite the flavor I was after, not tasty enough for my family to go for it over store-bought. I tried all the tricks, but with the quantity my family enjoys, I wanted quick and easy, not extra steps. So I kept buying ready-made hummus at the grocery store, which my family loves but it's expensive (I mean, you really should see how much hummus these guys put away) and not at all oil-free.
Another favorite hummus recipe is my Quick Oil-Free Lemon Beet Hummus. It's also really delicious and a pretty pink color! It can be ready to eat in 5 minutes, too, and there's no need to cook the beets since pickled beets are used.
Jump to:
No more store-bought
Well, finally I've got a recipe that my family prefers; in fact, they aren't at all interested in store-bought anymore. That was a surprise! And it's oil-free. And it's quick to make and really smooth and creamy without having to boil in baking soda or peel each little chickpea. It's been a long journey, but after much trial and tweaking, I've finally got it. I've been making it in double batches each week because my family just can't get enough!
Lighter and more delicious
The thing is, this recipe is super simple. The ingredients are easily accessible and really all you need to do is toss them all together. What makes it the best is the flavor profile and its smooth consistency. Tahini is used sparingly so that it doesn't take over in flavor; it also makes it a lighter hummus, with less fat per serving. Kids tend to not be crazy about raw garlic and it has a tendency to dominate the flavor profile, so this recipe uses garlic powder instead.
The key to quick yet smooth hummus
But what is the best tool to combine the ingredients? Well, that's the key to getting a smoother hummus: using a high-speed blender instead of a food processor. The kind with a tamper (though you can add more liquid if you only have a standard blender and that will likely work pretty well). I had always made hummus in a food processor, yielding hummus with, well, too much texture. But when I tried blending it - wow, what a difference! So smooth and creamy, a total game changer.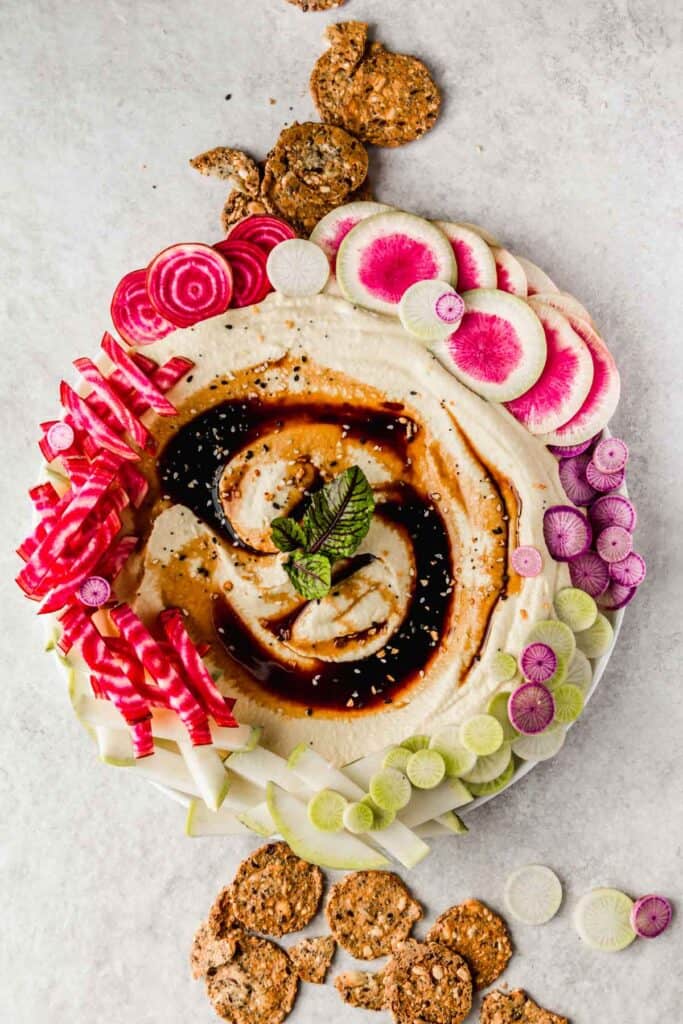 Toppings
This hummus is absolutely delicious all by itself; toppings just make it that much more fun, tasty, and nutritious. Let your imagine take you to some of your favorite flavors and textures when adding toppings. Seeds are always a good choice, and toasting them brings out more flavor. Spices are pretty and add all sorts of different flavors. Our favorite topping lately is an aged balsamic vinegar of Modena - the thick stuff! - bringing richness and depth. We don't miss olive oil this way, but if you like topping with it, you do you! Fresh herbs are so wonderful as a topping, and we love chopped red onion and olives, too.
Pairings
This hummus goes great with the following recipes:
• gluten-free olive crackers with rosemary and pine nuts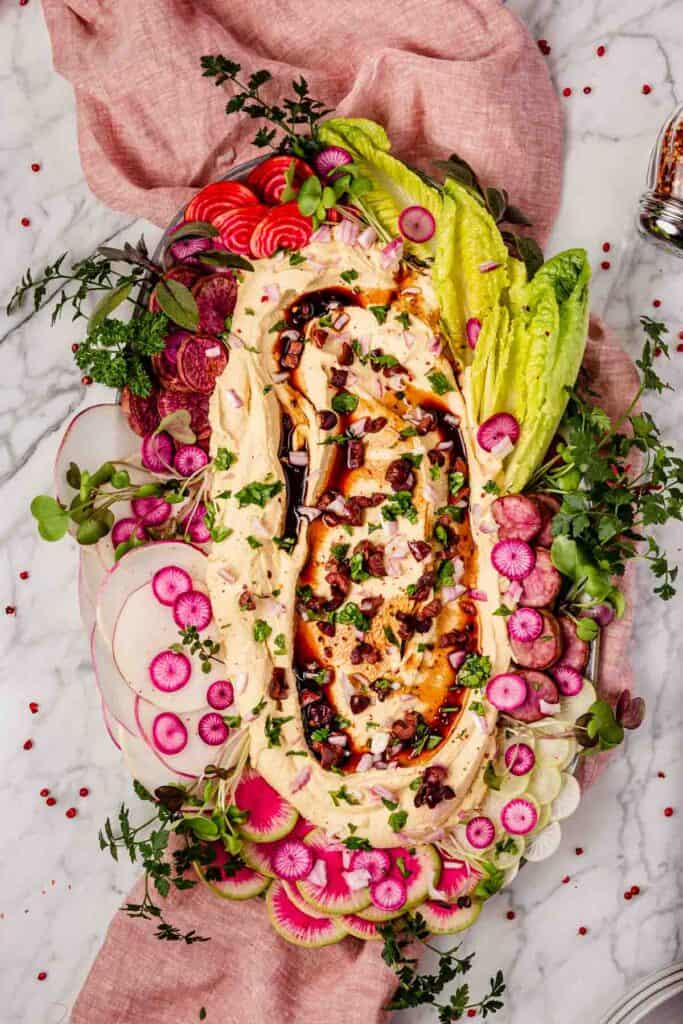 The Recipe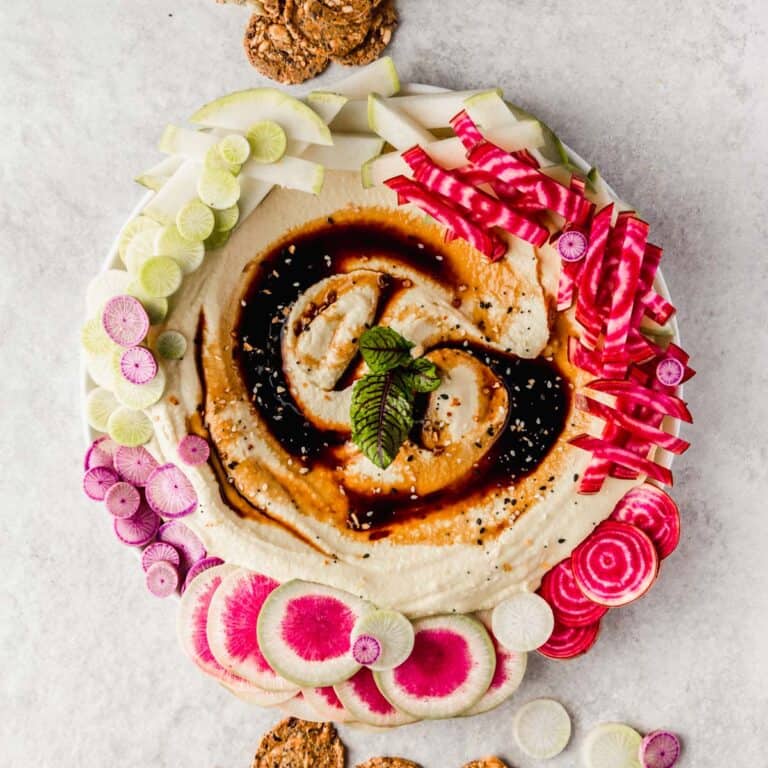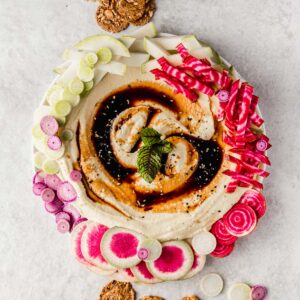 Best Oil-Free Hummus in 5 Minutes
A light, smooth & creamy hummus that is quick & easy to make while being oil-free. Instead of oil, I love to use thick, aged balsamic vinegar of Modena, which brings a delicious depth to this hummus. My family has forgotten about the store-bought hummus they used to love- this hummus recipe is their favorite!
Plant Diversity: Striving for 30 different plants per week
The number of plants in this recipe: at least 3 plants 
Print
Pin
Rate
Ingredients
3

cups

chickpeas

2 15-ounce (low sodium) canned or cooked

¼

cup

tahini

¼

cup

lemon juice

fresh

1

teaspoon

garlic powder

1

teaspoon

salt

¾

cup

water

plus ¼ cup for thinner hummus
Topping Ideas
aged balsamic vinegar of Modena

a finishing balsamic

toasted seeds like hemp and sesame

spices like za'atar, sumac, cumin, dukkah, or more garlic powder

fresh herbs like parsley, sage, rosemary, thyme

chopped red onion

chopped olives

olive oil
Instructions
Blend all the ingredients until smooth in a high-speed blender, using the tamper if necessary. Add more water if you need to thin it out. Enjoy!
Notes
If you only have a standard blender, you can give this recipe a try by adding more water until it's a consistency that can blend fully.
This recipe pairs well with: