with Olives, Garlic, and Pine Nuts (gluten-free, grain-free, oil-free)
These Homemade Vegan Rosemary Crackers are quick and easy to make and so delicious. They're a bit cheesy-tasting and bursting with rosemary, olive, and garlic flavor. Thanks to chickpea flour, they're also gluten-free and grain-free, and they require no oil. They seem fancy, so they're great for gatherings. You can also enjoy them at home anytime!
I am all about homemade crackers now. After years of walking into grocery stores with crackers on my list only to walk out crackerless because I couldn't find any organic crackers with real ingredients that I was excited about, I finally decided to try making my own. And omg, they're so much better than even fancy artisanal store-bought crackers! And - bonus - they're surprisingly easy to make. Just around 15-20 minutes of hands-on time - and it's fun! You get to roll out the dough and cut it into shapes - and by using wax paper and the parchment you'll line your baking sheet with, there's no sticky mess, no dough stuck to the rolling pin - it's so easy!
These crackers are wonderful with my Best Oil-Free Hummus in 5 Minutes.
Ingredients
These crackers are not only easy and delicious, they're packed with nutrition. Oil isn't necessary with the olives and nuts providing whole-food fats here.
Chickpea flour: Provides far more protein, fiber, and iron than typical all-purpose flour - even more than whole wheat. These crackers are fully plant-powered and contain more nutrition than any cracker I've ever found on the shelf.
Nutritional yeast: This is what adds the cheesiness.
Ground flax meal: Omega 3s and other nutritional benefits are supplied by the flax.
Salt: Just a bit to bring out the flavors.
Baking powder: To help the crackers rise a bit and have the proper texture.
Pine nuts: I love the hint of woodsy rich flavor these bring.
Rosemary: Another woodsy flavor that is so pleasant in these crackers. You can use a fresh sprig (preferable) or a teaspoon of dried.
Garlic: We use a fresh clove to flavor these crackers.
Olives: They're really the star in these crackers! Use a tasty pitted olive like Botija or Kalamata.
Filtered water: A little water brings it all together.
Flake salt: This optional topping adds a nice touch.
Equipment
For this recipe, you will need the following:
Stand mixer or equivalent (bowl/mixer).
Nut chopper or mini food processor
A rolling pin
Knife, pasta cutter, pizza cutter, or cookie cutter
Baking sheets with liners (parchment or silicone)
Oven
Instructions
First, we'll mix the dry ingredients in a large bowl/stand mixer.
Then, chop the fresh ingredients and stir them into the dry ingredients.
With the mixer running, slowly add the water and mix until well combined. The dough should stay together when squeezed. If too crumbly, add a bit more water.
Next, shape the dough into a large rectangle on a piece of parchment or silicone mat. Cover with another parchment/mat and roll until the dough is about ⅛-inch thick. Slowly remove the top parchment/mat and cut the crackers into their desired shapes.
These crackers could really be any shape you cut out with a cookie cutter around one to two inches. If you want the quick route, though, I recommend using a pizza cutter to cut the dough into quick strips, then crosswise into rectangles, and there you go. I like the rough-cut look artisan crackers can have, so if the ends are uneven - great!
Bake at 300 degrees for 20 minutes, then turn the heat up to 325 degrees and bake a few more minutes, until the crackers are golden.
Storage
Store in an airtight container in a cool dark place for up to a couple weeks.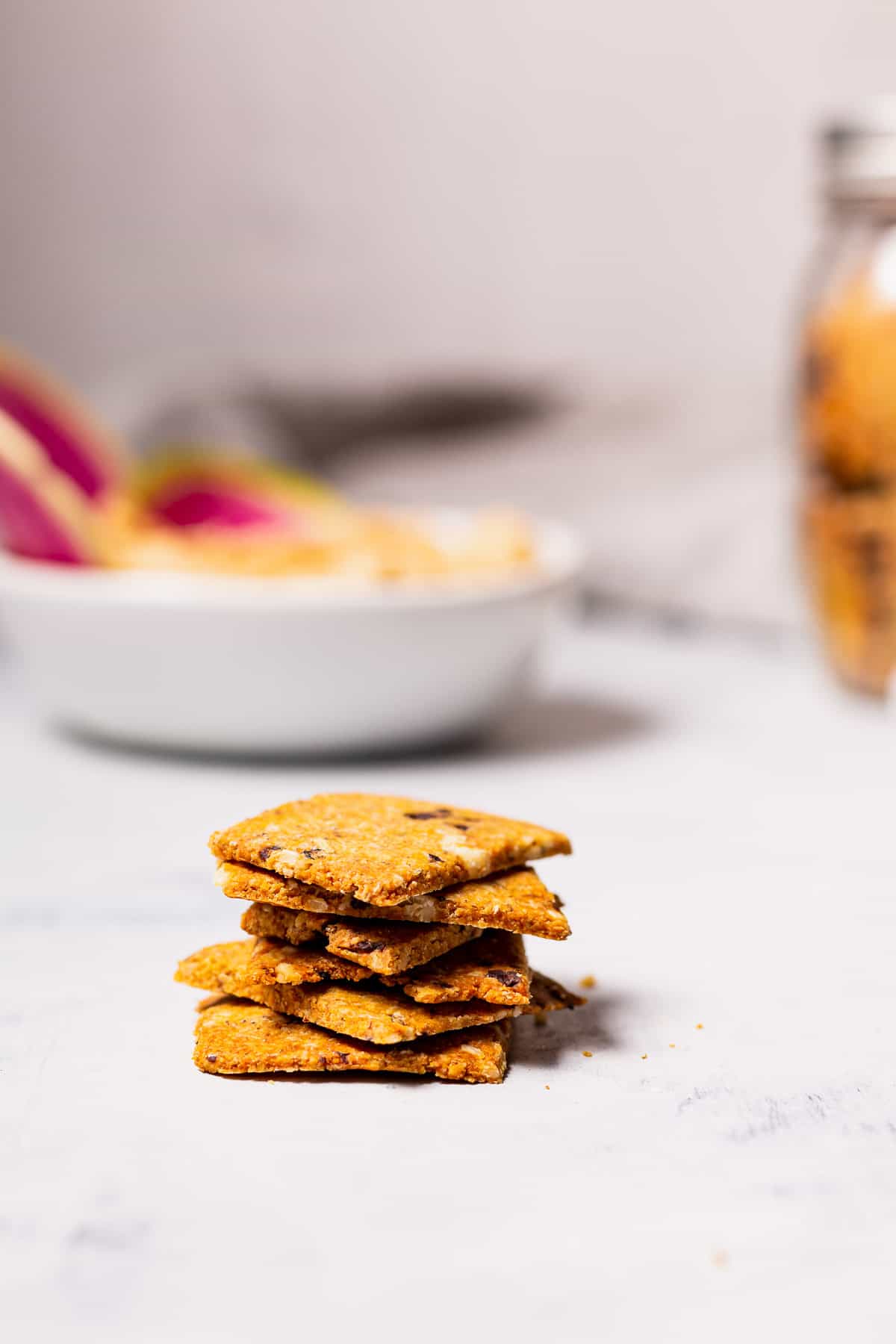 Pairings
These recipes pair well with the crackers:
The Recipe
Homemade Vegan Rosemary Crackers with Olives, Garlic, and Pine Nuts
This cracker recipe is gluten-free, grain-free, vegan, and oil-free. They're bursting with flavors of rosemary, garlic, olives, and pine nuts.
_________________________________________________
Plant Diversity: Striving for 30 different plants per week
The number of plants in this recipe: 6 plants
Print
Pin
Rate
Equipment
stand mixer

or large bowl and hand mixer

mini food processor

or nut chopper

Rolling Pin

2 parchment papers

or silicone mats

baking sheet

Pizza Cutter

or pasta cutter, knife, cookie cutters
Ingredients
1

cup

chickpea flour

⅛

cup

nutritional yeast

⅛

cup

flax meal

½

teaspoon

salt

¼

teaspoon

baking powder

¼

cup

pine nuts

½

sprig

fresh rosemary

or ½ teaspoon dried

1

garlic clove

1

tablespoon

olives

pitted, such as kalamata or botija

3

tablespoons

water

or more for binding

flake salt

(optional for topping), sprinkle
Instructions
In the bowl of a stand mixer or large bowl, stir together the flour, nutritional yeast, flax, salt, and baking powder. Tip: For the nutritional yeast and flax meal, it's fine to use a ¼ measuring cup roughly half-filled with each if you don't have an ⅛ measuring cup.

In a mini food processor or nut chopper, chop the pine nuts and rosemary together. Add them to the dry mix, stirring well to incorporate.

In the same chopper, chop the olives and garlic together. Add them to the dry mix, using a stand or hand mixer to incorporate.

With the mixer running, add the water one tablespoon at a time until the dough becomes sticky crumbles. It should stay together when squeezed. Add a bit more water, if necessary.

Turn the oven on to 300 degrees F.

Turn the dough onto a piece of parchment paper or silicone mat. Using your hands, shape the dough into a large rectangle. (If the dough seems too dry, put it back in the mixer and add a few drops of water until you achieve the sticky crumbly texture throughout.)

Place another parchment/mat on top of the dough, then roll the dough out until it's thin, about an ⅛-inch thick.

Use a butter knife, cookie cutter, or pizza cutter to cut out your crackers. You can really cut these into any shape, but if you're after the quickest and easiest way, I find using a pizza cutter to cut the dough into strips does the trick. I like cutting the dough into one inch strips and then across to make 1" x 1 ½" pieces.

Carefully place the parchment/mat onto the baking sheet.

If you have dough scraps, continue rolling the dough out on another parchment/mat until they're all used.

Bake for 20 minutes, then turn the heat up to 325 degrees and bake another 5 minutes until golden.

Let cool about 10 minutes and they're ready! Store in an airtight container in a cool dark place for up to two weeks.
Notes
Sometimes olive pits still find their way into jars of pitted olives, so make sure each olive is pit-free by giving them a squeeze before using.