vegan | wfpb | easy | gluten-free | no added flour, oil, butter, or sugar
Power Cookies came about from a wish. I wished for a portable snack that could pack a punch, providing some "power" when I'm too busy to really stop and eat, or when a kid needs a snack on the go after school, or as a quick breakfast while literally running out the door, or anytime, anywhere, for anybody. I wished for it to be kind of a vegan version of a monster cookie - those loaded, meal-in-itself cookies, really delicious with lots of flavors - yet be made of whole-food, plant-based ingredients, with high-quality fats and protein to pack true "power" into it. Plus, I wished for this snack to be gluten-free and flourless to help cut back a bit on our processed-flour consumption. And I wished for this snack to contain chocolate, as in chocolate chips. Oh, and I wished for no added oil, butter, or refined sugar in this snack (only what's in the chocolate chips).
Too much to wish for?
I wasn't sure as I started this Power Cookie journey, but I'm happy to report that the answer is:
No. The wish came true. Not by magic (unless you consider spending a fair amount of time in the kitchen working and reworking the recipe magic), but true, nonetheless.
These Power Cookies are:
portable (actually, no container needed if eating right away)

a meal in itself

loaded with flavor

whole food & plant-based

powerful, full of fiber, iron, protein, and omega-3s, and other nutrients

gluten-free (when using gluten-free oats)

flourless

chocolatey, with plenty of chocolate chips

without added oil or butter in the dough; instead only higher-quality, whole food fats to help power that brain

without refined-sugar in the dough; instead only higher-quality, whole food sweeteners to help provide an energy boost without a sugar-crash
---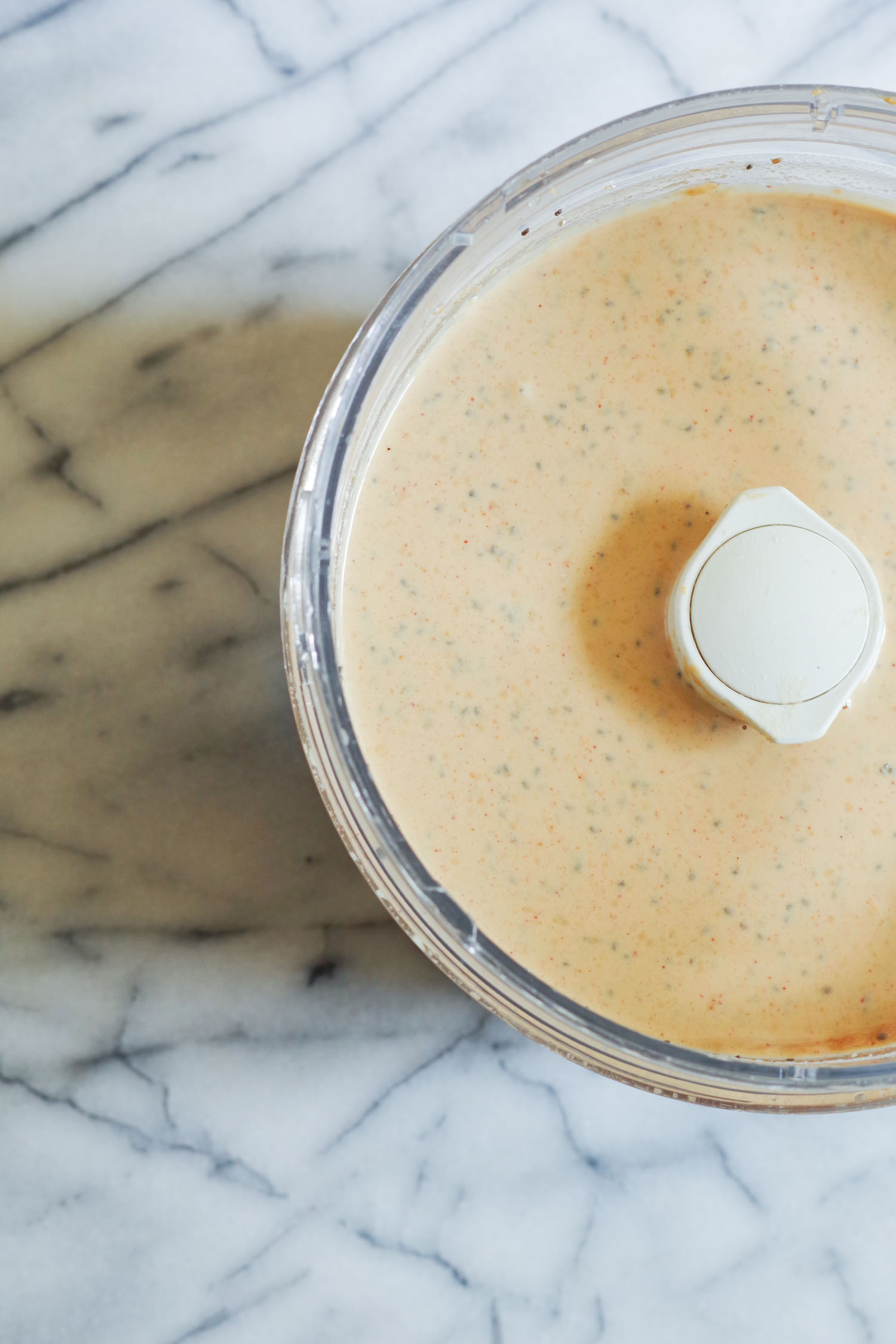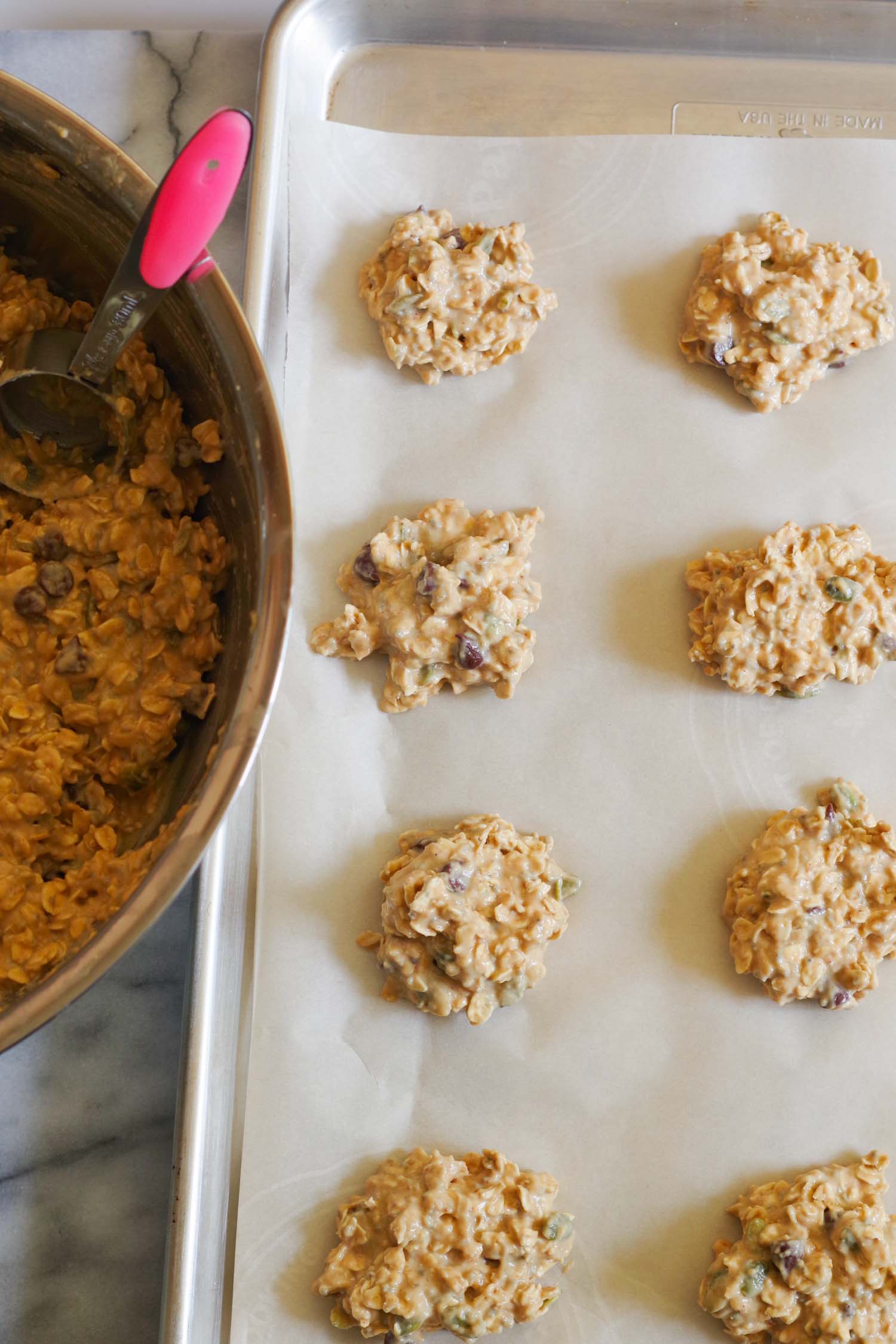 ---
---
---
---
These Power Cookies are also:
ooey-gooey out of the oven

soft-batch style, so they make a great breakfast cookie

peanut butter (or other nut/seed butter) chocolate-chip oatmeal cookies

made with a secret ingredient that adds even more fiber and protein. OK, come close and I'll tell you: garbanzo beans! Their beauty is in the fact that they replace eggs and some liquid in this recipe while providing their nutrients, rich in fiber, protein, iron and folate - all without tasting like, well, garbanzo beans. They're that well hidden in the dough. Woo hoo!
---
Power Cookies
Vegan, Gluten-free Whole Food
vegan | wfpb | easy | gluten-free | no added flour, oil, butter, or sugar
---
YIELD: 5 dozen
PREP TIME: 20 minutes
COOK TIME: 15-20 minutes
COOL TIME: 10 minutes
TOTAL TIME: 45-50 minutes
RECIPE CATEGORY: Breakfast, Snack, Dessert
PRIMARY TOOLS: food processor, oven
COOKING METHOD: bake
My goal is to provide recipes that are easy and relatively quick; doable during a busy week. Kitchen times are approximate and will depend on various factors, like your personal kitchen speed and how many hands you have working with you. Cooking can become a centering experience that brings family together. I hope you enjoy the ride!
INGREDIENTS
2 cups peanut butter (or nut/seed butter of choice)

1 15.5-ounce can garbanzo beans

1 ¼ cup unsweetened applesauce

1 cup maple or date syrup

¼ cup chia seeds

1 tablespoon vanilla

½ teaspoon salt

5 cups rolled oats

1 cup vegan chocolate chips

½ cup pepitas (raw pumpkin seeds, shells removed)
STEPS
Blend the nut/seed butter, beans and their liquid, applesauce, syrup, chia seeds, vanilla, and salt in a large food processor until smooth.

Pour the mixture into a large bowl and stir in the oats, chocolate chips, and pepitas. The dough will look pretty wet.

Preheat the oven to 375 degrees and line baking sheets with parchment.

Wet a ⅛ measuring cup (2 tablespoons) and scoop the cookie dough onto the lined baking sheets, pressing the cookies into flat rounds with the scoop, if desired.

Bake in the oven for 15 minutes. Check the cookies, baking a few minutes more if needed, until golden brown.

Remove from the oven and let cool at least 10 minutes before serving or storing.
---