If you're looking for comfort food, you've found it in these oil-free cheesy roasted potatoes with kale and lentils. It's easy to make, though it does take a few steps. No worries, you'll have a satisfying sheet pan that holds a family-sized meal without too much effort, especially if using canned lentils.
This vegan recipe satisfies a gluten-free, grain-free, oil-free, dairy-free, whole food plant-based lifestyle.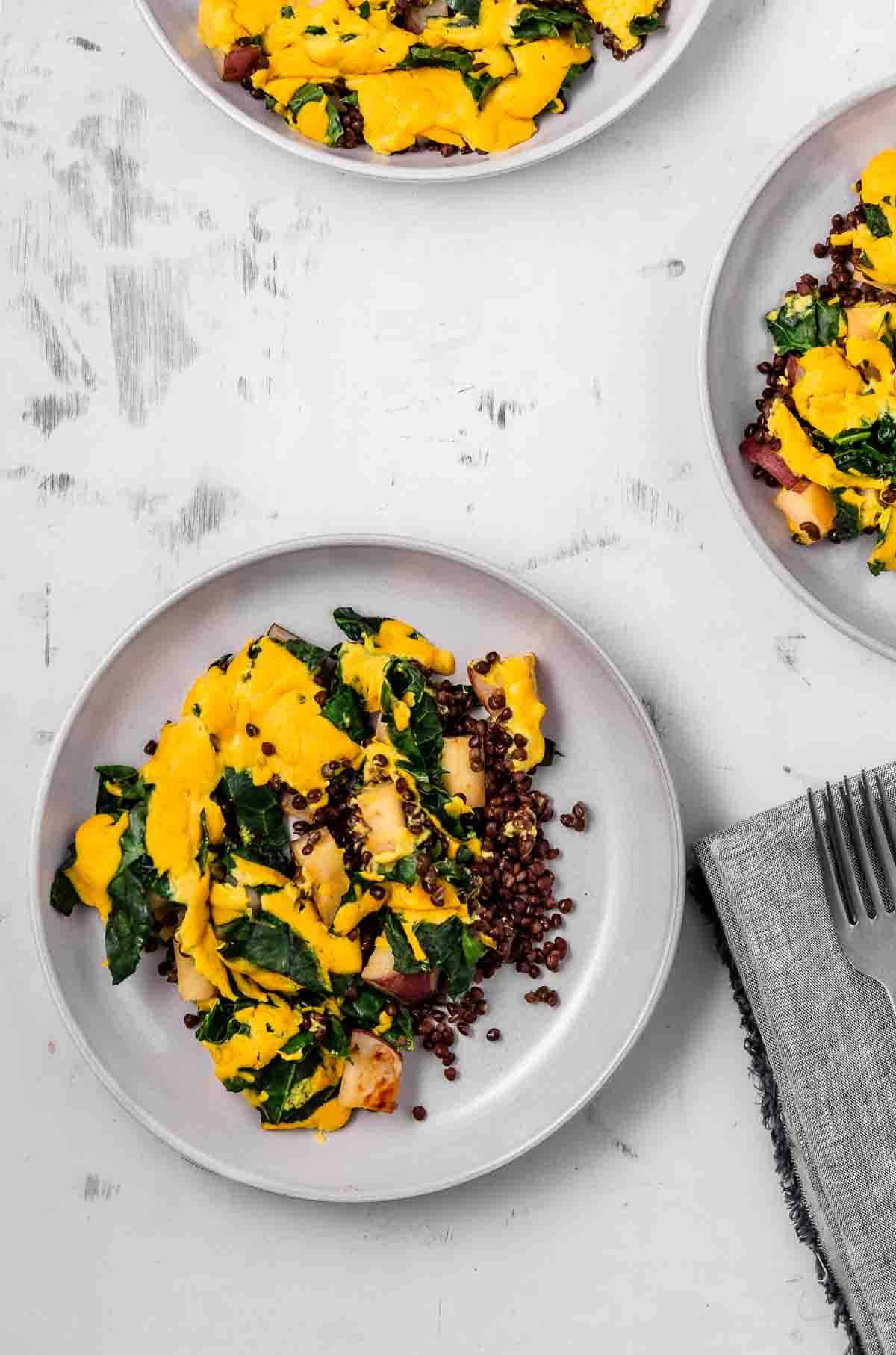 Kale covered in cheesy sauce? I could eat that all day! I'm trying to be more aware of my intake of greens, and this is such an easy way to enjoy them. This dish is so comforting it's like a big hug. I love that there really isn't a need to make anything else for dinner! It's hearty enough for my husband to feel satisfied, too, which is saying something. This would be great for breakfast, too.
Ingredients and Substitutions
Vegan cheese sauce: (See the recipe for details.) This sauce is rich without oil and just requires a small amount of macadamia nuts instead of the typical load of cashews. Remember to pre-soak them at least a couple hours to soften. Soak them in the fridge overnight or through the day, to keep it easy.
You'll also need potatoes, a sweet potato or large carrot, shallots or red onion, garlic, nutritional yeast, salt, white wine vinegar, turmeric, and plain unsweetened plant-based milk.
Potatoes: You can use any you'd like. Here, I've used red potatoes. These will be roasted.
Coconut Aminos: We're just using a little to season the potatoes as they roast. Low sodium tamari or soy sauce or flavored coconut aminos are good substitutes.
Lentils: Using canned is so easy! That said, cooking lentils just requires simmering them in a pot of water until they soften (see package instructions). Do what works best for you.
Kale: Any type is fine. You can substitute other greens such as collards, if you'd like.
Instructions
Cheese Sauce
(See recipe for full instructions. You can have the two recipes open side by side on your phone, ipad, or desktop.)
It starts with pre-soaking your macadamia nuts, then steaming the potatoes, and finally blending all the sauce ingredients together with a strong blender, preferably one that has a tamper.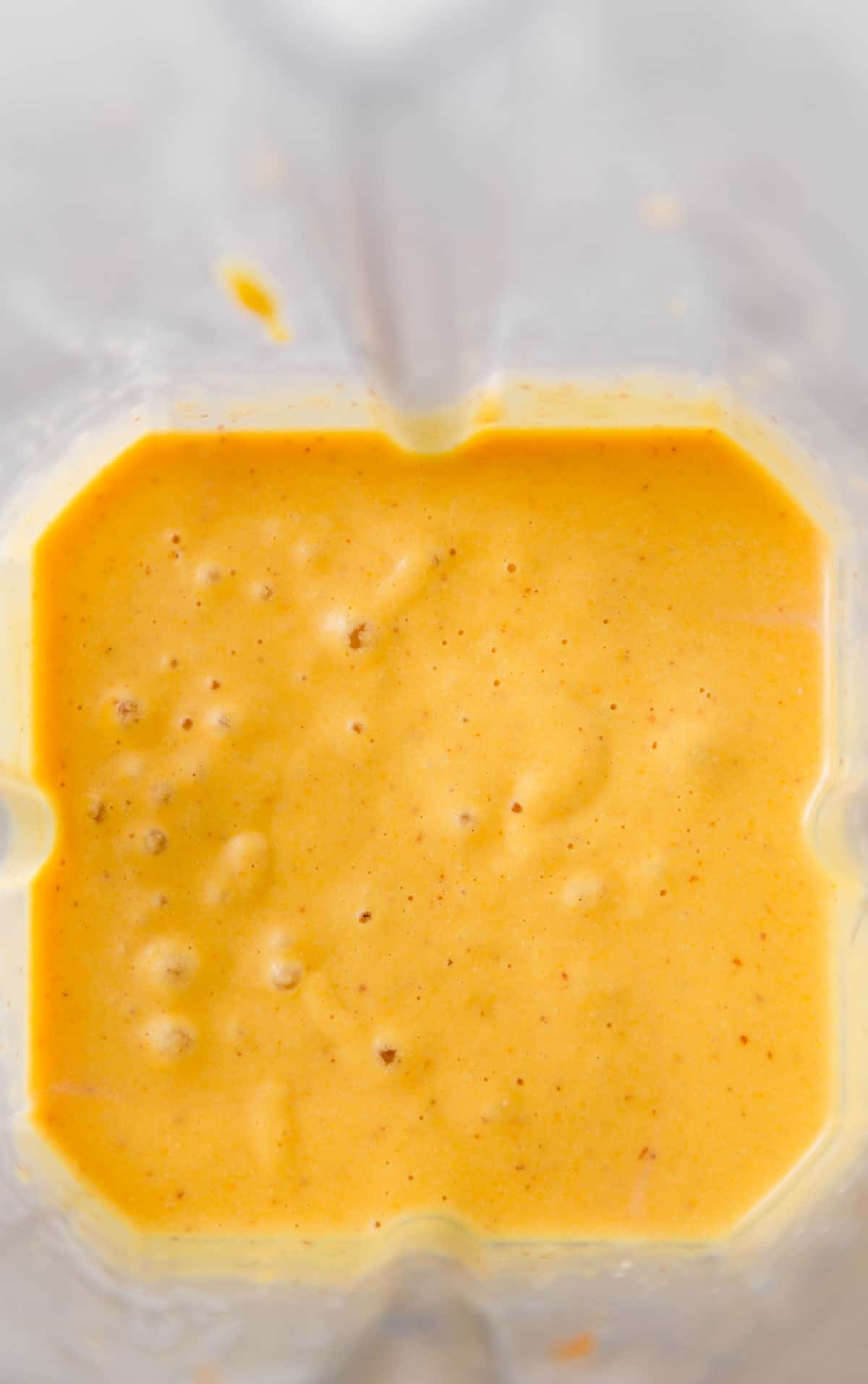 Lentils
If cooking, simmer in a pot of water until softened (follow package instructions). If using canned, set aside.
Roasting the potatoes
Chop the potatoes into bite-sized pieces, trying to keep them the same size so that they cook evenly.
Steaming the potatoes before roasting helps them be soft in the middle and crispy on the outside. If you would prefer to skip the steaming step, simply increase the roasting time by 5 minutes or so (keep in mind they may not turn out quite the same without steaming first).
For roasting, you'll toss the potato pieces in coconut aminos and place them evenly on a lined baking sheet and into the preheated oven. I like a reusable silicone mat or unbleached parchment paper (which is compostable, only if unbleached).
Prepare the kale
Chop the kale into bite-sized pieces, stems removed if preferred.
Steam the kale for a couple minutes and squeeze dry. This will help the kale avoid getting too crispy while in the oven. However, if you would like to skip this step, you can. Try to cover the kale with cheese sauce so that it doesn't get overcooked in the oven.
Assemble the components and bake
Once the potatoes are done roasting, remove them from the oven and top with the kale, lentils (strained and rinsed if using canned), and cheese sauce. Return to the oven and bake another 10 minutes, until the sauce looks cooked.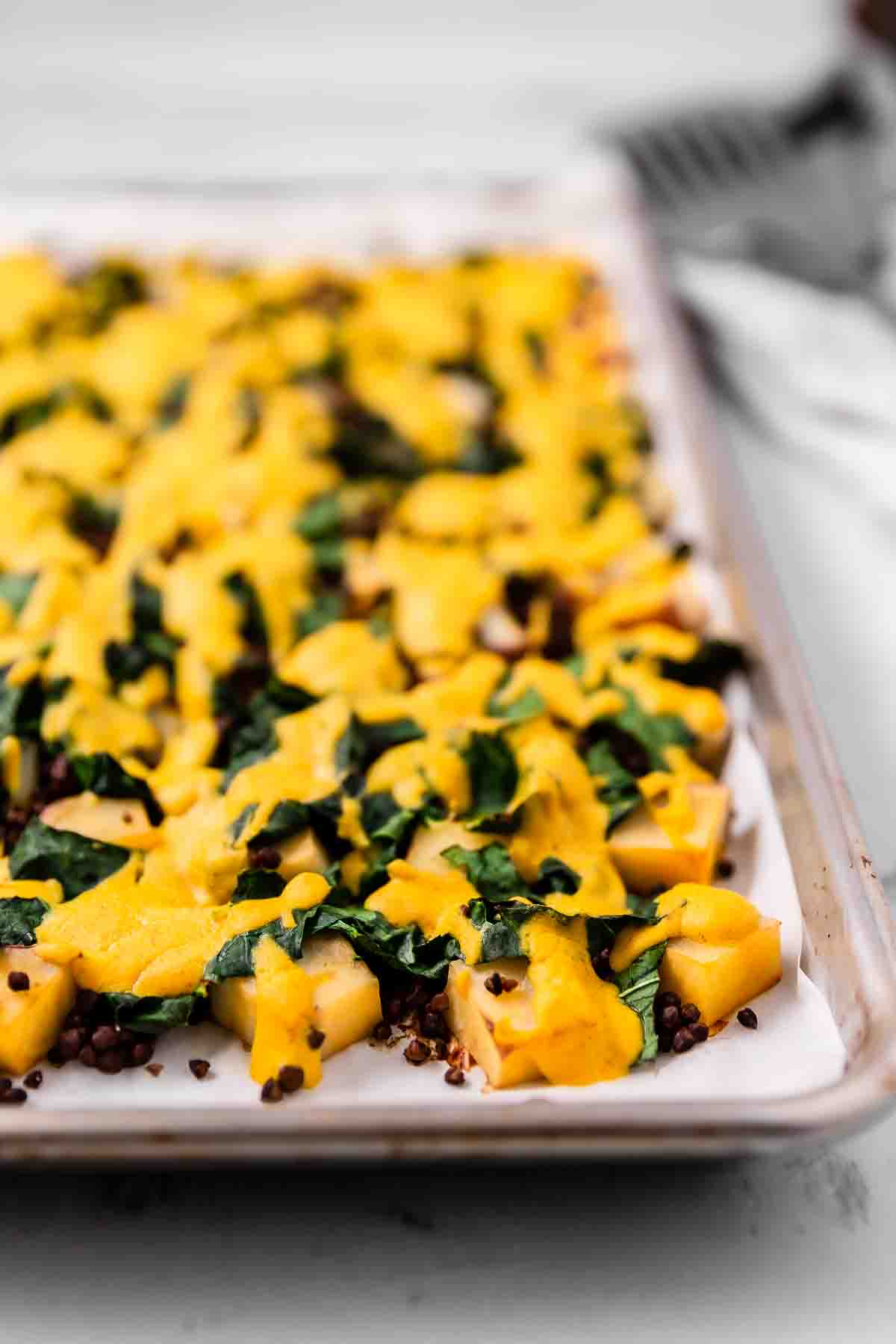 Serving and storing
Serve immediately. No accompaniments necessary. You may enjoy adding hot sauce, salt and pepper, avocado, or other toppings.
Store in a refrigerated sealed container for up to a few days and reheat prior to serving.
The Recipe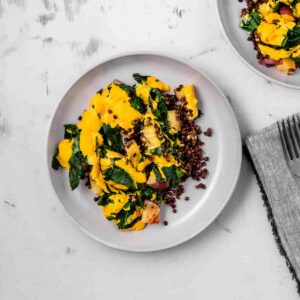 Cheesy Potatoes with Kale and Lentils
Major comfort food! It's easy to make, though it does take a few steps. No worries, you'll have a satisfying sheet pan that holds a family-sized meal without too much effort, especially if using canned lentils. Heads up: Soak the macadamia nuts for at least 2 hours prior to soften. Steaming ingredients in advance will make this an easy weeknight dinner.
Plant Diversity: Striving for 30 different plants per week
The number of plants in this recipe: at least 4
Print
Pin
Rate
Equipment
cutting board and chef's knife

steamer basket and pot

strong blender

preferably with a tamper

oven
Ingredients
1

batch

Everyday Vegan Cheese Sauce

2

lbs

potatoes

medium, red or your choice

1

tablespoon

coconut aminos

2

15-ounce

lentils

cans, or about 3 cups cooked

1

bunch

kale

or collards, or other greens
Instructions
Lentils: If cooking, do so according to package instructions and set aside.

Set the oven to 450 degrees.

Prepare potatoes to steam: Put about 2 inches of water in the bottom of a pot that fits your steamer basket and bring to a simmer. Alternatively, skip this step and roast the potatoes an extra 5-10 minutes or so, though they may end up less crispy.

Meanwhile, chop the 2 lbs potatoes into even bite-sized pieces and place in the steamer basket. Steam about 5 minutes. Pour the potatoes into a bowl, sprinkle with the coconut aminos and toss to coat, then spread the potatoes on a baking sheet/sheet pan lined with parchment or a silicone liner.

Roast for 25 minutes.

2 lbs potatoes,

1 tablespoon coconut aminos

Meanwhile, make your cheese sauce: it will require steaming a few more potatoes and sweet potatoes, then blending the sauce ingredients together. See recipe for details. Note: You may need to add more water to the pot to steam.

1 batch Everyday Vegan Cheese Sauce

Prep the kale: Wash, dry, de-stem, and chop the kale or collards into bite-sized pieces.

Steam: After steaming the sauce potatoes, add the greens to the steamer basket. Make sure there is enough water in the base to steam. Steam for about 2 minutes, until dark green but not soggy. Remove from the heat.

Combine components on sheet pan: When the timer goes off on the oven potatoes, make sure they're starting to become golden. If not, put them back in another 5 minutes at a time until they are. Once golden, flip the potatoes.

Sprinkle the lentils over the potatoes, letting them fill the nooks and crannies of the baking pan. Then add the kale or collards in one layer, trying not to have any greens piled up too much.

On top of the greens, generously drizzle the cheese sauce with a spatula or large spoon, making sure to cover all of the greens well. You should use at least two of the three cups of sauce - go ahead and use it all, though, if you'd like!

Place the sheet pan back in the oven and bake another 10 minutes. Serve while warm. Store any leftovers in a sealed refrigerated container for up to a few days.
Notes
Note: The Everyday Oil-Free Vegan Cheese Sauce recipe calls for a high-speed blender. If you have a standard blender just add more milk to the cheese sauce ingredients to keep from overworking your blender. I leave the skins on all of the potatoes, including those steamed for the cheesy sauce, which adds some red specks that I don't mind at all. If you prefer, go ahead and peel them.
Heads up: Soak the macadamia nuts for at least 2 hours prior to soften.
There's about 15 minutes of prep before roasting starts. Prep continues while roasting.
Serves 4 generously or about 6-8 as a side dish.
general food safety
Cook to a minimum temperature of 165 °F (74 °C)
Do not use the same utensils on cooked food that previously touched raw meat
Wash hands and ingredients well before using
Don't leave food sitting out at room temperature for extended periods
Never leave cooking food unattended
Use oils with high smoking point to avoid harmful compounds
Always have good ventilation when using a gas stove