with nut-free option
Delicious on anything you like to make cheesy, the oil-free vegan cheese sauce is one to keep on-hand at all times. Instructions for making it with macadamia nuts, cashews, or nut-free are all there. So satisfying! It's also dairy-free, gluten-free, and so easy to make!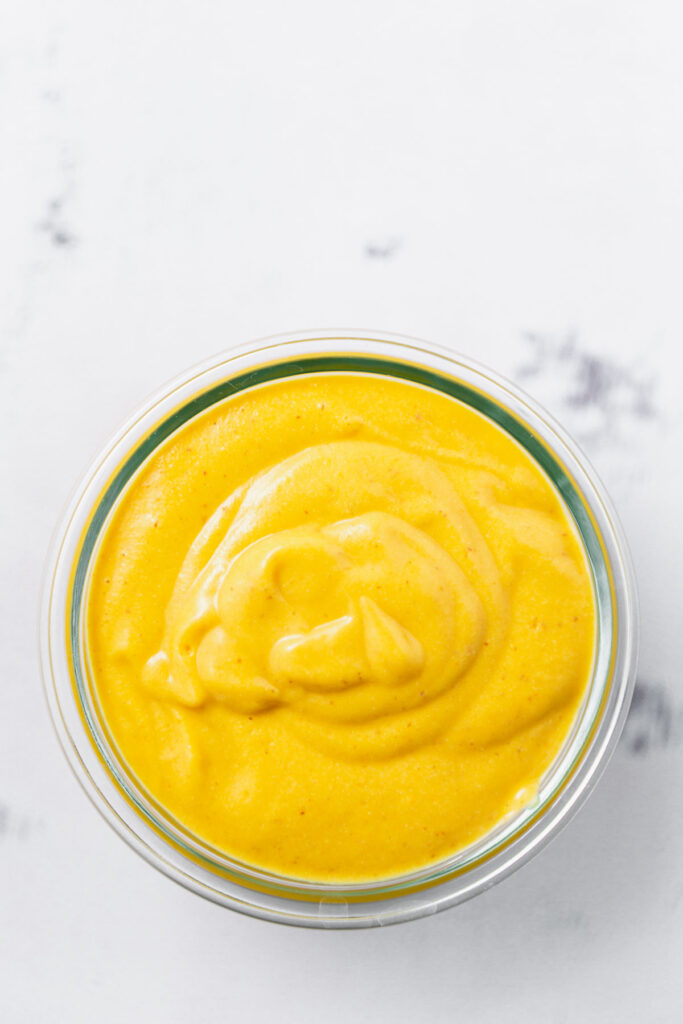 Since coming up with this particular cheese sauce, I've eaten a lot more greens. The sauce was created as part of my Cheesy Roasted Potatoes with Kale and Lentils recipe, which uses a whole bunch of kale or collards. This dish led me to realizing I liked this sauce with greens so much, I've been simply sautéeing dark leafies and stirring in the sauce. That's right, just eating the greens and sauce - and it's delicious! I also love it with beans - so good! So I decided to break out the cheese sauce recipe separately from the sheet pan recipe so you can easily use it in a variety of ways.
Jump to:
Equipment
You will just need a pot with a steamer basket that fits it and a high powered blender. If you don't have a blender that seems like it could handle this recipe, you can try a food processor. A food processor would work best with the nut-free option.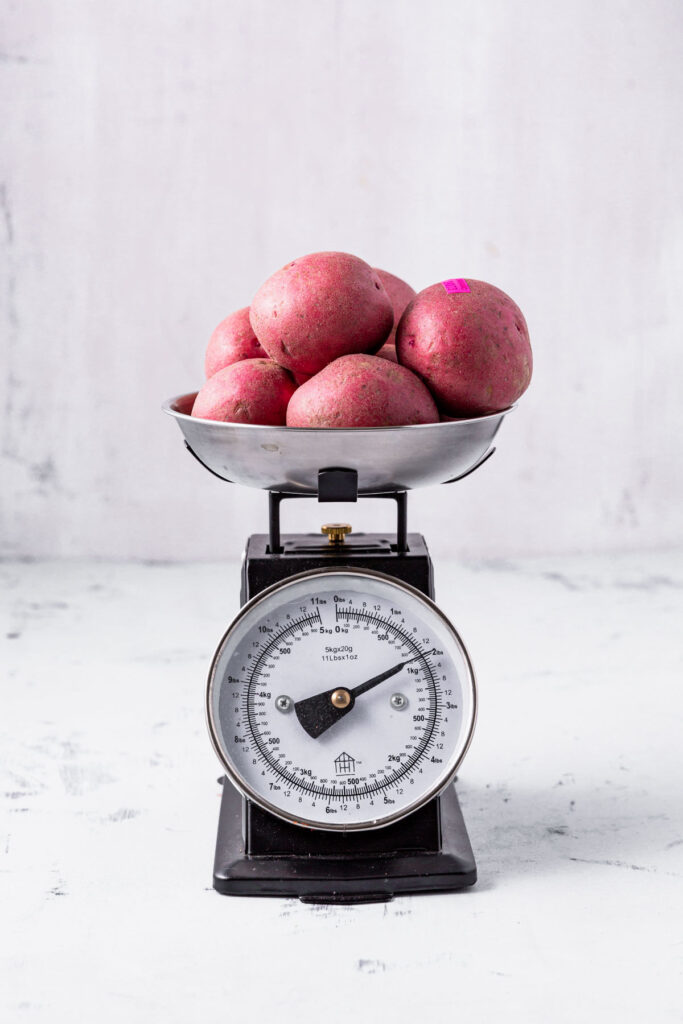 Ingredients & Variations
Potatoes: You will need about 2 pounds of potatoes, figuring blemishes will be removed. If you are making this a nut-free cheese sauce, you will need about a ½ pound more. You can peal them, but I don't bother to. I prefer to use yellow potatoes for color, nutrition value, and texture. Second best would be red potatoes, which will give the sauce tiny specs of red, as in the cheese sauce pictured. The next best after yellow or red potatoes would be standard baking potatoes.
Sweet potato or carrot: I prefer sweet potato for this recipe, though carrot works if you don't have any.
Macadamia nuts, cashews, or extra potato: To keep this cheese sauce oil-free, macadamia nuts provide that nice rich texture and flavor. Cashews are also nicely rich and creamy and less expensive. If you are wanting to go nut-free, adding more potato will give you the cheesy factor without the added fat that the nuts provide.
Shallots: Shallots provide a really nice flavor. If you don't have any, red onions would work - other onions would work, too, in a pinch.
Garlic: One of the backbones of flavor in this recipe, so don't be stingy with it! The bigger the garlic cloves, the better.
Nutritional yeast: This is the main ingredient for providing that cheesiness we're after.
Salt: You may require a bit less if using the nut-free option. If you are wanting to cut back on salt, you could try replacing it with an extra vinegar.
White Wine Vinegar: This is the vinegar I like to use, but other light-colored vinegars could be used. Lemon juice could replace vinegar quite nicely, too.
Plant-based Milk: Any unsweetened plain plant-based milk will do.
Instructions
This recipe requires pre-soaking the nuts (if using), steaming the potatoes and sweet potatoes or carrots, and blending all the ingredients. It's very simple to put together! Note: If you don't have a steamer basket, you may boil instead of steam.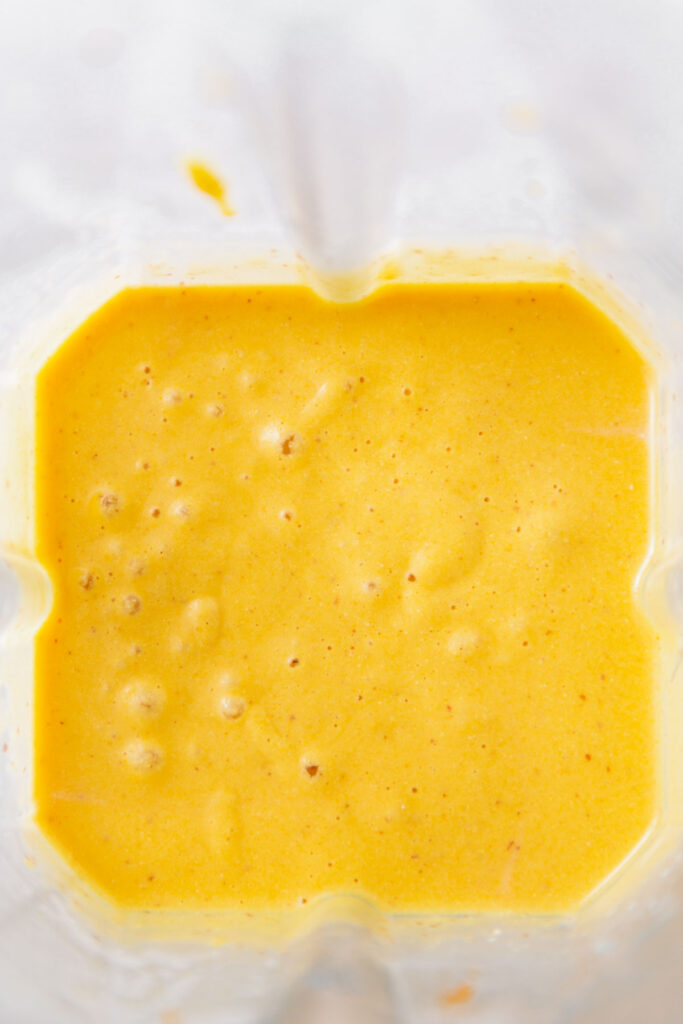 Top Tip
This is a pretty forgiving sauce, so don't worry too much about following the recipe precisely. If you would like more shallots for flavor, add more shallots! If you change ingredient quantities, you may need to add a bit more milk and acid (vinegar or lemon juice). This recipe makes a decent-sized batch, so unless you have a giant blender, make one batch at a time.
Serving Everyday Vegan Cheese Sauce
This sauce is best when heated. The flavor of this sauce is rich with both the macadamias and sweet potato, yet neutral enough to use anywhere you'd use a cheese sauce: on burritos or nachos, stirred into pasta for comforting mac 'n' cheese, in a broccoli soup (or baked with broccoli), over fries, in a casserole - there are so many ways to enjoy this sauce. I haven't tried grilled cheese with it yet - I think it would be great, though! Ooh, I will have to try that soon. I love that this recipe contains minimal nuts and still has all of that rich cheesiness. I don't know about you, but I find it's a relief to not always have to go to cashews for vegan cheesy options. I prefer the flavor macadamia brings, and I love that not many of them are needed to make this big batch of sauce.
This recipe goes great with:
The Recipe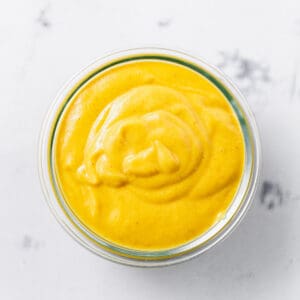 Everyday Vegan Cheese Sauce
Delicious on anything you like to make cheesy, the Everyday Vegan Cheese Sauce is one to keep on-hand at all times. Instructions for making it with macadamia nuts, cashews, or nut-free are all there. So satisfying! It's oil-free, dairy-free, gluten-free, and so easy to make!
Print
Pin
Rate
Equipment
1 steamer basket

1 pot

that fits steamer basket

1 high speed blender

or other strong blender or food processor (best with nut-free option)
Ingredients
2 ½

cups

potatoes

yellow or red; for nut-free, add another heaping ½ cup

1

sweet potato

about ½ cup or use carrot

¼

cup

macadamia nuts

or cashews, soaked; or additional steamed potato for nut-free

2

shallots

about ½ cup or red onion

2

garlic cloves

¼

cup

nutritional yeast

1

teaspoon

salt

2

teaspoons

white wine vinegar

or apple cider vinegar

¼

teaspoon

turmeric

1

cup

plain unsweetened plant-based milk
Instructions
Reminder: soak the macadamia nuts (or cashews) for at least 2 hours prior.

Pour a couple inches of water into a pot and set it to boil. Chop the three potatoes and sweet potato or carrot into one-inch pieces and place them into your steamer basket. When the pot comes to a boil, add the basket and lid and steam for 15 minutes, until the potatoes are very tender.

While the potatoes cook and steam, drain the macadamia nuts and put them into a high-speed blender. Coarsely chop the shallots and garlic and add them, too, plus the remaining ingredients. Once the potatoes are ready, add them and blend until smooth.

Store in a jar or other airtight container in the refrigerator, to be used within the week.
Notes
Nutrition calculations are rough estimates using the macadamia nut option with sweet potatoes rather than carrots.