This vegan mushroom gravy is so satisfying, it's tempting to slather it on everything at your holiday table - and it's made with simple, nutritious, cholesterol-free ingredients, so go for it!
This is a tasty gravy to serve over your mashed potatoes, roasted veggies, stuffing, nut loaf, and other holiday comfort foods. As a vegan mushroom gravy, it suits pretty much any dietary needs so it's easy to share with extended family members, making it a wonderful option for the holidays. We also enjoy it throughout the fall and winter. The recipe makes about 4 cups of gravy, so I make up a batch and keep it in the fridge along with a big batch of mashed potatoes so that the family can grab it as a snack or we can have it as a quick meal with a salad. Full of goodness without the usual downsides of gravy, such as cholesterol, it's the kind of gravy to enjoy as often as you'd like! It's a crowd pleaser, and we find most people don't seem to notice it has replaced the "old gravy" at the table. I hope you end up using it frequently through the seasons!
Ingredients
The ingredients for this recipe are simple and easy to find at most grocery stores. Nutritional yeast can be found out health food stores if not at your local grocers.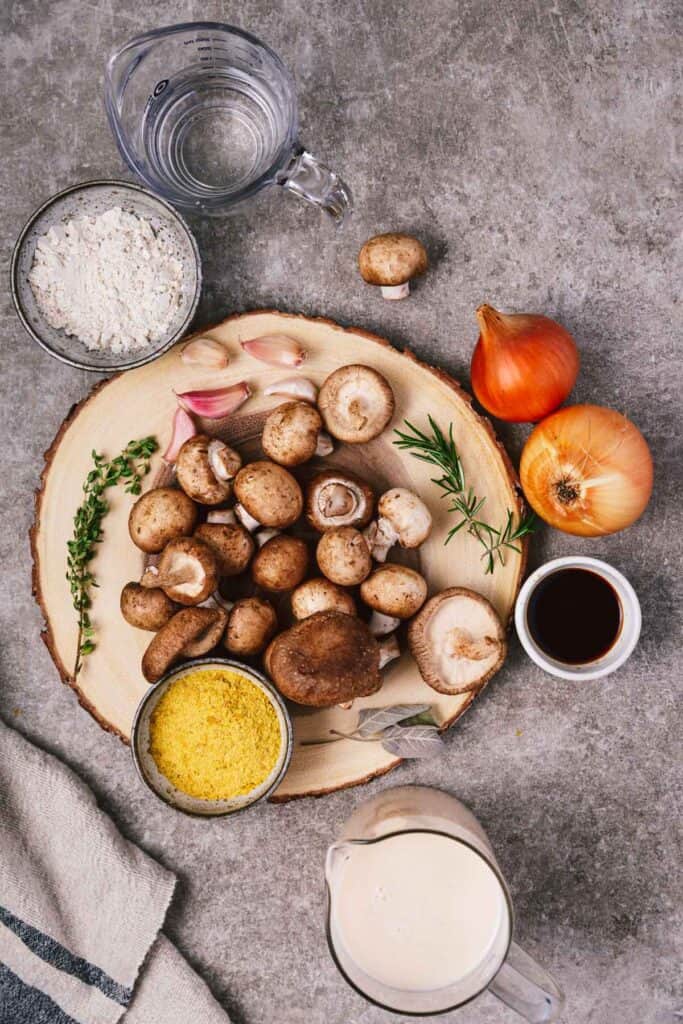 The ingredients include:
onion (yellow or white)
garlic
mushrooms (button, shiitake, portobello, or a combination)
flour or cornstarch (oat flour or cornstarch work well for gluten-free - make sure their packaging says gluten-free if it's required for an allergy)
nutritional yeast
fresh or dried rosemary, sage, and thyme (fresh brings a more vibrant flavor)
veggie broth
plant-based milk (in the picture above, the broth and milk are combined)
tamari
miso paste (optional, but does bring richness and depth of flavor, so recommended if you have it)
salt & pepper
Instructions
This recipe is very easy to make. If you've never made gravy before, that's ok - you can't go too wrong with this recipe!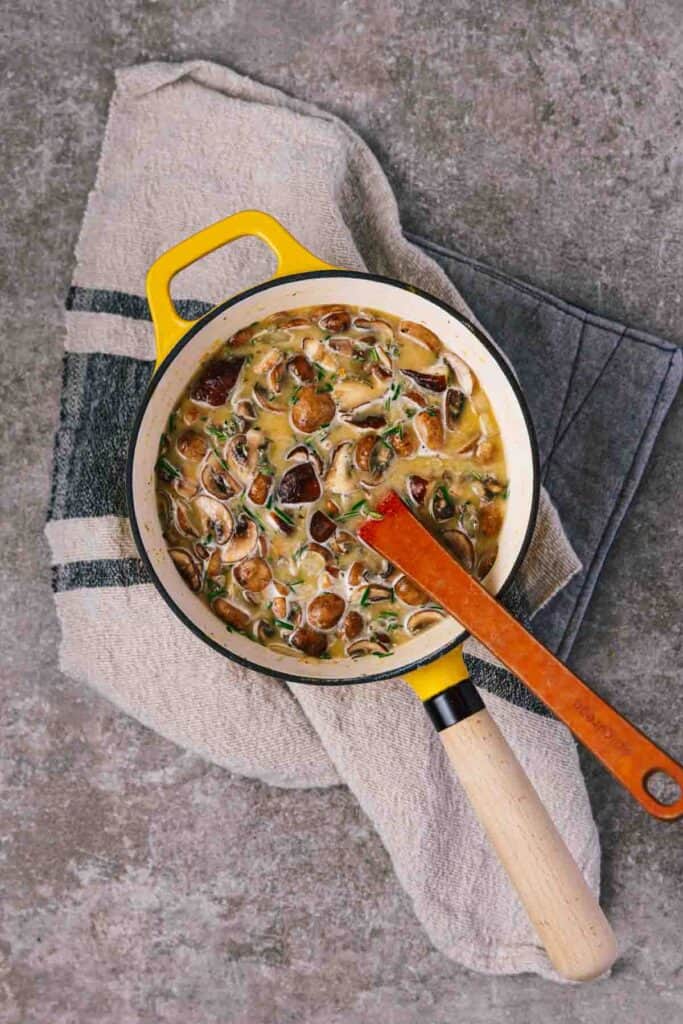 Start by chopping the vegetables and mushrooms and preheating your gravy pot on the stove.
Add the prepped onion, garlic, and mushrooms to the pot and cook down until their soft and brown. Stir occasionally. Meanwhile, create the flour/cornstarch and water slurry.
Stir the slurry into the mixture, then the nutritional yeast, then the remaining ingredients.
Bring to a boil, then reduce to low and blend with an immersion blender.
Continue to stir, if needed, until the gravy has thickened. Salt & pepper to taste and serve.
Substitutions
Onion: white or yellow onion or shallot may be used.
Mushrooms: button, shiitake, or portobello - or a combo - work well.
Garlic: if you don't have garlic cloves, ¾ teaspoon of garlic powder or granules may be substituted.
Flour: oat flour or corn starch work well as gluten-free options. Otherwise, any wheat flour will do.
Nutritional yeast: There really isn't a great substitute. A little almond flour could be tried to help add a richer, creamier texture.
Herbs: fresh are preferable but dried will do.
Broth: any veggie or mushroom broth is fine.
Plant-based milk: coconut, cashew, soy, oat, almond - just about any unsweetened plain plant-based milk will work.
Tamari: If gluten-free, use tamari or coconut aminos. If gluten isn't a concern, soy sauce may be used.
Equipment
I highly recommend an immersion blender to blend this gravy right in the pot. This type of blender can also be used to blend soups - it's very worthwhile for blending whole-food sauces, soups, and gravies.
The alternative is to transfer all the ingredients to a blender and blend that way. This can be a messy process, though - be careful not to burn yourself!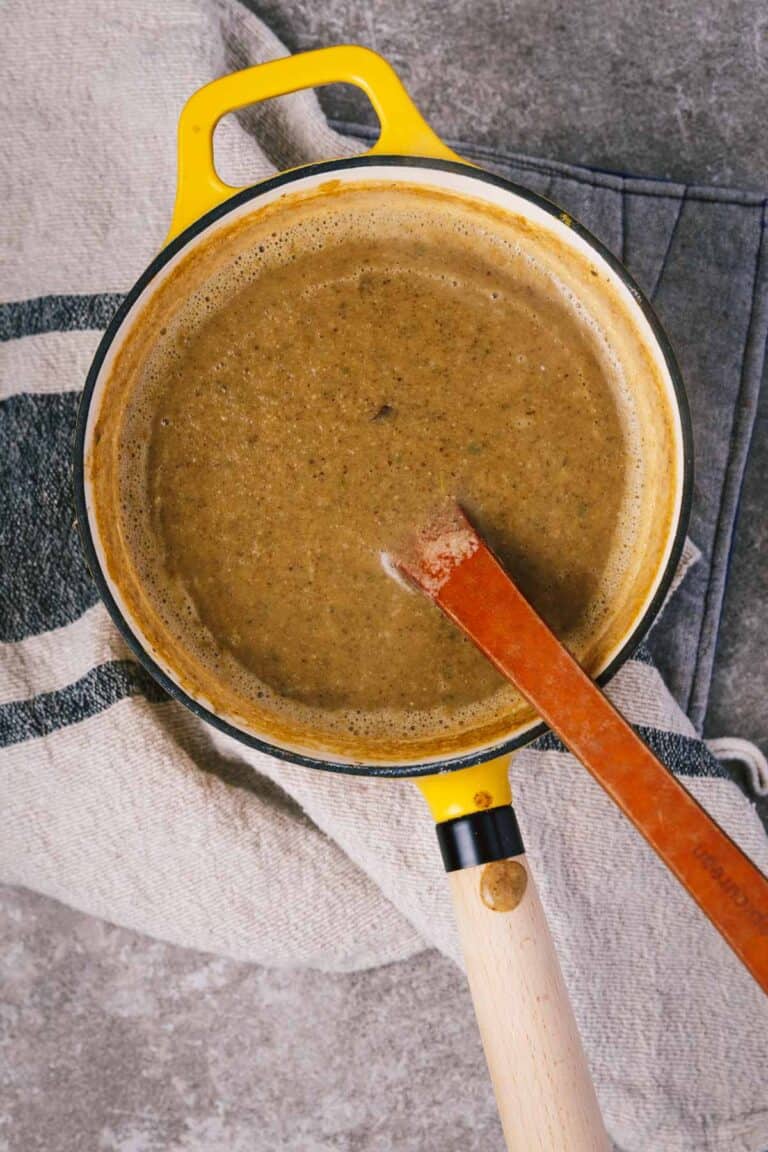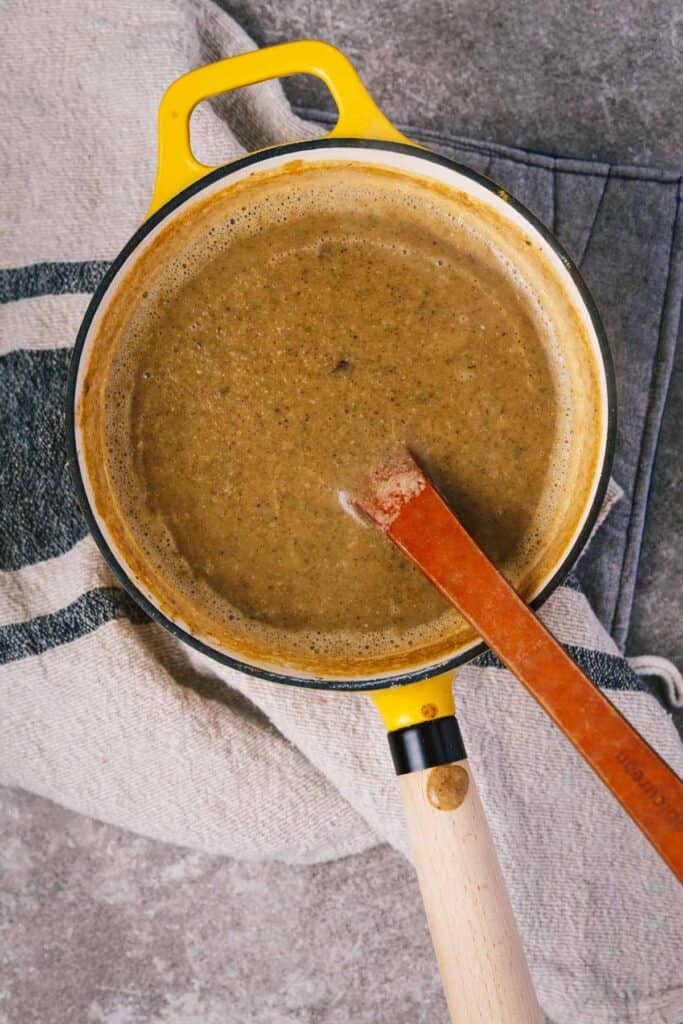 This vegan mushroom gravy is delicious served on mashed potatoes with:
The Recipe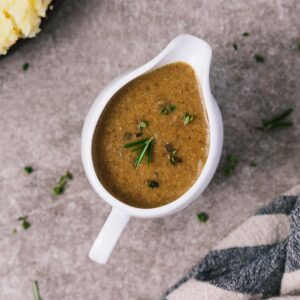 Easy Vegan Mushroom Gravy
This vegan mushroom gravy is easy to make and so satisfying, made with simple, nutritious, cholesterol-free, whole-food ingredients! Meets most dietary needs, so it's perfect to serve guests for the holidays. Vegan, gluten-free option, oil-free, refined sugar-free, dairy-free
Print
Pin
Rate
Ingredients
1 ½

cups

onion

chopped

5

garlic cloves

chopped

3

cups

mushrooms

chopped, about ½ pound

3

tablespoons

whole grain flour

for gluten-free, oat flour or cornstarch

½

cup

water

3

tablespoons

nutritional yeast

1

tablespoon

miso paste

optional, adds richness and flavor depth so recommended

1

tablespoon

fresh rosemary

chopped, or one teaspoon dried

1

tablespoon

fresh sage leaves

chopped, or 1 teaspoon dried

1

tablespoon

fresh thyme

or 1 teaspoon dried

1

cup

vegetable broth

1

cup

plant-based milk

1

tablespoons

tamari

or coconut liquid aminos

½

teaspoon

salt

or to taste

½

teaspoon

pepper

or to taste
Instructions
Preheat a saucepan, preferably a narrow pot with tall sides. Add the onion, garlic and mushrooms and cook over medium heat, stirring occasionally, for about 15 minutes, until all have softened and browned a bit.

Meanwhile, combine the flour/cornstarch and water. Once the vegetables have reduced and browned, stir in the flour/water mixture, nutritional yeast, and miso paste, if using.

Then stir in the herbs, broth, plant milk, and tamari/liquid aminos.

Bring to a boil, stirring occasionally, then reduce to a simmer. Use an immersion blender to puree the mixture into a smooth gravy. Continue to stir occasionally until thickened. Add salt & pepper to taste.

Serve with mashed potatoes, stuffing, biscuits, or anything else you'd like!