Oil-free roasted brussels sprouts!!! Yes, beautifully crispy brussels sprouts without any oil - it can really happen. If you haven't tried roasted brussels sprouts, you're really missing out.
How are these roasted brussels sprouts oil-free?
Typically, the delicious crispiness comes from the use of oil. Since I try to get my fats mostly from whole-foods, I prefer to avoid cooking with oil whenever possible. I've tried different ways of cooking brussels sprouts without oil and wasn't 100% satisfied - they usually didn't turn out crispy enough. But that was before I tried use one of my favorite recipe-helpers to save the day. What would that be? You guessed it - the not-so-secret secret is pecan butter!
Beautiful Pecan Butter
Pecan butter is a recipe I have on-hand at all times, all year round. If you haven't had a chance to make it, now is the perfect time to give it a go! Trust me, if you like pecans in any way, you'll love this pecan butter. Make a batch and use it yes as a delicious toast spread, and in other delicious ways, too, like the following.
Pecan butter is really easy to make, too. It just takes 12 minutes in the oven and about 1-2 minutes in the food processor. That's it! Other nut butters can take a bit more effort to get nice and creamy - not pecan butter.
So, now that you have pecan butter on-hand, let's make these brussels sprouts!
What you'll love about this recipe:
Ready in 20 minutes (with an air fryer)

Very easy to make

Did I mention oil-free? That means, instead of nutrient-empty oil, we are using nutrient-dense pecans, with fiber, protein, vitamins and minerals

So delicious and crispy, a real crowd pleaser

Refined sugar-free - just a touch of maple syrup, instead
THE AIR FRYER I USE: BREVILLE SMART OVEN AIR
After our toaster died, we knew we wanted to replace it with a toaster oven, and after researching air fryers, this one won out because it uses stainless steel trays instead of nonstick. It also has so many functions we use regularly, like baking and dehydrating. It's a little pricey, but we've found it's well worth the money so far - we use it every day. Our conventional oven is used much less often now! This convection and air fry toaster oven cooks so much faster with crispier oil-free results, so it's now our go-to.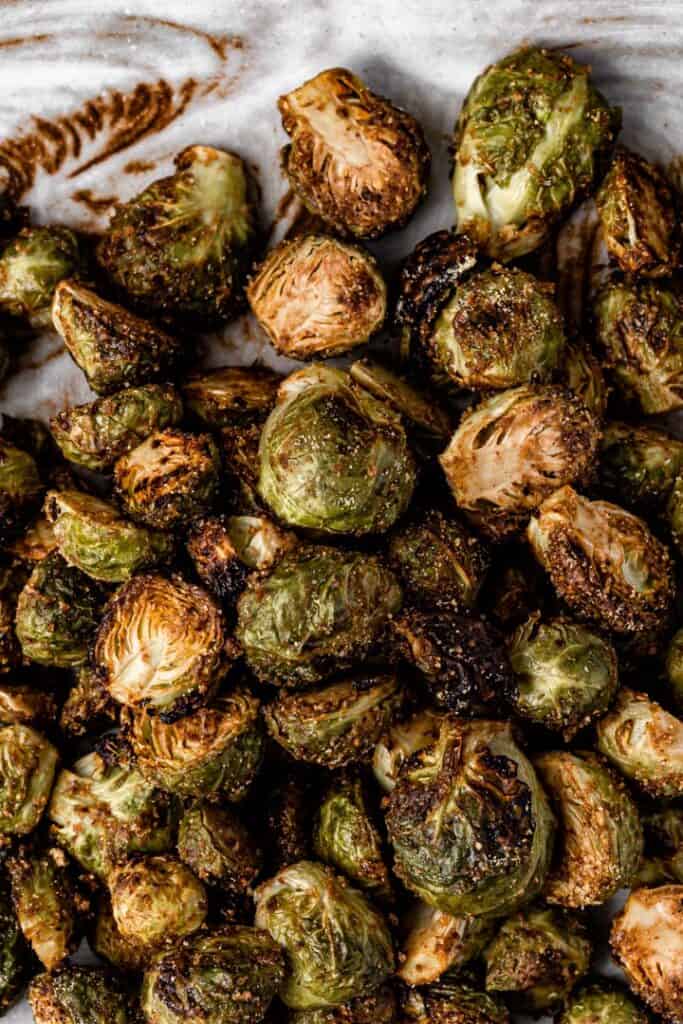 Balsamic Maple Pecan Roasted Brussels Sprouts
These nutty oil-free roasted brussels sprouts are easy to make and a delicious way to utilize your air fryer! Note: Don't have an air fryer? No problem! Roast them at 400 degrees, checking them after 20 minutes until they're nice and roasted.
Print
Pin
Rate
Ingredients
1

pound

brussels sprouts

1

tablespoon

pecan butter

1

tablespoon

balsamic vinegar

½

teaspoon

maple syrup

½

teaspoon

garlic powder

optional

salt and pepper to taste
Instructions
In a bowl big enough to hold the brussels sprouts, stir together the pecan butter, balsamic vinegar, and maple syrup to form a sauce.

Clean the brussels sprouts by rinsing and drying them, then removing the stem base and any undesirable leaves, then cut them in half and add them to the bowl. Once about half of the brussels sprouts have been cleaned and trimmed, set the air fryer to 400 degrees for 9 minutes. If oven roasting, set the oven to 400 degrees (F). Then finish cleaning and trimming.

Fold all of the trimmed brussels sprouts into the sauce until well coated.

Pour the Brussels sprouts onto the air fry tray over the sink so that any sauce drippings drip into the sink, then place it o the counter to evenly distribute the coated brussels sprouts on your air fryer tray. When the air fryer is ready, put them in to roast. If they don't look sufficiently roasted after 9 minutes, add another minute until they do. If oven roasting, evenly distribute them on a parchment-lined baking sheet and roast them for 20 minutes; add more time until they reach the desired color.

Sprinkle with the garlic powder, if using, plus your desired amount of salt and pepper, and serve. Best eaten immediately.
Notes
Nutrition info is a rough estimate, calculated automatically.
Nutrition
Calories:
80.4
kcal
|
Carbohydrates:
12.4
g
|
Protein:
4.8
g
|
Fat:
2.6
g
|
Saturated Fat:
0.2
g
|
Sodium:
29.9
mg
|
Potassium:
482
mg
|
Fiber:
4.8
g
|
Sugar:
3.8
g
|
Vitamin A:
855.1
IU
|
Vitamin C:
96.4
mg
|
Calcium:
63.8
mg
|
Iron:
1.8
mg