This quick and easy Oil-free Veggie Stir Fry with Tofu is heavy on nutrition and light in general since it requires no oil and is loaded with veggies. What do I mean by loaded? Like, 2 cups of vegetables per serving! It checks all the boxes to meet many dietary requirements since it's vegan, gluten-free, and refined sugar-free with a focus on plant-based whole foods. Plus, this is a great dish for weight loss, with high nutrient density - and high satisfaction! If you're into the 50/50 plate idea, filling half your plate with veggies and half with starch and/or grains, this is a great recipe for that. It's also wonderful on its own, without any noodles.
The flavorful sauce gets us gobbling those veggies up! Since the veggies cook quickly and the tofu cooks in just 5 minutes with an air fryer, this is a recipe that's great for a weeknight dinner.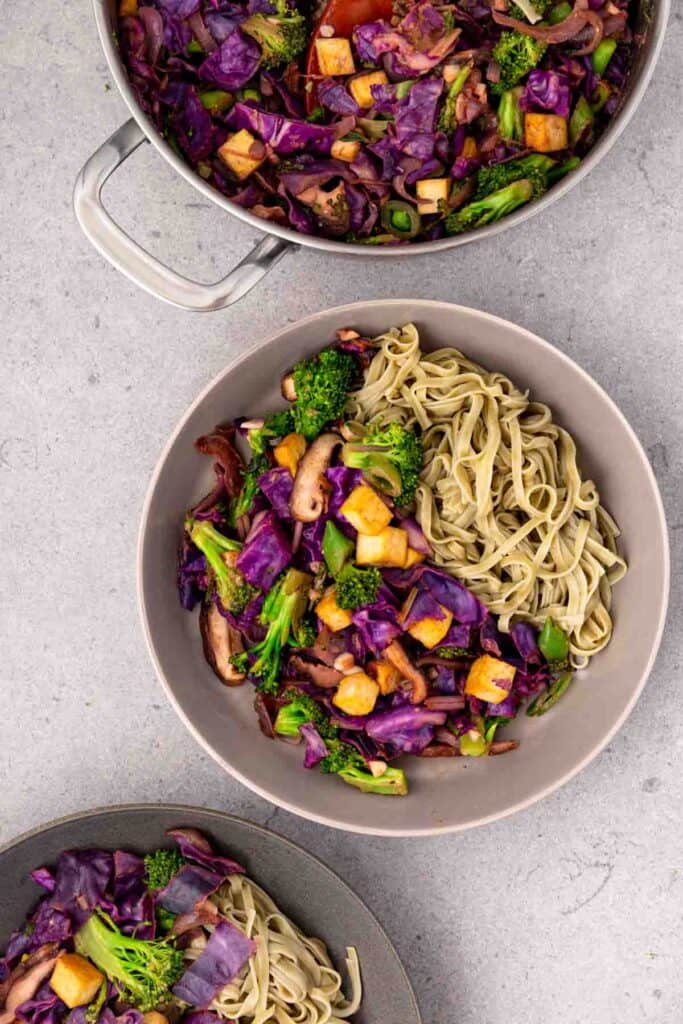 It's no secret: I like food. And I like to eat big bowlfuls. Because of that, focusing on ingredients that are low in calorie density, like veggies and fruit, helps fill me up well without overdoing it calorie-wise. I am not a calorie counter, by the way. I am just aware that certain foods, like oily tortilla chips, get me to my daily calorie quota far faster than others, like veggies and mushrooms. So this is my kind of recipe! I have the servings for this dish set to four, which is a lot of food per person - yet each serving is under 200 calories (not counting any additional toppings or noodles). Check out the nutrient load under the recipe - we're talking more than 10 grams of protein and 7 grams of fiber in each serving!
Jump to:
Hungry for more Asian food? Try this Quick Curry Ramen recipe.
Ingredients & Variations
Baked savory tofu: This is commonly available at my local grocery store and delicious. If you can't find it, extra or super-firm tofu will work great, too. Tempeh is another good option.
Shiitake mushrooms: Really, most mushroom varieties would taste wonderful in this dish. Shiitake are pretty readily available and really delicious, but the less expensive button mushrooms are also great.
Onion: Use your favorite, or whatever you have!
Broccoli: I love broccoli, especially in a stir fry! Most people seem to like broccoli pieces on the small side, but whatever you like is fine. Don't have broccoli? That's a shame; other greens like kale, spinach or really any other veggie that sounds good to you should work fine.
Cabbage: Whichever cabbage you like will work. I love it and kept the pieces a decent size here, but if you prefer shredded or anything else, chop them your way. Again, other veggies can substitute.
Snow or Sugar Snap Peas: Either is wonderful sliced, and frozen peas can be substituted.
Celery: I used a special pink Chinese celery here that I happened to get from a local farmer; regular celery will work great, too.
Garlic: Essential for flavoring this dish, so if you like garlic, grab the biggest garlic cloves for this one!
Stir fry sauce: The sauce can be made with tahini or nut butter (I like almond butter here), a light-colored miso paste like chickpea, maple or date syrup, coconut aminos or tamari/soy sauce, the juice of one lime plus the zest if you'd like a lime flavor added, and ginger powder which is optional but does take the flavor profile up a notch.
Equipment
To make this stir fry, you just need a stovetop with a large deep pan or wok and an oven or air fryer.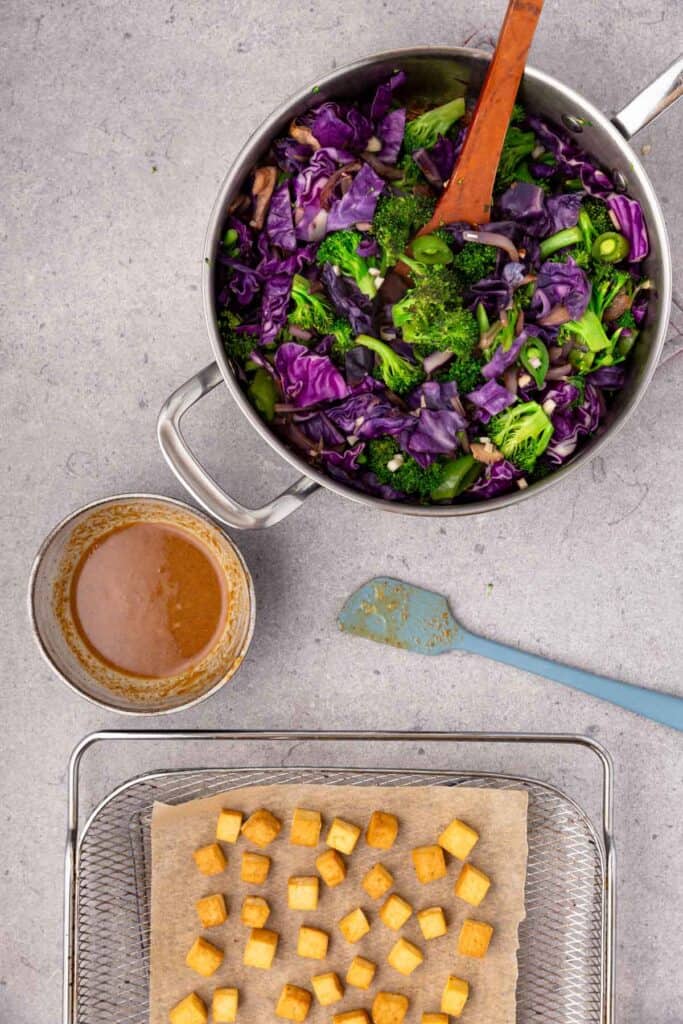 Instructions
Preheating the pan removes the need for using oil to prevent sticking. I like to get the tofu into the air fryer or oven, then start cooking the onions and mushrooms. While they're on the stove, you can make the dressing - make sure you stir the onions and mushrooms now and then. Once you're done, add the rest of the stir fry ingredients to the pan. Once the broccoli is bright green, remove the pan from the heat and toss in the sauce, then the tofu. You're ready to serve!
Serving Veggie Stir Fry with Tofu
As mentioned, this recipe is a lot for four people and could likely feed twice as many people quite easily. However, if you tend to run on the hangry side and like eating large amounts of food, this dish is for you - keep it at four servings and double the recipe if serving more people. Add your favorite noodles, rice, quinoa, or just have it all by itself!
Tip
Purple cabbage can turn blue while cooking. If you'd like it to remain purple, sprinkle a little lime juice or other acid like vinegar.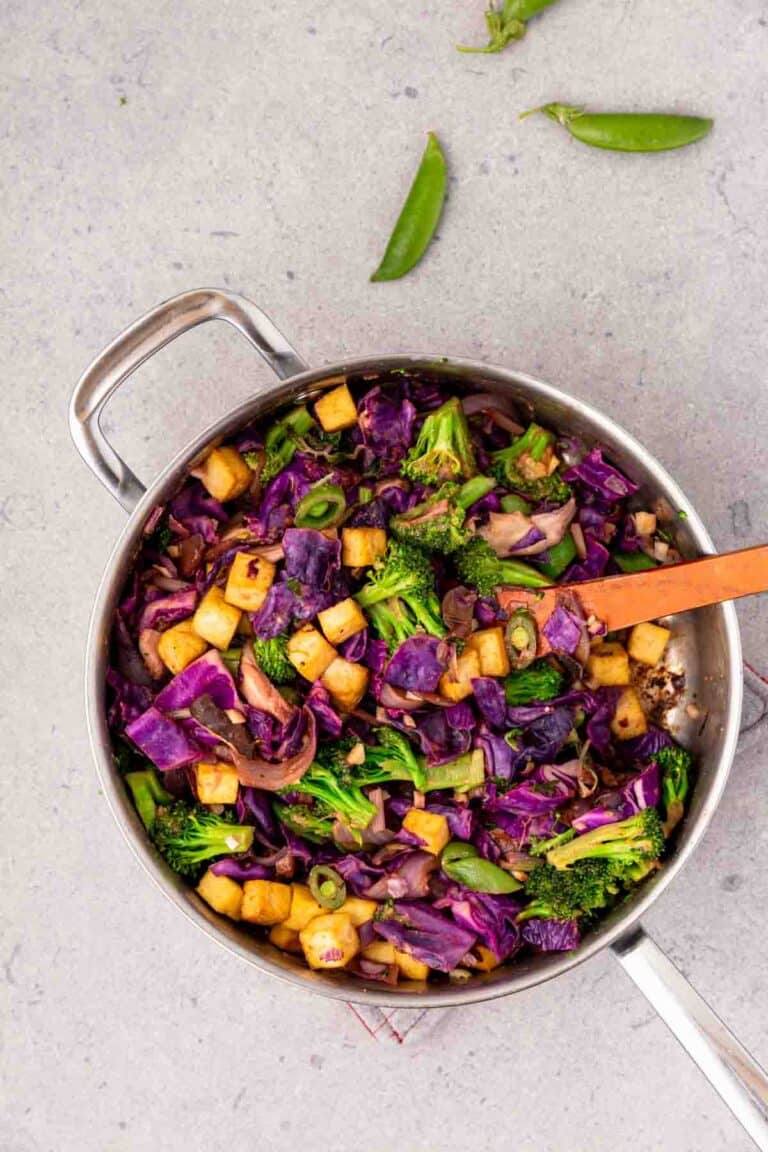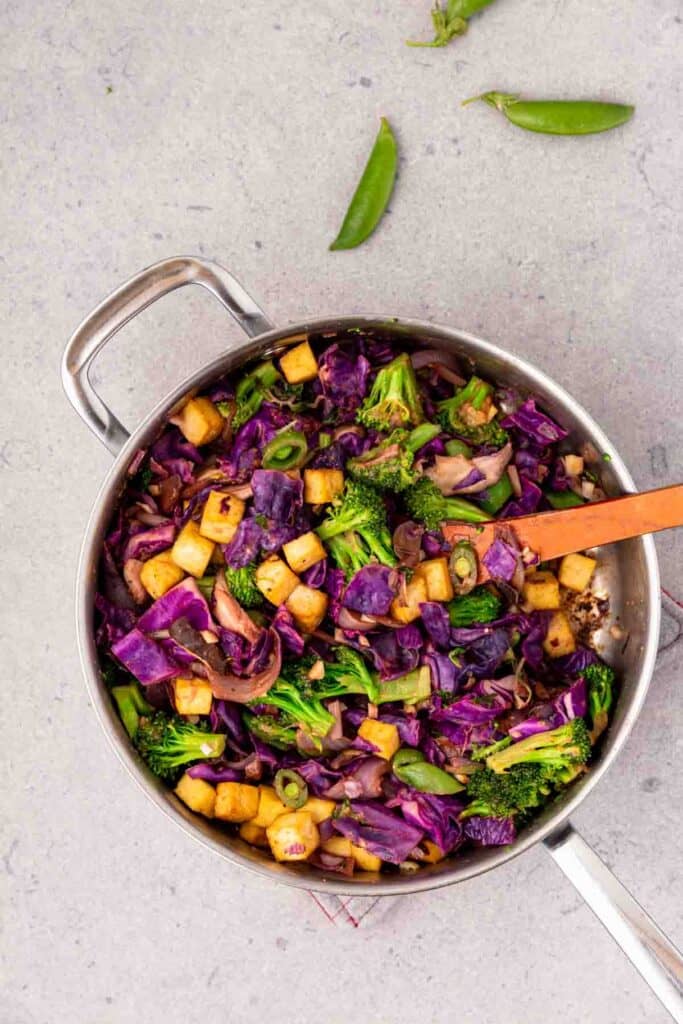 The Recipe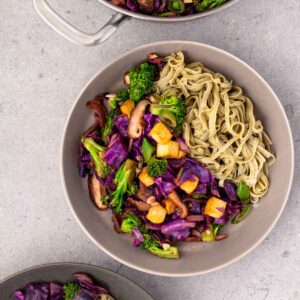 Simple Oil-Free Veggie Stir Fry
This quick and easy oil-free stir fry is loaded with veggies - we're talking about 2 cups per serving! - and includes a flavorful sauce. The tofu can be made in an air fryer in just 5 minutes! This recipe is vegan, gluten-free, oil-free, and refined sugar-free with a focus on plant-based whole foods. This is a low calorie, nutrient-dense dish.
Print
Pin
Rate
Equipment
air fryer or oven

stovetop

deep pan or wok
Ingredients
7

ounces

baked tofu

savory, or 7-8 ounces super firm tofu, cubed

1

cup

shiitake mushrooms

sliced, or other mushrooms

1

onion

medium, chopped

3

cups

broccoli

chopped, or other veggies

3

cups

cabbage

chopped, or other veggies

½

cup

peas

snow or sugar peas in pod, sliced, or other veggies

⅓

cup

celery

chopped, or other veggies

3

cloves

garlic

minced
Stir Fry Sauce
1

tablespoon

nut butter

or tahini (I used almond butter here)

1

tablespoon

miso paste

I used chickpea miso here

2

teaspoons

maple syrup

or date syrup

1

teaspoon

coconut aminos

or tamari or soy sauce

1

lime

juiced (about 3 tablespoons), plus zest if desired

½

teaspoon

ginger powder

optional
Optional Toppings
peanuts

or other nuts

sesame seeds

scallions

cilantro

ginger

hot sauce
Instructions
Preheat the pan over medium heat on the stove.

Air fry tofu at 425 degrees for 5 minutes, or bake in an oven for 10-15 minutes, until golden.

Add the onion and mushrooms to the pan, stirring occasionally for a few minutes until starting to brown.

While the veggies are cooking, stir together the sauce ingredients.

Add the broccoli and continue stirring a couple minutes, then add the cabbage, peas, celery, and garlic. Stir a few minutes until the broccoli is bright green and the other veggies have softened a bit.

Remove from heat and add the sauce, stirring to coat the veggies. Then add the tofu and stir until well combined.

Serve on its own or with noodles, rice, or quinoa. Storing in individual containers in the fridge provides an easy grab & go meal, since this stir fry is delicious hot or cold.
Notes
This recipe is just for the stir fry, not the noodles.
The nutrition calculations are approximate and do not include the optional toppings or any grains, noodles, etc that might be served with it. 
Extra firm tofu was used for the calculations rather than the pre-baked savory tofu, which has a very small amount of sesame oil added (at least the one I used).
Note:  The sauce coats everything nicely and is not meant to be super saucy.  If you'd prefer more sauce, feel free to double the sauce recipe if you wish.  Alternatively, to keep it light, you could add a bit of water to the sauce to stretch it.  
Other delicious Asian dishes