This quick and easy breakfast or snack can be ready in just 5 minutes! It's a delicious, fun way to get your omega-3s while being vegan, gluten-free, whole food plant-based, and refined sugar-free!
When you know a bit of the tropics would lift your spirits, it's time for Tropical Chia Pudding! This quick and easy snack satisfies hunger as well as a longing for sunshine. It's sunshine in parfait form!
Quick Breakfast
We have a pretty solid routine in the morning, yet curveballs do get thrown once in awhile that interrupt the flow, giving me less time to get breakfasts together. That's when chia pudding saves the day. I love it because it's loaded with so many good things to help kids get through their busiest days, including omega-3s, protein, fiber, and calcium - with vitamins in the fruit to help absorb such important nutrients. The kids love it because it seems like dessert for breakfast. We all love it because it can be ready in 5 minutes or made the night before and placed in the fridge, waiting for the next person who could use a good boost.
Ingredients and Substitutions
We just need six ingredients for this recipe.
Chia seeds: The foundation of this breakfast! There really is no substitute.
Oat milk: You can really choose any plant-based milk, preferably one that is unsweetened. Vanilla flavored is great!
Mango: My favorite part of the pudding. That said, any tropical fruit will do.
Banana: This is optional; I like to include it because it is a nice creamy contrast to the brighter fruit.
Lime: A squeeze of this really brings the flavors together and helps them shine. If you don't have any, though, you can still enjoy this recipe.
Maple syrup: Adds an extra touch of sweetness. Date syrup is a good alternative. Can be omitted.
Instructions
We're just stirring the chia seeds with the milk and syrup. That's all it takes to make chia pudding! This can really happen in any kind of bowl or jar you'd like.
Hot Tip: It's a lot easier to mix the chia seeds with the liquids if you place the chia seeds into your bowl or jar first.
After that, add the fruit and you're good to go! If not serving right away, save the banana to prep right before serving. Otherwise, it can get tired-looking. If that isn't convenient, give the banana a good squeeze of lime before sealing your container - it helps keep the banana from turning brown.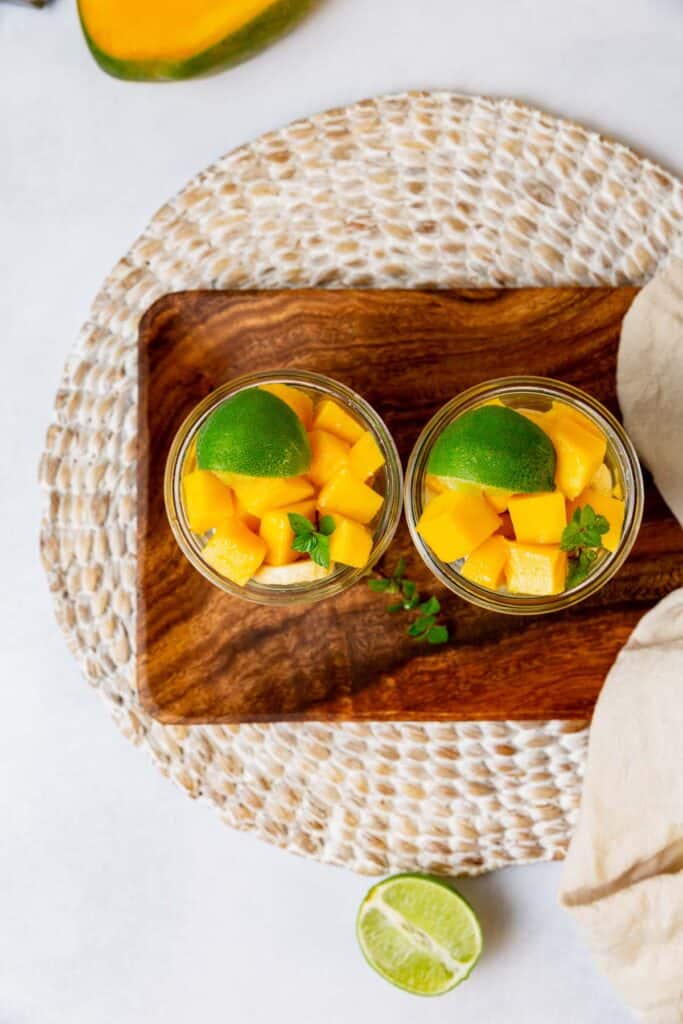 Make-Ahead Option
I like to make snack-sized jars of this delicious stuff to keep in the fridge for hangry moments. Mango can be included; banana, however, is best served immediately, so we cut those up and add them when we're ready to serve. Chia puddings travel well (as long as you have a secure lid and insulated bag) so they work for lunches, too.
More Chia Pudding Recipes
The Recipe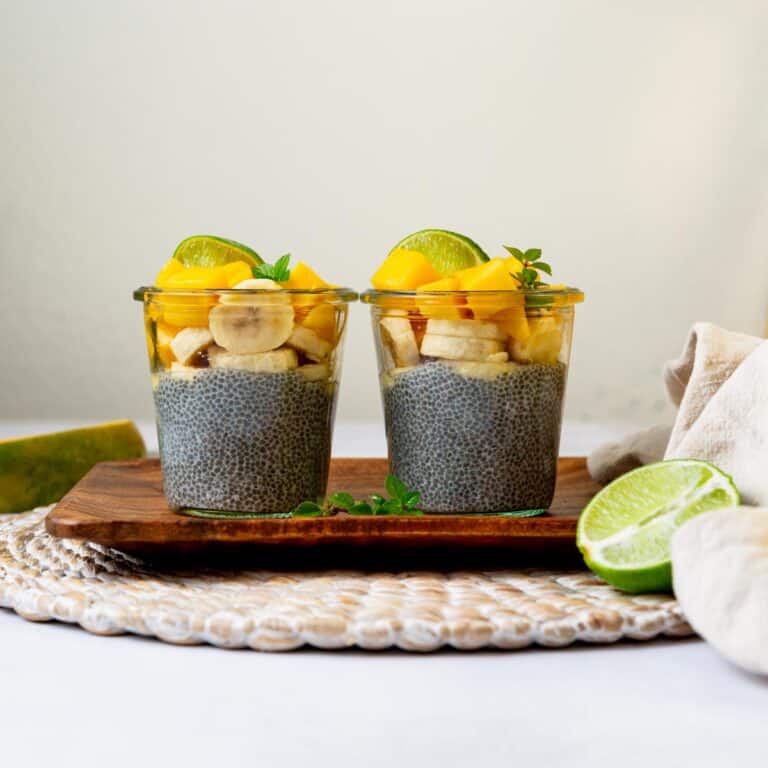 Tropical Chia Pudding
A delicious, fun way to get your omega-3s while being vegan, gluten-free, whole food plant-based, and refined sugar-free! So satisfying. Can be made ahead.
Plant Diversity: Striving for 30 different plants per week
The number of plants in this recipe: At least 4 plants
Print
Pin
Ingredients
¼

cup

chia seeds

1

cup

oat milk

or other unsweetened plant milk

1

tablespoon

maple syrup

or date syrup; add more if desired; optional

1

banana

sliced, optional

1

mango

chopped

½

lime

cut into two wedges, optional
Instructions
Spoon the chia seeds into a 1 ½ cup jar or two 8-ounce jars.

Stir the milk and syrup into the seeds, making sure all the seeds get moist. Set aside to gel up while preparing the fruit, about 4-5 minutes.

Add the banana and mango pieces to the jar(s). If eating later, wait to prepare the banana until just before eating.

Squeeze the lime over the top.

Thoroughly enjoy now, or place in the fridge to be enjoyed later, within a few days. Leaving it to gel longer will create a thicker pudding.
Notes
With sliced banana, this chia pudding is best eaten right away.  If you're packing it for later, the lime can help keep the banana from browning.  Squeeze the lime over the top before sealing the container, making sure the lime juice gets to all the banana slices.  Leave the piece of lime on top.  Without the fruit, prepared chia seed pudding can be refrigerated for up to three days.  Add the fruit right before eating.
This recipe goes great with Tropical Chia Pudding: