Five colorful vegan spring recipes that are ideal for celebrating Easter. The whole day is covered, including beautiful baked donuts, an easy salad dressing, a comfort-food tray bake, and even a delightful cocktail!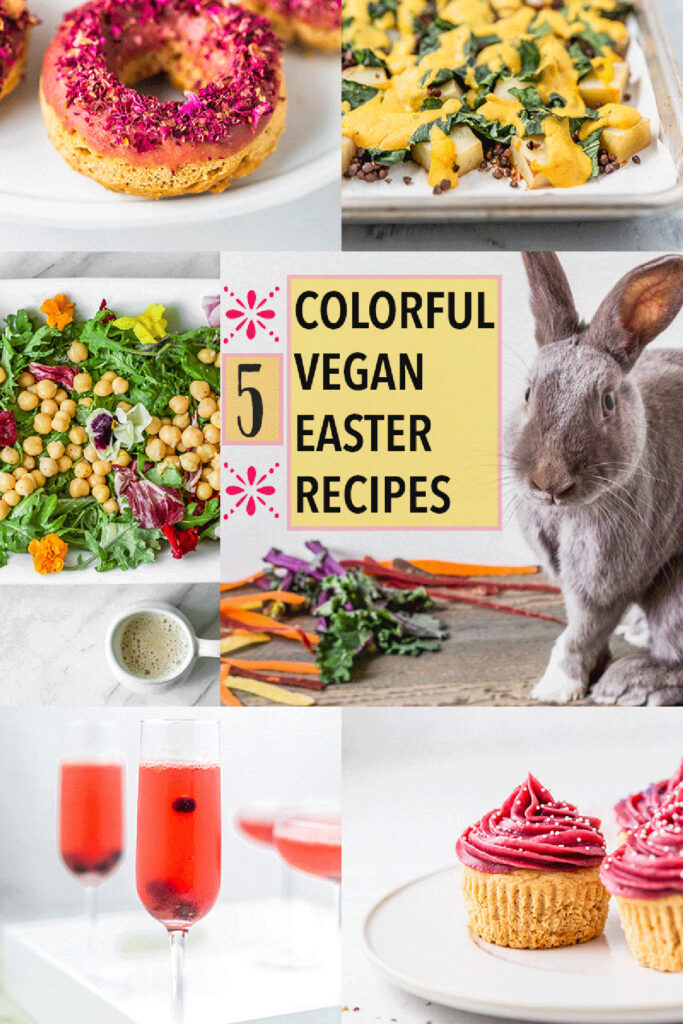 My latest recipes have really been vegan spring-inspired, full of natural, plant-based pinks, yellows, and greens - perfect for Easter. So for your convenience, I've gathered them into an Easter brunch (or dinner) collection so that you can have all of these colors on your Easter table. I'm not talking artificial candy-colored food, I'm talking real, naturally-colored dishes and delights. I've got five recipes for you that are easy to make and, when all put together, make for some real springtime eye candy.
1. The Drink
vegan | wfpb | refined sugar-free | quick | easy | spring | summer | 30 minutes or less
These sparkly coral-pink beauties are a real treat without added sugar. They're not at all the old fall-back juice drink you might be used to. The combination of almond, peach, and blueberry is divine. Kids and adults love them.
---
2. The Salad
Mixed Greens, Edible Flowers, and Chickpeas with Oil-Free Lemon Salad Dressing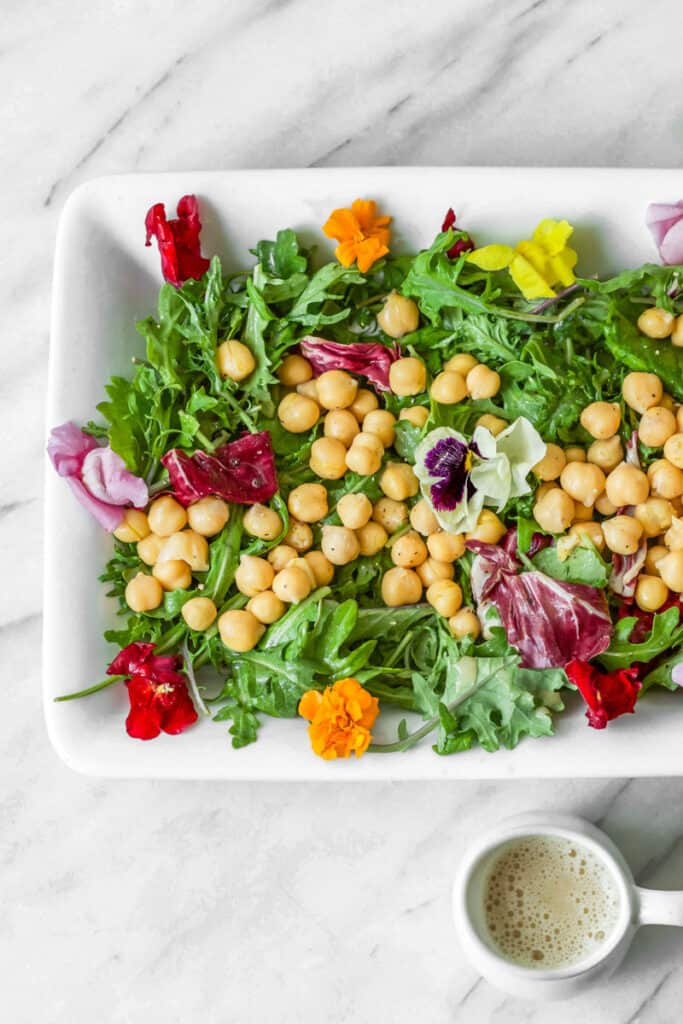 vegan | wfpb | easy | gluten-free | oil-free | refined sugar-free | 10 ingredients or less
This dressing recipe is an oldie of mine, but a goodie. I love keeping a salad simple and beautiful, with a light dressing that doesn't take over and lets the salad itself be the star. The highlight of this salad visually is the edible flowers. Many grocery stores now have them available in with the fresh herb packets near the produce section. Just make sure you use flowers that have been prepared to be eaten, not flowers for a bouquet, which have likely been treated with toxic chemicals. In terms of flavor, the simple lemony dressing is the star. It brightens the other ingredients and makes simple greens and chickpeas scream "fresh"! I like serving a colorful salad like this on a platter to really display the colors and make it feel special.
---
3. The Main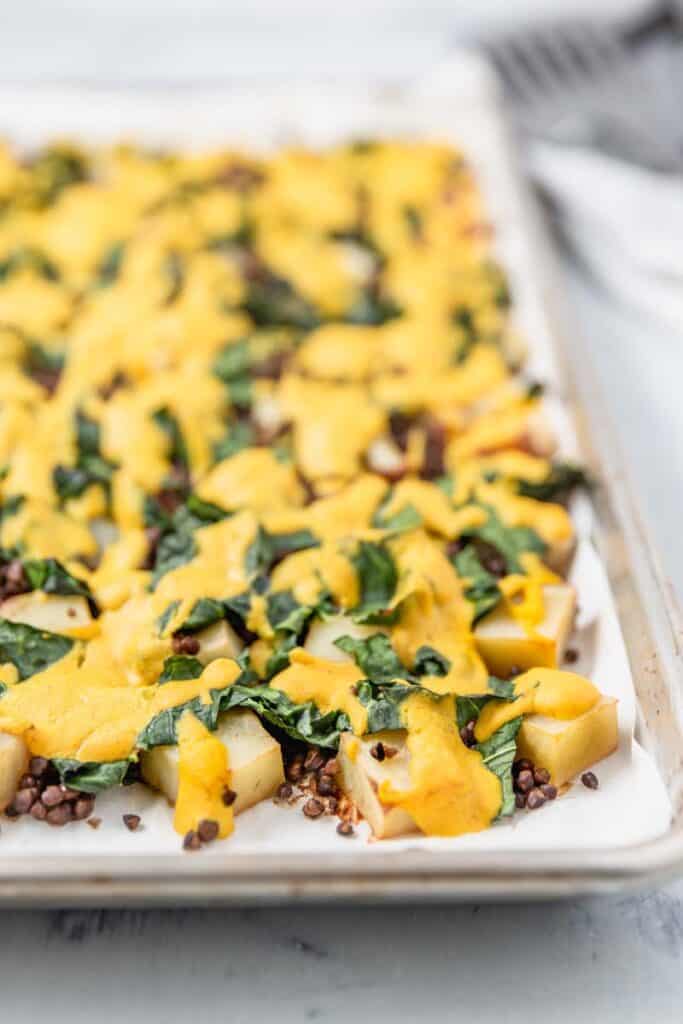 vegan | wfpb | gluten-free | grain-free | oil-free | easy | veggie-packed
The bright yellow cheese sauce with the greens really adds nice color to the Easter table, reminding me of cute yellow chicks. This is true comfort food with lots of cheesy goodness that will likely please your crowd, vegans or not.
---
4 & 5. The Dessert
vegan | wfpb | gluten-free | refined sugar-free | oil-free | easy | quick prep | 10 ingredients or less
The color of this frosting seems too good to be true - and it is if you can't find purple-fleshed sweet potato. If that's the case, I would still make this frosting with white-fleshed sweet potato. It won't be pink, but it will have the rose flavor and if you can find the edible dried rose petals, you will still have a lovely rose frosting. Top a dessert of your choice with this frosting or make the donuts below.
---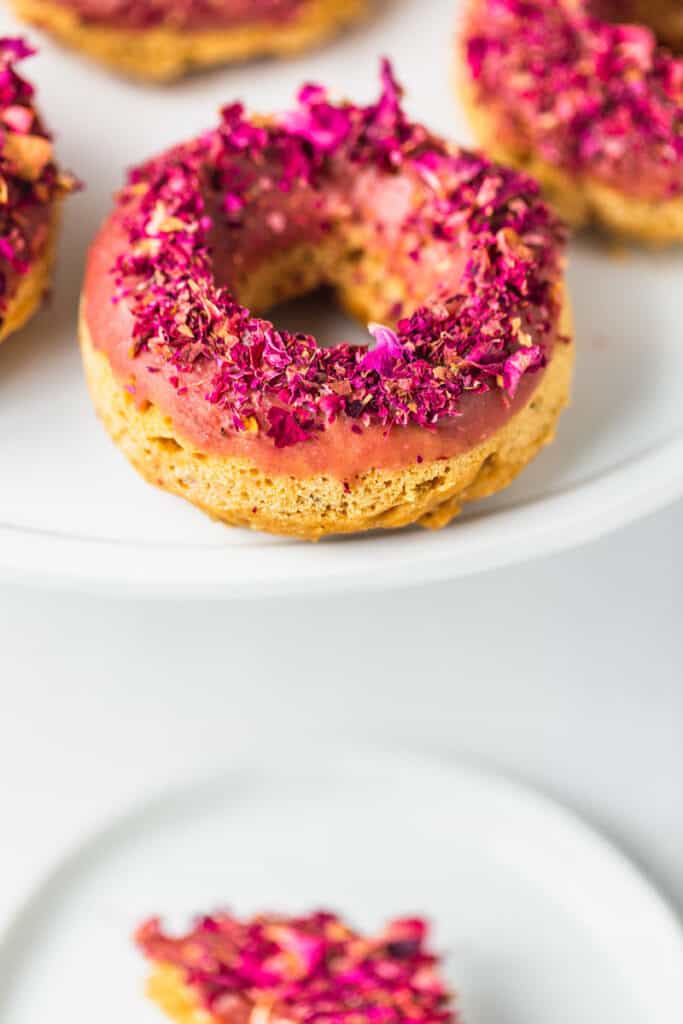 vegan | wfpb | gluten-free | refined sugar-free | oil-free | easy | quick prep
An ideal way to use that rose frosting is on lemon chia donuts. They're so fresh and flavorful; lemon and rose are such a beautiful combination. The rose petals really add a lot of color to these donuts, which carry out the yellow and pink Easter theme. They will be the star of your Easter table.
---
Bonus: The Decor
S I M P L E
Let your beautiful, colorful food shine by not overdoing your decor. Keep it simple. An inexpensive little bouquet like this can be a stunning addition to your tablescape and complement your food rather than overwhelming the table with plastic holiday kitsch. Less can definitely be more in this situation.
HAPPY EASTER!
You also might be interested in:
8 Homemade Vegan Treat Gifts for Easter & Other Spring Gatherings