vegan | gluten-free | oil-free | grain-free | easy | veggie-packed | year-round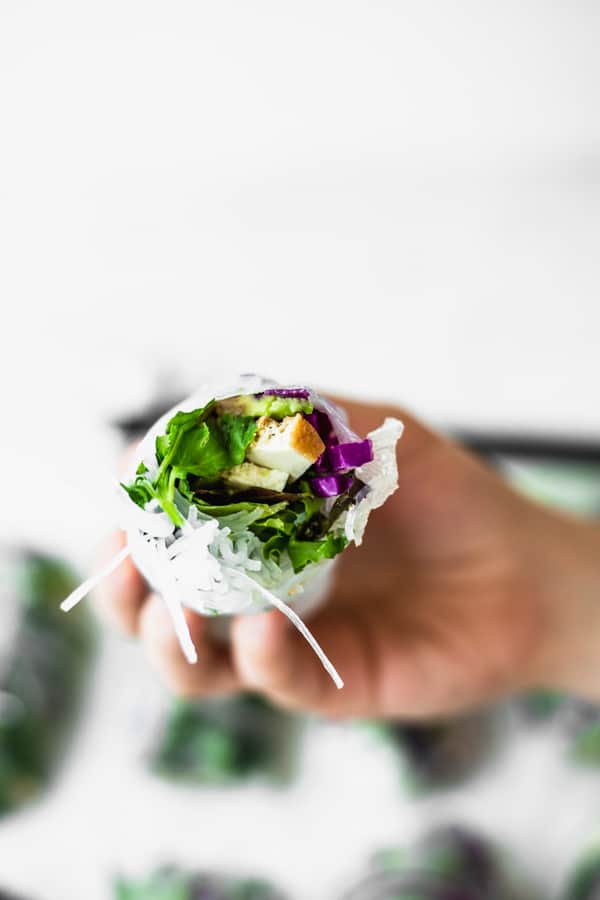 Summer rolls (or fresh spring rolls) are one of my favorite things to eat right now. The combination of mint, cilantro, and Thai basil is so delicious and really seems to glow through the other ingredients. They're rich in texture, with the crunch of raw veggies counterbalanced with the softness of avocado, tofu, and wrapper - and then there's the unique bite of those little bean thread noodles! They look complicated, but really they're simply some fresh ingredients wrapped up in rice paper wrappers. The wrappers are like magic; they start out as hard, flat rounds that look like a plastic disc, but once soaked they transform into something so sticky and pliable that they completely mold to whatever they touch. In fact, it takes a little concentration to make sure they don't stick to themselves so much that they become something that resembles a wad of chewed gum. But really, they're not difficult to work with. I like to dip the discs pretty quickly in water and let them soften on a damp cutting board, so that by the time they're filled they are soft and ready to roll. Literally!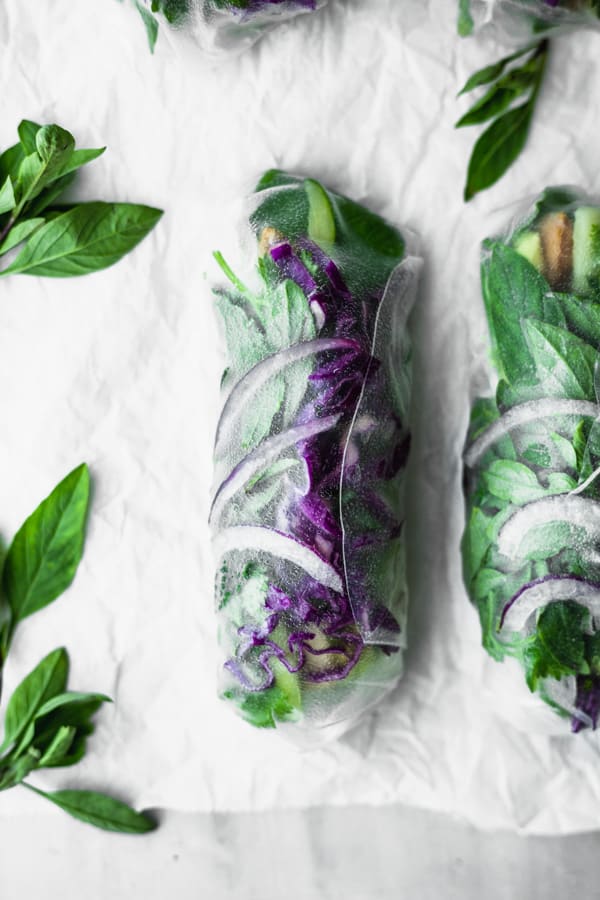 Yes, it does take some time to roll all 18 summer rolls. This isn't my usual done-within-30-minutes recipe. I find it fun work, though, just not something I'd do during a busy work week - unless I need a good meditative, relaxing project. Great for that! If you'd like the process to go faster, recruit a "roller" or two. Extra fun!
One of the great things about summer rolls is that they can be what you want them to be. Don't want the tofu? These are delicious without tofu, too. Prefer a particular ingredient? Then put a little more of it in and less of something else. It's all good. You really can't go wrong. In fact, after trying this recipe you may find yourself wrapping up just about anything in these fun and easy wrappers (fun and easy as long as you don't overstuff them).
The dipping sauce is simple and delicious. I think it's worth taking a moment to add the lime zest, but you don't have to. We're going for easy and delicious here.
Summer rolls make great lunches, dinners, snacks, party food - even breakfast if you like to go savory veg first thing. They are packable so work well for lunch on the go - just keep them cool. As the name suggests, these are best to make in the spring and summer, when beautiful fresh ingredients are available. So make them while you can!
I love the two-tone look of these summer rolls, don't you?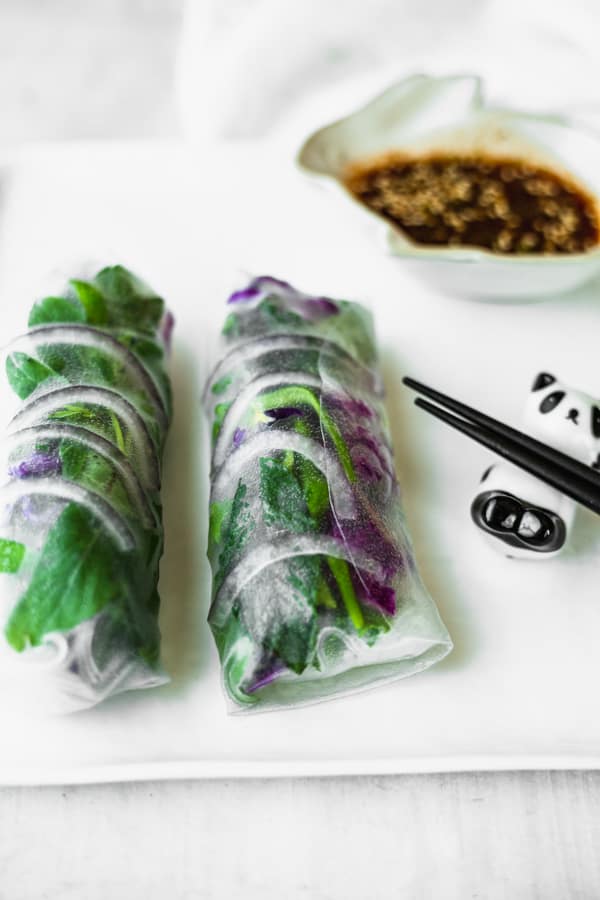 ---
---
EASY GREEN & PURPLE SUMMER ROLLS WITH QUICK DIPPING SAUCE RECIPE
vegan | gluten-free | oil-free | grain-free | easy | veggie-packed | year-round
SERVES: 6 | PREP TIME: 20 minutes | ROLL TIME: 40 minutes | TOTAL TIME: 60 minutes
Makes about 18 summer rolls.
INGREDIENTS
For the summer rolls:
3 cups greens of choice, kept whole unless large (if large, tear into medium-sized pieces)

2 bundles cellophane noodles (mung bean threads), shirataki, or other super thin noodles

½ cup red onion, shaved in half moons

¼ cup (about 5-6) padron or shishito peppers cut into matchsticks

¾ cup mint leaves

¾ cup cilantro

¾ cup Thai basil, small stems or leaves (other basil ok)

1 cup thinly sliced purple cabbage

a wedge of lime

1 avocado, thinly sliced and sprinkled with lime juice from the wedge to keep from browning

½ cup cucumber cut into matchsticks

1 block organic tofu cutlet or steamed tofu, cut into long, matchsticks

18 large rice paper wrappers (at least 8.25 inch)
---
METHOD
Wash, dry, and prep the ingredients (about 20 minutes): Place the mung bean threads in a bowl and pour hot water over them to cover ( I usually use a teakettle for this). Prep the remaining ingredients.

Make the dipping sauce by combining all the dipping sauce ingredients in a small bowl.

Fill a pie plate or wide bowl with water. Dampen your work surface (your counter or cutting board) by soaking a dishcloth with water and running it along the surface. This will keep your summer rolls from sticking to the surface. Dunk a rice paper wrapper into the water. If your pie plate/bow isn't wide enough, start by tipping the top of the round in and making sure the entire round becomes drenched. Lay it flat onto the dampened work surface. By the time you finish filling it, it will be very soft.

Add the filling ingredients one by one onto the center of your rice paper wrapper. Start with three red onion half moons so that you see them on top once the summer roll is completed. I like to then add a couple leaves of basil and mint followed by a couple stems of cilantro. Shorter ingredients, like basil and cilantro, should be placed end to end so that each ingredient covers the red onion area. Then a few shreds of purple cabbage followed by a couple leaves of greens, then a few pepper slices, then a couple cucumber matchsticks, then a couple tofu matchsticks, and finally a pinch of mung bean threads. A pinch is still quite a bit, so swing the threads up and down and swirl them around so that they stay in the center, covering the other ingredients, without spilling to the empty space around the wrapper.

Carefully lifting one end of the wrapper with both hands, pull the end over the ingredients. Then, fold each side over the ingredients with two hands, one side at a time. Finally, roll the folded wrapper and ingredients to finish. Alternatively, you can pull the final edge of the wrapper over the ingredients to cover, then slightly roll to finish.

Serve with the dipping sauce. These are at their best when they're freshly made. They can be stored in the refrigerator, however, for use the next day - they make a wonderful lunch!
For the dipping sauce:
¼ teaspoon ginger powder

1 teaspoon chili paste

2 teaspoons maple syrup

3 tablespoons coconut aminos or tamari

3 tablespoons lime juice

zest of 1 lime (optional)

1 tablespoon tasted sesame seeds (optional)
Summer Roll Rolling Tips:
Keep your rolling surface damp (I just wet my hand and run it across now and then) to help keep the rice paper wrapper from sticking to it.

Take a small amount of each ingredient so that they don't become overstuffed and difficult to roll. Place them in the center of the round so that there is empty space all the way around the wrapper. Each ingredient, if more than one piece, should be placed end to end so that you can be assured that each bite will include each ingredient. Try to use that same amount in each roll so they end up the same size.

If you want to increase one ingredient, decrease another.

You may have a few leftovers. Save them for a delicious salad or sandwich!

If you have willing help, hooray! Assign a "roller" and a "filler" to help with consistency.

Place parchment under the summer rolls when storing them. They'll seem to stick a bit even to parchment, but not enough to tear.
---
I'm happy to answer your questions and receive your comments. You can post comments right below!
DID YOU MAKE THIS RECIPE?
Tag @beautifulingredient and #beautifulingredient on Instagram.
I'd love to see!
---