These hummus stuffed lettuce wraps (or radicchio, as pictured) are quick and easy to make while being a beautiful, satisfying snack. Perfect as an appetizer for your next gathering - or party of one!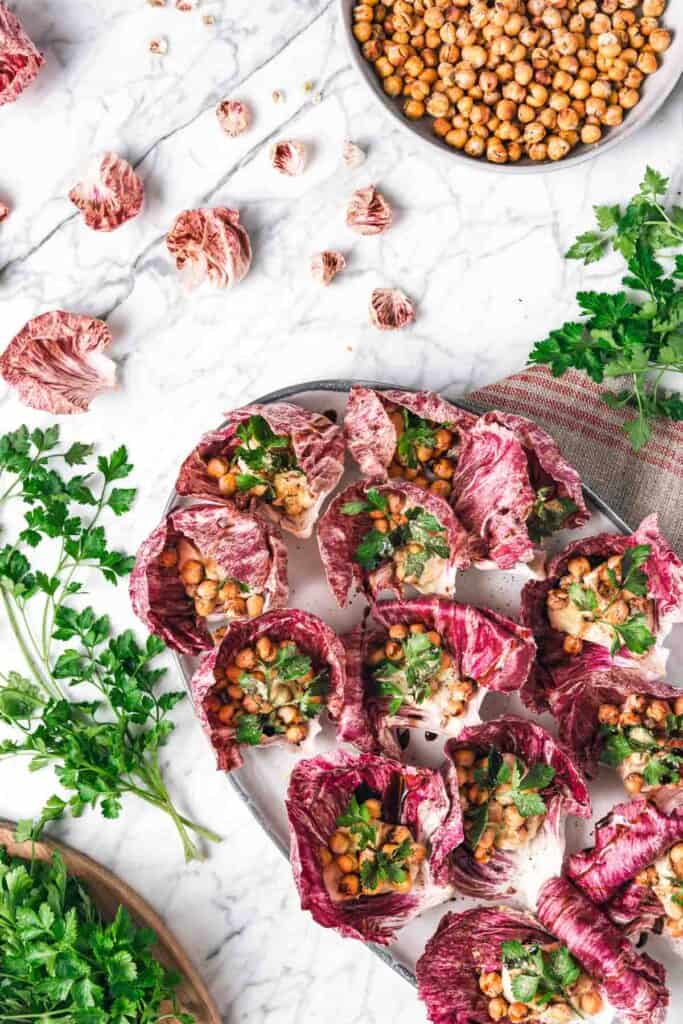 This is one of those recipes that utilizes staple ingredients you likely have on-hand most of the time, and yet it's something totally different from how you probably normally use these ingredients. It can be made any time of year and is a crowd pleaser while being quick to make. Totally appropriate for a holiday table or summer bbq. We're talking Hummus Lettuce Wraps with Crispy Chickpeas!
By the way, this recipe is an excellent choice for satisfying most dietary needs. It's gluten-free, grain-free, oil-free, vegan, and nut-free!
My Air Fryer Crispy Chickpeas recipe is featured in this dish; if you only have an oven, you can still use this recipe as a guide. It just takes longer to cook them in a regular oven, so keep checking on them until you reach the desired crispy texture.
Jump to:
Ingredients
As mentioned, common ingredients that you probably already have on-hand are used to make this recipe. That said, if you find you are missing certain ingredients, no worries. For example, if you don't have any parsley, just make them without - they'll still be delicious! While lettuce leaves work wonderfully, I like using radicchio because it is so beautiful and unique. It also has a bitterness that works well with the hummus-balsamic combo. Feel free to add any ingredients you'd like, such as pickled red onion, chives, basil, or other herbs, hemp seeds - whatever you'd like!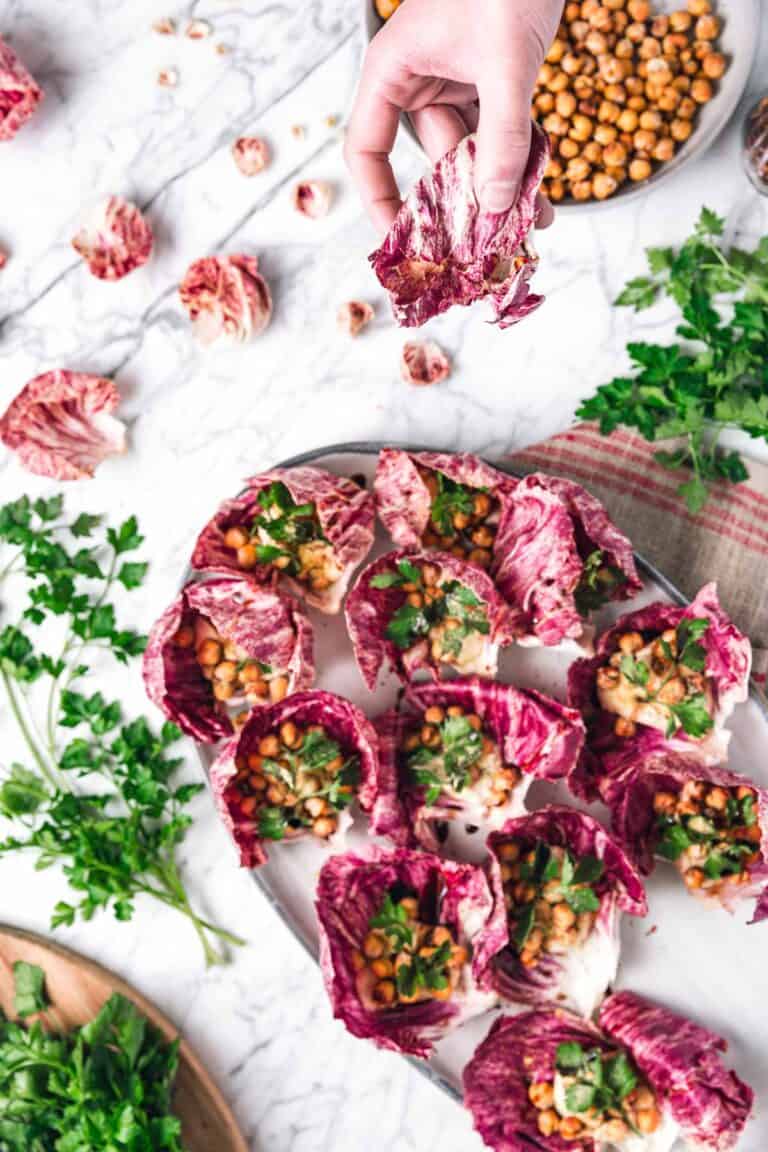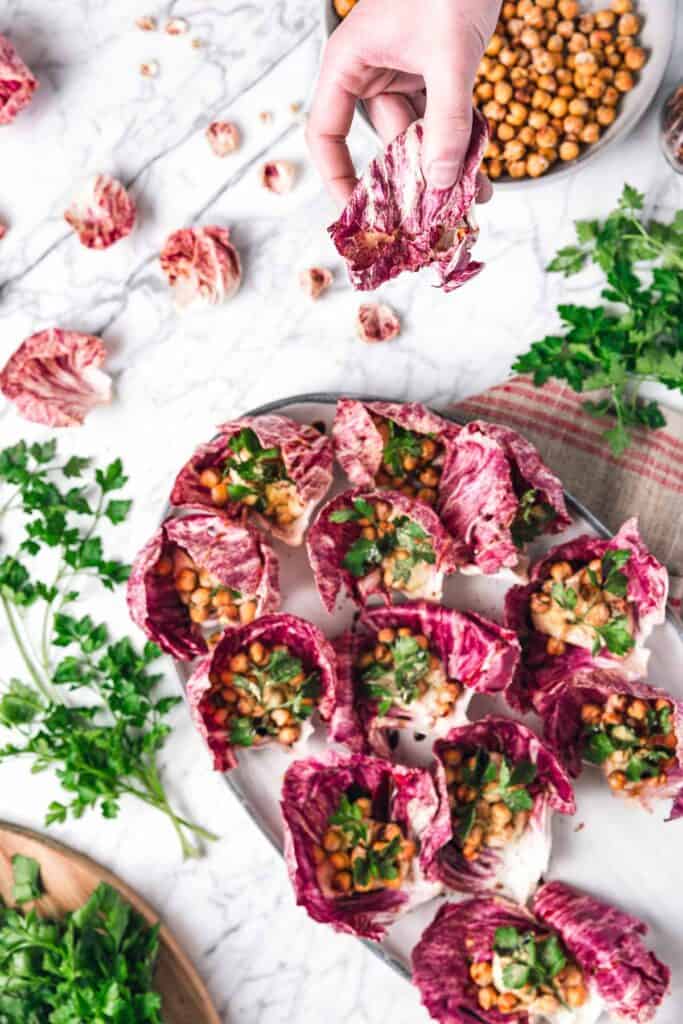 The main ingredients in this recipe:
chickpeas
hummus
parsley
lettuce leaves
See recipe card for quantities.
Instructions
These Hummus Lettuce Wraps come together in just a few easy steps!
First, prepare the Air Fryer Crispy Chickpeas and the Best Oil-Free Hummus in 5 Minutes (or make sure you have store-bought on-hand). Both recipes are super quick and easy to put together and can be made in advance or right before assembly.
Then, add a spoonful of hummus to the center of each leaf.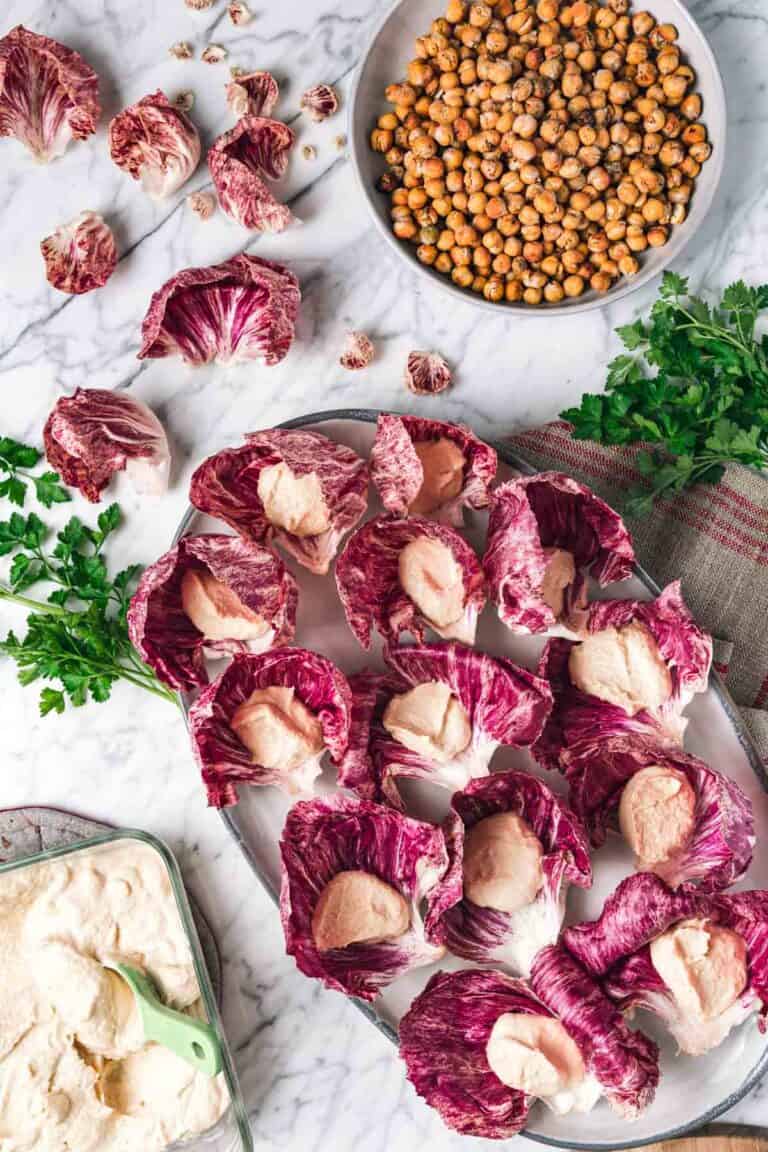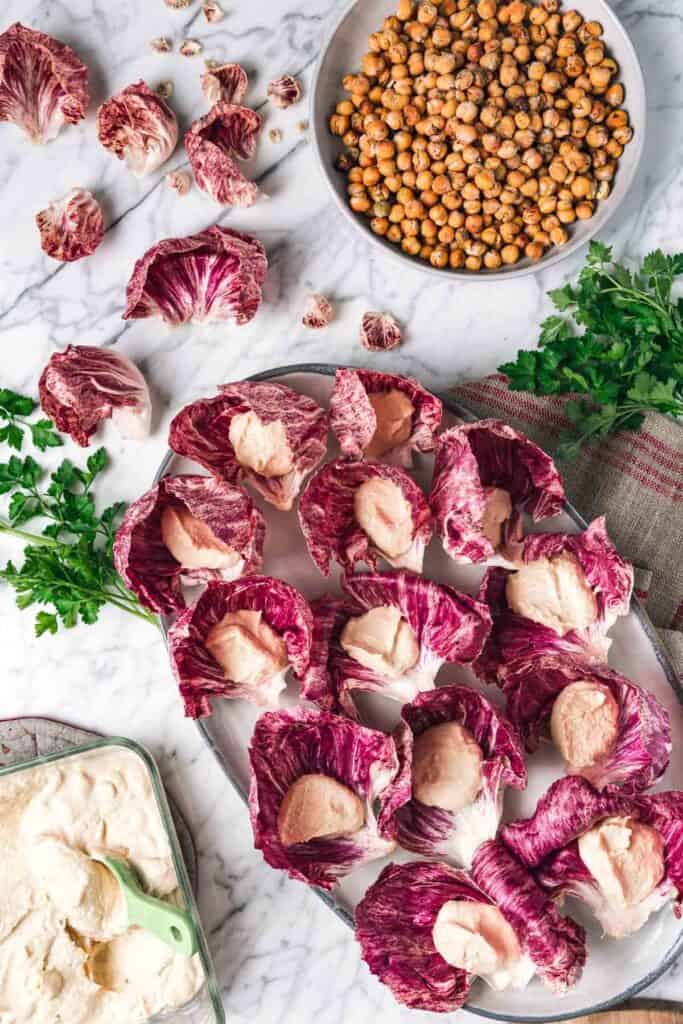 Next, sprinkle a small handful of crispy chickpeas over the hummus.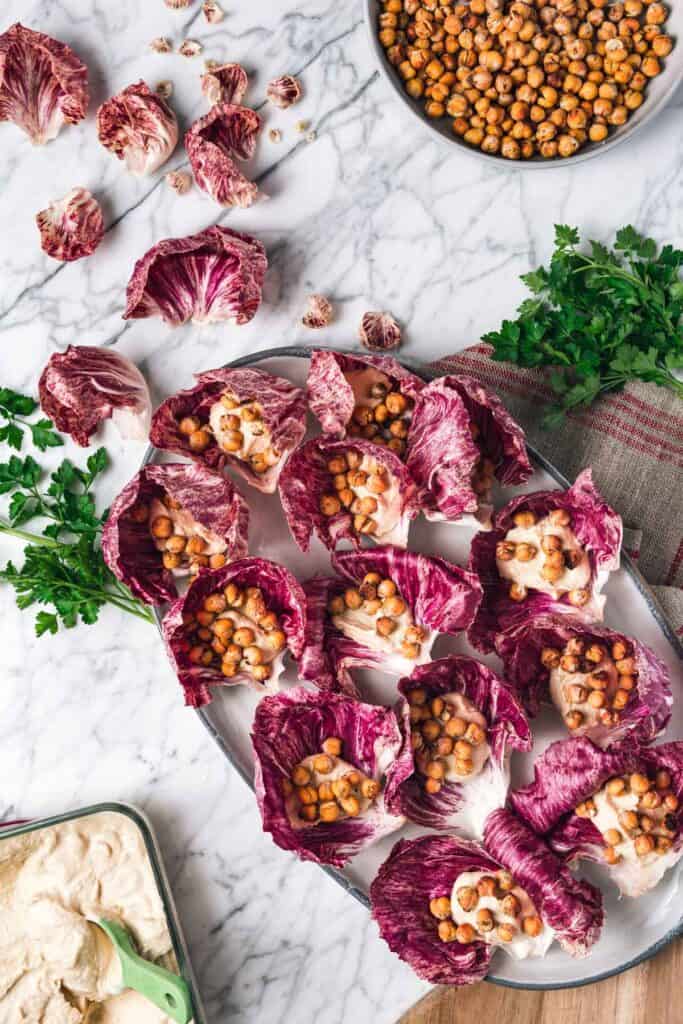 Then comes the parsley - just a sprig on top of each lettuce wrap.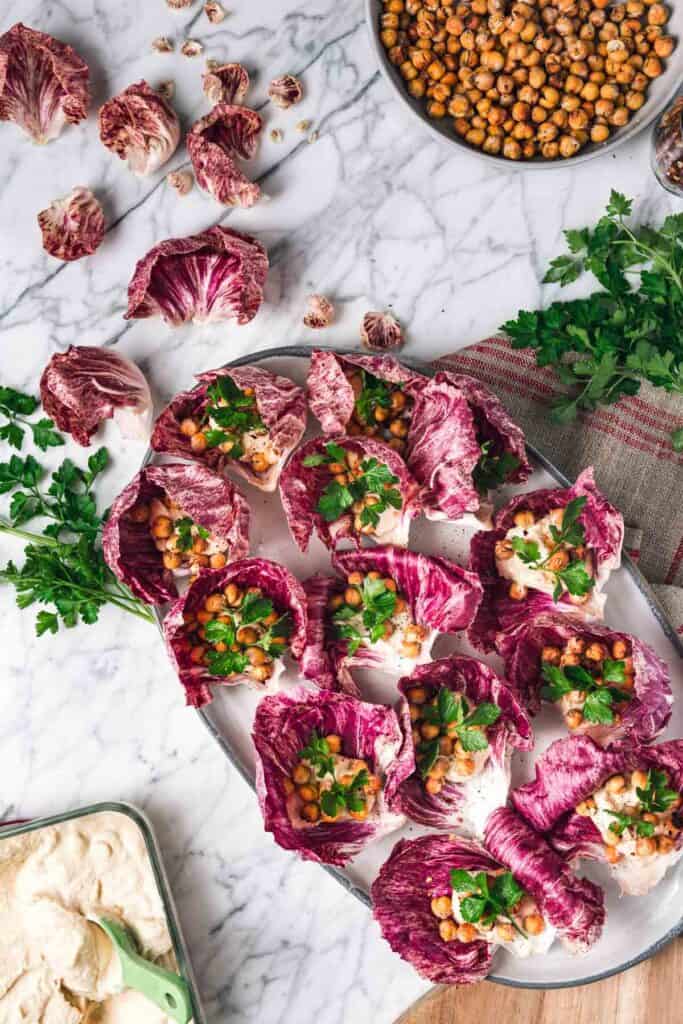 And finally, a dash of aged balsamic vinegar and a sprinkle of nutritional yeast, salt, and pepper finishes each tasty lettuce wrap.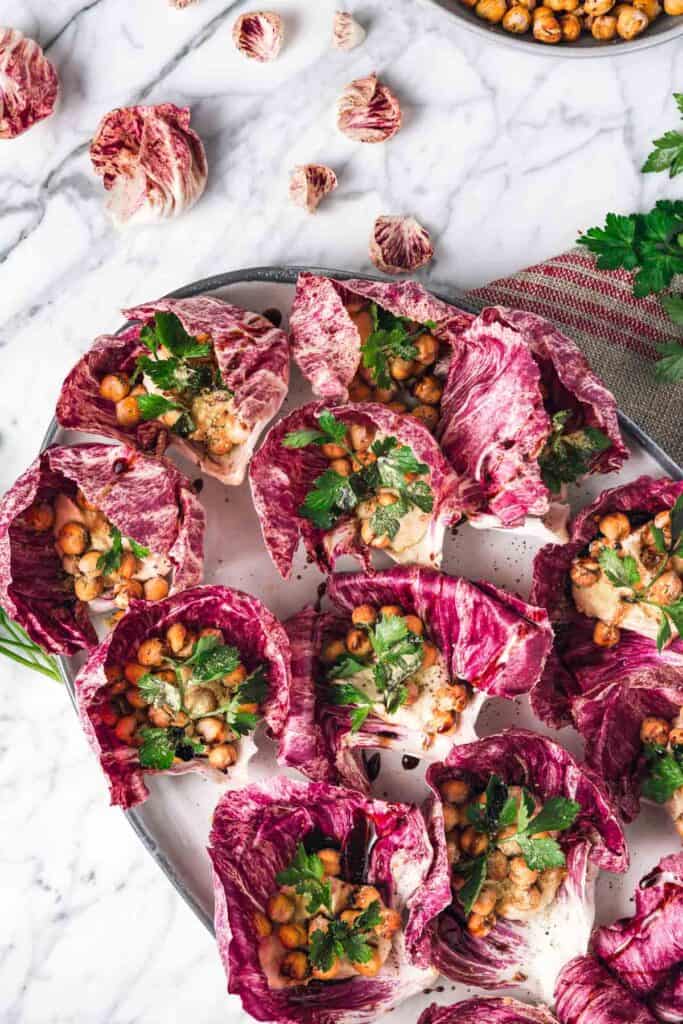 Tip: A thick, aged balsamic vinegar is best - the kind without fillers that is made in Modena, like this Tuscan Estate Balsamic by Olive Branch that is wood-barrel-aged for 18 years! I encourage you to try their other flavors, too - so good! (This is not an affiliate link; I just love their balsamic and want you to enjoy it, too - it's not like standard balsamics in the US!)
Dietary needs
It can be tough trying to serve an appetizer that meets a variety of dietary needs. Thankfully, this recipe works for just about any diet. It is gluten-free, vegan, grain-free, oil-free, refined sugar-free, and full of vegetables, protein, and fiber. Do keep in mind that there is sodium in this recipe and natural sugars in the balsamic vinegar.
Equipment
You will need a strong blender to make the Best Oil-Free Hummus in 5 Minutes and an air fryer or oven for the Air Fryer Chickpeas, Oil-Free. That's about it, unless you're cooking the chickpeas from scratch instead of using canned. In that case, I recommend using an Instant Pot or slow cooker.
Storage
These Hummus Lettuce Wraps are best eaten the same day. If using a sturdy leaf like radicchio, though, I've found they're still good the next day. You can prepare the ingredients ahead and store them separately up to a few days before assembling.
These ingredients don't stand up well to freezing.
Top tip
Use lettuce leaves that are small enough to be eaten in a couple bites, preferably the middle leaves of a lettuce head. If using large leaves, wrap them to fold over the ingredients, completely covering them, so that they can still be eaten in two or three bites. Also, go easy on the hummus. These can be pretty messy to eat if you add too much!
Recipes Needed
Two easy Beautiful Ingredient recipes are involved in this appetizer:
• Air Fryer Crispy Chickpeas, Oil-Free
• Best Oil-Free Hummus in 5 Minutes
The Recipe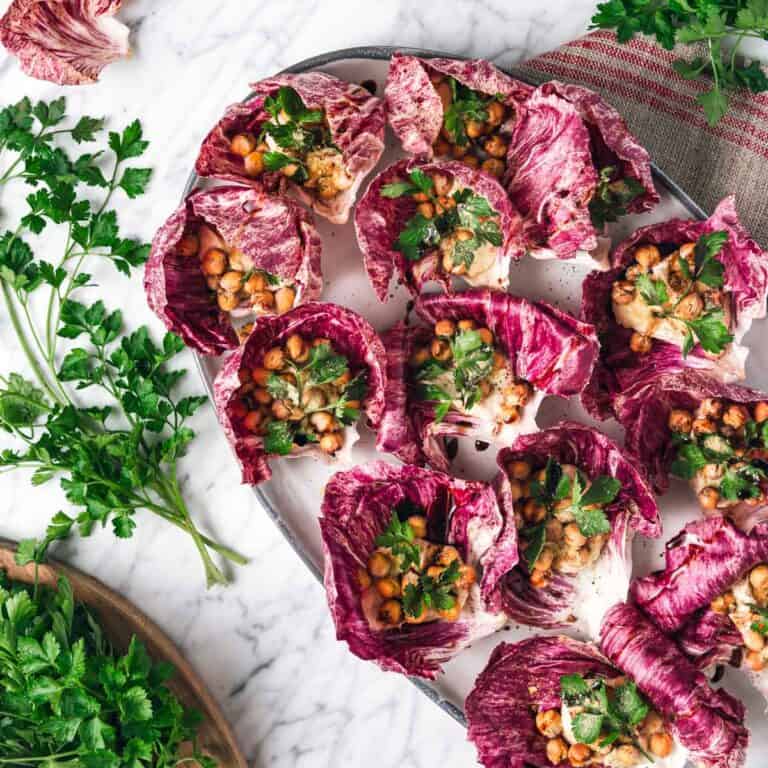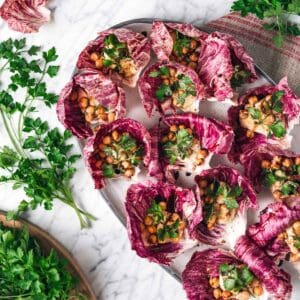 Hummus Lettuce Wraps with Crispy Chickpeas
This hummus stuffed radicchio (or lettuce) chickpea wrap recipe is so quick & easy. A beautiful gluten-free vegan appetizer or everyday snack!
Print
Pin
Rate
Ingredients
12

lettuce leaves

I used radicchio

1

batch

Best Oil-Free Hummus in 5 Minutes

or store-bought hummus

12

sprigs

parsley

3

tablespoon

aged balsamic vinegar

2

tablespoon

nutritional yeast

salt & pepper

to taste (optional)
Instructions
Prepare the Air Fryer Crispy Chickpeas and begin air frying them.

Prepare the Best Oil-Free Hummus in 5 Minutes and set aside.

Wash and lay out the lettuce leaves on a platter.

Carefully place a heaping tablespoon of the hummus in the center of each leaf. Then add an equal amount of the remaining ingredients to each leaf, starting with about 12-15 chickpeas each, then a parsley sprig, and finally a sprinkle of balsamic, nutritional yeast, and salt & pepper.
Notes
Note:  The hummus and lettuce leaves can be prepared while the chickpeas are cooking, so that these can be ready in about 20 minutes!