This recipe is:
vegan | wfpb | easy | quick | gluten-free | refined sugar-free | ready in 15 minutes or less | lunchbox-friendly
As the official lunch-packer at our house, I was stuck for a long time in autopilot sandwich-packing mode. Easy, filling, no fuss. On rare occasion, I would pack a salad only to have it come home untouched in a soggy heap. I figured salads just didn't pack well and moved on. But when I started getting requests for something different than that same old sandwich, I came up with a new plan.
Packing just greens and dressing is not only kind of boring, it doesn't keep well by lunchtime. The dressing inevitably makes the delicate greens a soggy mess, unless the greens are tough like kale. Keeping the dressing in a separate tiny jar is an option, but there's a bigger issue: veggies alone are not very likely to be eaten, especially for kids at school (at least that's true for mine). A salad of just veggies is not very filling; it requires other foods to be packed as well - and then what's the last thing to be eaten? Yep, the veggies. So the new plan? Pack a buddha bowl-like salad meal. The grains and beans help disperse the dressing appropriately instead of just soaking into the greens, the whole lunch can be packed in one jar (sure, with a fruit on the side), and the veggies are most likely going to be eaten. There's something thrilling about kids coming home with empty jars and asking for the same lunch again tomorrow.
I usually use 16 ounce jars, which are pictured, but you can make your salad in any size jar you'd like. If you'd like more dressing, just double or triple the vinaigrette recipe.
Simply stacking the salad ingredients and pouring the dressing over the top makes prep & eating easy.
Hummus can be added to or replace the vinaigrette.
---
Steps to making a delicious salad to go: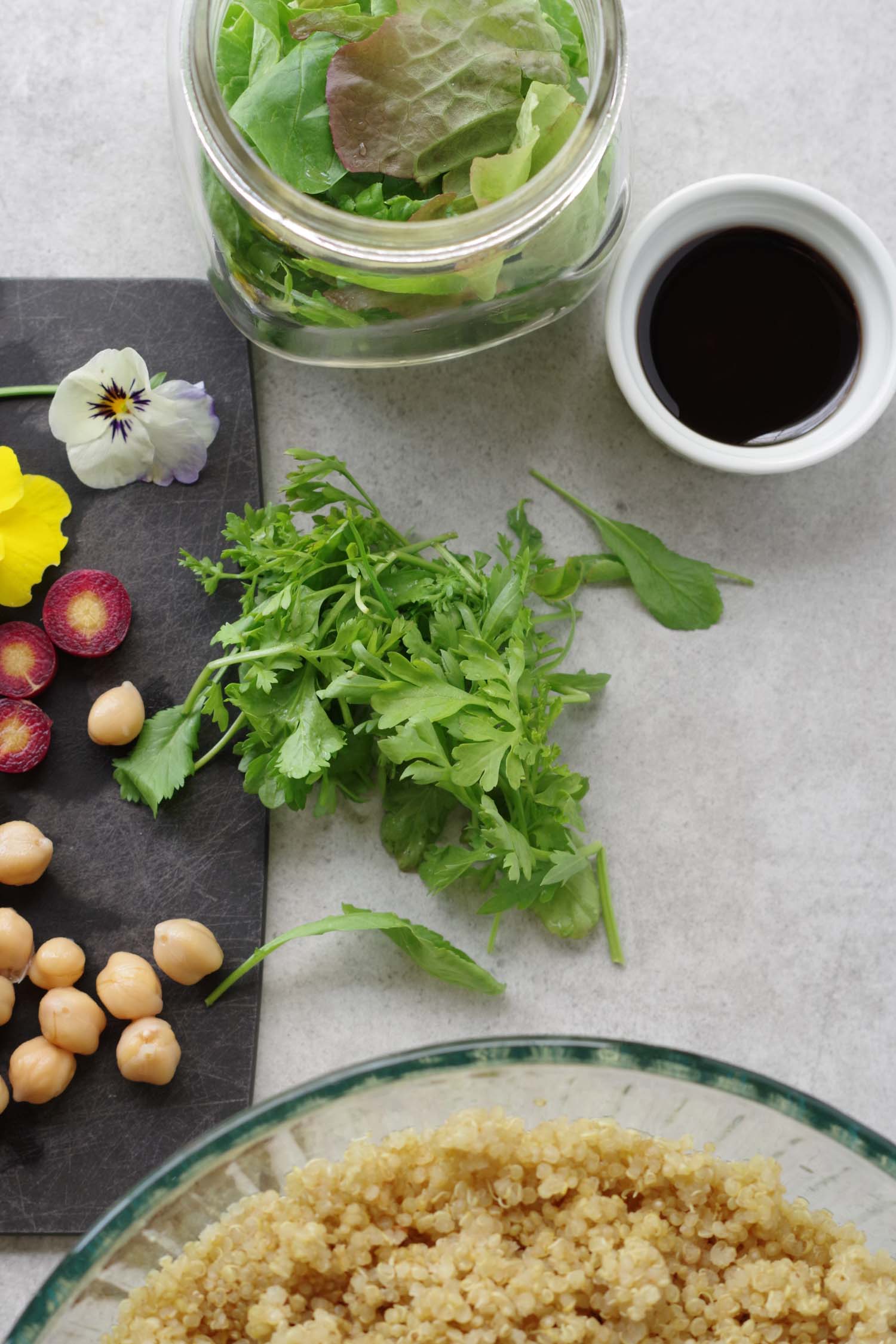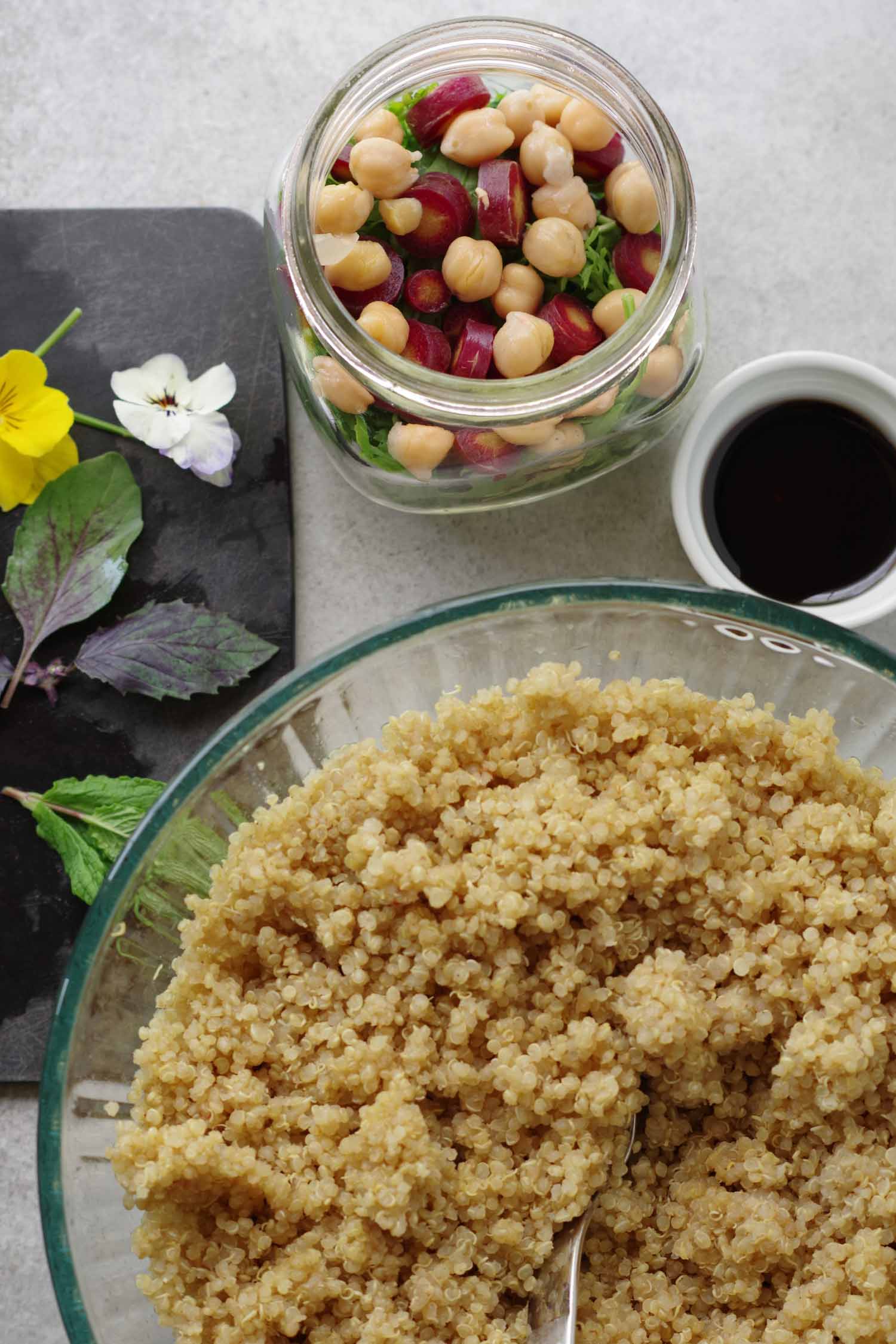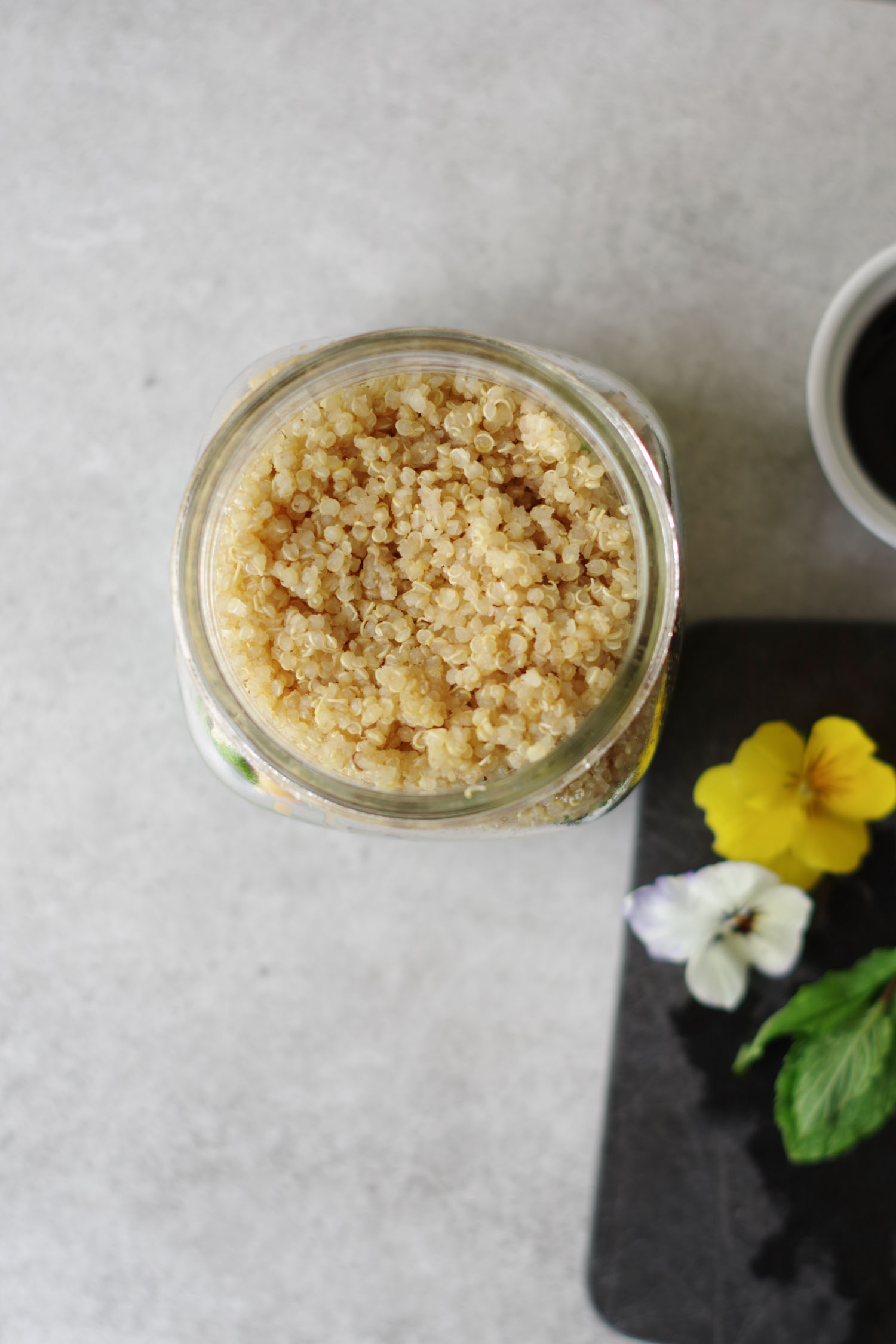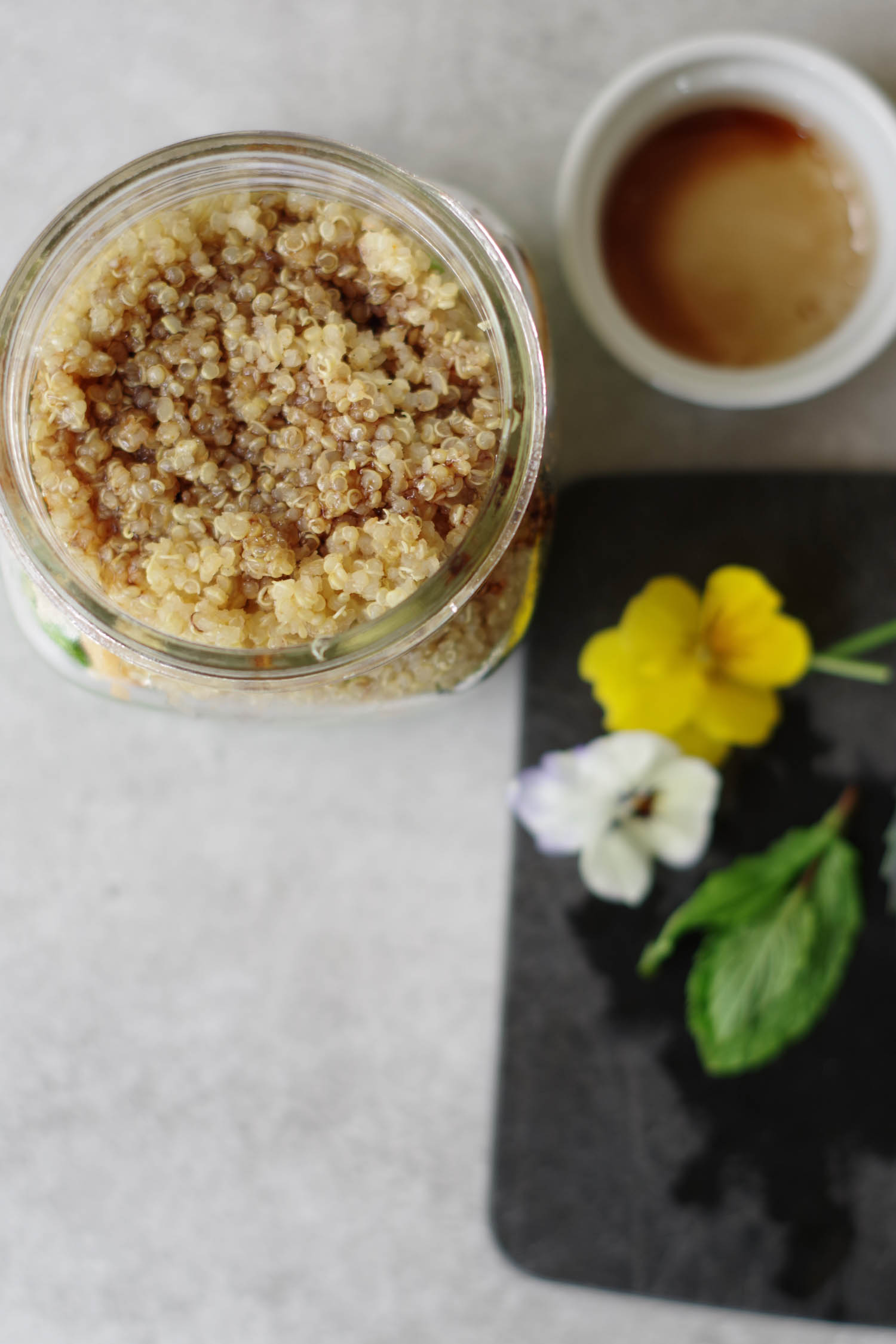 ---
These salad jars can be prepared within 15 minutes, including making the vinaigrette, if core ingredients are on-hand in the fridge. Keep a big batch of beans (or have canned beans in the pantry) or hummus and your favorite grain going at all times in the fridge to make meal prep a breeze. If for some reason I don't have a grain made, just greens and beans are still pretty filling. Adding nuts and seeds helps, too. Try different varieties of beans and grains to discover what everyone likes. For example, most in our family like quinoa while the youngest prefers whole wheat orzo pasta right now. Discover your favorite garnishes and make it fun. Basil, mint, and edible flowers that were in our salad mix from the farmers market were used here.
---
Easy Add-Ins for Salad To Go:
pumpkin seeds

nutritional yeast

carrots

radish

cucumber

scallions

cilantro

parsley
---
lemon zest

lavender buds

avocado

hemp seeds

nuts or nut-based "parm"

hummus

mint

edible flowers

spices
---
Salad can be an easy and delicious packed lunch that will have everyone cheering. By stacking ingredients in a jar with the dressing on top, the dressing doesn't have to be packed separately. Make eating a packed salad easy and a pleasure by putting it in an insulated lunch box with a napkin and fork and perhaps a small ice pack.
---
A few ways to enjoy Salad To Go:
school lunch

work lunch (a $ saver when compared to lunch out)

summer picnic

long car ride

at home (make in the morning for a busy lunchtime)
---
Tip: Before opening the jar to eat, tip it upside down a few times to get that dressing everywhere.
---
---
QUICK VINAIGRETTE RECIPE
vegan | wfpb | easy | quick | gluten-free | refined sugar-free | ready in 15 minutes or less | lunchbox-friendly
YIELD: 1 serving (double, triple, etc. for more servings)
PREP TIME: 5 minutes or less
TOTAL TIME: 5 minutes or less
RECIPE CATEGORY: Salads
PRIMARY TOOLS: Small bowl, fork
COOKING METHOD: Stirring
Note: While eating more produce is the top priority, I recommend buying organic food whenever possible to avoid consuming (and supporting) the use of harmful pesticides. Compare the cost of organic to the drive-thru and you may be surprised to find organic made-at-home meals often costs less. Many recipes you'll find here travel well and are about as quick to make as hitting the local fast-food joint.
Kitchen times are approximate and will depend on various factors, like your personal kitchen speed and how many hands you have working with you. Cooking can become a centering experience that brings family together. I hope you enjoy the ride!
INGREDIENT
2 teaspoons balsamic vinegar

1 teaspoon olive or avocado oil, or water

¼ teaspoon maple or date syrup
STEPS
Stir ingredients together in a small bowl.

Pour over individual salad and enjoy.