Tofu steaks are a tasty meatless main course full of protein, marinated in steak seasoning. Grill them in the summer or bake them. They're vegan, oil-free, refined sugar-free, gluten-free, and whole food plant-based.
I recently updated my chimichurri recipe, which inspire me to come up with a vegan version of steak, which has been traditionally served with chimichurri. While I wouldn't say tofu steaks taste like steak, they satisfy the desire for a flavorful, hearty, protein-rich main course.
Jump to:
Ingredients
We only need a few ingredients for this recipe!
Super firm tofu: This is the ideal tofu to use. You won't have to press liquid out of it, it's already very firm. In fact, super firm. If you can't find super firm, extra firm is next best. You will want to press the water out by wrapping it in a towel and putting a heavy lid on top for at least 15 minutes, or using a tofu press.
Coconut aminos: Much like soy sauce or tamari, but with a sweeter note and less salt.
Tamari: We're using a smaller amount to balance the flavor. I recommend the low-sodium version, though there is still quite a bit of sodium.
(This is not a low-sodium dish, by the way! It may be lower sodium than a traditionally marinated steak, but compared to the other recipes you'll find on this site, it is not low sodium.)
Steak seasoning: This seasoning mix is full of flavor and is the reason why these are called tofu steaks. There is often salt in this mix and the amount can vary.
Garlic granules: Even though steak seasoning generally contains a good amount of garlic, we're adding granules to make sure we get enough of that delicious flavor. If you prefer, use minced fresh garlic.
See recipe card for quantities.
Equipment
We will want the following equipment for this recipe.
Knife and cutting board
Measuring spoons
A large sealed container to refrigerate the marinating tofu in
A pastry brush to help distribute the marinade
A fork or spatula to flip and rearrange the marinating tofu
An oven, grill, toaster oven, or air fryer - I most often use a toaster oven set to bake
Instructions
Here are the simple steps for making tofu steaks.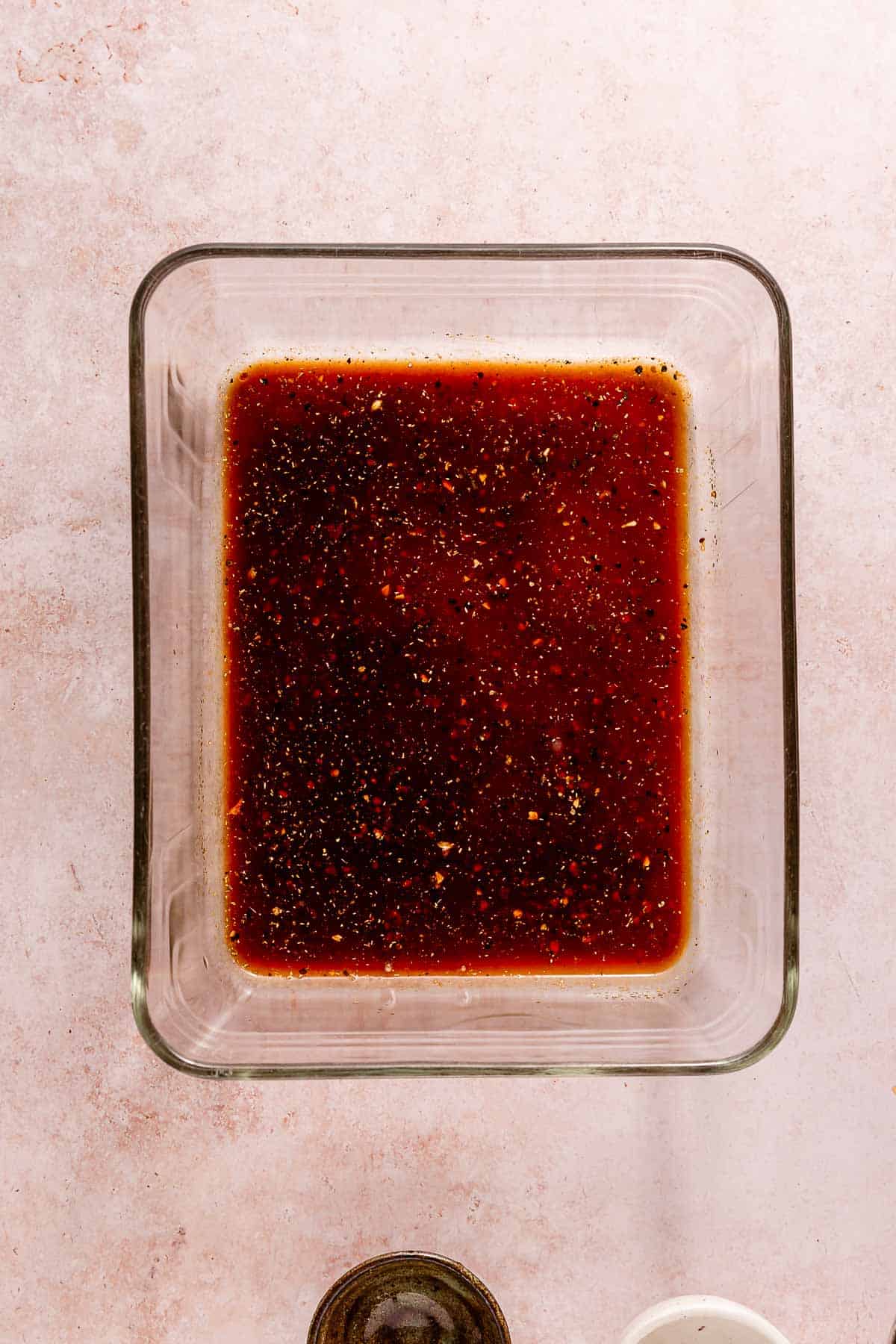 Other than the tofu, combine all ingredients in a large container.
Along its length, slice the tofu block in half, then quarters, then eighths.
Tip
If you don't have a large container, divide the marinade into two medium containers. It's ok if you need to stack the tofu steaks (aka cutlets), they will be rotated for even marinating.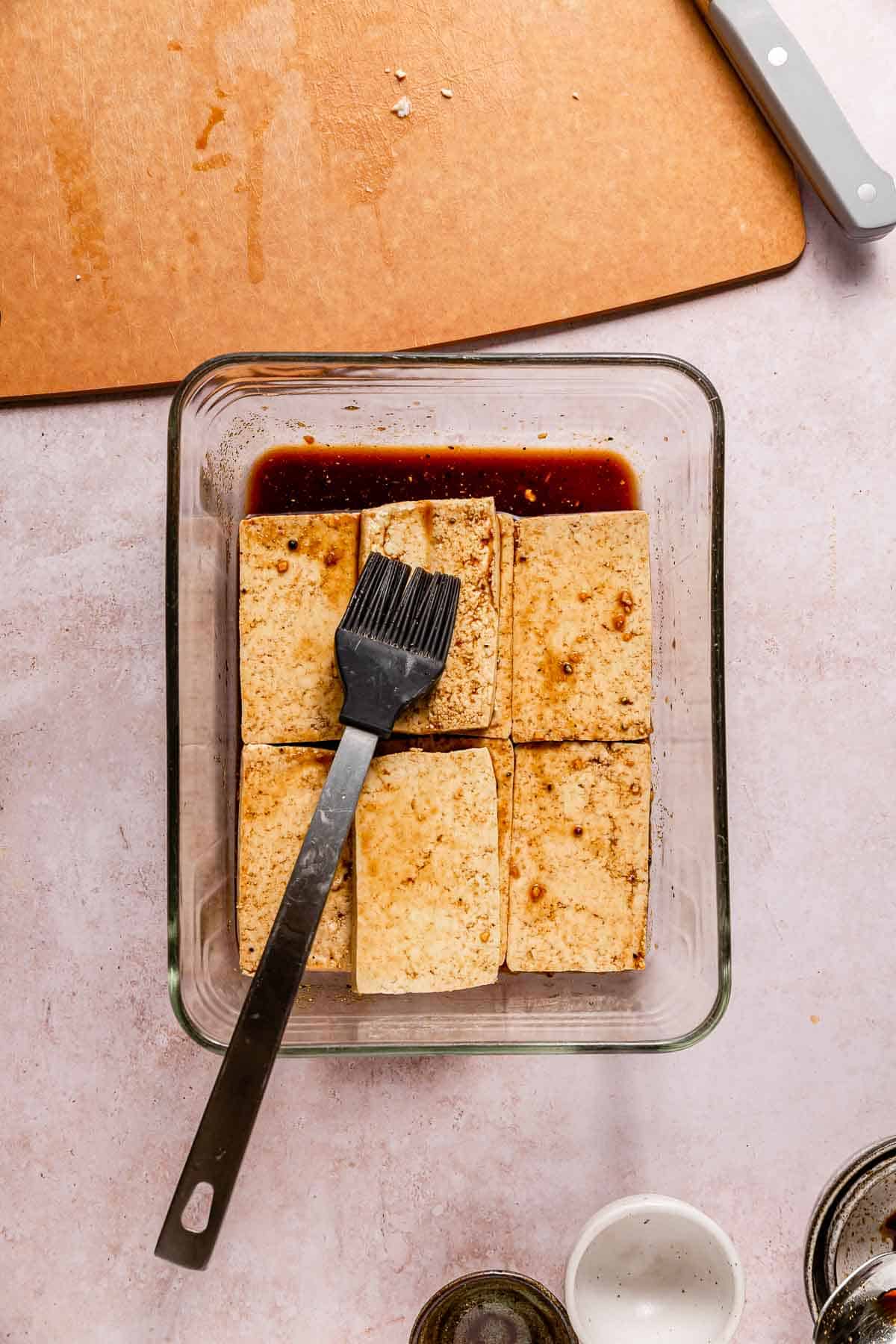 Dip each tofu steak into the marinade, then flip. Stack if needed. Seal and refrigerate for at least a half hour.
Remove from fridge and rotate the tofu so any top pieces are on the bottom. Make sure all pieces have flipped. Seal and refrigerate another half hour.
Set your oven or grill, then place the tofu steaks in a layer on a cooking surface, preferably with a baking liner.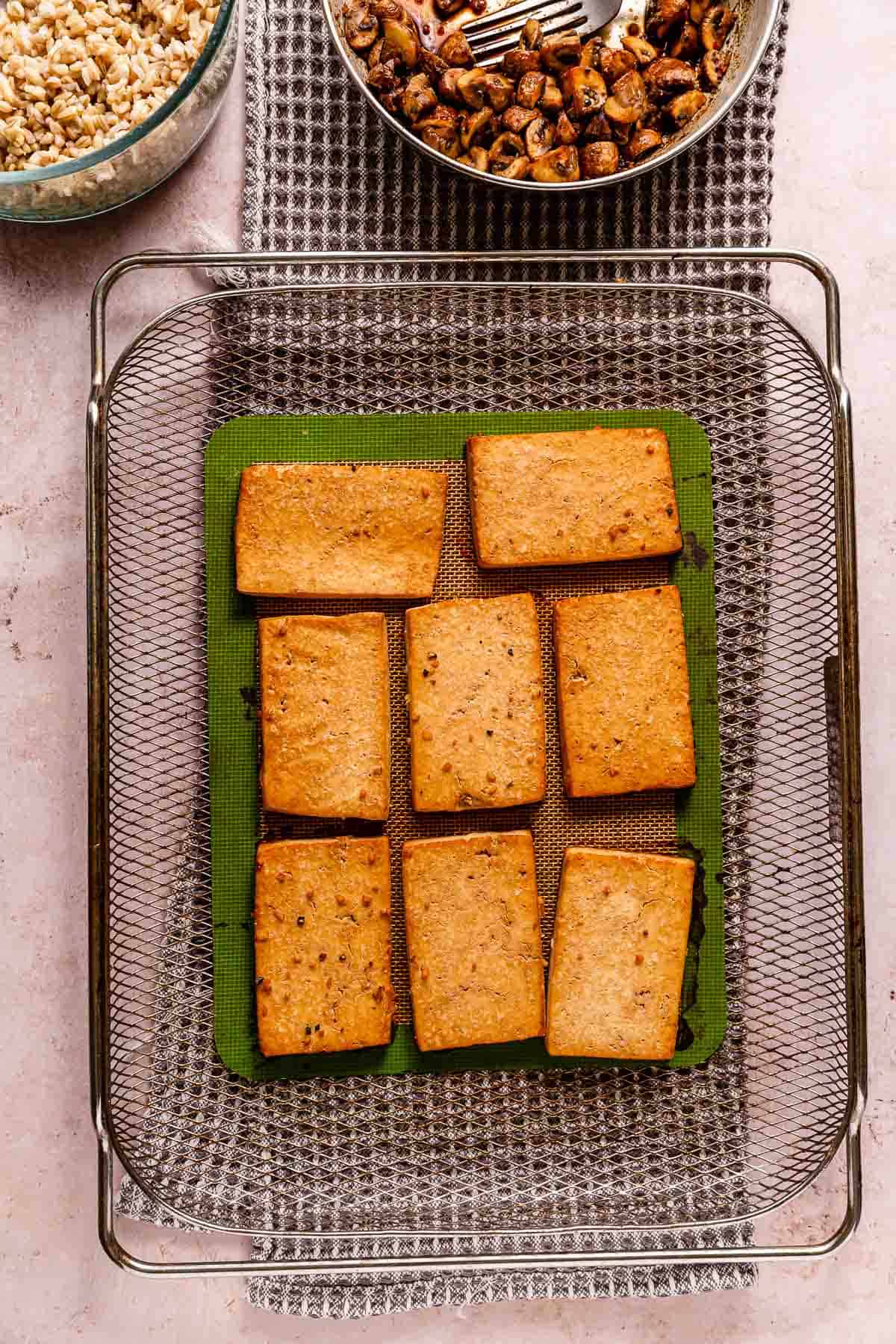 Bake or grill until golden and serve.
Oven tip: I avoid heating up an entire oven for these, if I can help it. I usually use a toaster oven. I've included cooking options in the recipe.
Upcycle the marinade
With the remaining marinade, you can saute mushrooms or veggies! Yumm.
Serving
Pictured is the ideal way to serve these tofu steaks: On top of whole grains, next to mushrooms or veggies sauteed in the marinade, and covered in chimichurri. One taste tester said, "This is like restaurant quality!" Yet, it's so easy to accomplish! By the way, the grains pictured are oat groats, if you can believe it. I found them in our local bulk section, and they're full of goodness with a texture like barley. Ideal for those who are gluten-free.
Storing
Store in a refrigerated sealed container for up to a few days. They should freeze alright, though I haven't yet tried that. Let me know if you do!
FAQ
Do these really taste like steak?
While steak seasoning is used in this recipe, I would not say these taste like steak. I would say they are delicious and savory with a hearty texture, and tend to satisfy cravings for a tasty protein without the downsides of steak.
More main dishes
The Recipe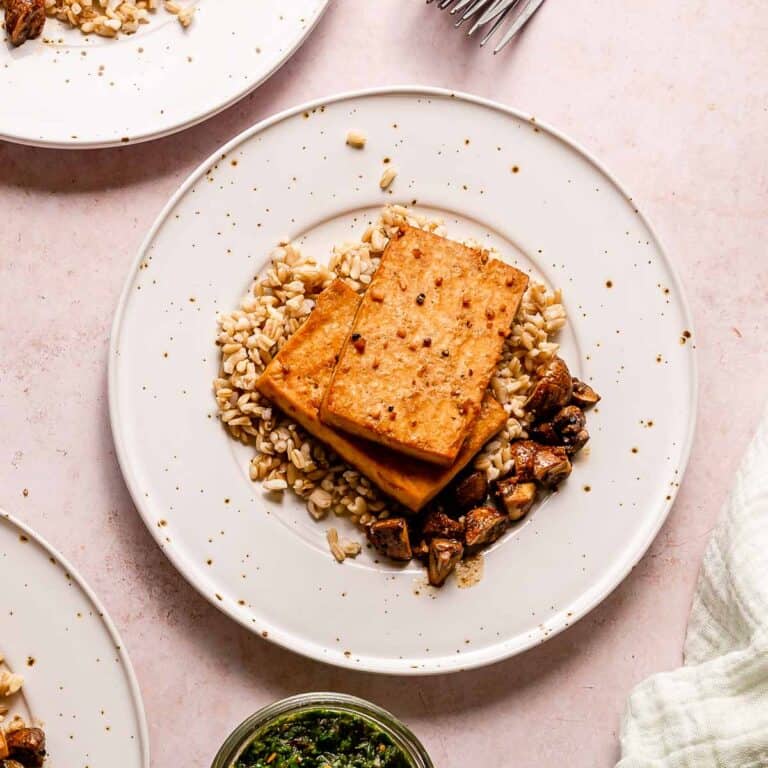 Tofu Steaks Recipe
Tofu steaks are a tasty meatless main course full of protein, marinated in steak seasoning. Grill them in the summer or bake them. They're vegan, oil-free, refined sugar-free, gluten-free, and whole food plant-based.
_______________________________
Plant Diversity: Striving for 30 different plants per week
The number of plants in this recipe: At least 1 plant
Print
Pin
Rate
Equipment
knife and cutting board

for slicing tofu

measuring spoons

pastry brush

to help distribute marinade

fork or spatula

top flip and rearrange tofu

oven

or toaster oven, air fryer, or grill

large sealed container

or two medium, for marinating
Ingredients
1

pound

super firm tofu

or pressed extra firm, 14-16 ounces ok

3

tablespoons

coconut aminos

1

tablespoon

tamari

reduced sodium; or soy sauce if gluten is ok

1

teaspoon

steak seasoning

or up to two, depending on your taste

½

teaspoon

garlic granules

or two cloves garlic, minced
Instructions
Make the marinade by combining all the ingredients (other than the tofu) in a large container.

If you're using two containers, divide the marinade between them. Stacking the tofu is ok, so don't worry if the container won't allow all the pieces to lay in the marinade.

Slice the tofu in half along its length, than in quarters, than into eight pieces total.

Dip the tofu slices into the marinade, then flip them. Stack dipped pieces on top, if needed. Use a pastry brush to distribute the marinade, if desired. Seal the container(s) and refrigerate for at least 30 minutes.

Remove from the fridge, then rotate and flip each piece. Be sure to move the pieces on top to the bottom, and to flip each piece and dip or soak in the marinade. Seal and return to the fridge for another 30 minutes minimum.

Choose your cooking method. (I usually use a toaster oven.) Set your oven, toaster oven, or air fryer to 400 degrees, or set up your grill.

Remove the marinating tofu from the fridge and place each piece evenly on a baking sheet or pan, preferably lined with parchment or a silicone mat.

Bake until golden. Approximate cook times are:

15-20 minutes in an oven

10 minutes in a toaster oven

6 minutes air fryer (check and add time, if needed)

5-10 minutes on a grill

Best served with whole grains or potatoes and chimichurri verde.

Store in a refrigerated sealed container for up to a few days.
general food safety
Cook to a minimum temperature of 165 °F (74 °C)
Do not use the same utensils on cooked food that previously touched raw meat
Wash hands and ingredients well before using
Don't leave food sitting out at room temperature for extended periods
Never leave cooking food unattended
Use oils with high smoking point to avoid harmful compounds
Always have good ventilation when using a gas stove