Looking for a roasted sesame dressing recipe to coat your salads with sesame-ginger flavor? You've found it! This versatile salad dressing also works as a sauce for stir frying and as a dip for roasted or raw veggies or sushi. It's oil-free while being full of sesame flavor, thanks to whole sesame seeds that are roasted or toasted (the recipe includes instructions for both). A quick and easy recipe that is vegan and whole food plant-based.
Sesame dressing has been one of my favorites since I was a kid. Growing up, salad dressings came from a bottle purchased at the grocery store, and I didn't like many but I loved sesame. Of course, kids growing up in Japan with real sesame dressing had it much better, I'm sure. If you grew up in Japan, I'd love to learn about the dressing you grew up with in the comments below!
The bottled kind I grew up with had a variety of ingredients including sesame oil. I've been wanting to create a version utilizing whole sesame seeds instead of sesame oil since oils can cause inflammation, go rancid, and just aren't as healthy as eating the whole food. Could an oil-free sesame dressing still have a nice sesame flavor?
The answer is yes. In fact, big sesame and ginger flavors with small effort. Hooray! Lately, I've been eating salad after salad with this dressing using whatever ingredients I have on hand, happily!
My Sesame Tofu Salad recipe includes a dressing with a little sesame oil, so this new version can now be enjoyed as a great oil-free alternative.
Jump to:
Ingredients and Substitutions
Just a few real-food ingredients are needed for this simple recipe.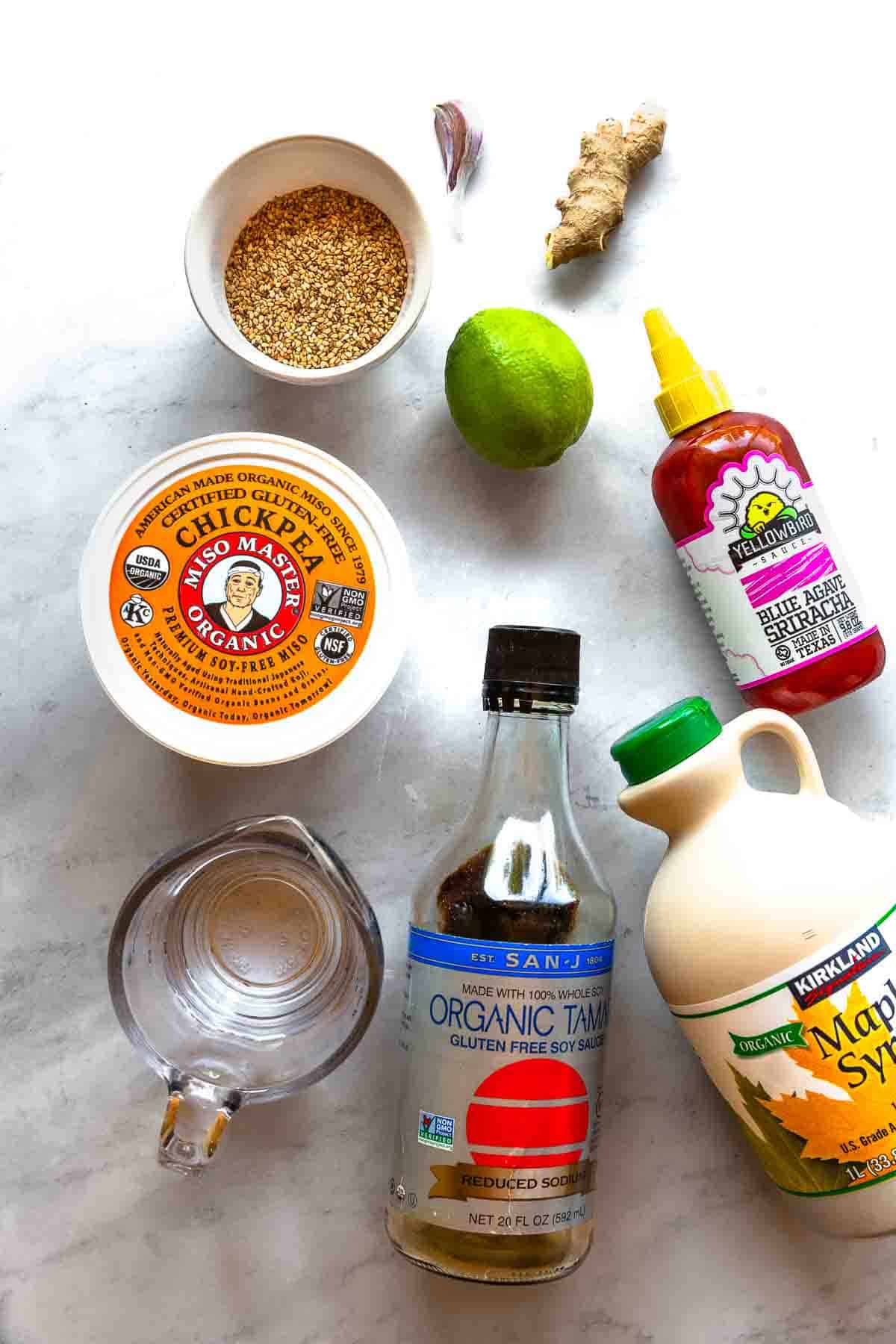 Sesame seeds: The hero of this recipe, allowing us to enjoy sesame dressing without sesame oil. They don't have much flavor when raw, so we're going to roast (or toast) them to bring out that sesame flavor.
Ginger: Fresh ginger sings in this recipe, but if you would like to make it with powdered (ground) ginger, that's still a tasty option.
Garlic: I prefer fresh garlic, but powdered or granulated garlic can be used instead for a quicker option that will last longer in the fridge (same with the ginger).
Lime: Fresh lime juice is the best flavor option in my opinion. If you'd like to add the zest too, you'll have even more lime flavor in this dressing. Rice vinegar would be my next choice.
Maple syrup: Maple syrup is just the best for bringing soft and sweet vibes to dressings like this.
Tamari: This is the gluten-free version of soy sauce. Coconut aminos could work as an alternative, but are slightly sweeter and not as sharp/salty.
Miso paste: This brings the umami to the dressing, adding a little creaminess and a fermented ingredient to the mix. I usually use chickpea; any light-colored miso should work well. Miso paste can be found in the refrigerated section of grocery stores, often near tofu.
Hot sauce: Whichever type you like can be used, or use a pinch of crushed red pepper.
Filtered water: Softens the flavors and stretches the dressing.
Note: This dressing is best eaten the same day or next day when using fresh garlic, ginger, and lime juice. For longer fridge storage (up to a week), use the suggested pantry alternatives.
See recipe card for quantities.
Equipment
Here are the tools you'll need to make this recipe, along with some options to suit your situation:
A small cutting board and knife for prepping the garlic, ginger, and lime. If you go for the "pantry option" using spices and rice vinegar instead, you won't need them.
A baking sheet and oven or small pan and stove. The sesame seeds will take about 8-10 minutes in the oven. You can use a toaster oven since we're roasting a small item, just be sure to reduce the cook time by half and then check often until the seeds are fragrant and golden. If cooking on the stove in a pan, the seeds will toast for about 5 minutes.
A blender to blend all the ingredients together.
A jar or other container with a lid for fridge storage.
Instructions
Here are the simple steps to making this easy dressing, including the option to toast the seeds if you prefer rather than roasting.
Choose whether you will be using the plain/white sesame seeds or black seeds. Note: black will make your salad a grey-black color.
Place the sesame seeds on a baking sheet in an even layer and roast (but set on bake mode).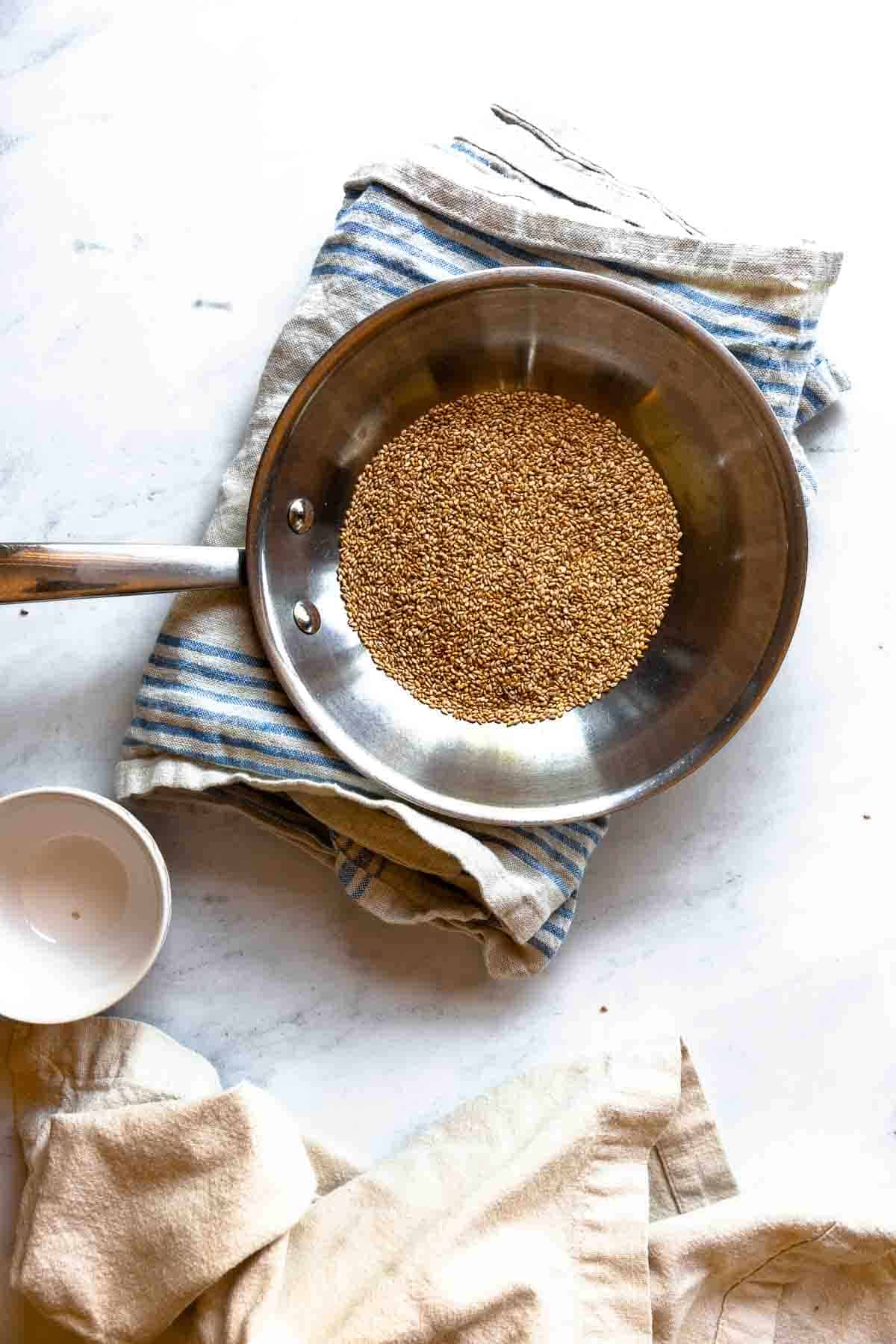 Instead of roasting the sesame seeds, you could toast them in a pan on the stove.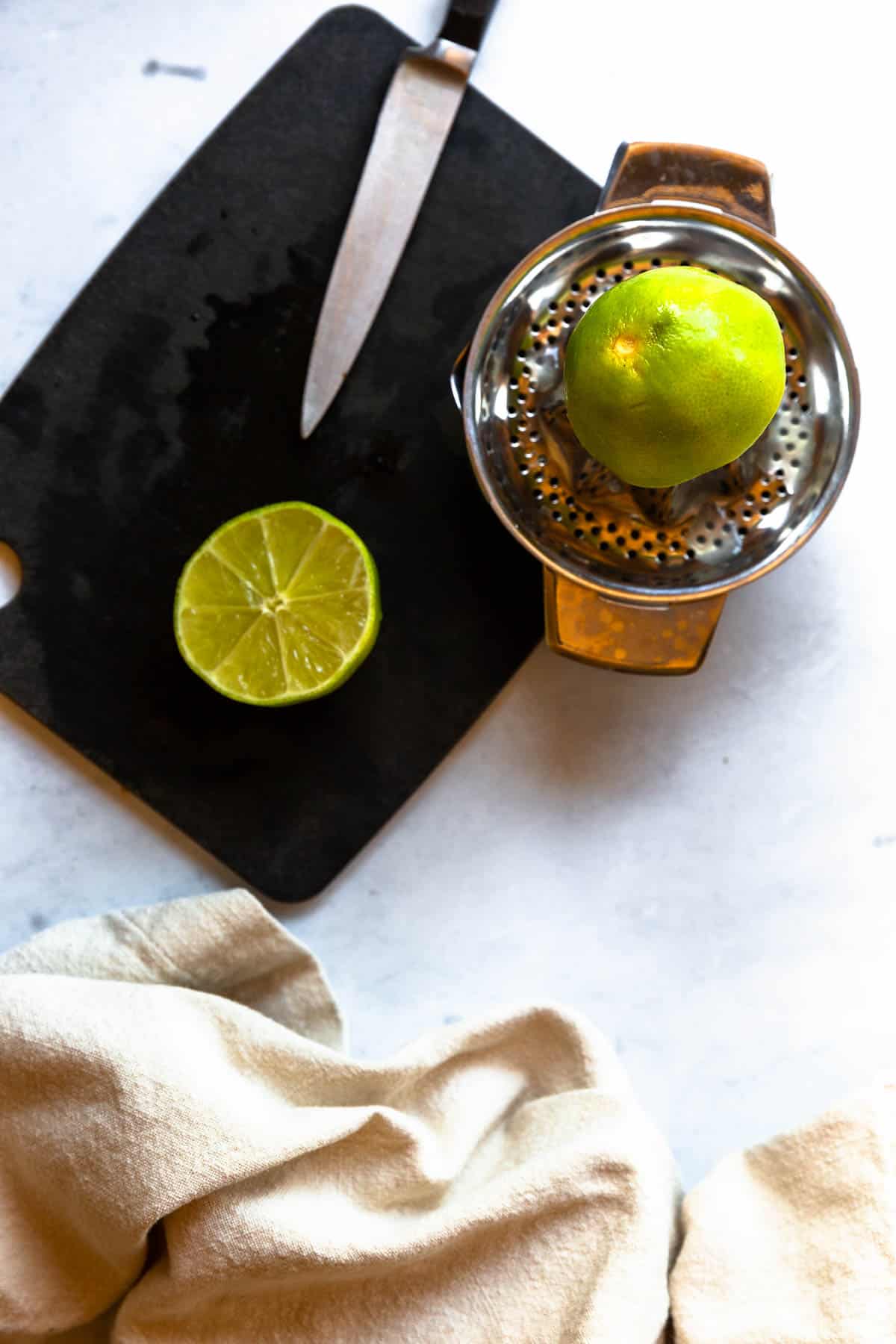 Juice the lime and prep the garlic and ginger.
Blend all the ingredients together.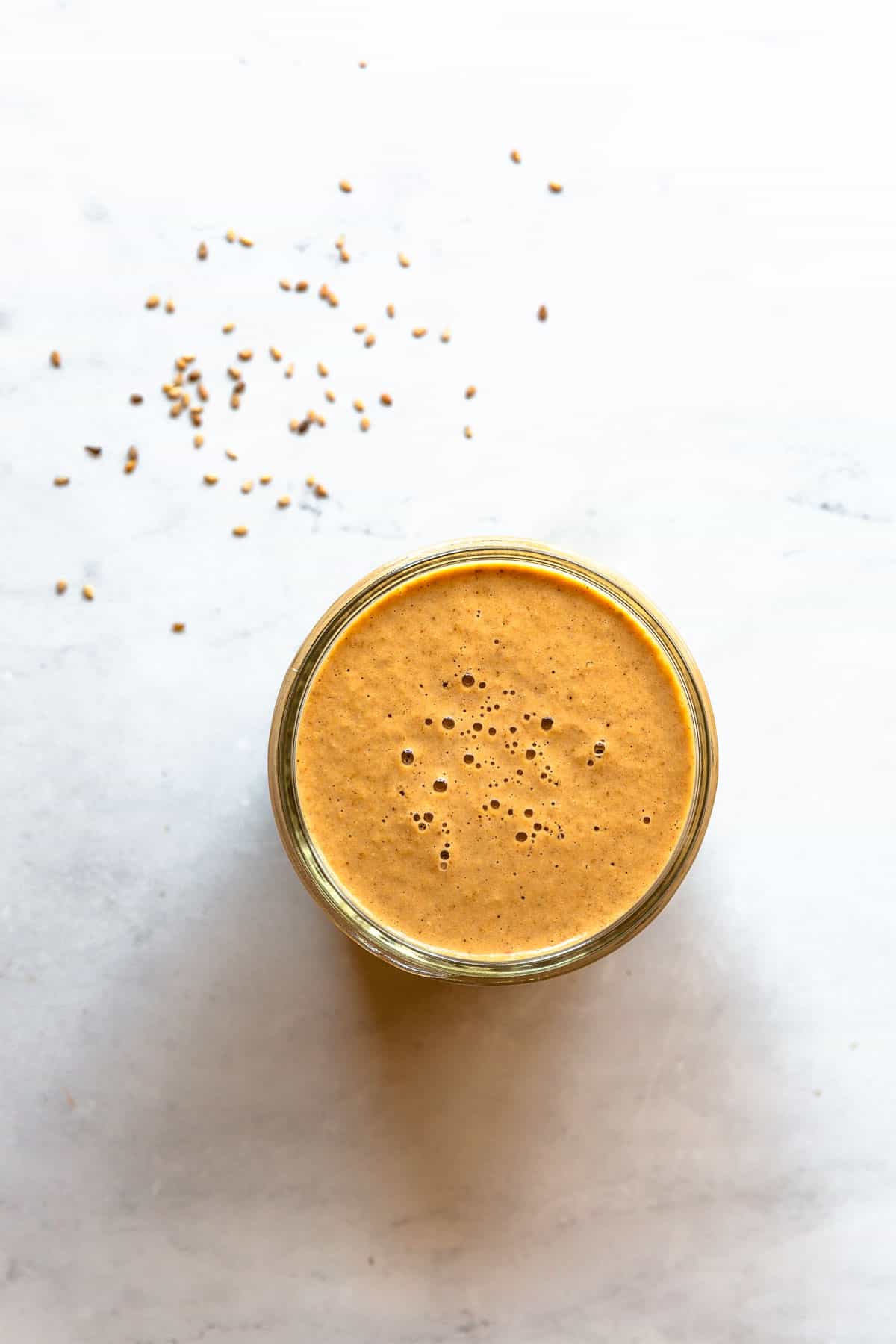 Pour into a jar with little air space and place sealed in the refrigerator until ready to use.
Serving
I primarily make this recipe as a salad dressing in one of two ways: Either tossed into a salad or served under a salad. The next two photos shows these two options as well as the color difference when using plain or black sesame seeds.
While the dressing really makes a salad extra tasty, it's also fantastic as a stir fry sauce or dip. Try it as a dip for roasted or raw veggies, sushi, or summer rolls.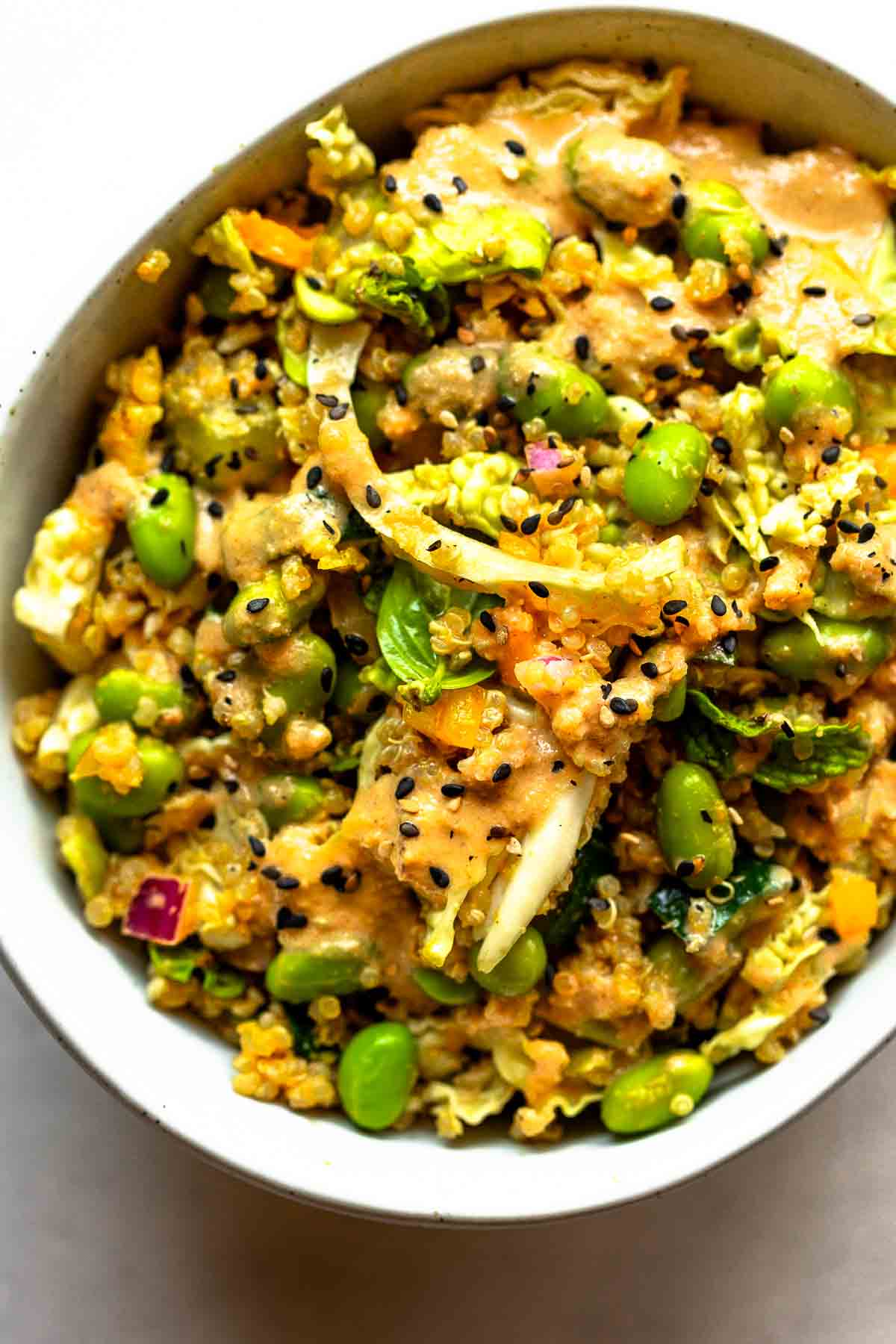 Storage
Store in a refrigerated sealed jar or container with as little air space left in it as possible. It's best to use this dressing made with fresh ginger, garlic, and lime juice the same or next day. To store up to a week, use ground ginger, garlic granules, and rice vinegar. This option is included in the recipe below.
FAQ
Can tahini be used instead of roasted sesame seeds?
Technically it could, though I have yet to try that myself. Likely, since tahini is usually made with raw seeds, the flavor will be quite different - not like sesame oil, which is what we're going for in this recipe.
Pairing
This dressing/sauce/dip goes great with these recipes:
More dressings
Other tasty salad dressings:
The Recipe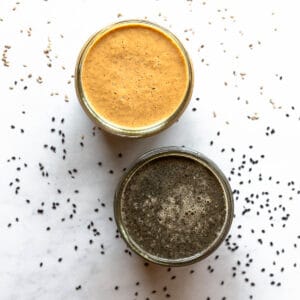 Roasted Sesame Dressing Recipe
A versatile roasted sesame dressing that also works as a sauce or dip. Oil-free, vegan, whole food plant-based, with sesame-ginger flavors.
Plant Diversity: Striving for 30 different plants per week
The number of plants in this recipe: At least 4 plants
Print
Pin
Rate
Equipment
oven and baking sheet

or stove and small pan

small cutting board and knife

for garlic, ginger, and lime

blender

jar with lid for storage

or other 8-12 oz container to refrigerate
Ingredients
¼

cup

sesame seeds

plain ("white") or black, hulled or whole

1

tablespoon

fresh ginger

about 1 ½" piece, peeled if desired, coarsely chopped - or ¼ teaspoon ground ginger (or a bit more for extra flavor)

1

clove

garlic

medium-large, peeled, coarsely chopped if large - or ⅛ teaspoon granulated garlic

2

tablespoons

lime juice

about one lime - or use rice vinegar

1

tablespoon

tamari

for gluten-free, or soy sauce (contains gluten)

1

tablespoon

maple syrup

or pomegranate syrup

1

teaspoon

miso paste

light colored

¼

teaspoon

hot sauce

like sriracha, optional

¼

teaspoon

turmeric

optional (not used in images)

½

cup

filtered water
Instructions
Roast the seeds: Preheat the oven to bake at 325 F. Place the seeds in a single layer on a baking sheet. Place in the oven for 8 minutes, stirring them half way through. Add another minute, if necessary, until the seeds are fragrant and golden. Note: If using a toaster oven, check after 4 minutes and frequently thereafter, as the cook time will be reduced.or toast them: Alternatively, toast the seeds in a small pan on the stove over medium heat, stirring frequently until golden and fragrant (about 5 minutes).

Let cool a couple minutes before adding the seeds to the blender.

Prep the garlic, ginger, and lime juice and add them to the blender.

Add the remaining ingredients to the blender and blend starting the speed on low and slowly working up until completely blended. You may need to stop to scrape down the sides and then blend some more.

Serve tossed in salad or stir fry, or use as a dip for veggies, potatoes, sushi, summer rolls, etc.

To store, pour into an appropriately-sized jar or container and refrigerate until ready to use.

Best served within a day or two when using fresh ingredients (see notes below).
Notes
For a longer shelf life in the fridge, swap the fresh ginger, garlic, and lime juice for the suggested ground ginger, granulated garlic, and rice vinegar. Use within a week.
Fantastic for dipping summer rolls!
Food safety