Once you try this quick and easy mango jalapeño dip (aka salsa), you may not buy store-bought again. With just 5 ingredients, this mango salsa recipe packs a bold, tasty punch. The combination of flavors is sublime! Beautiful as a salad or main dish topping as well as a dip. This recipe is vegan, salt-free, refined sugar-free, oil-free, and satisfies a whole food plant-based lifestyle. Ready in only 10 minutes!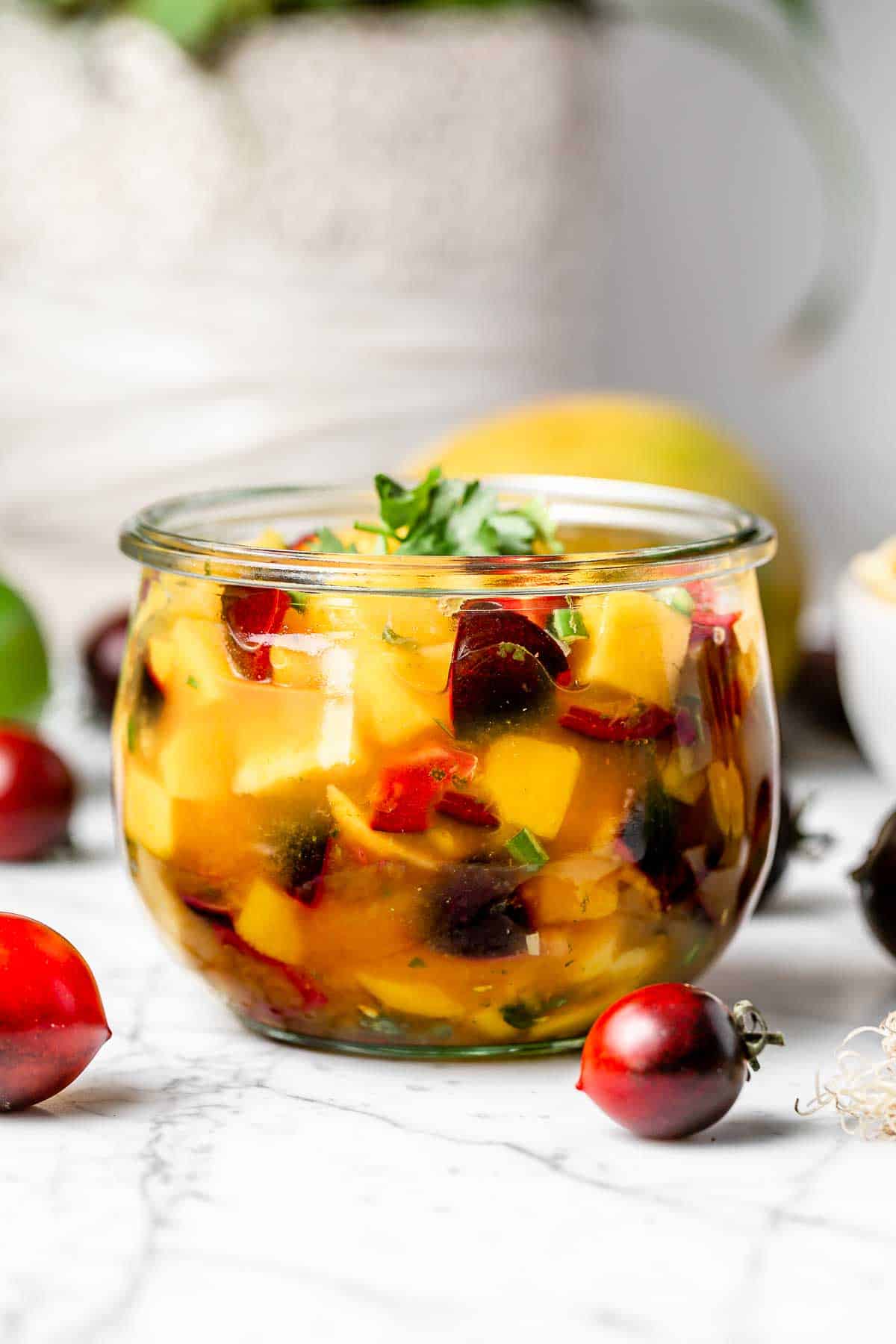 My daughter and I came up with this dip/salsa to help her Spanish class celebrate Cinco de Mayo. It was such a hit!
Jump to:
What you'll love about this recipe
I'll say it again: the flavor. This combination of fresh ingredients is so hard to resist!
The recipe only involves five whole-food ingredients - all produce.
It can be ready in 10 minutes. It's so quick and easy, it doesn't feel like a big deal to add it to the task of making dinner. It is absolutely worthwhile to take that 10 minutes. Once you prep the five ingredients, you're done!
While it is rare that we have any left over because it's such a crowd pleaser, it's a salsa that will keep for a few days in the fridge. Go ahead, triple the recipe so the whole family can eat it for a few days straight!
Store-bought mango salsa can be pretty flavorless while being way too sugary-sweet. This recipe requires no salt, oil, or added sugar - and they aren't missed!
You can find more sauce recipes here.
Ingredients and substitutions
While there are few ingredients in this recipe, each plays an important role.
The cherry tomatoes provide acid along with a slight sweetness that plays well with the peppery jalapeño and much sweeter mango.
Use any cherry tomatoes; note, a red or indigo variety will give it a different look than a golden variety, and each provides a different flavor profile, too. If you want to go with sweet cherry tomatoes, look for sungolds.
Use any mango. The variety typically found at most stores here in the US is the large red with green and yellow accents called Tommy Atkins. The smaller Champagne mango (aka Ataulfos) can be used instead; it tends to be sweeter, while the Tommy Atkins provides more quantity - see which you prefer using.
Jalapeño can be substituted with a milder green pepper, such as shishito, in a pinch.
Scallions (aka green onions) or spring onions add balance and depth without the flavor-attack that garlic or yellow onion would likely bring. Red onion is nice as a substitution or addition.
The acid in the lime is important to enhance the flavors and bring them all together, and prevents the need for adding salt. I love using the lime zest, which brings out more lime flavor, but that's totally optional.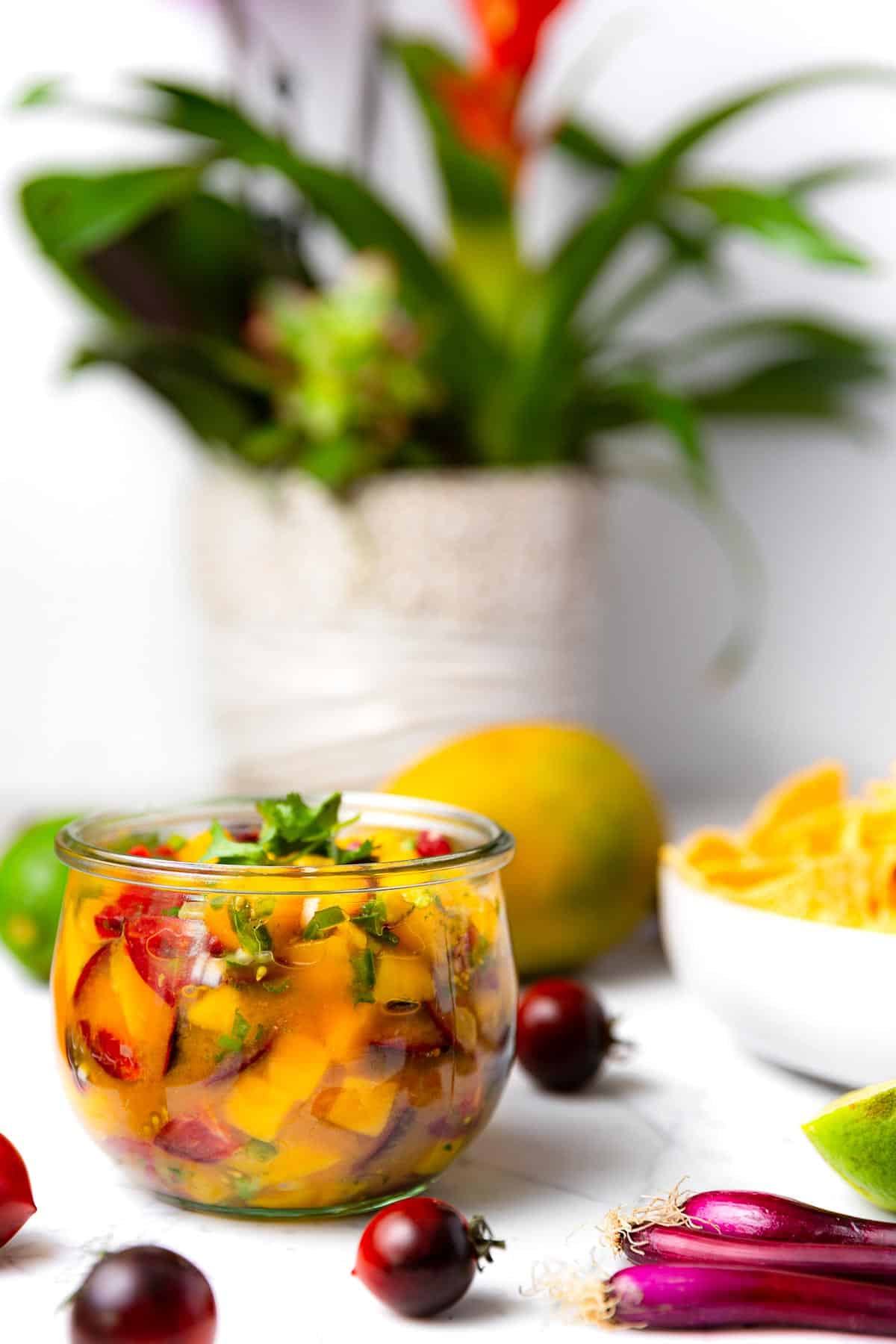 Instructions
It really only takes about 10 minutes to chop the ingredients. Then, it's just a matter of combining them and your salsa is ready!
While the salsa is so deliciously fresh-tasting immediately after it's made, it's even better if it has time to sit in the fridge for an hour or overnight so that the flavors can combine well.
Serving
This mango salsa is of course wonderful with tortilla chips, and it's also amazing on a salad, burrito, taco, enchiladas - anything you'd like. It will last in the fridge for up to a few days, if it's not eaten by then!
Serving kids: If you're feeding this to kids, go ahead and try it as is, with the jalapeño. It shouldn't be spicy with the seeds removed. The flavor it brings is pretty valuable here, and your kids may surprise you and go for it. If they don't like the flavor though, it can be left out. Then, you'll have mango salsa in just four ingredients! Organic jalapeño can be hard to come by. If you only have access to non-organic, wash it really well to remove any pesticide residue. Otherwise again, leave it out. It's still a wonderful salsa!
Recipes that pair well with this tropical goodness
Looking for guac? Here's the best simple guacamole recipe.
The Recipe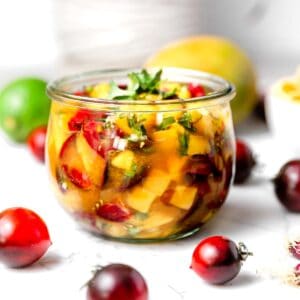 Mango Jalapeno Dip (Salsa) Recipe
Once you try this quick and easy mango salsa, you may not buy store-bought again. This recipe is vegan, salt-free, refined sugar-free, oil-free, and satisfies a whole food plant-based lifestyle. So quick and easy, too - ready in only 10 minutes!
________________________________
Plant Diversity: Striving for 30 different plants per week
The number of plants in this recipe: At least 5 plants
Print
Pin
Rate
Equipment
chef's knife and cutting board

mixing bowl and spoon
Ingredients
1

cup

cherry tomatoes

or grape tomatoes

1

mango

1

scallion

or spring onion

1

jalapeno

1 ½

limes

juice (zest optional)
Optional additions
avocado

chopped

cilantro

red onion

chopped

garlic

minced
Instructions
Slice the tomatoes in half and then each half into quarters. Place the sliced tomato in a medium bowl.

Chop the mango into even chunks. An easy way is to slice the mango lengthwise along each side of the pit, then crosshatch each half, slicing 3-4 times in each direction. This allows you to fan out the slice. From there you can slice off the pieces revealed when fanning out the mango. Slice off the peel around the pit and salvage what you can of the mango there, chopping into bite-sized pieces. Add to the bowl.

Mince the spring onion or scallion, including as much of the green as possible. Add to the bowl.

Chop the jalapeno. If you don't want it too spicy, slice around the seeds and then mince. The more seeds you use, the spicier it will be. Add to the bowl.

Zest one of the limes and then juice them. (You can skip the zesting if you'd like- the salsa just won't have as much lime flavor.). Add the zest and juice to the bowl and stir to mix the ingredients well. Add any other ingredients you'd like, such as avocado, red onion, and/or cilantro.

Serve and enjoy! Salsa is best when it's had at least an hour in the fridge to marinate. Will last in a sealed container in the the fridge for up to 3 days.
Notes
I use organic ingredients whenever possible for more nutrients, flavor, fewer toxins, and to support organic farmers.  It's what I want in the world, so I vote with my dollar.  Experiment:  If money that would normally be spent on processed foods went to the best organic, fresh, real food ingredients available, notice if your body prefers the change.  Real food can be quick, easy, and even fun to make, like this recipe!