Pecan pie in nut butter form? Absolutely! Find out how to make my very favorite nut butter - it's delicious any time of year, especially in autumn and winter. It's vegan, whole food plant-based, oil-free (there is natural oil in the pecans), gluten-free, refined sugar-free, and is ready in under 30 minutes.
The Best Nut Butter
How about a nut butter that tastes like pecan pie? This is my very favorite nut butter so far, full of flavor that is delectable on toast, or ice cream, or a spoon...mmm...⠀⠀
Pecans are so rich and delicious, perfect for nut butter! They're also more expensive than peanut butter, so we use it more sparingly, cherishing every special bite. ⠀⠀⠀⠀⠀
Spiced Option
While I have provided an option to spice up this pecan butter with cinnamon, nutmeg, and cardamom, I have to say, though, that I love it plain, letting that toasted pecan flavor stand on its own. Because there's a touch of maple syrup in the recipe, it really does taste like pecan pie. Jam is nice with it, but not necessary. Give it a try on ice cream or oatmeal, mmmmm.
Ingredients
Just high quality pecans (preferably organic, maple syrup, and salt. That's it!
If you'd like to go for the spiced version, it involves adding cinnamon, nutmeg, and cardamom. Also very delicious!
Instructions
Once the pecans, syrup, and salt are stirred together, you will bake them in the oven at 325 degrees for 12 minutes to get them nice and toasty.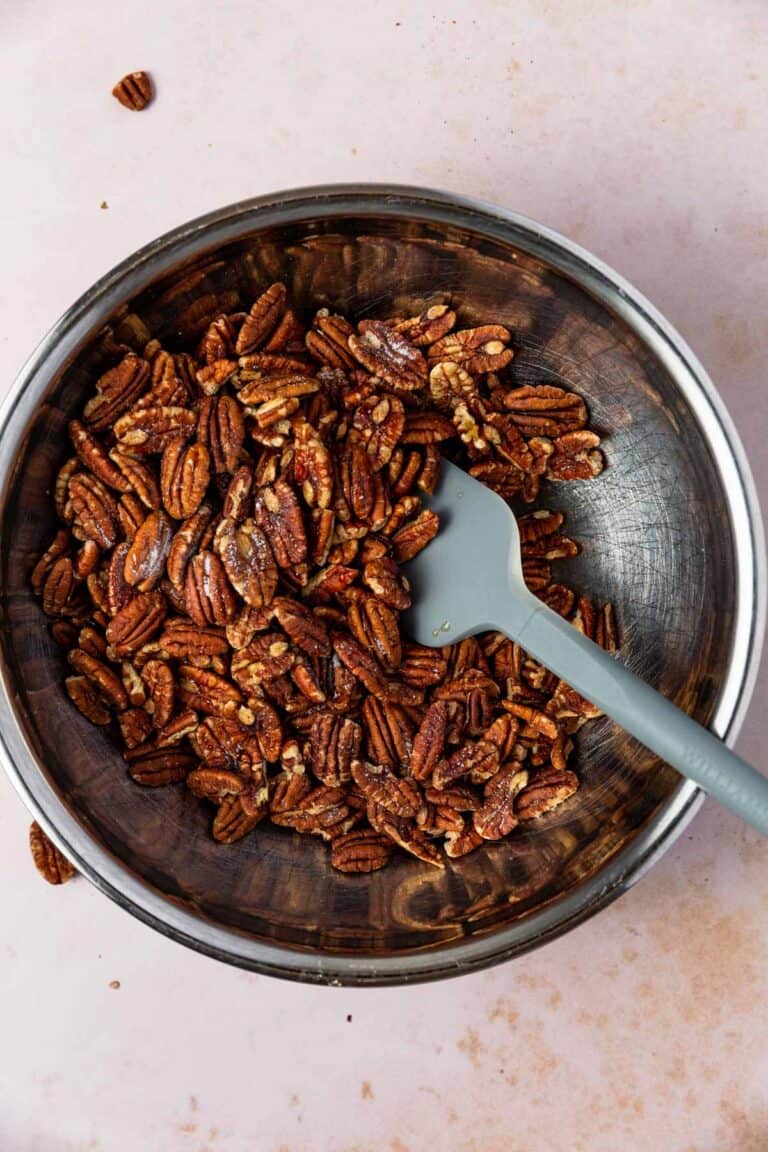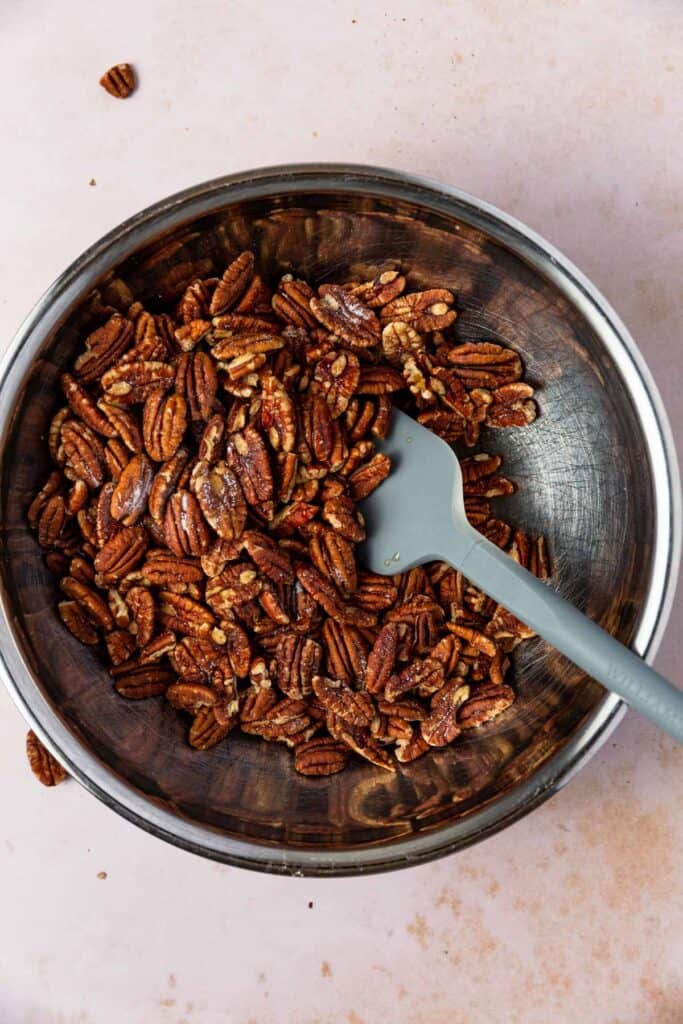 Once they've cooled a couple minutes, you will put them all in your food processor and process until nice and smooth. It only takes a few minutes.
You can store the pecan butter in a jar or other sealed container and refrigerate for several weeks.
The Recipe
Easy Pecan Butter Recipe
Vegan ,gluten-free, refined sugar-free, oil-free, 30 minutes or less. Makes about 2 cups. Stores nicely in a jar.
Print
Pin
Rate
Ingredients
16

ounces

pecans

raw, preferably organic

1 ½

tablespoons

maple syrup

¼

teaspoon

salt
For Spiced Pecan Butter, add:
1

teaspoon

cinnamon

½

teaspoon

nutmeg

⅛

teaspoon

cardamom
Instructions
Preheat the oven to 325 degrees. Line a baking sheet with parchment. Pour the pecans into a bowl and stir in the maple syrup and salt to coat.

Spread the pecan mixture in a single layer on the baking sheet and bake for 12 minutes. If you don't smell the delicious scent of toasted pecans, put them back for a couple minutes until you can. They should be toasted a nice golden color. Set them aside to cool a few minutes.

Plug in your food processor and put the cooled toasted pecans into the processor bowl. Process until smooth. Taste and adjust seasoning if needed. Process again. The pecan butter should be able to drip from a spoon when done.

Store in a jar or other food-safe sealed container and refrigerate for up to a few weeks.
Notes
I've tried to be as accurate as possible about the time it takes to make this recipe.  Keep in mind that time is approximate and dependent on factors like how many hands are helping and the pace you choose to set.  I hope you enjoy the process!
The tools below are ones I enjoy, and are helpful for making this recipe. Clicking "Buy on Amazon" will take you to the Amazon site on a separate page, where you can decide whether or not to purchase. If you do, Amazon provides Beautiful Ingredient with a small "finder's fee" at no extra cost to you. Thanks for your support!
Recipes using Easy Pecan Butter: