Parma, La Spezia, Cinque Terre, Carrara, Pisa, Lucca
This is the first part of our vegan journey through Italy in the autumn of 2018, covering Parma, La Spezia, Cinque Terre, Carrara, Pisa, and Lucca. It is very possible to travel through Italy completely plant-based, and I'm happy to share what I've learned.
2018 was a tough year for us in many ways. Yet it was the year one of our biggest dreams came true: visiting beautiful Italy! Just in case you're dreaming the same dream, I thought it would be fun to end 2018 sharing our dream trip come true. We covered a lot of ground, learned a few things the hard way, and had so many spectacular experiences, and I'm happy to share what I learned and loved with you!
Anniversary surprise
When my husband announced on our anniversary that we would be celebrating by spending most of October there, I felt like he'd just proposed to me all over again. I had been dreaming about Italy for as long as I can remember. It's always been on the top of my travel wish list. We had thought of getting married there, of honeymooning there, of vacationing there, of living there - but life just got in the way. It was always a distant dream. And then this.
After a long discussion of whether we could really do this, I finally settled into the idea that we could. And then was completely overwhelmed. OK, now that this is going to happen, what do we want it to be? Where do we want to go? What do we want to experience? I dove into the planning process like I was studying for finals until we had an itinerary we both felt covered the bases.
Northern Italy bucket list
We decided to stick to the northern half of Italy and cover as much as we could. These were a few of the goals we wanted to accomplish in the process:
eat vegan Italian food, especially pasta and desserts
drink coffee outside a cafe, and Limoncello, and wine, and Prosecco, and Aperol spritz…and one of those cafes was to be in Piazza San Marco, Venice
hike from one village to another in Cinque Terre
ride bikes around the wall of Lucca
travel by train at some point
take a boat ride in Venice & Lake Como
explore Lake Como and its villages
stay at a vegan agriturismo in Tuscany, complete with vineyards and olive groves
learn about marble at the marble caves of Carrara
visit the Scrovegni Chapel with Giotto's frescos in Padua
see the Birth of Venus in Florence's Uffizi Gallery
tour the Vatican, especially the Sistine Chapel
learn traditional Italian cooking in a cooking class
enjoy a couple weeks as a couple on our own, then invite the kids for a week to explore as a family
Spoiler alert: we did all of these things and more! So many of these experiences exceeded our expectations - which were high, by the way. We were glad we'd done the research and had this list beforehand so we had some sort of plan, yet so many times we found ourselves in an amazingly wonderful situation we couldn't have planned, and at those times we were glad we just went with it.
October in Italy
It also felt like we were in Italy at the ideal time of year. The first three weeks of October were like summer, hot and dry, absolutely gorgeous. Shortly after we left, however, much of Italy was hit with storms that led to horrible floods. It was hard to believe that just a couple weeks after we were there, St. Mark's Basilica in Venice "aged 20 years in a single day" due to the flooding, according to the head of the board there. We met such wonderful people all over Italy, and our hearts go out to everyone affected by these devastating floods.
Vegan air travel
I packed lots of vegan bars, nuts, and other snacks, and while I'm glad I did for certain situations (like in airports), I thankfully found we didn't need them often in Italy. For the flight, we had registered online for a vegan meal through Aer Lingus, and we were pleasantly surprised to find that the meal they served was polenta with sautéed kale, lentils, and roasted tomatoes. Not bad. In fact, we noticed the passengers around us eyeing our meal with what seemed to be some envy.
The Dublin airport didn't have many options - in fact, we joked that the airport only seemed to have one vegan flavor of Taytos, a brand of potato crisps, and not much else. We did finally have breakfast of dry toast and jam thanks to a fellow vegan behind the register at the Marqette Food Hall in Terminal 1. It wasn't found on the menu, but when we asked about vegan options one of the servers led us to this kind person who set us up with what she ate there for breakfast.
Vegan in Italy
Common vegan foods
Soon, we discovered that there are a few vegan foods that are reliably available through most of northern Italy, at least in October: fruit stands, croissants, and dry pasta. The fruit we bought was always great at the stands, with lots to choose from. I'd heard about vegan croissants from Lauren Toyota of Hot for Food, so we sought them out and were happy to discover they weren't hard to find. Not every cafe, bakery, or grocery store had vegan croissants, but when we wanted one we usually found one. If a restaurant didn't have a vegan option on the menu, they still often did have dry pasta on-hand that was vegan when we asked.
Preparing for fewer vegan options
Eating plant-based is growing in Italy, and there are vegan restaurants in most of the larger cities, really many of the small ones, too. Still, day to day it can be a little tricky depending on where you are - a vegan restaurant may be across town from the area you're exploring.
We tried to plan our outings based on the sites we wanted to see and the restaurants we wanted to hit, but the sites took priority so sometimes we had to put some effort into hunting down something to eat. That's when the snacks I packed came in handy, but not often.
The restaurants without vegan options on their menu were willing to accommodate us. When we did get to a restaurant we loved with lots of vegan options, we seized the opportunity and went all out, taking home items for breakfast or going back for more the next day so that we got a lot of nutrition variety in.
Gluten-free vegan
I think it would be fairly challenging to go gluten-free vegan in Italy - I'm not sure I ever ate so much bread and pasta before this trip. It's the easiest vegan food to find. Requesting risottos, gluten-free pastas, and lots of veggies would probably get you through as a gluten-free vegan. One in our family is normally gluten-free at home, but since we'd heard that the wheat in Italy doesn't necessarily affect those who are sensitive to wheat in the US, she went ahead and had the wheat. Unfortunately, it did seem to affect her more than she'd hoped but she enjoyed the food so much she felt it was worth it.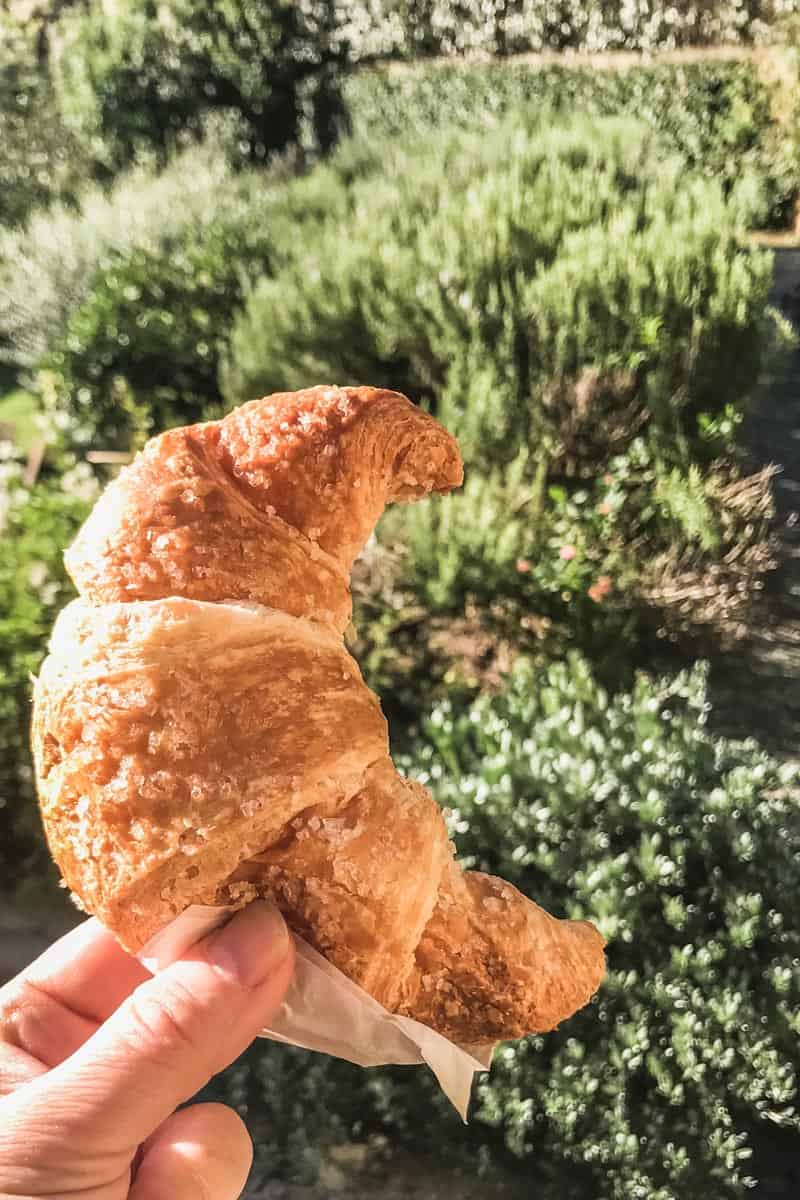 Getting around Italy
After our experience, we have a few tips for you if you're considering a trip to Italy. Please - learn from our mistakes!
Driving
My husband isn't rattled easily by driving in unfamiliar areas. If you are, you may not want to drive in Italy. Or at least, do a lot of research beforehand - we realize that in hindsight. There are three factors about driving that may help you realize you'd prefer taking the train:
toll booths on the autostrada
limited driving speed signage yet automatic speeding tickets
restricted driving in many cities
Tolls: We knew there were tolls for the autostrada, we just figured they'd be self explanatory. After picking up our rental car at the airport, we abruptly came to an unmanned toll booth, where there were no instructions in English. We were stuck with a line forming behind us.
Thankfully, we pushed what looked like a Help button, and a man's voice came on the intercom - only speaking Italian. Of course. Should we have learned more Italian before coming to Italy? It would have helped.
He kept shouting what we later realized was "Torino!" (Turin), but we didn't understand at the time. Finally, our card processed a $28 euro bill! Since we shamefully couldn't understand him, he charged us as though we had come from Turin instead of the under $2 euro bill we likely should have been charged.
Now we know that when you enter the autostrada, you're supposed to push the button and get a ticket that you hold onto and feed into the machine at the unmanned booth when you exit the autostrada. If you don't have the ticket, you're SOL. Not sure where that was, maybe the airport rental car agency was supposed to issue one to us.
Speeding tickets: Once on the autostrada, there are cameras that catch speeders and mail automatic tickets out. If you're renting a car and get a ticket, it will go to the car rental place, where they will forward it to your address. You won't know you got a ticket until you get home to your mail.
As I write this, we've been expecting to receive a few but haven't yet, so either there's quite a delay or we lucked out. Unfortunately, we found that sometimes we'd go quite a stretch before seeing a speed sign, so we didn't know how fast we were supposed to be going. We did finally realize the Waze app could help with this - as long as your international phone plan can handle it.
Restricted city driving: In many cities, driving is not allowed. Beware the red ring: You'll know it's restricted when you see a white sign with a red ring. It comes up in most major cities; driving was restricted in Como and parts of Rome, for example. In these cases, we needed to park outside the area and walk to the place we were staying.
Fortunately, most areas are pretty walkable. Taxis are often around, too, if needed. Your Air B&B host may not think to mention it, so I'd recommend asking or googling driving restrictions for the city you'll be in to make sure.
Taking the train
We found the train itself to be pretty straightforward. If you get off the train, just remember to punch your ticket at the station before getting back on. Everyone does, so it's usually pretty easy to follow the crowd on that (if you don't validate your ticket on trains or busses, it is a big deal).
Train station restrooms: We found the restrooms on the trains to be fine - either an airplane-type restroom or a very nice large modern one - and free to use. At the stations, though, expect long lines and a fee to use it.
Our first experience with this was in La Spezia on our way to Monterosso in Cinque Terre. I had to go sooooo bad and the bathroom was far from the ticket area with a very long long line. Once I finally got close to the door, there were two men there taking money. I had no money on me and had to go all the way back to the ticket area to get some from my husband.
I then had to wait in the long line again. After I paid, the stalls were within sight, and it was almost my turn. The woman from Finland in front of me paused a tiny moment before heading to the just-opened stall. All of a sudden, the woman behind me pushed us both aside and started for it. I heard myself saying, "Scusa! Uno momento! Uno momento!" and then heard the echo of all the women behind me, "Si, uno momento!" - fortunately, the woman returned to her spot behind me in line, gesturing to hurry up. Intense! But I have to say, it was a little exciting saying something in Italian and having a whole crowd respond. Just remember to bring change and don't wait until you're desperate to find the restroom!
Parma
Parma was our first stop, and we loved the vibe. It had the details we were hoping to see at least once on the trip, and really ended up seeing pretty much everywhere: Pastel buildings, those quaint basketed bicycles you see in European movies, cafes with outdoor seating, beautiful churches. There were flags all over town announcing the upcoming Verdi Festival, which just added to the magic. We'd arrived in Italy late the night before and ended up eating protein bars I'd packed for breakfast, so we were eager to eat something Italian.
Vegan in Parma
The first Italian thing we ate in Italy was gelato at Gelateria la Pilotta, which is on the main drag coming into town, Strada Giuseppe Garibaldi. It was the best gelato we had on the whole trip! That might be partly because that was our first exciting taste of gelato in Italy, but I do feel it was excellent, so creamy and flavorful, and one of the few gelaterias that we ran into carrying vegan pistachio, my favorite! So dreamy.
La Spezia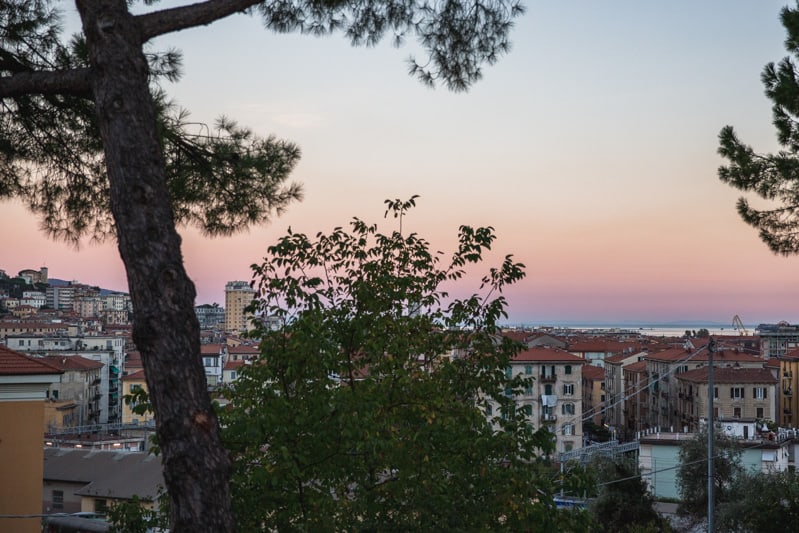 We knew we wanted to explore Cinque Terre, the five little villages built into rocky cliffs in the Italian Riviera, and we chose La Spezia, just south, as our home base. We stayed at a lovely, spacious VRBO with a beautiful garden out back. This is where we first came up close to olive trees in Italy! I just marveled at the little green and black oblong fruits hanging from the branches. So beautiful. In the garden, we also saw violet carpenter bees and Italian hummingbird hawk moths - a bit shocking! - and an amusing garden cat.
Vegan in La Spezia
The Happy Cow app led us to Il Papeoto, a sweet little vegetarian spot with plenty of vegan options. The waiter and chef were excellent, attentive and detail-oriented. In fact, the chef came out and had a nice chat with us, pleased that we enjoyed our meal so much. Open just a year, they are on a mission to show customers how wonderful veg-based dining can be. Highly recommend! We got some cookies with lemon cream to go, which we enjoyed for breakfast the next morning.
Cinque Terre
After a fairly short train ride from La Spezia to Monterosso al Mare, we found ourselves in a landscape we had only seen in pictures: warm pastel buildings built into the rocky cliffs overlooking the gorgeous azure sea. When we first arrived, we had to just take some time to soak it in and feast our eyes. So beautiful. Of the three towns we made it to, Monterosso felt most like a tourist town, with umbrellas all over the beaches and a promenade to stroll on.
Vegan in Monterosso al Mare
Foccaccia came from this area, and it wasn't difficult to find vegan foccaccia. It took us no time, really (I had olive and tomato, pictured).
After soaking in the sun and sights, we set off on the trail to Vernazza. It's only a two mile hike but it takes around two hours, most of it a steep ascent - the kind that can make you wonder if you're ever going to get to the top. There is reward all along the way; the scenery is magnificent. Stopping to take in the views and snap pics simultaneously helped us catch our breath and encouraged us to see what was around the next corner, always pleased with what we found.
The steps themselves are often ancient and fascinatingly uneven and awkward - sometimes feeling like climbing up while tipping backward.
There are vineyards terraced into the hills along the way, a beautiful site illustrating the tenacity it takes to grow anything in this area; some workers ride an odd roller coaster-type contraption called a trenino, or monorail wine train, just to tend their fields. We also saw citron-colored butterflies and lots of cute little lizards.
Vegan in Vernazza
After our strenuous hike, I was grateful for vegan almond granita at Gelateria Il Porticciolo, a little gelato spot on the pathway near the sea. It tasted amazing after our hike! Vernazza's a sweet little town, a nice place to rest a bit by the sea and people-watch.
From there, we took the train to Manarola, where we stopped for some farinata. Farinata, native to this area, is like a cross between a crepe and a flatbread, made with chickpea flour. It fueled us nicely for a low-key hike to a lookout point. From there, we caught a breathtaking view of Manarola at sunset and into the blue hour. It felt like we were in a postcard.
Vegan in Manarola
A farinata snack was enough to get us through the rest of our day. I think we could have found some nice vegan options in the restaurants there. They were so crowded after the sun went down, though, and we weren't that hungry, so we skipped dinner and headed for the train.
It was a beautiful sunny day we will always remember. Cinque Terre was such a highlight of our trip. The scenery was just amazing.
Carrara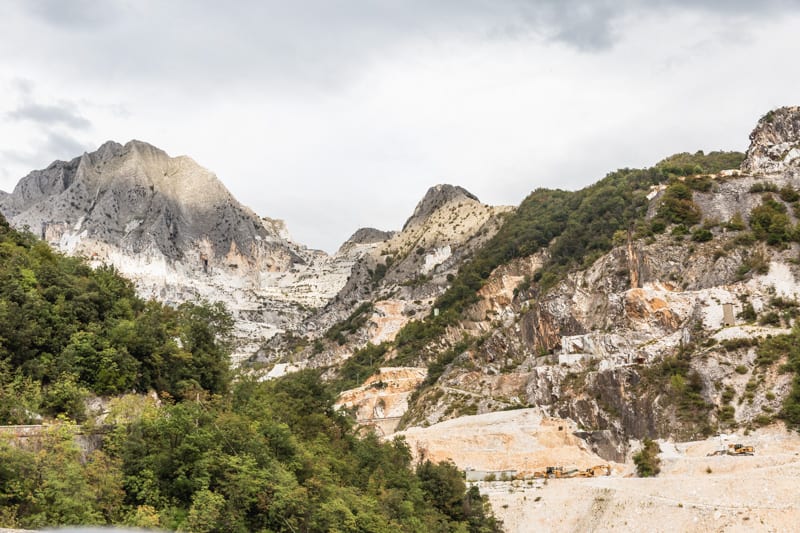 Exploring Carrara was such a cool experience. I often use marble in my kitchen and as a backdrop in my food photography, so it was a thrill to see where it actually comes from!
Cave tour
We took a tour inside a working cave where bianca ordinario, that grey-veined type we think of when we think of marble, is extracted using diamond wire. I liked hearing that all of the marble was recycled down to the marble dust. It's used to make things like gesso, makeup, and even toothpaste - beneficial for health and beauty products, according to our guide.
Quarry thrill ride
We also road Land Rover Defenders to the mountaintop marble quarry, crawling up switchbacks on the edge of the cliffs with nothing but little piles of marble pebbles between the Rover and the cliff's edge. A thriller ride! The road, mountain, everything was marble. We felt so small up there. It was all really fascinating. The view was amazing from up there, too.
Marble shop
Afterwards I visited the shop, where I purchased a marble pear carved by the brother of the lady behind the counter. At least, that's what she very casually told me, as though it weren't a big deal. Apparently the Rover drivers, tour guides, and marble workers create marble products at a shared studio in their spare time, which are for sale in the shop. It was all so lovely.
Vegan in Carrara & Pisa
The day we visited these two towns, we ended up stopping at an Autogrill or two. An Autogrill is a restaurant/store off the autostrada instead of fast food spots. They have everything from candy and alcohol to snacks, household items, espresso, and hot meals. We found a variety of vegan options at various Autogrills. Our favorites were vegan panini, pasta and marinara, roasted potatoes, and the beloved vegan croissants.
We really liked how these worked. The only roadside option, they really had anything we might need. Best of all, no fast food restaurants at all - delightful! The options at the Autogrill were more like home-cooked meals. It made us realize how badly we need something like this in the states.
Pisa
We ventured to the top of the Leaning Tower of Pisa, noticing how the stairs changed dimensions as we went. Just before sunset, we got to the top and enjoyed seeing the buildings after dark, too. We heard beautiful guitar music strumming from a building just behind the tower and lingered to listen.
Lucca
One of the very few days it rained on our three week trip was the day we went to Lucca. And we didn't mind a bit. Lucca is entirely surrounded by walls known as ramparts. We rode basketed bikes on top of them, enjoying the people and scenery - and each other - as we went. It was so fun!
We really enjoyed the town itself, too. Such a variety of shops and gorgeous churches like the golden Basilica of San Frediano. It was built in the 12th century with the golden mosaic added in the 13-14th centuries. We climbed the Guinigi Tower, built in the 14th century, which was topped with trees. The views were lovely of Lucca and the rolling hills beyond. The well-to-do built the bell towers in Lucca as status symbols. Can you imagine worrying about whether or not you had the biggest bell tower?
Vegan in Lucca
Cantine Bernardini was a spot we'd wanted to eat at; sadly they were booked - we'd wished we'd planned ahead and made a reservation. Thankfully, we found Soup in Town, a quirky veggie restaurant where we enjoyed Buddha bowls and soup. So much food we'd been eating was on the heavier side, so this was a welcome reprieve.
We could have easily spent more time in Lucca, it's a beautiful place.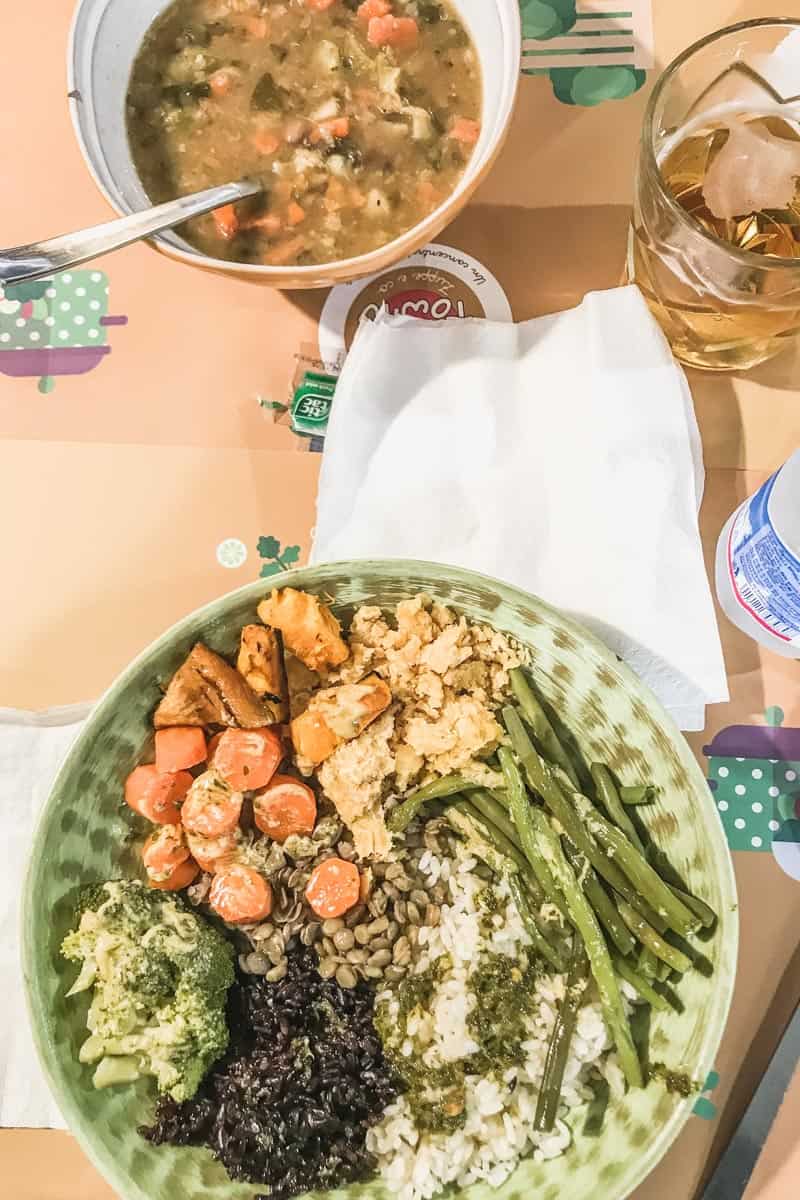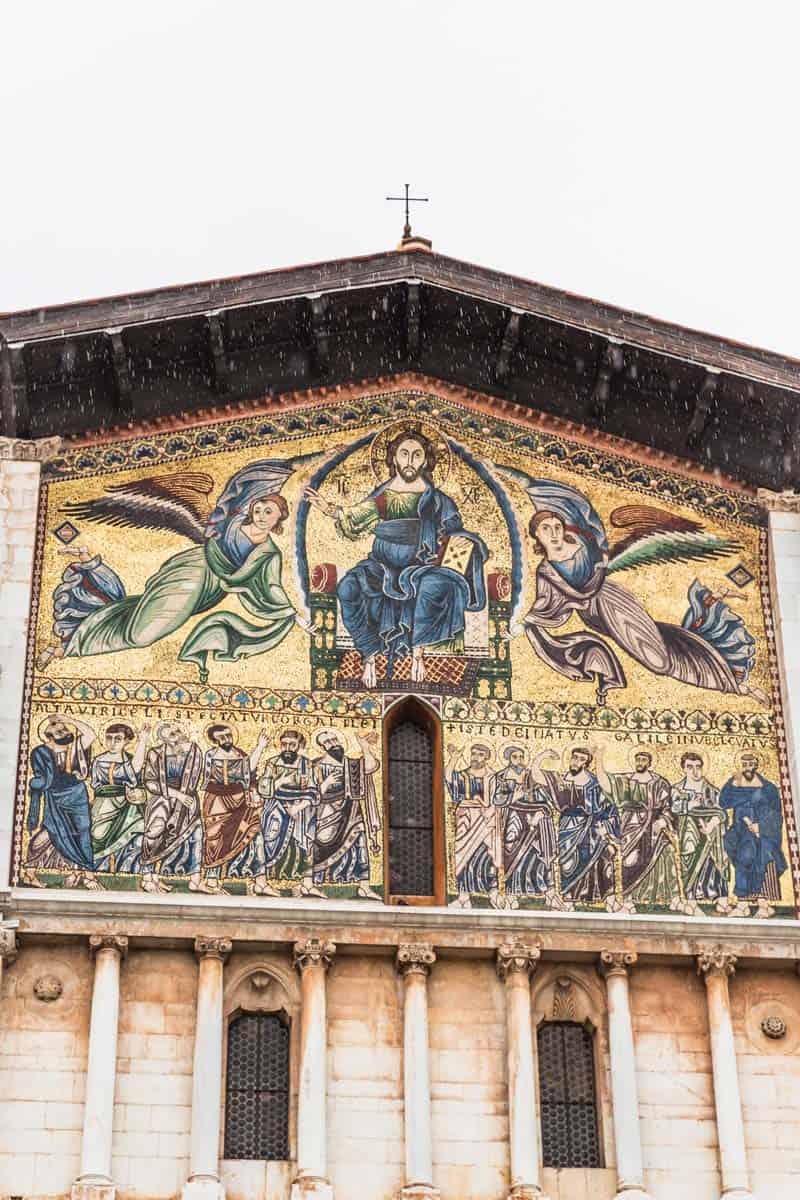 I hope you enjoyed our tour so far. If so, get ready for Vegan in Italy, Part Two!