A hearty vegan radicchio salad that is a feast all on its own. This is a great choice for special occasions and is made without any added oil. This recipe satisfies whole food plant-based and gluten-free lifestyles.
The goal with this recipe was to create a dish for a holiday gathering that could satisfy someone who doesn't want to eat any animal-based foods, even if it's the only plant-based option there. So, something that would satisfy a desire for potatoes in case the mashed potatoes contained dairy and hearty enough to replace the turkey and stuffing.
As part of a holiday spread it shines bright, satisfying most dietary needs and pleasing the whole crowd. Good thing this recipe makes a nice big batch! It's an ideal holiday side dish or a feast all by itself, whichever you need it to be.
Ingredient notes
This hearty salad has got the works: soft butter lettuce and crisp radicchio with sweet grapes and figs, smoky meatless bacon and herbed cheesy goodness, comforting roasted veggies (including potatoes) - all over a bed of french lentils and wild rice mix and topped with a creamy spiced pecan dressing.
Wild rice blend: The blend is ideal because it stretches the wild rice, but in a pinch you could just use brown rice or wild rice.
French lentils: the color and texture of french lentils is ideal for this salad; other lentils may be used if you don't have them.
Potatoes: Any potato will do, even sweet potato. I like to use purple potatoes when I can find them.
Brussels Sprouts: These add to the heartiness of the salad and is a festive veggie. This would still be a great salad without them, though.
Fennel: I like the anise flavor and added texture of the roasted fennel here. It could be left out if needed, though.
Red onion: Red onion has the best flavor, texture, and color for this salad. If needed, other onions will do.
Veggie broth: The broth is used to coat the veggies for roasting. It can help soften them and is a nice oil replacement. That said, the veggies can be roasted without any broth and still turn out great. Or, if you prefer, use your favorite oil for roasting.
Radicchio: The leaves are so gorgeous and add a lot of texture to the salad. Use a small head or equivalent. There are several varieties of radicchio and any would be lovely.
Butter lettuce: I prefer butter lettuce in this salad because it's so soft and luxurious. Romaine or other lettuces could be used as a replacement.
Lemon Rosemary Vegan Cheese Log: This cheese is easy to make and adds so much flavor and creamy goodness.
Tempeh bacon: A nice smoky, salty addition that really takes the salad up a notch.
Grapes: I prefer a red grape in this salad since they have a deeper sweet flavor. Concord or other flavorful grapes may take this salad in a wacky direction.
Figs: Pretty much any fig will do here. They add so much beauty and sweetness, they really are a must!
Parsley: The lovely green sprigs also add another layer of fresh flavor.
The dressing:
Pecan Butter: This makes the dressing creamy and rich. Either store bought or my recipe can be used. It really is super easy to make and totally worth it. The pecan butter itself is like gold for anything you'd put nut butter on. That said, if you have a thick flavored aged balsamic vinegar and would prefer to just use that, it will still be a wonderful salad.
Balsamic Vinegar: If making the pecan dressing, a less expensive "standard" balsamic vinegar can be used. If opting for just balsamic vinegar as the dressing, used the thicker aged balsamic vinegar.
Cinnamon: A little extra flavor for the dressing.
Alternative dressings: A high quality thick aged balsamic vinegar will stand on its own as a dressing, or my 5-Minute Tahini Balsamic Dressing works well.
Instructions
Follow the package instructions on your rice and lentils. Then, follow these steps:
Spread ⅔ of the rice onto a platter (round, rectangular - any shape).
Spread ⅔ of the lentils on top of the rice layer.
Prep and roast the veggies and bacon. While they roast, make the dressing by combining the pecan butter, balsamic vinegar, cinnamon, and water.
With enough dressing to coat, toss together the remaining rice, lentils, radicchio, lettuce, and roasted veggies and place that mixture on top of the lentils.
Top with the fruit, bacon, parsley, cheese, and remaining dressing. Add salt & pepper to taste.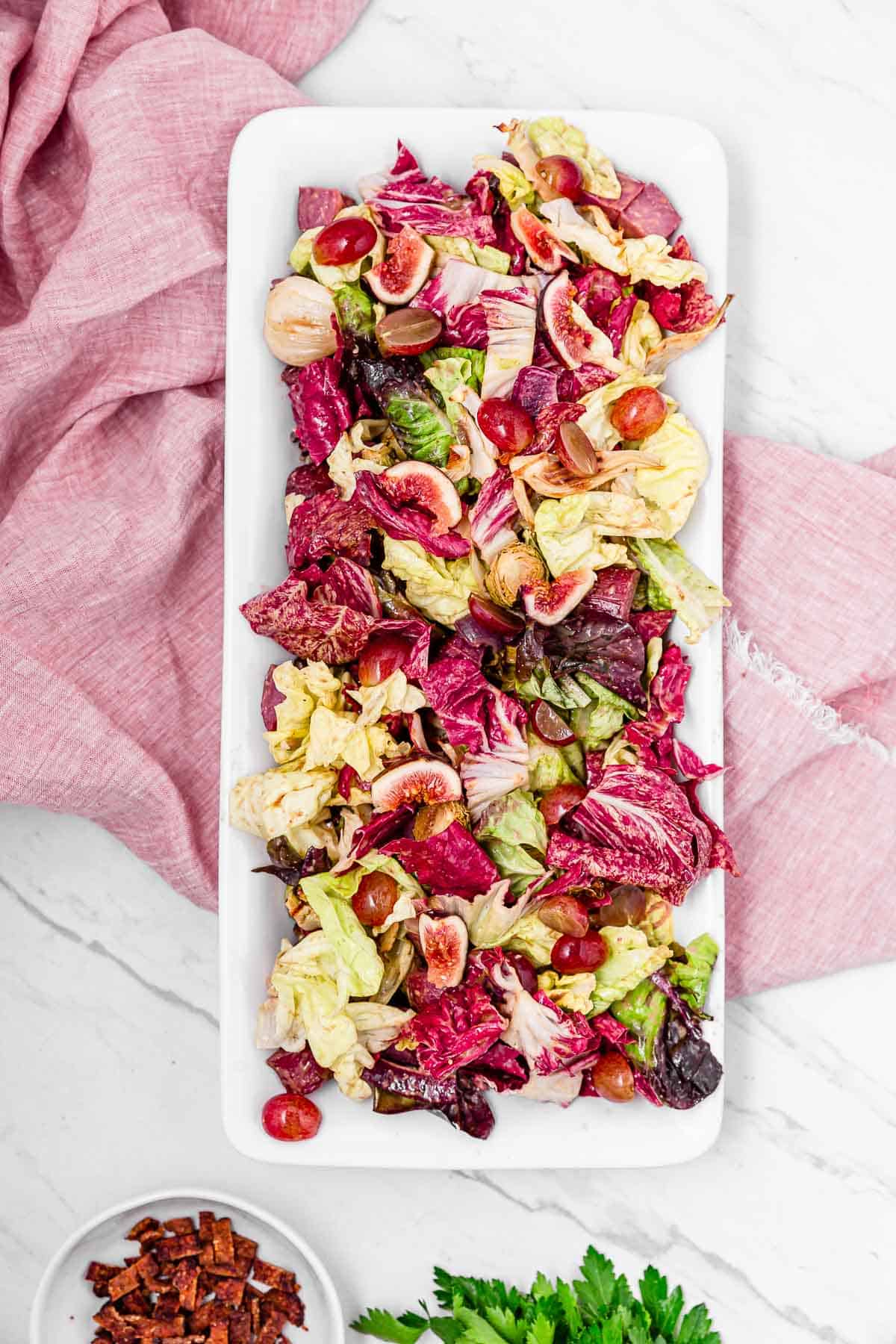 Time saving tips
This is a feast of a recipe and takes longer to put together than most of my recipes, but for the holidays I find it's totally worth it. Some elements of this salad can be made in advance, and I encourage you to take advantage of this fact so that on the day of your gathering you only need to focus on assembly. It will keep the process enjoyable and stress-free. Here's the breakdown of when each element can be made:
the salad dressing, vegan bacon, and cheese log can be prepared a few days before
the rice and lentils can be prepared up to a couple days before
the roasted veggies can be prepared the day before
raw fruits and veggies can be prepared the day of your gathering, with dressing added just before serving
A nice time-saver option is to have the rice, lentils, and vegan bacon cooking on the stove while the veggies roast in the oven, the cheese is processed in the food processor, and the dressing is whisked together in a jar, all the day before. Once prepared, place everything in the fridge so you're set for the next day, when all you'll have to prep are the raw veggies and fruits.
Equipment
The lentils and rice can be cooked on your stovetop or in an Instant Pot or slow cooker, according to package instructions.
The veggies and bacon roast in your oven. If you'd like to use your air fryer, they will likely cook in half the time at the same temperature.
The Lemon Rosemary Vegan Cheese Log and Pecan Butter require a food processor.
A chef's knife and cutting board can be used to chop veggies, fruit, bacon, and the cheese log.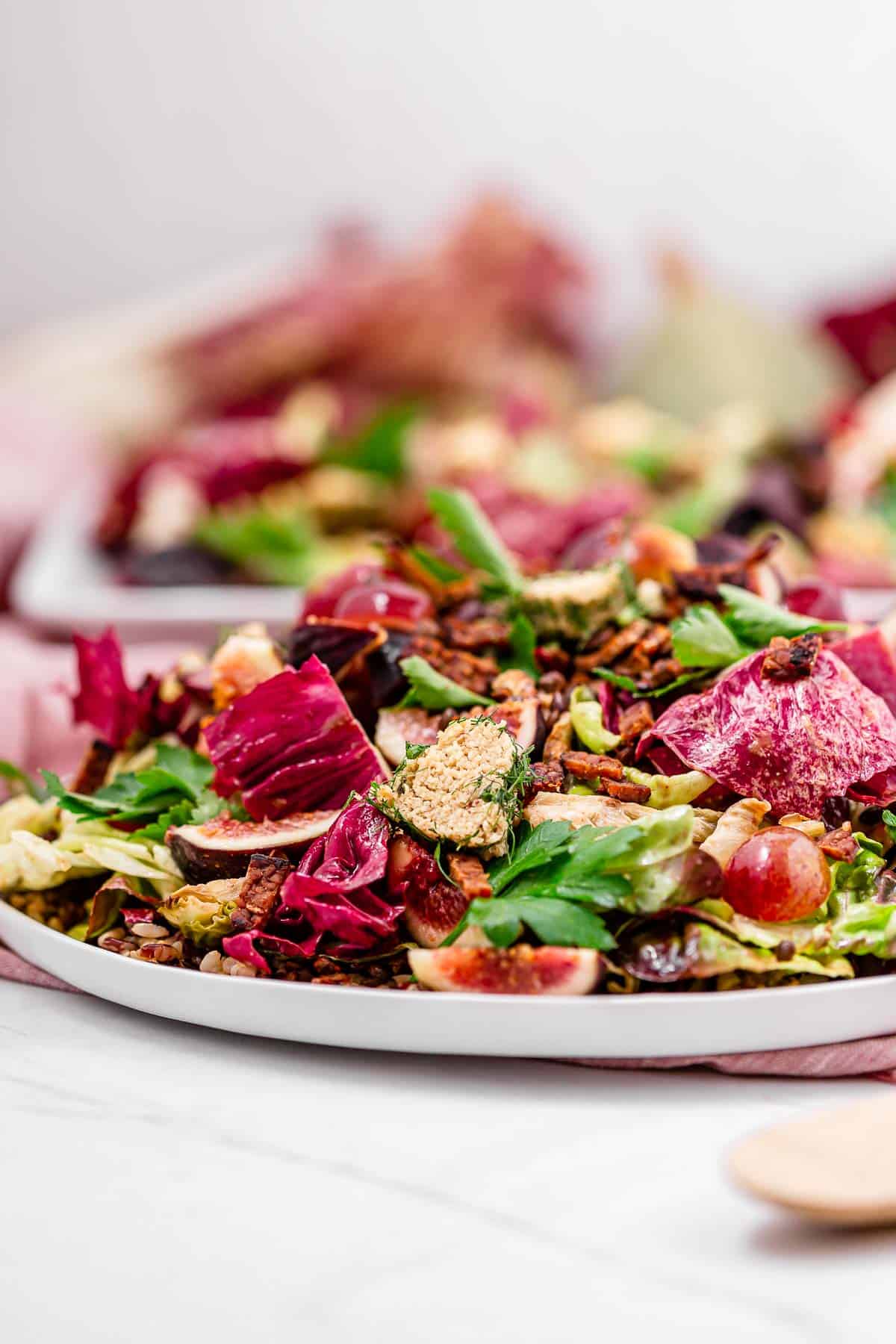 These recipes help build this salad
The tahini balsamic dressing is an alternative option.
The Recipe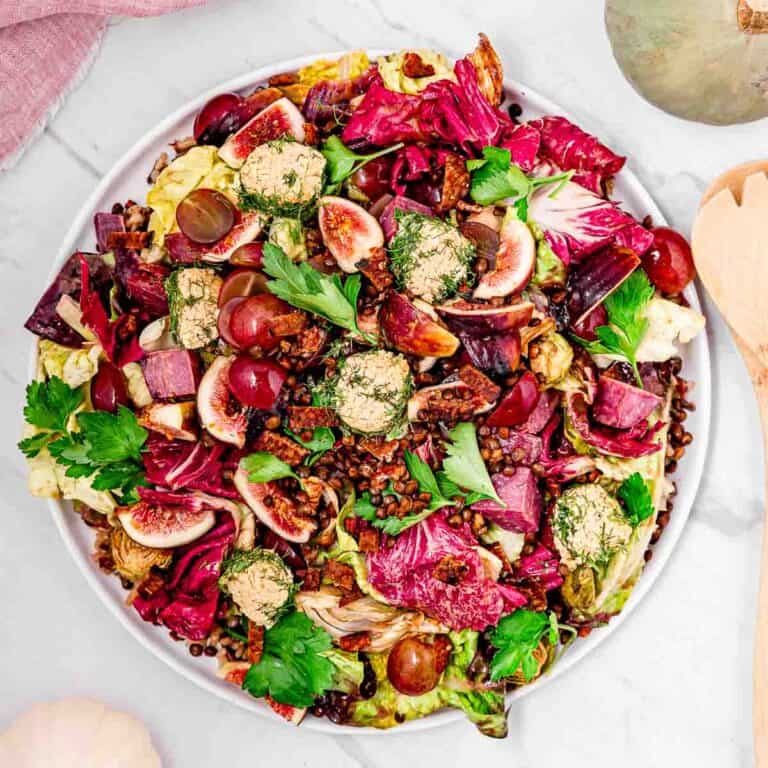 Hearty Vegan Radicchio Salad
A hearty vegan radicchio salad that is a feast all on its own. This is a great choice for special occasions and is made without any added oil. This recipe satisfies whole food plant-based and gluten-free lifestyles.
_________________________
Plant diversity: 18 different plants in this recipe, plus broth & seasonings!
Print
Pin
Rate
Equipment
food processor

knife and cutting board

cooktop

oven
Ingredients
1

cup

wild rice blend

prepared according to package instructions

1

cup

french lentils

prepared according to package instructions

1

pound

potatoes

chopped into bite-sized pieces

1

pound

brussels sprouts

halved

1

fennel bulb

sliced

1

cup

red onion

about one medium, sliced

2

teaspoons

veggie broth

(optional)

1

radicchio

small head, chopped

1

butter lettuce

small-medium head, chopped

½

package

tempeh bacon

vegan

1

cup

grapes

red or green

1

cup

figs

each sliced into 6 pieces

¼

cup

parsley

chopped

¼

cup

pecan butter

¼

cup

balsamic vinegar

the more liquid type

¼

cup

water

1

teaspoon

cinnamon

salt & pepper

to taste
Instructions
Rice & Lentils: Cook the rice and lentils in advance, or cook them according to package instructions while you roast the veggies.

Preheat the oven to 400 degrees.

Roast veggies and bacon: Toss the potatoes and brussels sprouts in about a teaspoon of veggie broth, just enough to coat (optional), or simply place on a lined baking sheet in a single layer.

Toss the fennel and red onion slices in the bowl you tossed the potatoes and sprouts in, adding a dash of veggie broth (optional) or simply place on a lined baking sheet along with the bacon strips. Place the baking sheet on the middle rack of your oven. Place the potato and sprout tray on the rack below. Roast for 30 minutes.

Check the fennel, onions, and bacon for doneness; they should be slightly browned. Flip the potatoes and sprouts and roast them another 15 minutes or more, removing them when browned. Set the roasted vegetables aside, or, once cooled, place in the refrigerator in sealed containers until ready to use.

Dressing: Whisk together the pecan butter, balsamic vinegar, cinnamon, and water or place these ingredients in a jar and shake until well combined.

Vegan Cheese Log: About 15 minutes prior to assembling the salad, remove the vegan cheese log from the fridge. After 15 minutes, slice into rounds, then quarter them.

Assemble: To assemble the salad, choose one or two large platters and place a layer of rice on the bottom, reserving about a third for later.

Top the rice with the lentils, reserving about a third of them, too.

In a large bowl, combine the radicchio, butter lettuce, roasted veggies, and the remaining lentils and rice and gently toss in enough dressing to coat.

Place this mixture over all the rice and lentil layers. Top with the fruit, vegan cheese slices, vegan bacon bits, parsley, salt and pepper (optional), and additional dressing, if desired.

Serve immediately.

Reminder: Refrigerate leftovers within two hours of serving.

If there are leftovers, the radicchio is sturdy enough to still be good the next day. If the leftover butter lettuce is too wilted, remove before serving.
Notes
Note: By preparing the lentils, rice, dressing, roasted veggies, Pecan Butter, and
Lemon Rosemary Vegan Cheese Log
in advance, the day of your gathering can be quick and easy by just assembling. 
This recipe serves about 12 as a main course and 24 as a small side.
Food safety
We sometimes take for a granted that we have years (or decades) of cooking experience, that the average visitor may not. Add to, or remove from, the list below with health and safety tips.
Cook to a minimum temperature of 165 °F (74 °C)
Use a separate knife and cutting board for raw potatoes or meat
Wash hands and ingredients well before using
Don't leave food sitting out at room temperature for extended periods
Never leave cooking food unattended
Use oils with high smoking point to avoid harmful compounds
Always have good ventilation when using a gas stove