I've updated my favorite Italian plum jam from childhood, making it really easy with no pectin, sugar, or canning process required!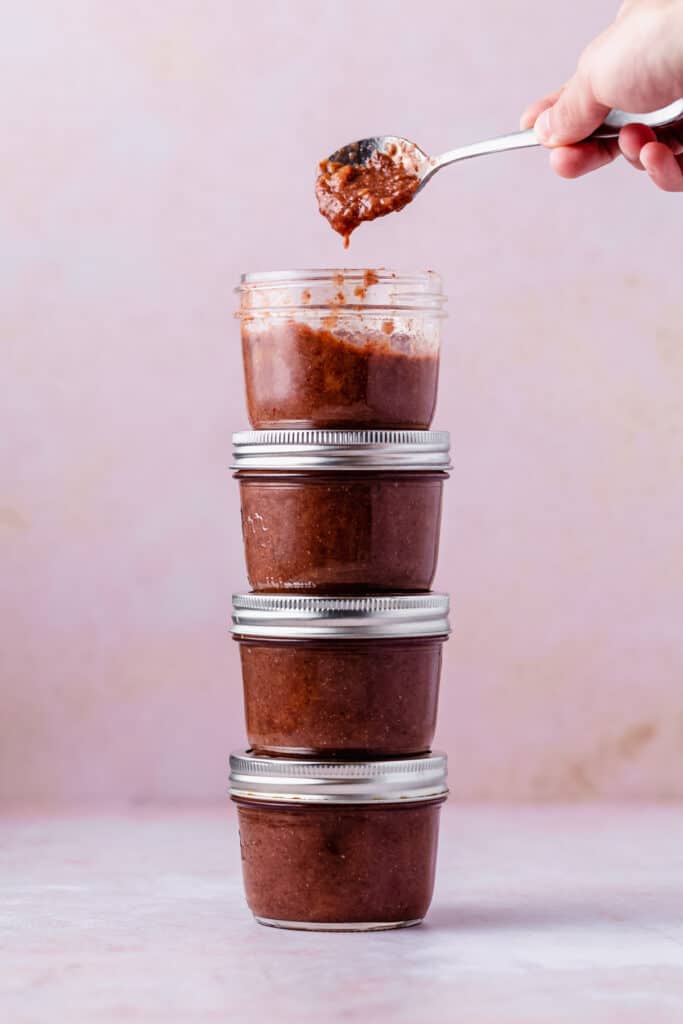 Each year, as summer shifted into autumn, I couldn't wait for my mom to make her Spicy Prune Plum Jam. I remember the holiday-spice scent filling the house and trying to break through the wax that sealed the jam jar, impatient to get to the goods. The flavor felt like a celebration. Peanut butter and spicy prune plum jam sandwiches were enjoyed daily.
Growing up, we had a big Italian plum (aka prune plum) tree in our backyard, and I remember the excitement at the end of summer when it was time to pick them. For some reason, our apple tree was not so exciting, even though it was grafted with different varieties. It was kind of a drag to pick the apples. Maybe because I couldn't reach very many so my haul was nothing by comparison. It seemed there were a hundred prune plums to every apple, and every single one was delicious.
I am very excited to offer you an updated version of my childhood fave: Spiced Italian Plum Jam. This is not your average jam, not a classic strawberry or raspberry. For me, this unique jam is home.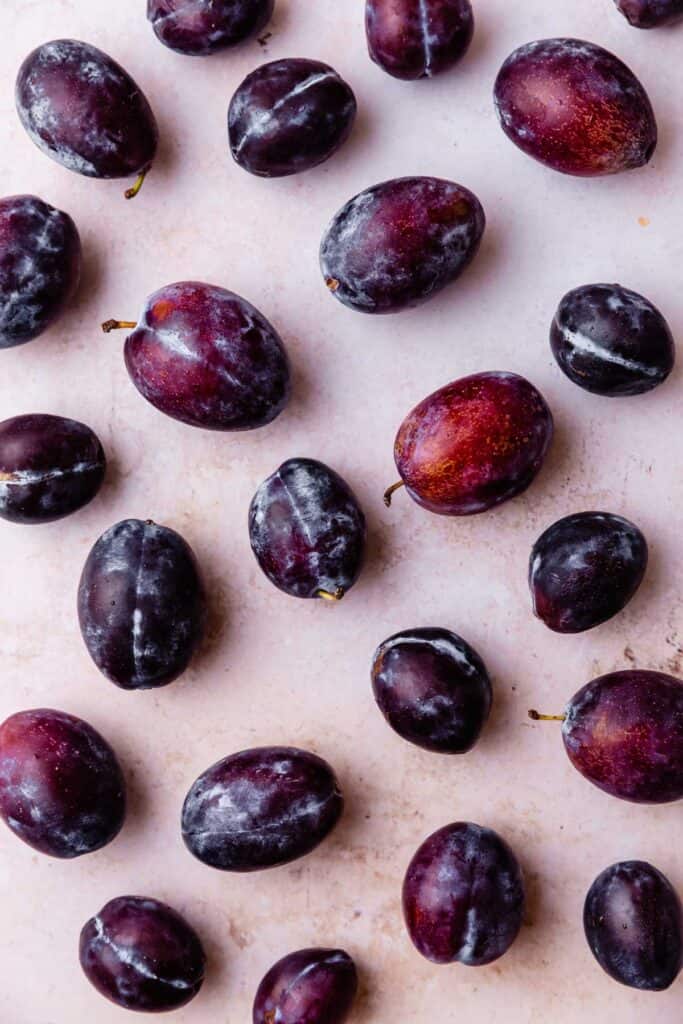 Recipe Highlights
This recipe requires no pectin. Ground chia seeds do the job of thickening the jam while also adding nutrition.
Usually, there is a lot of refined white sugar in jam. I really wanted to make this jam refined sugar-free. Considering the flavor profile, I found date syrup to work well with the plums. Additional maple syrup or coconut sugar can be added to further sweeten, if desired. The color of the jam is naturally a plum-amber, and these sweeteners bring out more amber color.
I also wanted to keep this recipe easier than the typical canning jam, so I opted for cooking and then freezing. This keeps the jam fresh-tasting and helps it last a long time without the hassle of sterilizing and sealing jars.
As are all my recipes, this jam recipe is vegan, plant-based, and focuses on whole foods.
The Original Recipe
Recently, I purchased a load of Italian plums at the farmers market and started dreaming about that childhood jam. I hadn't tasted these plums in years, and wanted to taste them as I remembered them.
I asked my mom if she still had the recipe. Sadly, she no longer could find it. She said she had gotten it out of a newspaper or something but couldn't recall which one, it had been so long ago. My mother had made it so consistently throughout my childhood that I'd always just thought of it as her recipe, perhaps handed down from her grandmother. To me, it was that sacred. A family tradition.
I decided to dig again through my recipe collections. Yes, plural - over the years I've collected recipes in various folders, fill-in-the-blank cookbooks, and on recipe cards. A bit like finding a needle in a haystack. But then there it was, on an old index card with my young handwriting from 20 or 25 years ago. I had it!
The original recipe calls for an equal amount of plums to table sugar. Three pounds plums to three pounds sugar. Ouch. Now that I cook with mostly whole fruit sugar, I notice I don't feel as good after eating something with white sugar. Could I upgrade the recipe to be refined sugar-free and have the jam still taste as remembered?
The New Spiced Italian Plum Jam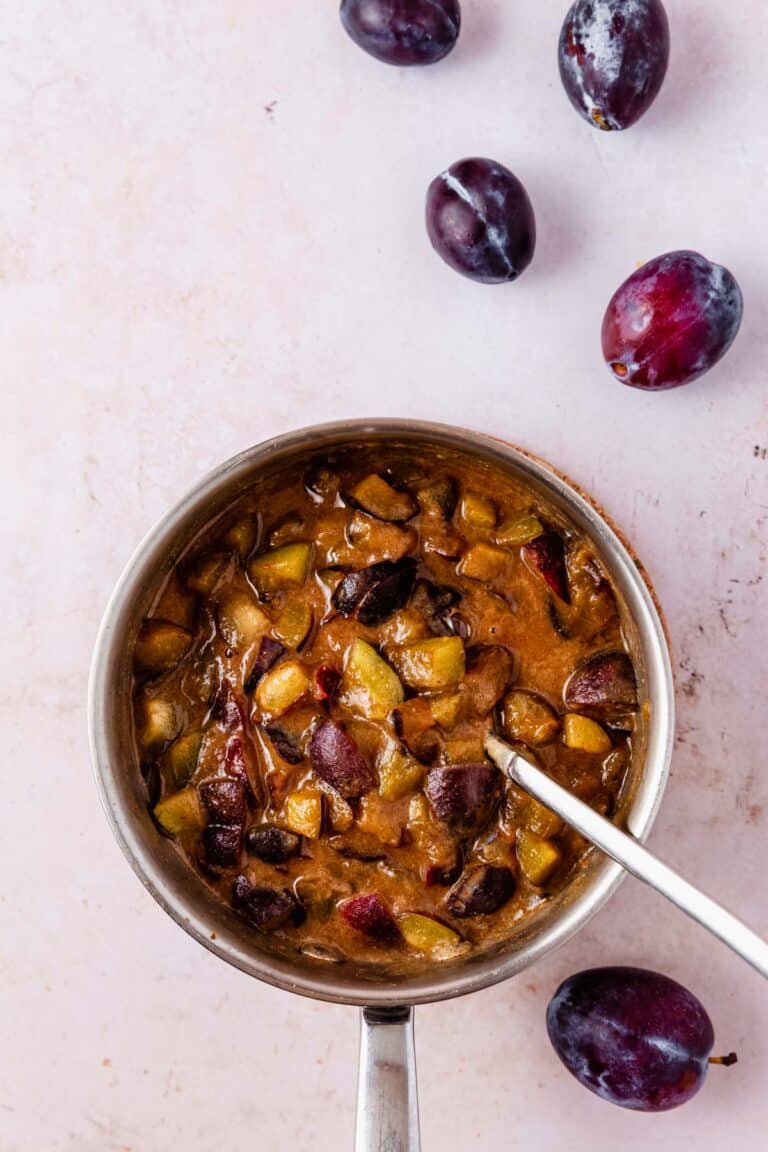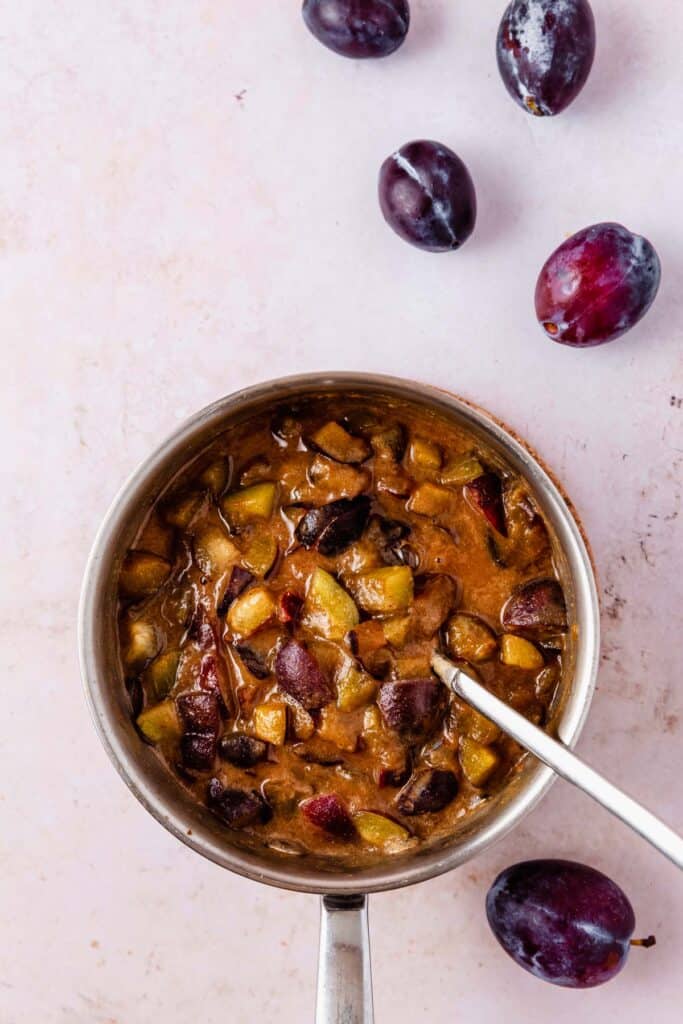 After some trial and error, I have made significant changes, yet I'm happy to report the essence of the original recipe is thankfully still there. When you make it, you will experience a lighter yet still-thick jam with the same flavors and chunks of delicious fruit. There's no wax involved, in fact there is no sealing at all. This jam is designed to enjoy now and freeze what you can't eat within a week. I recommend using four 8-ounce jars so that you can defrost only the amounts you need for a few days.
I'm so happy to share this revamped recipe with you!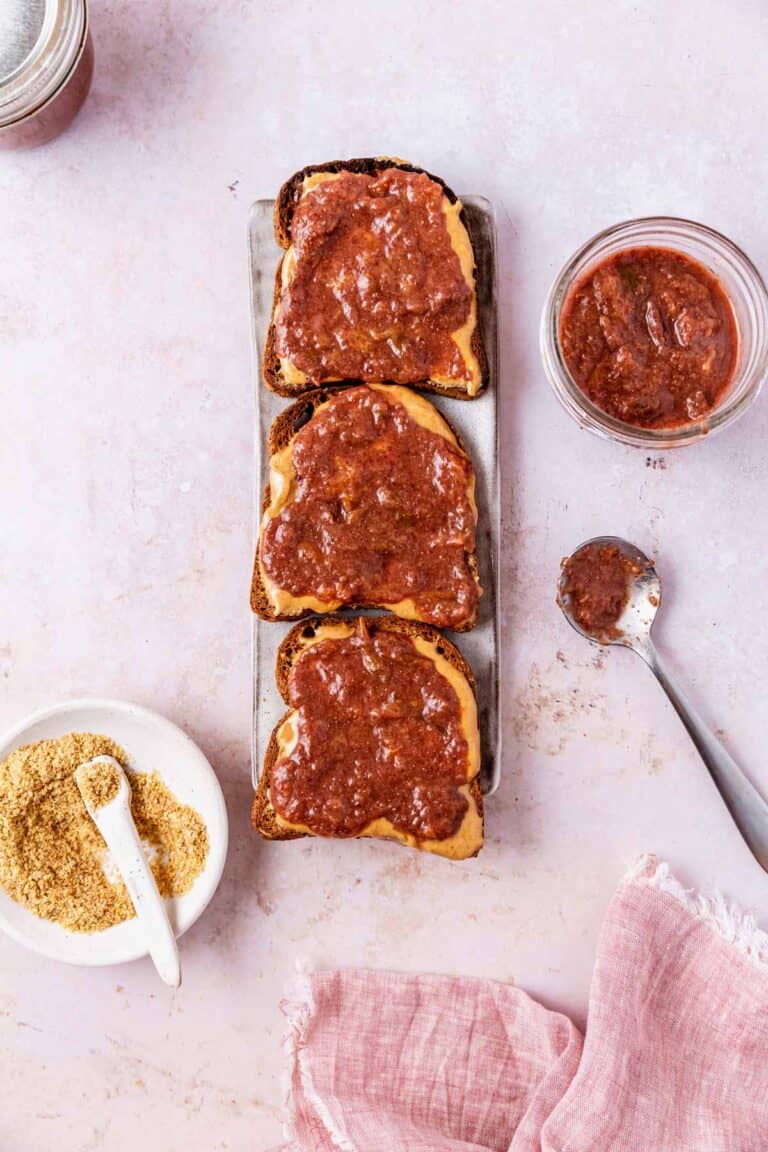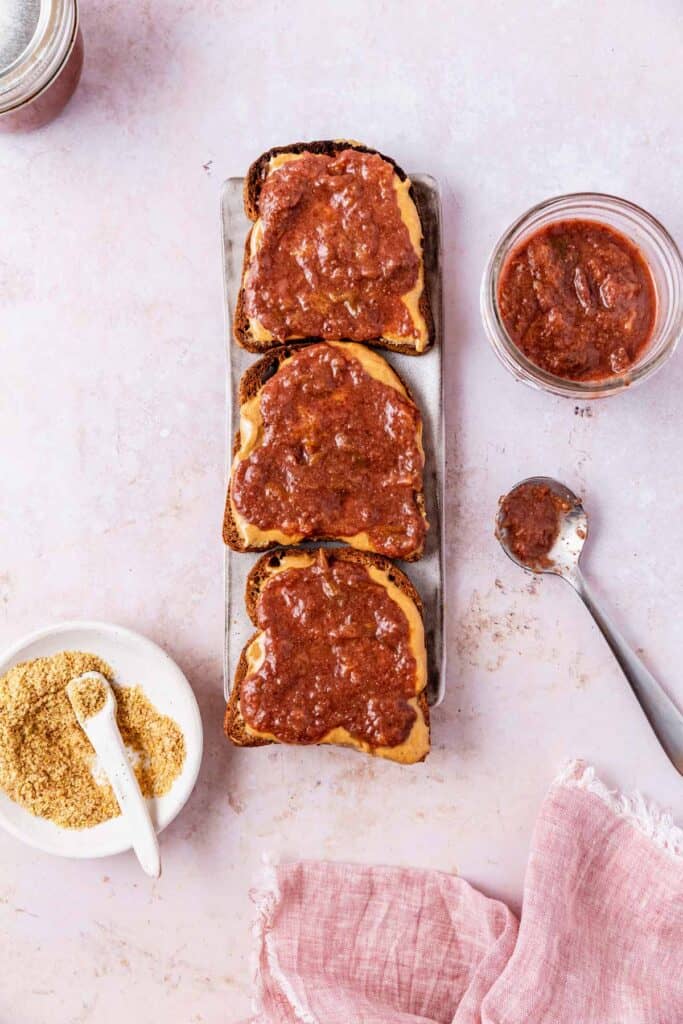 Pairings
This jam recipe goes wonderfully with Easy Pecan Butter.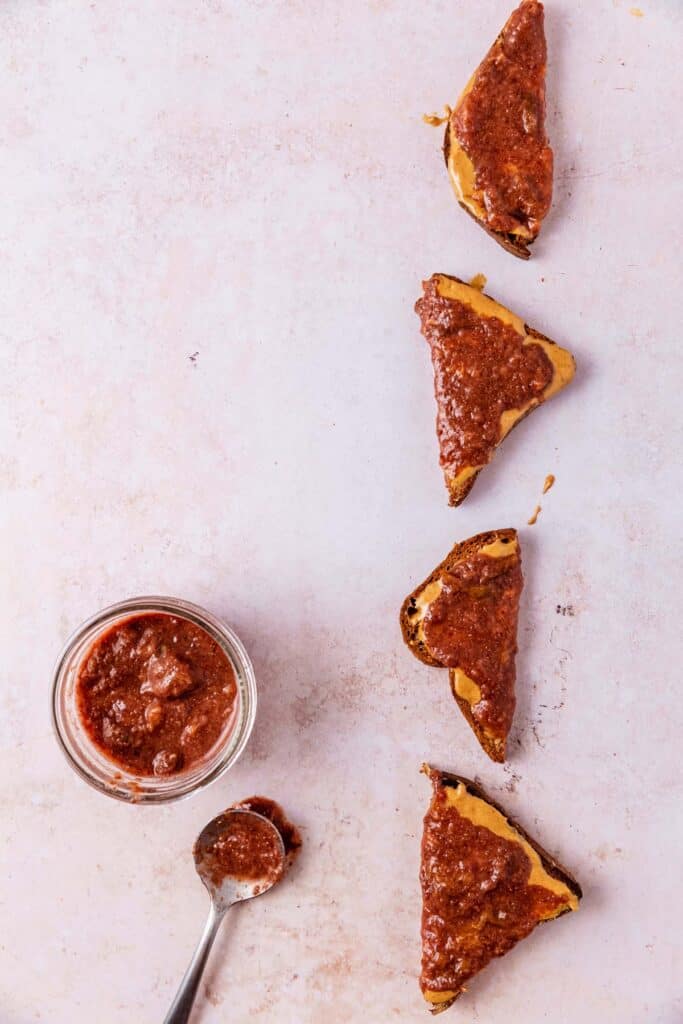 ---
The Recipe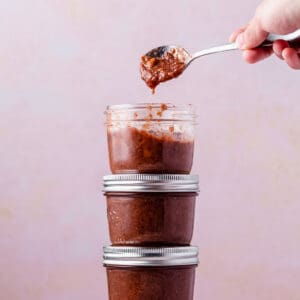 Spiced Italian Plum Jam
I've updated my favorite Italian plum jam from childhood, making it really easy with no pectin, sugar, or canning process required! Delicious on just about any baked good, it makes a mean peanut butter and jam sandwich.
Print
Pin
Equipment
a blender

a small saucepan, like a 2 quart
Ingredients
3

cups

washed Italian plums

chopped (about 6 pieces per plum)

1 ¼

cup

filtered water

12

medjool dates

3

tablespoons

filtered water

1 ½

tablespoon

lemon juice

1 ½

teaspoons

ground allspice

¼

teaspoon

ground cloves

heaping

3

tablespoons

chia seeds

ground

1

tablespoon

maple syrup

or more (optional)
Instructions
Soak dates: In a mason jar or other container, place the pitted dates, then cover with the 1 ¼ cups water. Seal and place in the fridge for at least one hour to soften.

Chop plums: This is a good time to chop the prune plums, just before blending the date syrup. Should have about 6 pieces per plum.

Blend date syrup: Place the dates and liquid into a blender and blend until smooth.

Simmer ingredients: Place the plums, date syrup, water, lemon juice, and spices into a saucepan (2 or 3 quart will do). Turn the heat to high and stir occasionally until just starting to boil. While bringing to a boil, taste and add the optional maple syrup if needed to achieve the sweetness you desire. Turn the heat down to medium-low and simmer for 5 minutes.

Add ground chia seeds: Add the chia seeds and continue to simmer for another 5 minutes.

Jar and store: Remove from heat and let cool for 20 minutes or so (the jam will still be warm). Place in jars (four 8-ounce jars recommended) and store what you will eat within the week in the refrigerator. Place the remaining jars in the freezer.

Enjoy: Delicious on just about any baked good. Makes a mean peanut butter and jam sandwich.

Defrost: Remove jam from the freezer and place in the refrigerator overnight. Use within a few days.
Notes
 Fills about four 8-ounce jars.
Serving estimate is 2 tablespoons.
Note:  The sweetness of this jam will vary depending on the state of your plums.  I find that, even though the plums are harvested at the same time, some are riper than others and using a variety, from very ripe to just barely ripe, can provide more flavor depth but may require more sweetener.  Add the optional maple syrup if needed.
Recipe updated September 13, 2021.