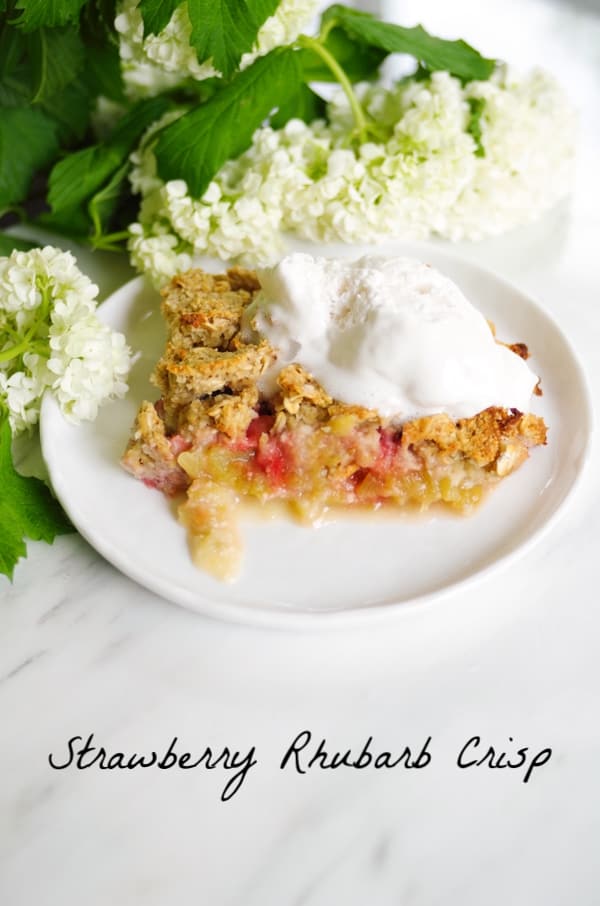 A Special Mother's Day
So Mother's Day is just around the corner, and you'd like to plan something special to show Mom the love for all the wonderful things she's done for you? A special Mother's Day doesn't have to be fancy, as long as Mom can see the love. An excellent way to make sure of that is by making something for her, like a card with a meaningful note and a nice breakfast. Breakfast-in-bed is a classic Mother's Day gift because it's made by you and she gets to linger leisurely in bed without ever looking into the kitchen. Whoever the mother-figure is in your life, giving her a break from her daily routine can be a real treat. But what to make? Choosing can be a trick, especially if Mom has dietary restrictions. Luckily, I have the answer and it's also a classic: strawberry rhubarb crisp!
Strawberry Rhubarb Crisp for Breakfast
What's that you say? She loves strawberry rhubarb crisp, but it has too much butter and sugar? Well, I'm so excited to share this particular recipe with you. If Mom can eat fruit, she's good to go. The ingredients are typical for making breakfast, so why not have dessert for breakfast or brunch? Sounds special to me! You can assure Mom that this crisp is a-ok.
Delish and
Refined Sugar-Free, Oil-Free, Dairy-Free, Gluten-Free! Oh, and No Salt Added!
Yes, you read that right. I've come up with a recipe that uses no oil or butter, no refined-sugars, and no gluten. AND it's actually delicious. Really! See why I'm excited?! The chosen replacements happen to go extremely well with the other ingredients, and every one of my taste testers, who represent a variety of age-groups and include my pickiest eater, gobbled it down in no time. My husband's description: "A perfect mix of a bread pudding texture inside with a nice crisping on the outside." Yes, rhubarb is tart, and can be too tart without sugar - but not here. I don't fall back on stevia, it's not in this recipe. Can you guess how it's done?
Classic Rhubarb Crisp
Before I get to that, I wanted to fill you in on my history with rhubarb crisp.  It has been my favorite (non-chocolate) dessert for as long as I can remember.  My parents didn't have a garden patch per se, but they had an apple and plum tree, grew tomatoes in pots, and every year rhubarb came up next to the lawn in the backyard.  I couldn't wait for it to be picked and made into a crisp.  Sometimes strawberries were added, other times just the rhubarb.  My mom always used the same recipe, which came from a family friend, who got it from her mother-in-law.  
The New Version
Recently, I found rhubarb at the farmers market and asked my mom for the recipe.  With this new plantiful lifestyle, I found I wasn't as comfortable as I used to be making it with the traditional two cups of white sugar and ¾ cup of butter (1 ½ sticks!), and decided to revise that beloved recipe.  Was I certain it would turn out?  No.  I felt my lifelong love of Mom's delicious, classic rhubarb crisp had made me somewhat of a crisp aficionado, and I knew it would be challenging to make a revised one taste good by comparison.  It did take some trial and error, but my taste testers assure me that it's been done.
Mom Can Have Her Crisp and Eat it, Too
So here are some things I love about this recipe for Mother's Day:
Mom not only gets dessert for breakfast, it's one that will leave her feeling good - about the choice you made to help her avoid processed foods, white sugar, and heavy oils/butter and how her body feels after eating it. If she's trying to watch her fat intake, she will be glad to know that the fat in this breakfast dessert is high quality and about 8 grams, with only ⅛ cup of almonds per serving. This crisp is a good source of fiber, iron, calcium, protein, and vitamin C - which helps with iron absorption, and only about 190 calories per serving! She can truly have her crisp and eat it, too.

The ingredients are pretty basic and fairly easy to find. If you can't find almond flour, you can make it by putting almonds in a food processor or blender. If you can't find medjool dates, you can try other types.

It's quick and easy to make. Small kids can help mix and pour the ingredients, layer the fruit into the baking dish, and taste test the results. (Just make sure they save a piece for Mom!) This tends to be less labor-intensive than pancakes. There's no standing over a hot stove. Once you layer everything into the dish, you stick it in the oven and then can go on to pick a few flowers or draw Mom a card or make her some coffee.

It's pretty. The green/red rhubarb with red strawberries and topping looks divine.

I wish I could capture the wonderful aroma as the crisp is baking. So ah-mazing. Hours after I bake this, anyone arriving perks up at the lovely scent. Mmmm...

While revamped, it still is reminiscent of the crisp I loved throughout my childhood. I'm hoping Mom will feel the same way.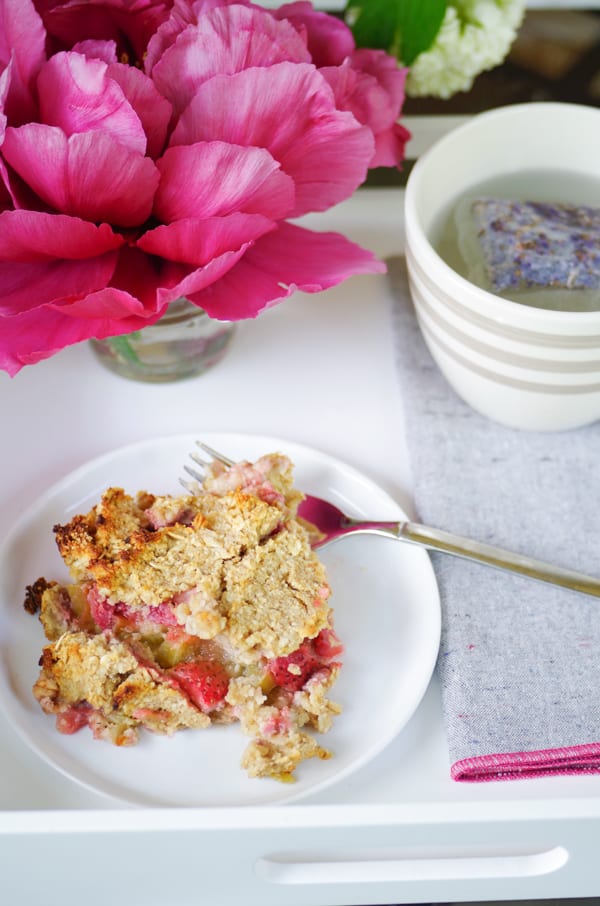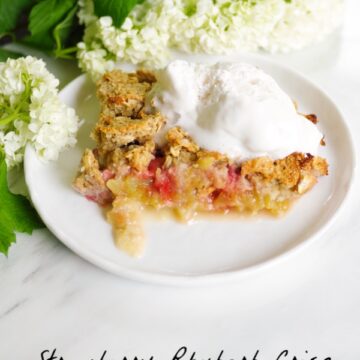 Strawberry Rhubarb Crisp Recipe
Ingredients
For the rhubarb:
3

cups

rhubarb

sliced

1

cup

applesauce

unsweetened

3

tablespoons

almond flour
For the strawberries:
2 ½

cups

chopped sweet strawberries

½

cup

applesauce

unsweetened
For the topping:
1 ½

cups

almond flour

1 ½

cups

rolled oats

gluten-free if needed

6

medjool dates

or ¾ cup maple syrup

1

cup

filtered water

disregard if using maple syrup

1

teaspoon

vanilla
Instructions
At least an hour before:
If using dates, soak them in the 1 cup of filtered water for the topping and place in the fridge

Line a 9x13 baking dish with parchment  paper.  This will make clean-up easier on you and keep the ingredients from sticking.
Prepare the rhubarb:
Slice the rhubarb into about ¼ inch pieces.  In a large bowl, stir and fold the rhubarb ingredients to combine:  3 cups chopped rhubarb, 1 cup unsweetened applesauce, 3 tablespoons almond flour.  Pour evenly into the parchment-lined baking dish.
Prepare the strawberries:
Chop the strawberries into about ¼ inch pieces.  ~At this point, preheat the oven to 375 degrees~ In a large bowl (the same one is fine), stir and fold the strawberry ingredients to combine:  2 ½ cups chopped strawberries, ½ cup unsweetened applesauce.  Pour or spoon evenly over the rhubarb mixture.
Prepare the topping:
Pour the soaked dates and their liquid into a blender and blend until smooth.  In a large bowl, place the topping ingredients:  1 ½ cups almond flour, 1 ½ cups oats, 1 teaspoon vanilla, and the blended date mixture.  Stir and fold to combine.  Pour or spoon evenly over the strawberry mixture.
Place this beautiful masterpiece into the preheated oven
Generally, this bakes for 40 minutes; however, your oven may be different than mine.  Set the timer for 30 minutes to check it.  If it's not golden brown quite yet, go ahead and set it for 10 more minutes.
Nutrition
Calories:
190.4
kcal
Carbohydrates:
26.4
g
Protein:
5.4
g
Fat:
8.7
g
Saturated Fat:
0.7
g
Sodium:
3.9
mg
Potassium:
277
mg
Fiber:
5
g
Sugar:
13.3
g
Vitamin A:
61.4
IU
Vitamin C:
20.4
mg
Calcium:
78.9
mg
Iron:
1.4
mg
Tried this recipe?
I love seeing your creations! Tag me on Instagram @beautifulingredient and use the hashtag #beautifulingredient
---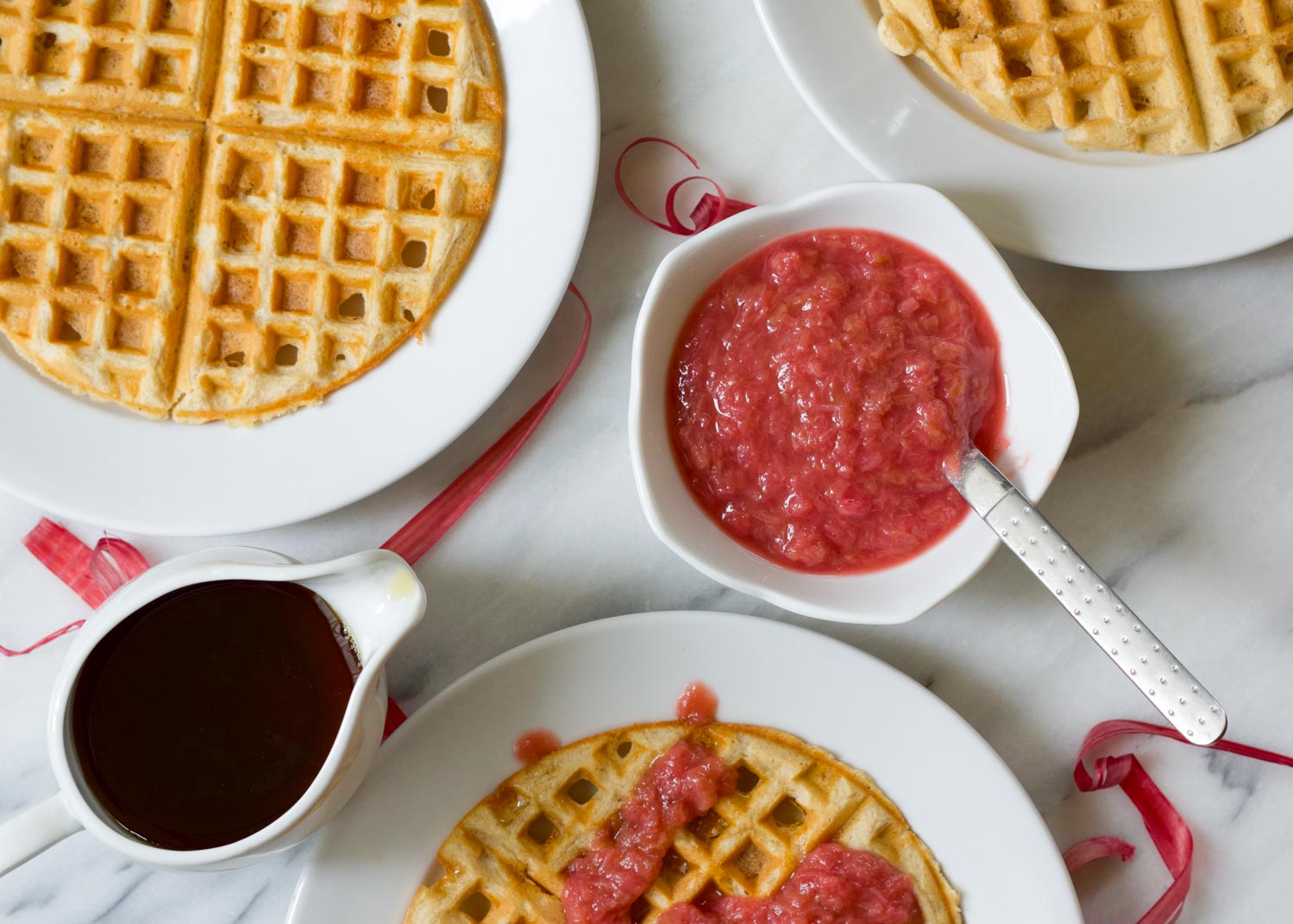 ---
How will you be enjoying Mother's Day this year? If you have other plans with Mom, I hope you find another time to make this quick and easy, healthier and so yummy version of the divine strawberry rhubarb crisp. If you can't be with Mom, wouldn't it be lovely to make this in her honor, for yourself or someone who would really appreciate it? Happy Mother's Day.