This strawberry rhubarb crisp recipe is for everyone! While it satisfies dietary needs by being vegan (so dairy-free and egg-free), gluten-free, oil-free, and refined sugar-free with nut-free and salt-free options, it also satisfies on flavor. All the desired classic flavors are here; in fact, I've heard it called the best strawberry rhubarb crisp around!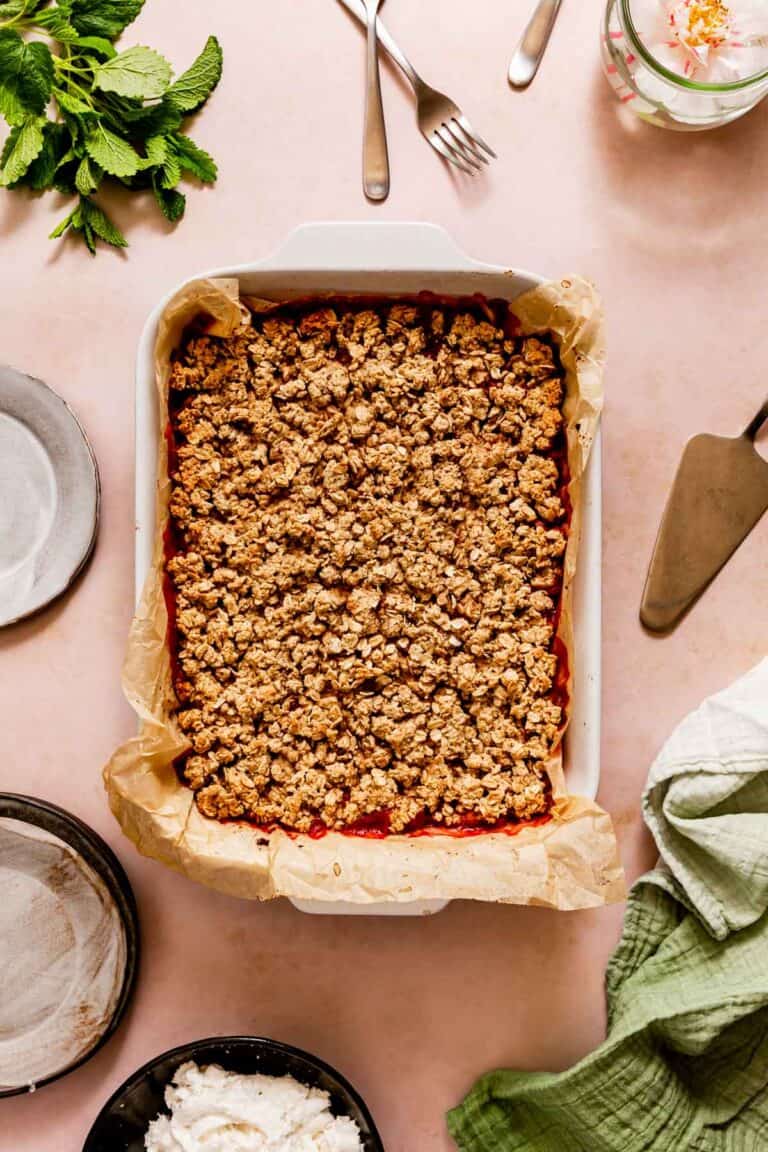 Strawberry rhubarb crisp has been my favorite (non-chocolate) dessert for as long as I can remember. My parents didn't have a garden patch per se, but they had an apple and plum tree, grew tomatoes in pots, and every year rhubarb came up next to the lawn in the backyard. I couldn't wait for it to be picked and made into a crisp. Sometimes strawberries were added, other times just the rhubarb. My mom always used the same recipe, which came from a family friend, who got it from her mother-in-law.  
Recently, I found rhubarb at the farmers market and asked my mom for the recipe. Now that my lifestyle is plant-based, I realized I was no longer making it with the traditional two cups of white sugar and ¾ cup of butter (1 ½ sticks!), so decided to revise that it. Was I certain it would turn out? No. I felt my lifelong love of Mom's delicious, classic rhubarb crisp had made me somewhat of a crisp aficionado, and I knew it would be challenging to make a revised one taste good by comparison. It did take some trial and error, but my taste testers assure me that it's been done.
Ideal for Mother's Day
I love that Mother's Day falls right around the time rhubarb and strawberries start appearing at the market. If you'd like to thank your Mom for all the wonderful things she's done for you, make this strawberry rhubarb crisp. A special Mother's Day doesn't have to be fancy, as long as Mom can feel the love. Does your Mom have dietary restrictions? Fortunately, this vegan crisp is dairy-free, egg-free, refined sugar-free, gluten-free, oil-free, and peanut-free. You can even replace the almond flour with tiger nut flour, which aren't actually nuts - or more rolled oats for a lighter crisp and salt is optional, thanks to the brightness of the rhubarb. Don't worry, it's plenty sweet and tastes like the crisp you remember.
If Mom can eat fruit, oats, and maple syrup, she's good to go. The ingredients are standard breakfast fare, so why not have dessert for breakfast or brunch? Sounds special to me!
What I love about this recipe for Mother's Day
This is one dessert that will leave Mom feeling good - about the choice you made to help her avoid processed foods, white sugar, and heavy oils/butter and her body will likely feel good after eating it by avoiding those things.
The ingredients are pretty basic and fairly easy to find. If you can't find almond flour, you can make it by putting almonds in a food processor or blender or go for a light version by substituting extra rolled oats.
It's quick and easy to make. Small kids can help mix and pour the ingredients, layer the fruit into the baking dish, and taste test the results. (Just make sure they save a piece for Mom!) This tends to be less labor-intensive than pancakes for brunch. There's no standing over a hot stove. Once you layer everything into the dish, you stick it in the oven and then can go on to pick a few flowers or draw Mom a card or make her some coffee. Plus, it's pretty. The green/red rhubarb with red strawberries and topping are lovely.
I wish I could capture the wonderful aroma as the crisp is baking. So ah-mazing. After baking this crisp, anyone arriving perks up at the lovely scent. Mmmm...
Since the crisp is baked in a 9x13 baking dish, it's easy to cover it and take it to another location, like Grandma's house.
Ingredients
We're just using whole and minimally-processed vegan ingredients for this recipe. This is a crisp that contains no oil or butter, refined sugar, or gluten.
Rhubarb: The star ingredient! Rhubarb provides a wonderful tartness and beautiful pink and green colors - I don't know of any substitutes for it, it's one-of-a-kind.
Strawberries: Strawberries also provide color and counter the rhubarb with sweetness. Other berries could be substituted. Frozen or fresh can be used. If using frozen, thaw the berries enough so that you can slice them easily and you're good to go.
Applesauce: Helps with texture and sweetness in a minimally-processed way. Additional syrup could be substituted if you don't have it.
Maple syrup: A delicious, maple sweetness. Date syrup could be substituted. The maple flavor won't be there and you'll likely need a bit more of it to provide enough sweetness.
Oat flour: Look for gluten-free, if needed, since oats can be processed in the same facilities as wheat. Wheat flour can be used instead if you aren't needing gluten-free and don't have oat flour.
Rolled oats: The primary texture for the topping while adding whole grains to the crisp.
Almond flour: Provides a richness to the topping. Tiger nut flour is a nice substitute. If you want to avoid nuts or don't have them, substitute with additional rolled oats for a lighter topping.
Vanilla: Rounds out the flavors in a delicious way.
Instructions
This is a very easy crisp to make.
In a large bowl or directly in a 9x13 (lined if desired), add the prepared filling ingredients. Spread evenly in the 9x13.
In a bowl, stir together the topping ingredients. Then, spread the mixture evenly over the filling. Bake and enjoy!
Serving
Serve on its own or topped with fresh mint or lemon balm and vegan whipped cream or ice cream (keep in mind these will likely add processed ingredients like refined sugar).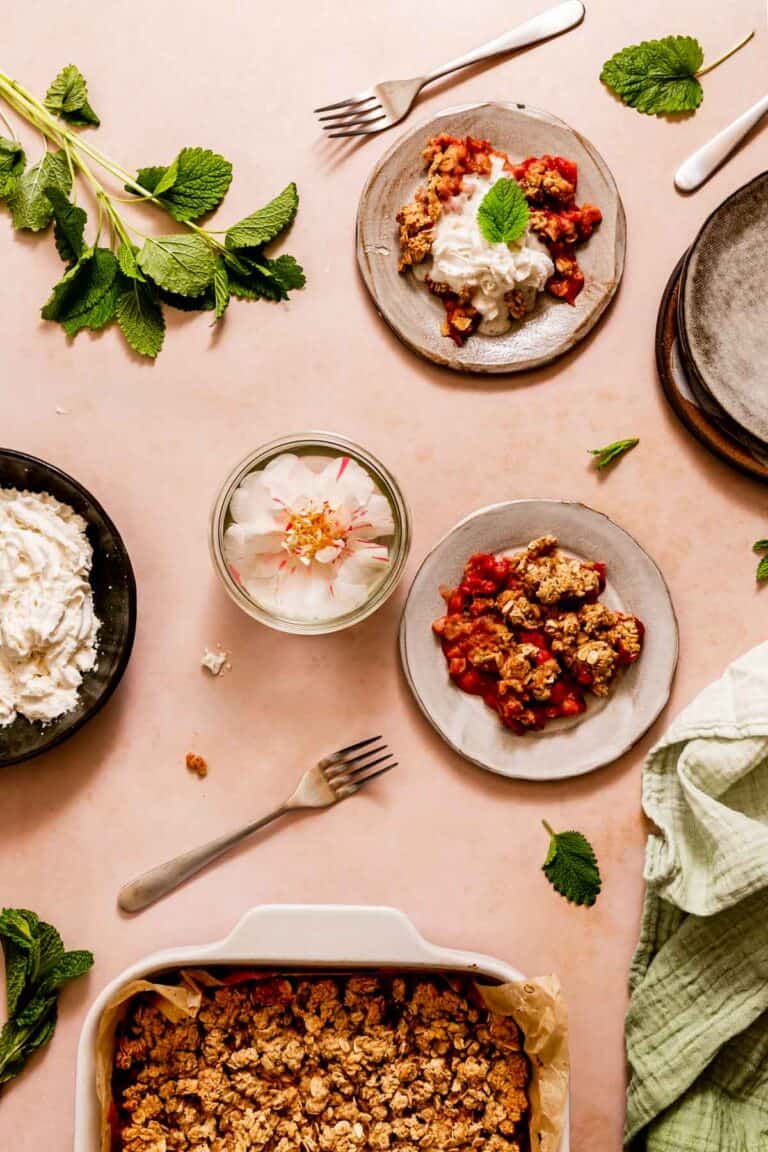 Storing
Store in a sealed container in the refrigerator for up to a few days.
More rhubarb recipes
The Recipe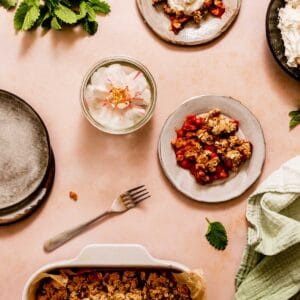 Strawberry Rhubarb Crisp Recipe
This strawberry rhubarb crisp recipe is for everyone, satisfying dietary needs by being gluten-free, dairy-free, vegan, and refined sugar-free while letting those delicious spring fruits shine. _________________________________
Plant Diversity: Striving for 30 different plants per week
The number of plants in this recipe: At least 4 plants
Print
Pin
Rate
Equipment
knife and cutting board

measuring cups and spoons

spatula

parchment or baking liner

optional

9x13 baking dish

oven
Ingredients
3

cups

rhubarb

sliced

2 ½

cups

chopped sweet strawberries

fresh or frozen

1

cup

applesauce

unsweetened

¼

cup

maple syrup

If berries aren't very ripe, use up to ½ cup instead

3

tablespoons

oat flour

or almond flour
For the topping:
1 ½

cups

almond flour

or tiger nut or oat flour, or rolled oats for lighter version

1 ½

cups

rolled oats

gluten-free if needed

¾

cup

maple syrup

1

teaspoon

vanilla

½

teaspoon

salt

optional
Instructions
If using frozen strawberries, thaw in advance. Slice them into bite-sized pieces and the rhubarb into about ¼-inch pieces, placing them in a large bowl or directly in a 9x13 baking dish. Stir in the applesauce, maple syrup, and oat flour.  Spread evenly in the baking dish with a spatula.

Note: You may line the dish with parchment, but I prefer not to - it can get messy either way!

Preheat the oven to 375 degrees.

Rinse the bowl and place all the topping ingredients into it, stirring them together until evenly mixed. Pour the topping mixture over the filling and spread it evenly over the strawberry mixture with a spatula.

Bakes for 40 minutes. Test with a fork; if the rhubarb isn't yet soft or the topping is not golden brown, go ahead and add 5 more minutes at a time until it these are achieved.

Serve as is or with fresh berries, mint, lemon balm, dairy-free whipped cream or ice cream - whatever you like!

Store in a sealed refrigerated container for up to a few days.
general food safety
Cook to a minimum temperature of 165 °F (74 °C)
Do not use the same utensils on cooked food that previously touched raw meat
Wash hands and ingredients well before using
Don't leave food sitting out at room temperature for extended periods
Never leave cooking food unattended
Use oils with high smoking point to avoid harmful compounds
Always have good ventilation when using a gas stove
See more guidelines at USDA.gov.