It's back, baby: Rhubarb! I love, love, love rhubarb season (spring-early summer). There's just something about this ruby-stalked vegetable. It's like nothing else...except maybe SweeTarts, my favorite candy as a kid. I've always loved that combination of sweet and tart, but I'd soooo rather eat rhubarb any day! So much more flavor, so much more to savor. Plus nutrients like calcium, protein, potassium, fiber; it's a vegetable, after all. I feel so much better after eating it than candy, and it seems way more indulgent!
This rhubarb compote is a great way to eat rhubarb. It requires minimal effort and few ingredients, is ready within a half hour, and can be eaten immediately or stored in a jar in the fridge or freezer. Make a big batch to enjoy throughout the week - I predict you will be happy you did!
You may be surprised, like I was, that as tart as rhubarb is, it really doesn't require all that much sweetener to make it palatable. This recipe only requires ⅓ cup maple syrup to 4 cups rhubarb. Not bad. You can also try date syrup, which is the most beneficial sweetener, according to Dr. Michael Greger, author of How Not to Die. You may need more of the date syrup, fyi.
A touch of ginger and vanilla round out the flavors of this compote. They compliment the pure joy that is the rhubarb. Excuse me while I grab a spoonful, I can't bear thinking of it any longer without a bite.
Fun fact: The color of rhubarb can vary from red, like below, to a peachy-pink, like above.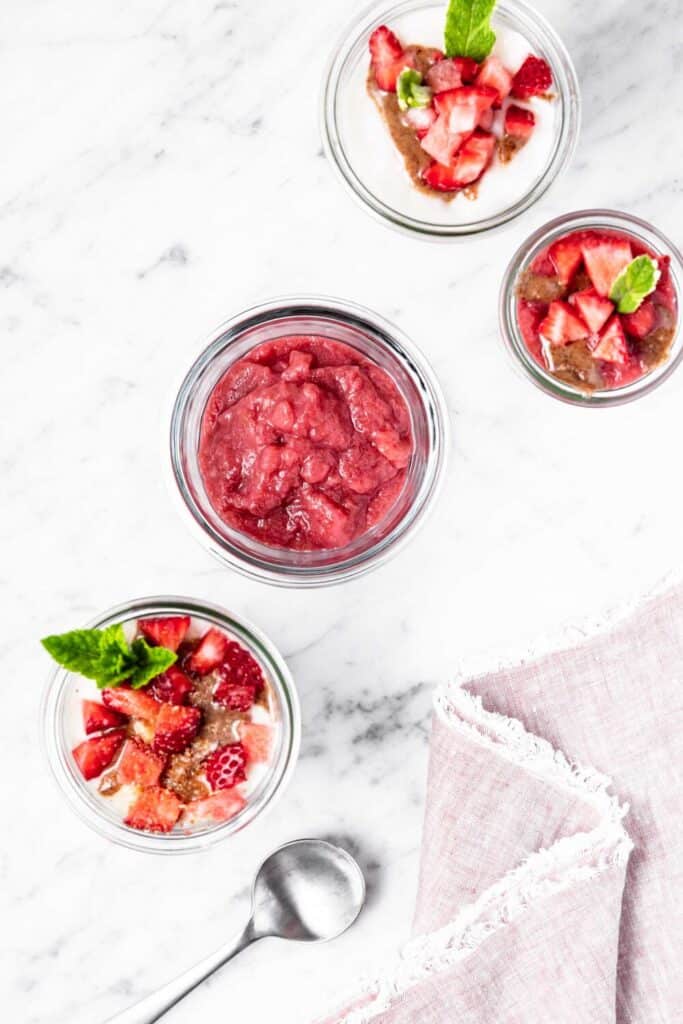 ---
A few delicious ways to enjoy rhubarb compote:
• on waffles
• on pancakes
• on ice cream
• on yogurt
• on or in muffins or other baked goods
• on toast
• on or stirred into chia pudding
• on or stirred into granola or other cold cereal
• on or stirred into oatmeal or other porridge
• on or stirred into overnight oats
• with a dollop of coconut whipped cream
• all by itself
---
RHUBARB GINGER COMPOTE ON TOAST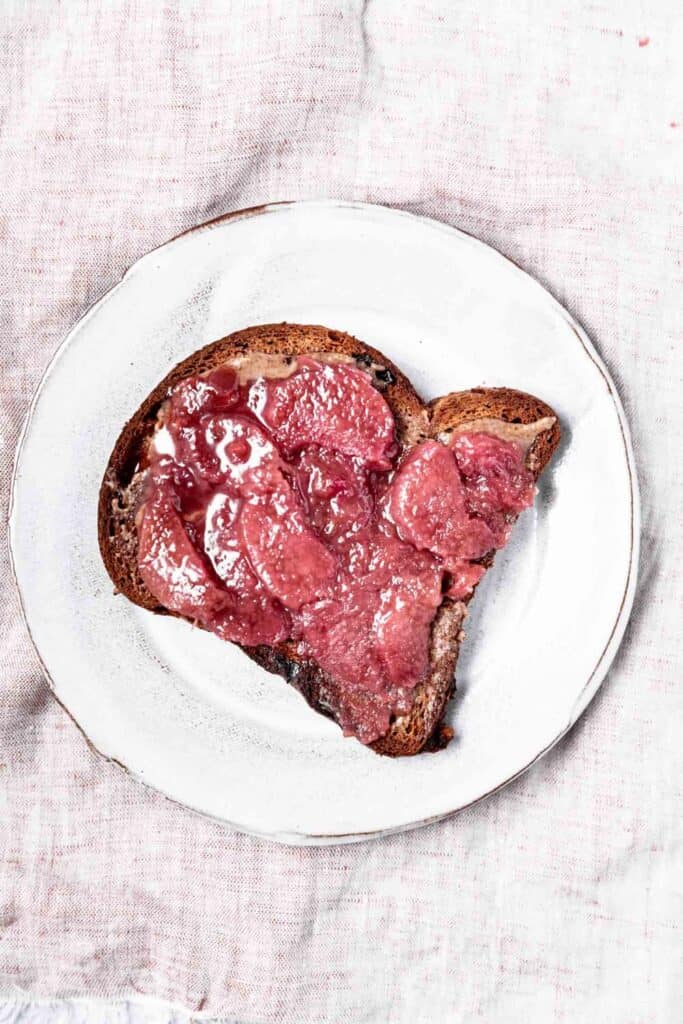 RHUBARB GINGER COMPOTE STIRRED INTO CHIA PUDDING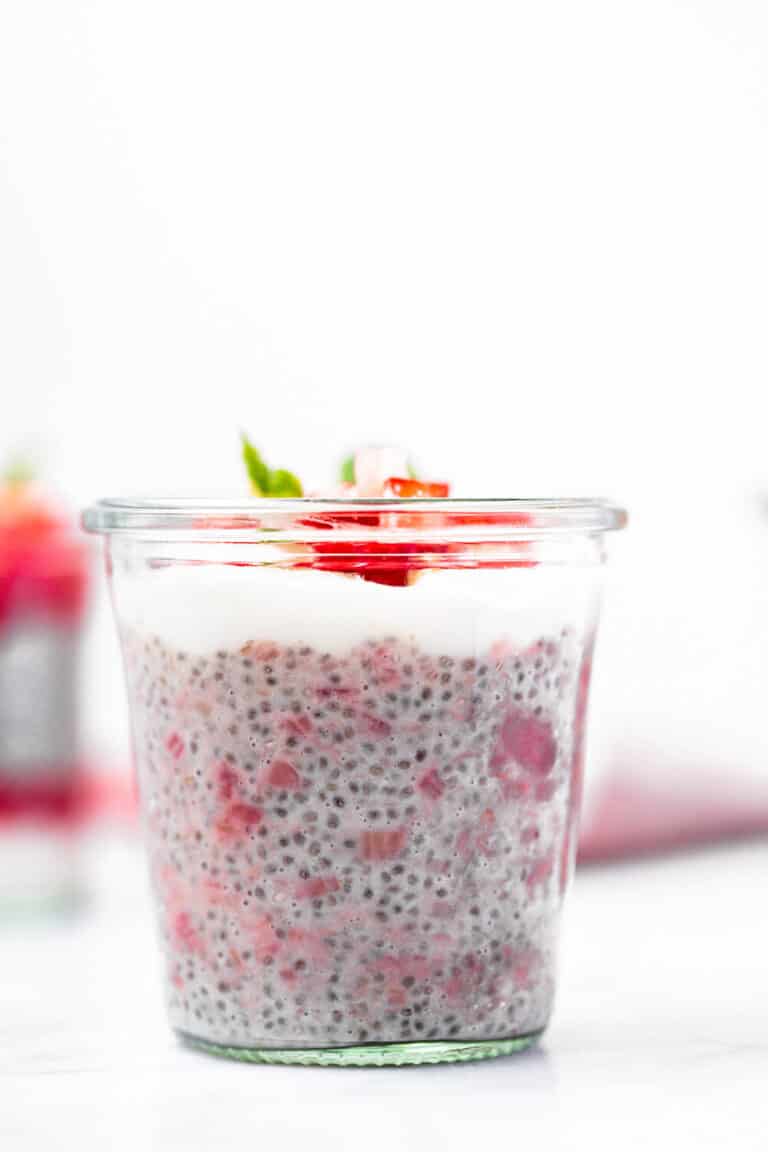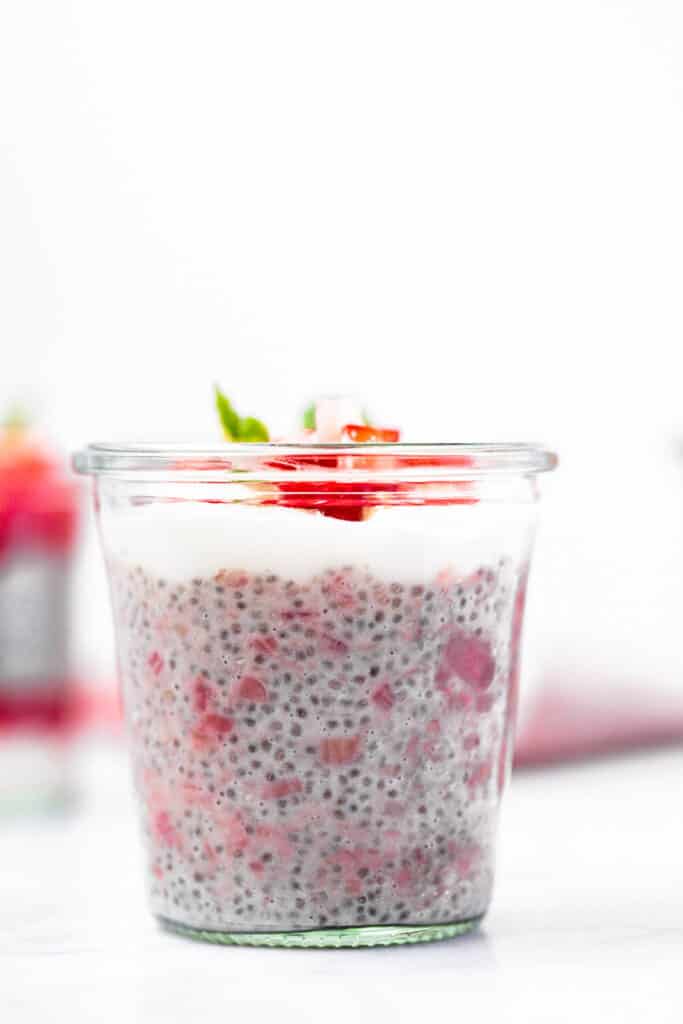 ---
Rhubarb Ginger Compote Recipe
vegan | wfpb | easy | quick | gluten-free | refined sugar-free | oil-free | 30 minutes or less | 5 ingredients or less
YIELD: 1 ¾ -2 cups
PREP TIME: 5-10 minutes
COOK TIME: 20 minutes
TOTAL TIME: 25-30 minutes
RECIPE CATEGORY: Breakfast, Dessert
PRIMARY TOOLS: Cooktop, Pot
COOKING METHOD: Simmering
Note: Kitchen times are approximate and will depend on various factors, like your personal kitchen speed and how many hands you have working with you. Cooking can become a centering experience that brings family together. I hope you enjoy the ride!
ingredients
4 cups thinly sliced rhubarb (about 3 stalks)

⅓ cup maple or date syrup, plus more by the tablespoon if desired

1 teaspoon freshly grated ginger

1 teaspoon vanilla extract
steps
Remove ends and thinly slice the rhubarb

Place the sliced rhubarb in a opt with the syrup and ginger. bring to a boil slowly (over medium heat), which will take about 10 minutes.

Reduce and simmer for about 10 minutes, until the rhubarb has broken down.

Remove from heat and stir in the vanilla.

Taste and add more syrup by the tablespoon if too tart.

Let cool and store in an airtight container in the refrigerator for a week, or freeze for later use.
— SHARE ON PINTEREST —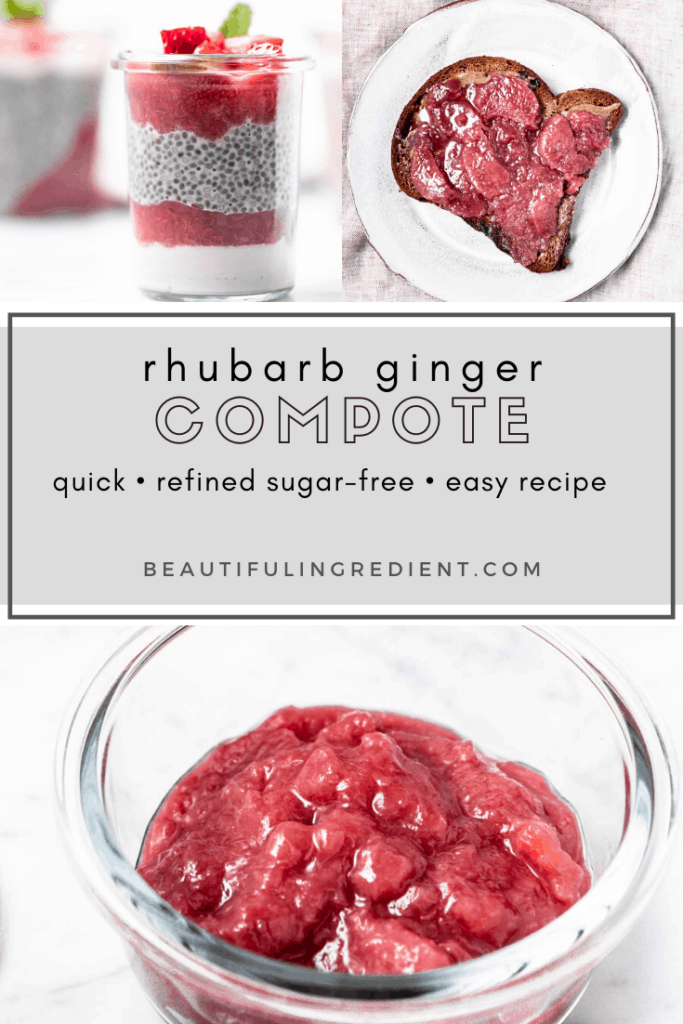 ---
---