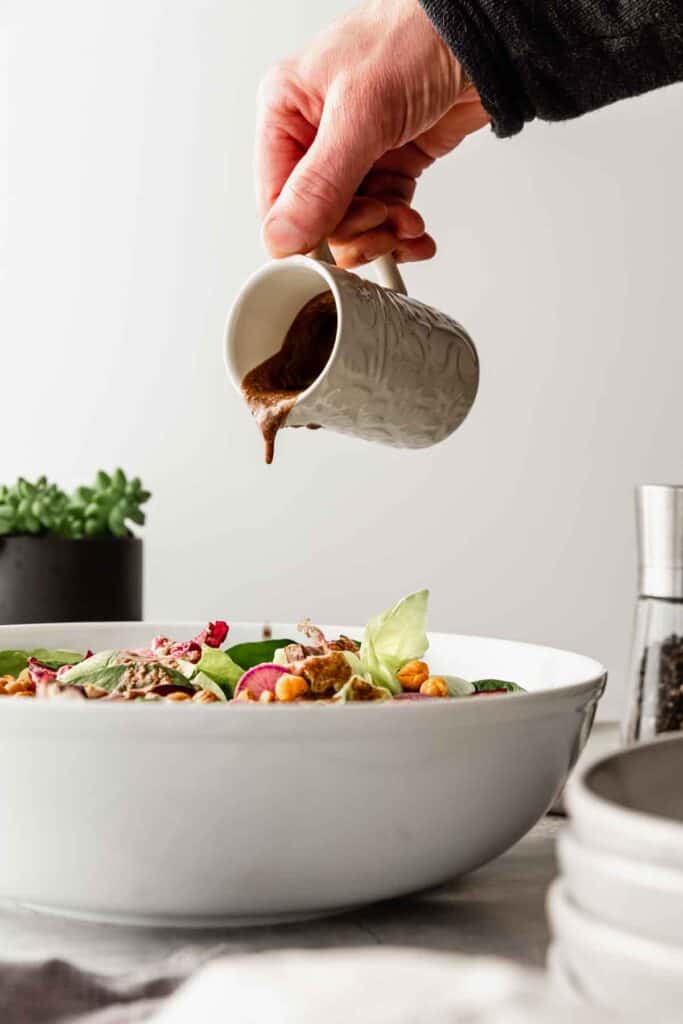 When I have a really great salad dressing on-hand, it's amazing how many vegetables I end up eating in a day.  Besides having the dressing on salad, I like to dip crudités in it, stir it into a combination of grains and veggies, and top cooked vegetables.
This recipe is:
• vegan
• easy
• oil-free
• gluten-free
• refined sugar-free
• made with 10 ingredients or less
• ready in just 5 minutes!
Elements of a great salad dressing:
• full of flavor that compliments the vegetables and makes you want to eat more of them
• a pleasant texture
• nutritious in its own right, adding more value to the salad
And when it's a dressing that requires no machinery to make and is ready in 5 minutes, I am so much more likely to actually make it.  That's what I love about this recipe.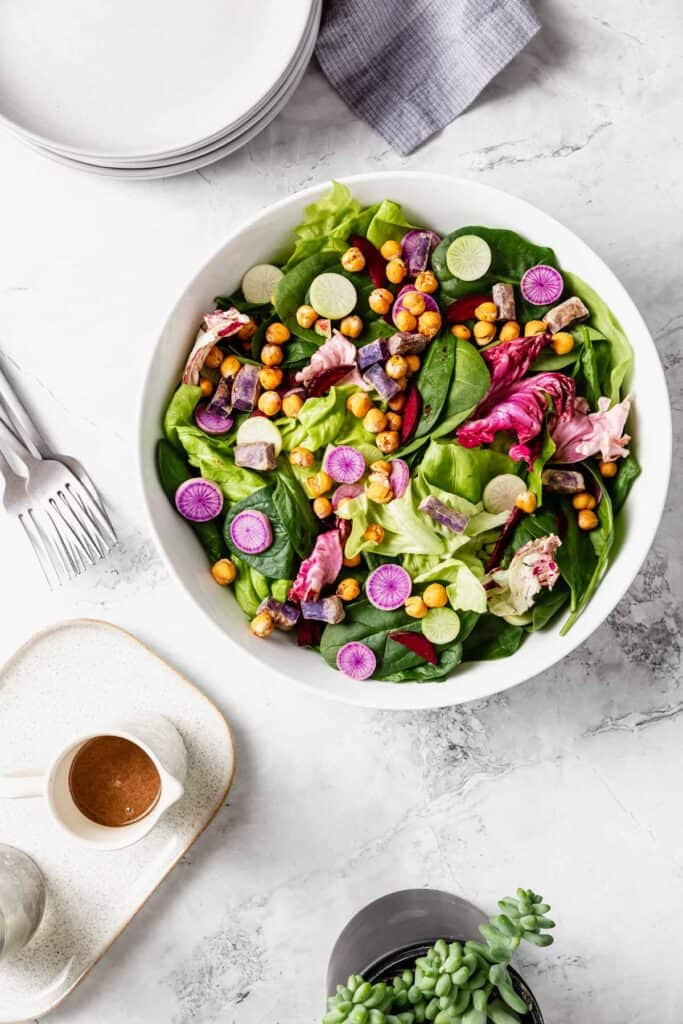 The beauty of this salad dressing recipe is that it requires only three ingredients (plus water and, if desired, salt/pepper):  tahini, balsamic vinegar, and maple syrup.  That's it.  These are ingredients that can simply be stirred in a bowl or jar and you're done.  It has enough flavor so that if you prefer a thin dressing, you can simply just add more water to thin it out.  In fact, it tends to thicken in the fridge, so each time I take it out I add more water - which stretches the dressing to last an extra serving!
2021 update: I have lightened the recipe up a bit, since I prefer it on the thin side. If you want it even richer and creamier, simply add more tahini.
The flavor has a pleasant burnt-sugar smokiness to it, thanks to the balsamic vinegar and maple syrup.  Only a little maple syrup is required, since the balsamic has a sweetness, too.  It would really work any time of year, since the ingredients can be found year round and the complex flavors go well with fall/winter veggies as well as spring/summer.  It's rich, it's flavorful, and I hope you try it on your next salad!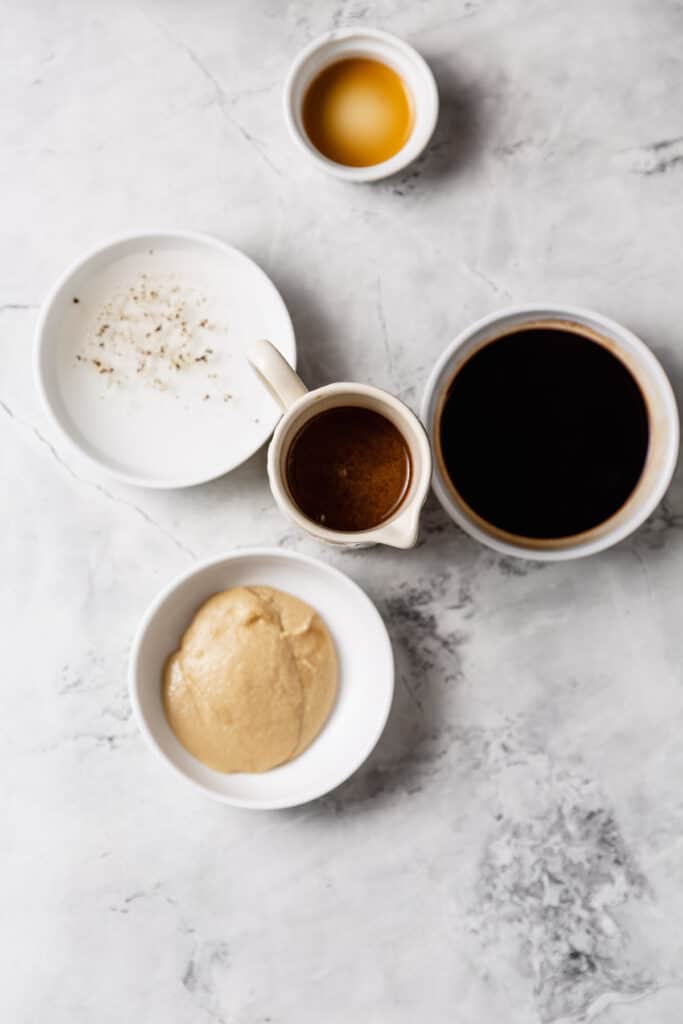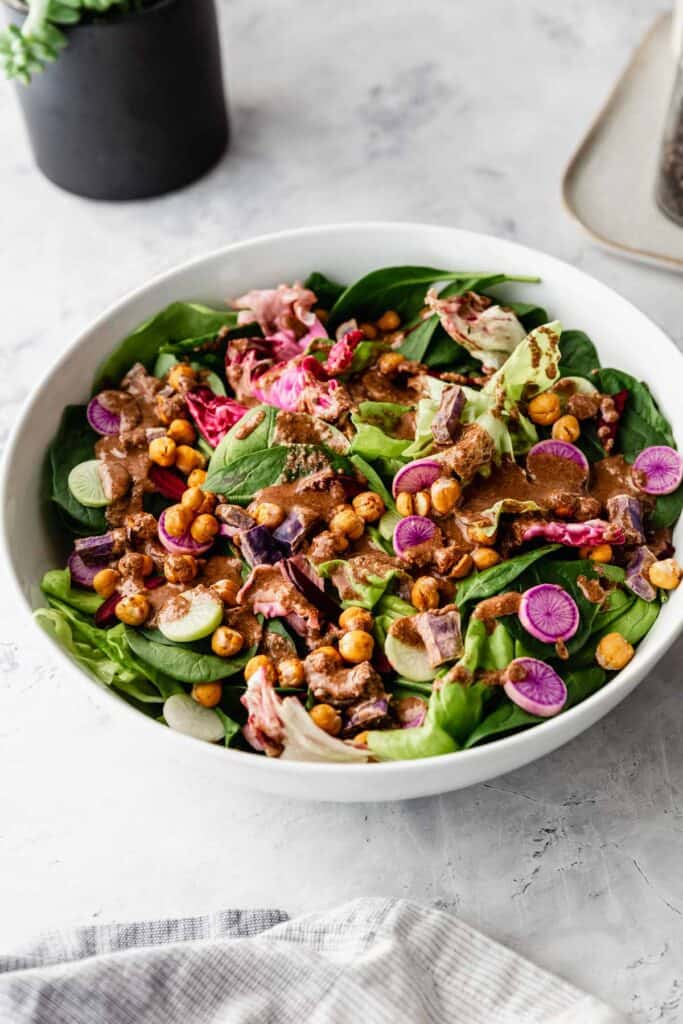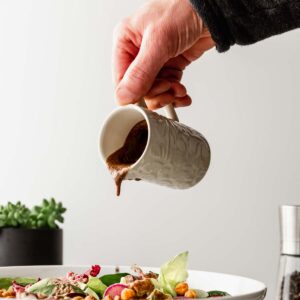 Tahini Balsamic Salad Dressing Recipe
A quick and easy salad dressing that's ready within 5 minutes and requires no oil. So great for dressing salads, sandwich greens, beans, grains - try dipping or marinating veggies, too! It's vegan, quick and easy, oil-free, gluten-free, refined sugar-free, requires less than 10 ingredients, and is whole food plant-based.
Print
Pin
Ingredients
2

tablespoon

tahini

2

tablespoon

balsamic vinegar

5

tablespoon

filtered water

1

teaspoon

maple syrup

salt and pepper to taste
Instructions
In a small bowl, stir together the ingredients until smooth. Tip: Warming the water can help smooth the tahini. Serve over a salad or any vegetables.
Notes
Kitchen times are approximate and will depend on various factors, like your personal kitchen speed and how many hands you have working with you. Cooking can become a centering experience that brings family together. I hope you enjoy the ride!
This dressing can be stored in a sealed jar in the fridge for several days. The dressing tends to thicken in the fridge, so add more water to achieve desired consistency if needed. 
The conversions and nutrition information are calculated automatically and I cannot guarantee the accuracy of this data. I encourage you to confirm this information with your favorite unit conversion/nutrition calculator if you would like to be more certain. 
Recipe updated February, 2021
Nutrition
Carbohydrates:
4.2
g
|
Protein:
1.3
g
|
Fat:
4
g
|
Saturated Fat:
0.6
g
|
Sodium:
5.6
mg
|
Potassium:
47.3
mg
|
Fiber:
0.4
g
|
Sugar:
2.2
g
|
Vitamin A:
5
IU
|
Vitamin C:
0.3
mg
|
Calcium:
15.2
mg
|
Iron:
0.4
mg