For a meal in a bowl that's full of healthy, hearty ingredients, you've got to try these beautiful vegan buddha bowls. Whole grains, vegan protein, and veggies come together with a tasty dressing and satisfying sprinkles. With the suggested dressings, they're oil-free, too.
Buddha bowls, or grain bowls, veggie bowls, rain-bowls - even just "bowls" - are a fun way to eat loads of veggies with whole grains and beans, tofu, or tempeh - all together. You can't really go wrong. Pretty much any veggie, whole grain, and bean you have will taste good together like this - especially if you choose a tasty dressing to bring it all together. It's the perfect clean-out-the-fridge meal!
Jump to:
Ingredients and Variations
The beauty of these bowls is that they can be filled with ingredients you have on-hand.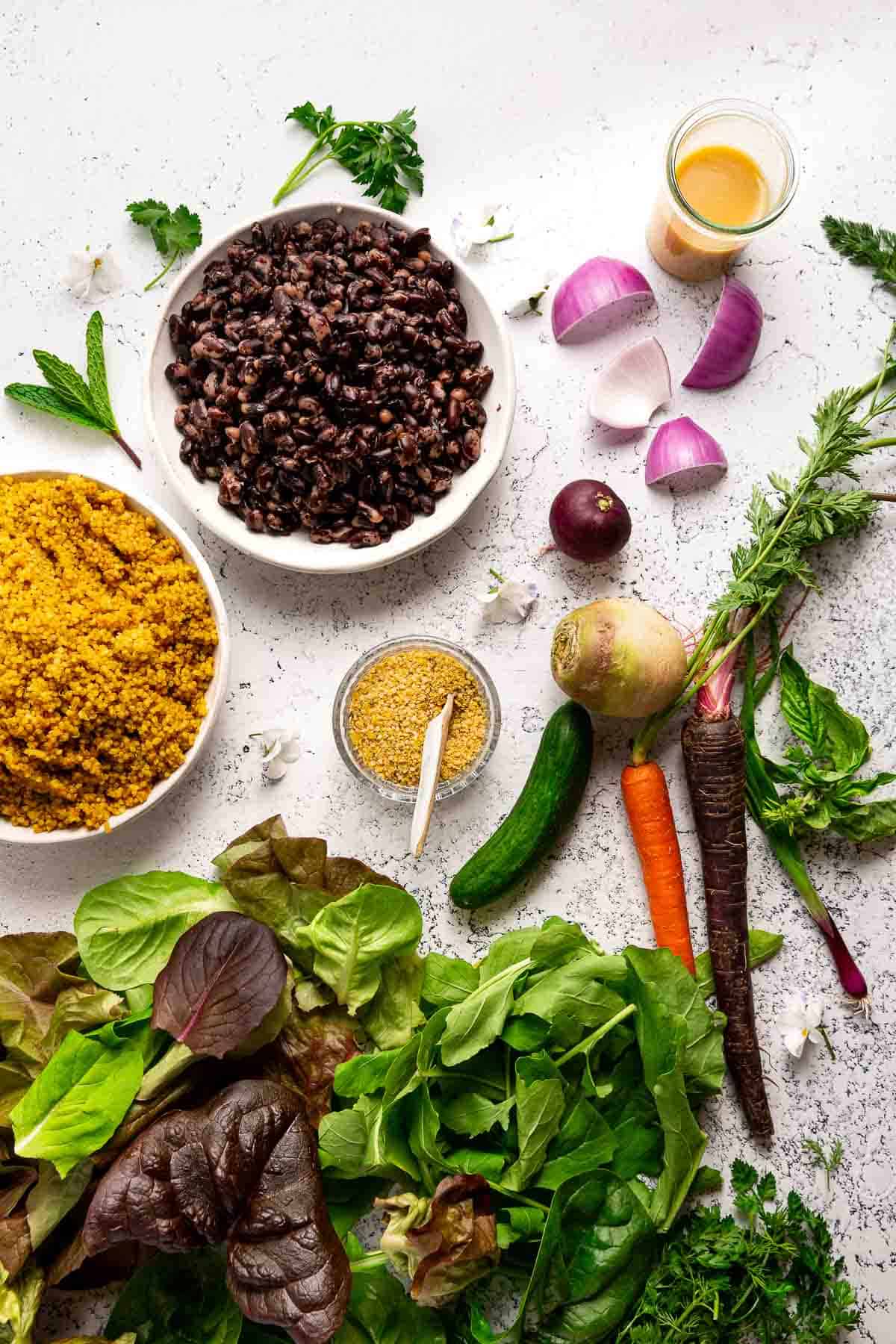 Greens: Choose any greens you'd like. A mix of lettuces, spinach, kale, herbs, mustard greens - it's a great way to use up what you have!
Whole grains: Brown rice, quinoa (yes, they're seeds that count as whole grains), millet, sorghum, buckwheat - use what you like. Pictured is the golden quinoa from How to Spice Up Your Quinoa.
Beans, tofu, or tempeh: This is the "protein" that will fill you up and keep you satisfied for a good while, thanks to both protein and fiber.
Other veggies: I like to choose the most colorful I can find, like candy cane beets, watermelon radishes, purple carrots. Again, use what you have and prefer. Have fun choosing and mix it up!
Dressing: Choose a dressing that pleasantly pulls it all together, like these:
Tahini Balsamic Dressing. It's creamy with a burnt-sugar, rich flavor (though no refined-sugar or added oils are involved) and comes together with the stir of a spoon.
Maple Dijon Dressing. A simple three-ingredient dressing that is delicious and great for a super-quick option.
Lemon Salad Dressing. This is a step more involved than the Maple Dijon, with lemon zest and garlic added.
Sprinkles: Top with anything that helps make the bowls delicious and hearty, like nuts, seeds, spices, herbs (like basil, chervil, or mint), edible flowers, nutritional yeast, or flavorful toppings like Smoky Hemp Heart Seasoning or Vegan Coconut Chip Bacon.
Equipment
A knife and cutting board, peeler, and any other tools you'd like to prepare your veggies.
Measuring cups, if desired.
Whole grains and beans can be prepared in a pressure cooker like an Instant Pot, or a slow cooker, or in a pot on the stovetop.
Tofu and tempeh can be prepared on the stovetop or in an air fryer or oven.
For serving, use large pasta or soup bowls. We want to fit plenty of veggies in these bowls!
Instructions
First, prep the ingredients.
Grains and beans: An easy way to make these bowls is to batch cook the grains and beans in advance. If you have a day that you're home long enough to make a big batch, you can have those beans and grains in the fridge for days (about four). This makes life during those four days so much easier. You can of course use canned beans, but there are advantages to using dry: they are a lot less expensive and I think they taste much better. That said, go for the canned beans if you're short on time.
Typically, beans and grains require different cook times, so usually its best to make separate batches. You may want to freeze big batches for future use, which can be handy.
Instead of beans, you can use tofu or tempeh cut into bite-sized pieces and heated in the oven or on the stove until golden.
Veggies: If short on time, pre-washed and prepped veggies from the store can help. Otherwise, wash all your veggies and prep each. Tear your lettuce and dark leafy greens, peel and/or chop your other veggies.
Dressing: Prepare your dressings according to instructions.
Sprinkles: Gather (and prepare, if necessary) the toppings you have selected.
Below is the way I like to serve these buddha bowls. Feel free to choose your own methods for filling the bowls.
Fill half of each bowl with greens.
Fill a quarter of each bowl with beans, tofu, or tempeh.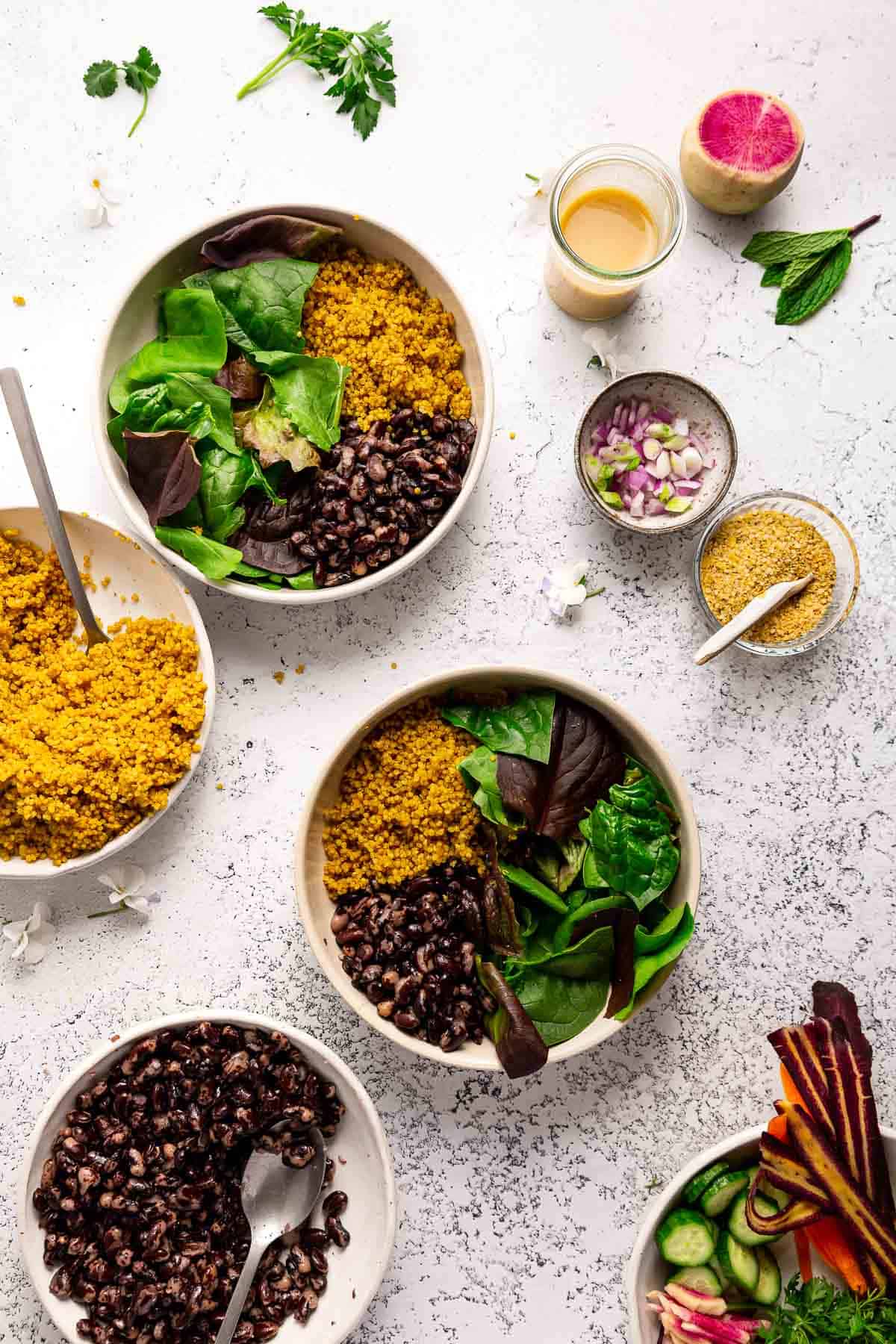 Fill a quarter of each bow with whole grains.
Add the additional veggies, toppings, and dressing.
Serving and Storing
Serve each bowl immediately. If packing a lunch, wait to add the dressing until ready to serve so the greens don't get soggy. Best eaten the same day, once assembled. The components can be placed in separate sealed, refrigerated containers for up to a few days.
Looking for more hearty main dishes?
These salad dressings and sprinkles go well with buddha bowls:
The Recipe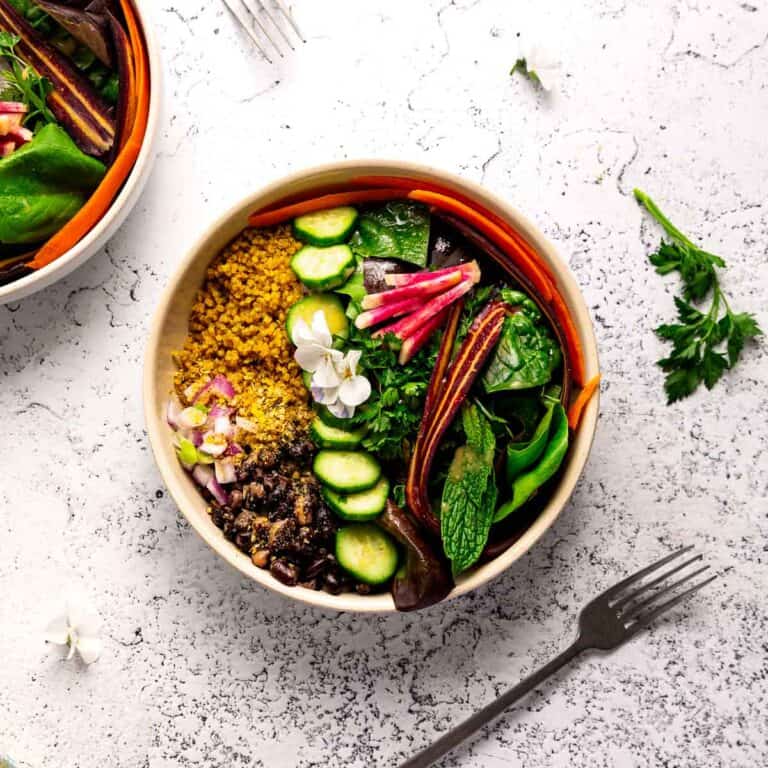 Vegan Buddha Bowl Recipe
Whole grains, vegan protein, and veggies come together with a tasty dressing and satisfying sprinkles. With the suggested dressings, they're oil-free, too.
_______________________________
Plant Diversity: Striving for 30 different plants per week
The number of plants in this recipe: At least 6 plants
Print
Pin
Rate
Equipment
knife and cutting board

(for veggies)

pressure cooker

or slow cooker, pot on stovetop (for beans or grains)

peeler

optional (for veggies)

air fryer

or oven or cooktop (for tofu/tempeh, if using)
Ingredients
3

cups

greens

any combo of lettuces, herbs, and/or dark leafy greens, torn or chopped

1 ½

cups

cucumbers

and other raw mixed veggies, preferably colorful, chopped

1 ½

cup

quinoa

or other whole grains

1

cup

beans

cooked, or prepared tofu or tempeh

¼

cup

dressing of choice

2

tablespoons

hemp seeds

or other sprinkles

salt & pepper to taste

optional
Instructions
Wash all the ingredients and prepare as desired, or according to package instructions. It helps to batch cook the grains in advance (and beans, if cooking).

Fill half of two large pasta or soup bowls with the greens.

Fill a remaining quarter of the bowls with the prepared whole grains.

Fill the final quarter of the bowls with the prepared beans, tofu, or tempeh.

Add the salad dressing and toppings, decorating the bowl with them as desired.

Serve immediately. Leftover ingredients can be kept separately in sealed refrigerated containers for up to a few days.

For a packed lunch: Alternatively, arrange in a portable container that can be kept chilled until served. Store the dressing in a small leak-proof container to be added when serving.
Notes
Feel free to add more (or less) of any ingredient - quantities are not set in stone and just depend on how hungry you are.
Note: Kitchen times are approximate and will depend on various factors, like your personal kitchen speed and how many hands you have working with you. Cooking can become a centering experience that brings family together. I hope you enjoy the ride!
See recipe post for more ingredient options.
Quinoa and some other grains can be prepared within the 20 minutes of general prep time.
general food safety
Cook to a minimum temperature of 165 °F (74 °C)
Do not use the same utensils on cooked food that previously touched raw meat
Wash hands and ingredients well before using
Don't leave food sitting out at room temperature for extended periods
Never leave cooking food unattended
Use oils with high smoking point to avoid harmful compounds
Always have good ventilation when using a gas stove
See more guidelines at USDA.gov.