Plus a review of the Nutr Machine!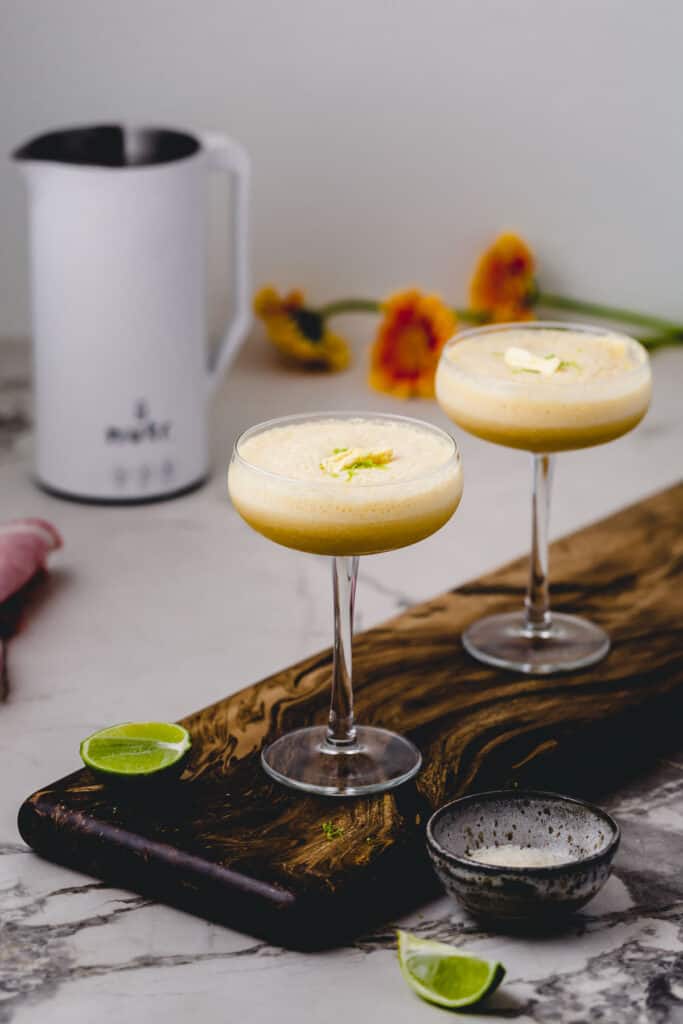 This piña colada cocktail recipe includes a mocktail option and is so quick and easy to make! Feel like you're somewhere tropical, no matter what your actual scenery is, with these pina coladas. So delicious and so simple! I used the Nutr Machine to make it and I review the machine in this post, currently available for pre-order in limited quantities (spoiler: I love it!). While you can also use a blender to make this recipe, I'll be using my Nutr from now on!
If you like piña coladas - this recipe is for you! Transport yourself to the tropics with this piña colada cocktail or mocktail, no matter where you are. It's made with just a few real-food ingredients and is so creamy and dreamy, bursting with pineapple-coconut goodness. When I take a sip, I find my shoulders relaxing and an urge to kick back, clink glasses with someone I love, and watch the sunset. It's that kind of drink.
Pina Coladas with the Nutr Machine or blender?
I made this recipe with the new Nutr machine and it was so easy breezy. Yes, a blender will work for this recipe, but I want to share with you what I love about this little machine, and why I'll be letting the Nutr do the work for me from now on to make these piña coladas, nut and oat milks, and more.
THIS RECIPE IS SPONSORED BY NUTR
I have used the Nutr machine and recommend it because I find it helpful, and any opinions shared here are my own. Your support of Beautiful Ingredient by purchasing through the Nutr affiliate links on this page (including images) or in the sidebar are greatly appreciated, and I hope you enjoy it as much as I do!
What is the Nutr?
The Nutr is a new nut milk machine that is also capable of making other drinks - even smoothies! It has options for making drinks that are warm, hot, or require no heat. It's very compact, so it's a wonderful alternative to a blender in small spaces or if you like to keep a minimal kitchen. It's ideal for when you want to make a small batch (1-2 servings) of plant-based milk on demand. And, one of my favorite features is that it includes a stainless steel strainer - no more nut milk bags, hooray! This is something I've been wanting to find for ages, and I'm happy to report it works well and the results are really wonderful!
What I love about the Nutr
Step Aside, Store-Bought Milk/Blender/Nut Milk Bag
This is a more sustainable, less-mess way to have delicious drinks like almond milk compared to store-bought - on demand! You can make them right at home with few ingredients in mere moments. Set it and let it do its thing. Unlike a blender, this machine runs hands-free once you push the button. It takes up much less space than a blender, too, so it is a wonderful alternative if you don't have one. Ok, I love my blender for many things, but for small-batch plant-based milks and frozen fruit drinks, I will now be using the Nutr.
The Nutr comes with helpful tools: 2 heavy duty stainless steel measuring spoons, the beloved stainless steel filter (so much better than a nut bag!), a strainer cap/rest, a cleaning brush, a recipe book, and even cute stickers!
Making something like almond milk is such a breeze compared to using a nut bag. Plus, there's a setting for Hot and Warm in addition to No Heat. Since it's currently summertime, I haven't tried Hot or Warm yet, but I can imagine how nice that will be in the fall and winter seasons!
I really love that I can make an oil-free oat or almond milk on demand in just a few minutes and then strain it with the included stainless steel strainer! Tip: I find stirring through the strainer with a spoon speeds up the process.
The strainer is really easy to clean, too! and just like with a nut milk bag, you can save the pulp to make energy bites or baked goods. The cute little pink-banded stainless steel cap works as either a strainer rest or a cap for it.
Nutr Fun Facts

• It's packaged with care in beautiful recyclable packaging
• The interior is stainless steel with a recyclable-plastic exterior
• It comes with helpful tools, from high-quality stainless scoops to the wood-handled bristle brush for cleaning, even a cookbook - and best of all, the stainless steel strainer!
• The machine is small and makes a great alternative to a blender for small spaces
• It's incredibly easy to use and clean
• It makes the process of making plant-based milk so easy on-demand
• Did I mention the stainless steel strainer? So helpful!
• It can make any kind of plant-based milk, including flavor additions and drinks with frozen fruit
• Nutr plants a tree with every product sold
Discount Code:
You can pre-order yours right now with my code for 15% off: BEAUTIFULDRINK15 (this code works for as long as it's posted here!)
Use code BEAUTIFULDRINK15 at thenutr.com
Check out the Nutr on Instagram: @nutrmachine #madewithnutr and share your beautiful Nutr creations with them!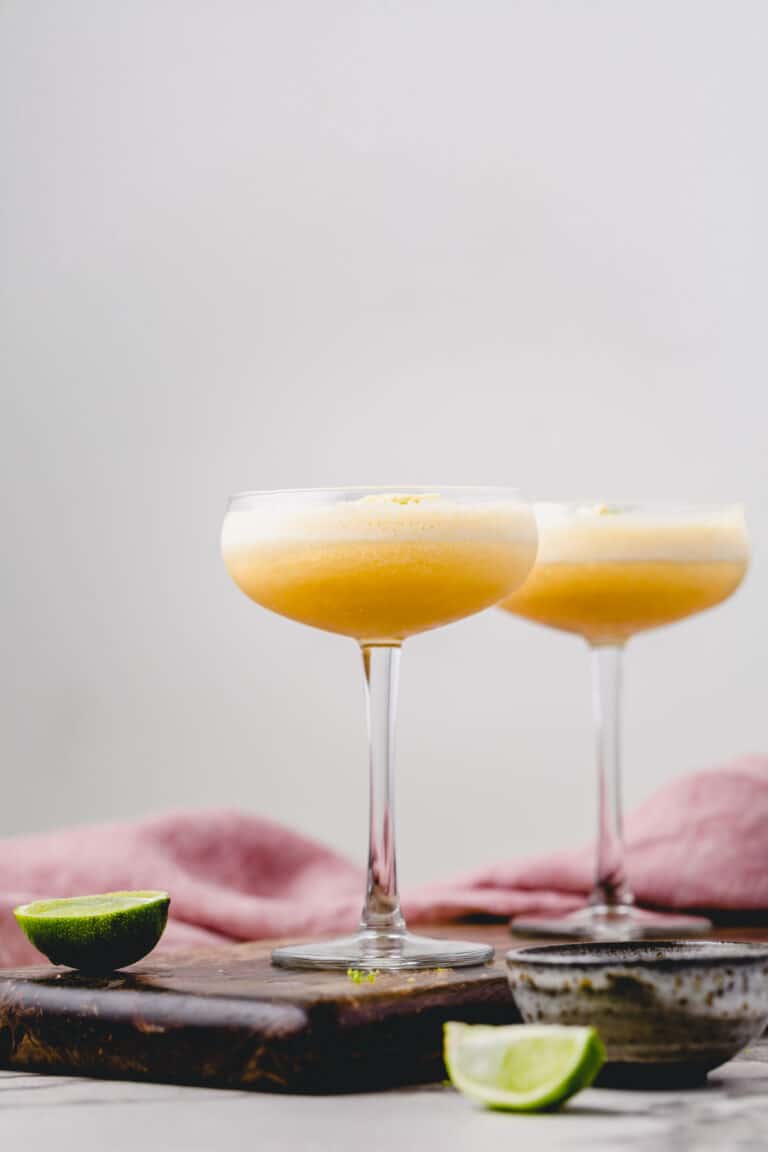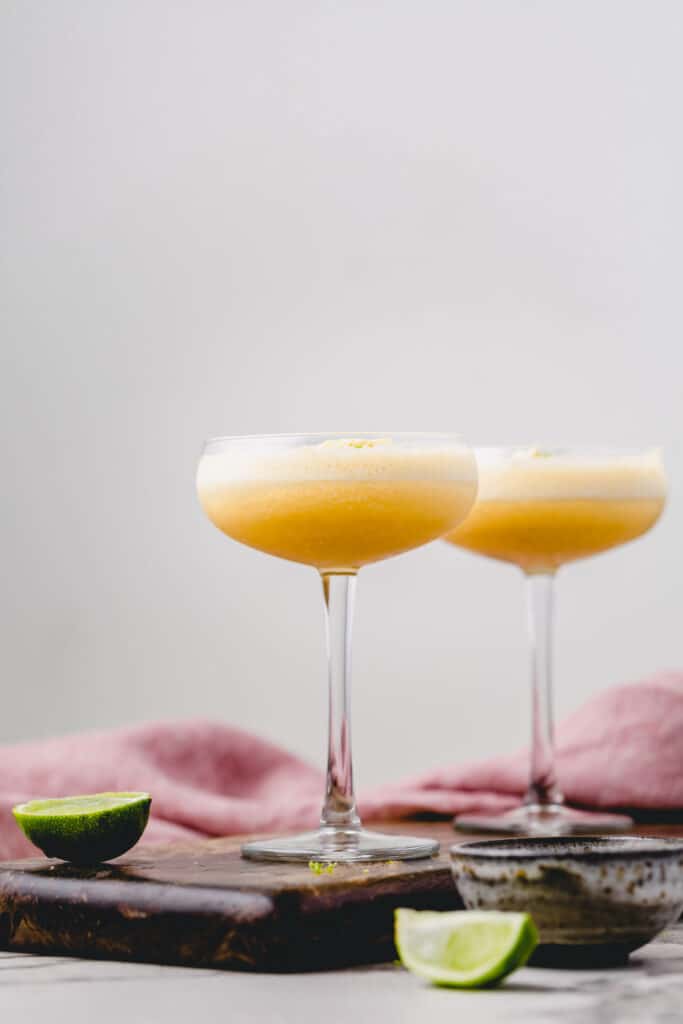 The Pina Coladas
This may be the start of a new tradition for you - the ultimate summer drink! When the temperatures hit 70 degrees each year from now on, don't be surprised when you suddenly start dreaming about this version of the piña colada! Drink it as a cocktail or a mocktail - just give yourself a break and enjoy the moment.
I've kept the recipe super simple with some options to help ensure you can make this whenever you'd like. No shredded coconut? Use coconut cream from your canned coconut milk. No maple syrup? Coconut sugar will work! Just make sure you have frozen pineapple in your freezer at all times and you're pretty good to go.
The lime zest really takes this drink to even another level, so I highly recommend. A fine grater will do the trick. And if you see freeze dried pineapple when you're shopping, grab some to make a fun garnish. The texture is fantastic! A pineapple ring would be fun, too.
Remember to drink responsibly. Cocktails intended for people 21 and older.
Make popsicles! Pineapple mint is a wonderful combination for this. Simply pour the prepared mocktails into popsicle molds and freeze.
Avoid freezing the cocktail version, since generally alcohol doesn't freeze and different types have different reactions to freezing, some of which can be dangerous.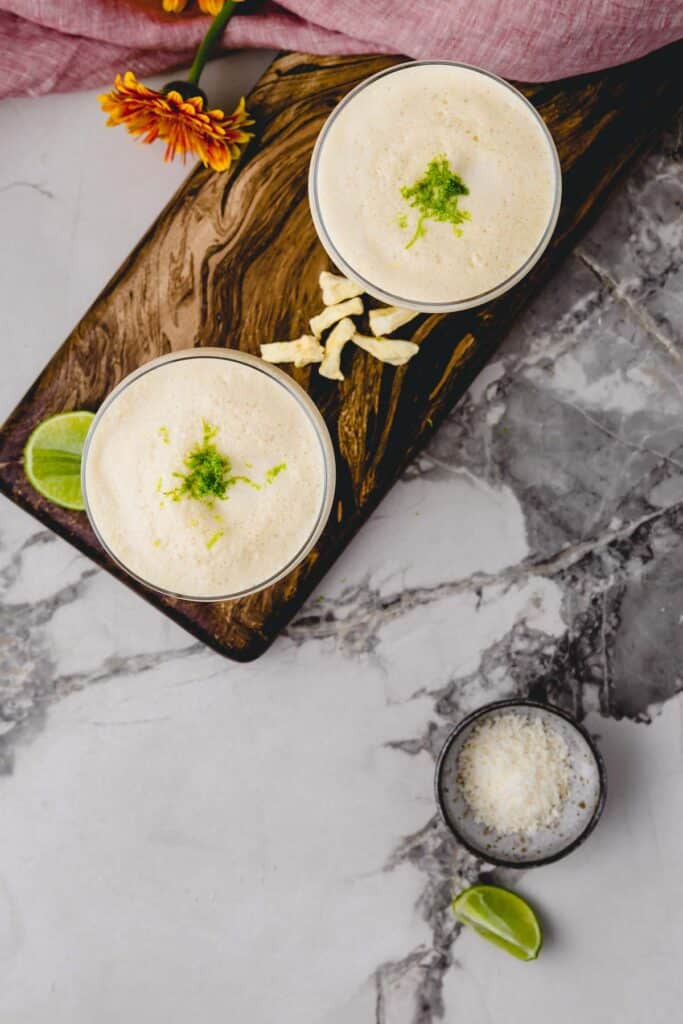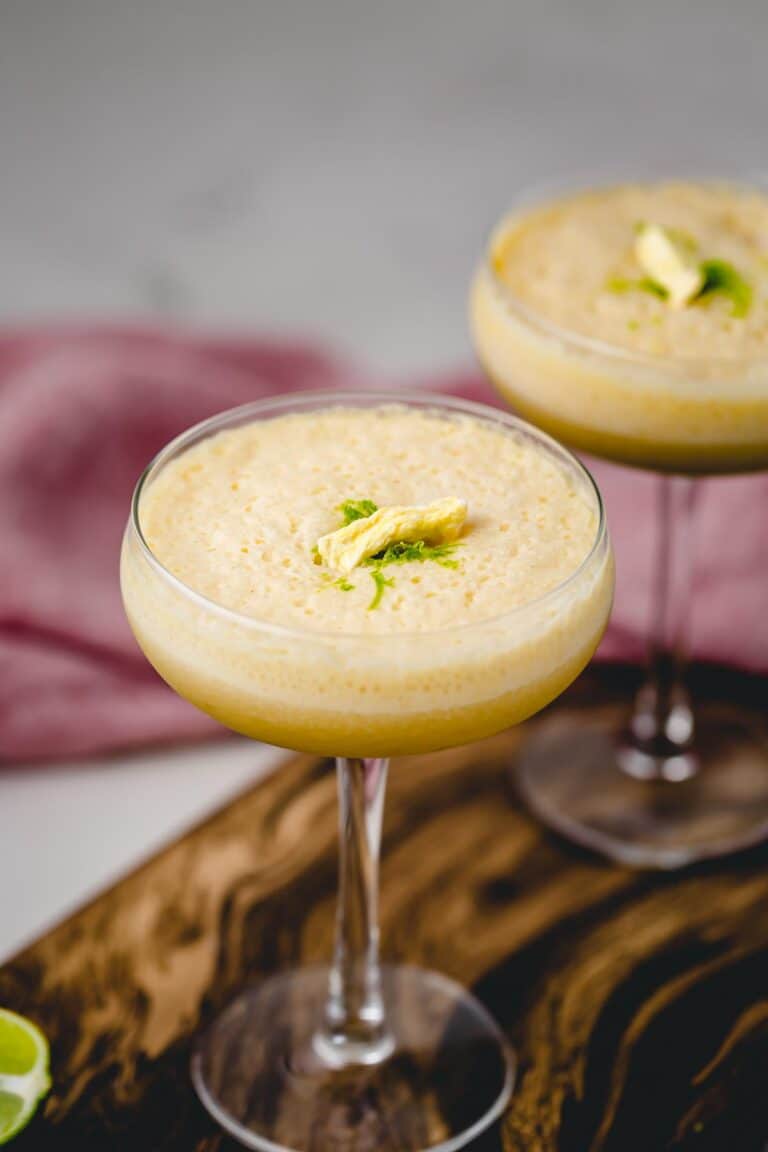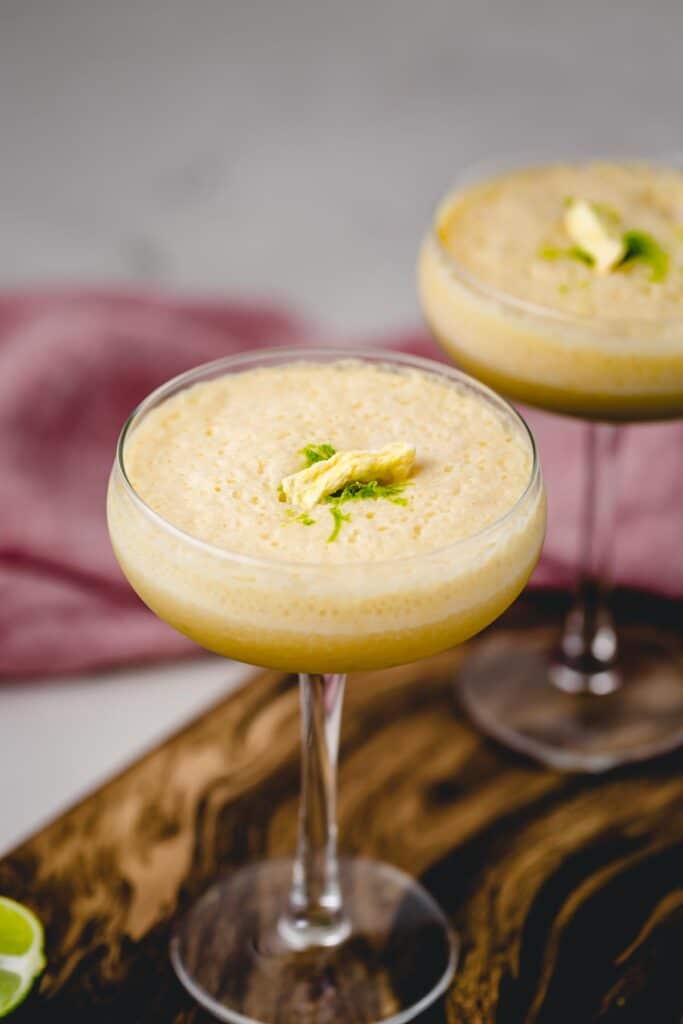 more cocktails and mocktails
The Recipe
Easy Piña Colada Cocktail (Mocktail Option) Recipe
Feel like you're in a tropical paradise without leaving your home with this piña colada cocktail or mocktail recipe, made using the Nutr machine or a blender. I also review the Nutr in this post (spoiler: I love it!). Remember folks, drink responsibly. Cocktails intended for people 21 and older.
Print
Pin
Rate
Equipment
The Nutr Machine or a blender
Ingredients
1

cup

frozen pineapple chunks

2

tablespoons

unsweetened shredded coconut

or coconut cream

1

tablespoon

maple syrup

or coconut sugar

2

tablespoons

rum

or up to 4 tablespoons. For mocktails, sub with 2 tablespoons maple syrup or coconut sugar.

filtered water
Garnish ideas
2

lime wedges

1

tablespoon

lime zest

2

freeze dried pineapple slices

2

sprigs

pineapple mint
Instructions
Add the pineapple, coconut, syrup, and rum to The Nutr Machine, then add enough filtered water to reach the Max line. Press no heat and let it run once. After it stops, press it again to run a second time, creating a smoother blend. Pour into two cocktail glasses and garnish as desired. Enjoy immediately.
For mocktails
Substitute 2 tablespoons maple syrup or coconut sugar for the rum.
If you don't have the Nutr machine
Use ½-1 cup of water to blend the ingredients in your blender until smooth.
Notes
Note:  The Nutr user manual recommends letting the machine rest for at least an hour after running the machine twice in order to prolong the life of the machine.
MORE COCKTAIL RECIPES