This flavor-packed vegan chili with greens requires very little hands-on time, thanks to the Instant Pot. Plus, this recipe requires no oil. Serve up a big guilt-free bowl and enjoy the benefits of its warming comfort, heartiness, and fiber-filled goodness.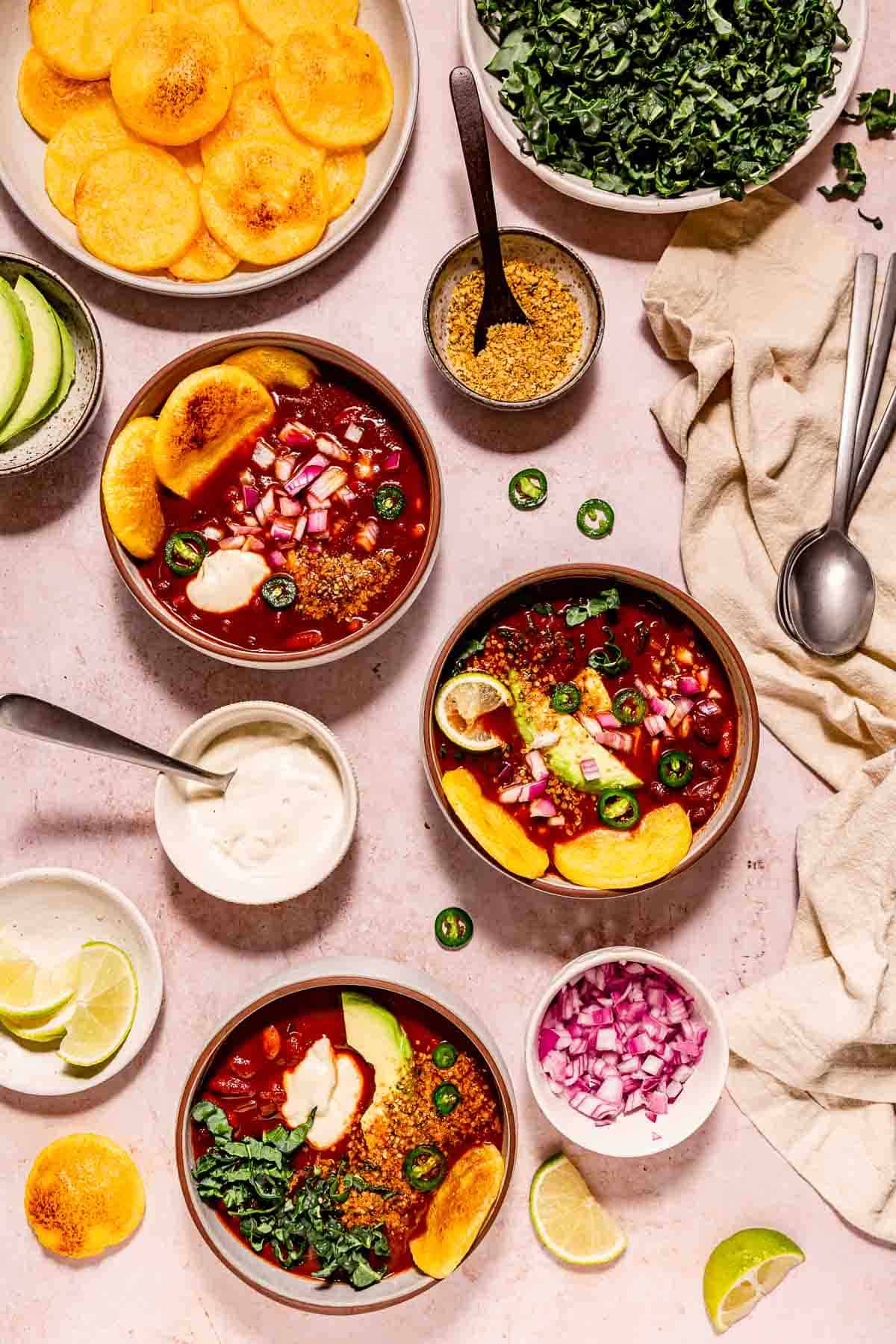 Meatless chili has been a family staple for decades. The recipe has varied a bit each time I make it, so it's nice to finally right a version down to refer to! I love making it in the Instant Pot now so that I can do other things while it cooks. Plus, it's an opportunity to save money by using dried beans. I was able to purchase organic dried kidney, black, and pinto beans at my local grocery store bulk bin for just $1.99 per pound.
This chili pairs really well with this tasty Smoky Hemp Heart Seasoning Mix.
Jump to:
Ingredients and Substitutions
This chili relies on classic ingredients with the bonus of greens like kale that can be stirred in after the cooking process. It may seem like a long list, but most are basic pantry staples and easily-found ingredients.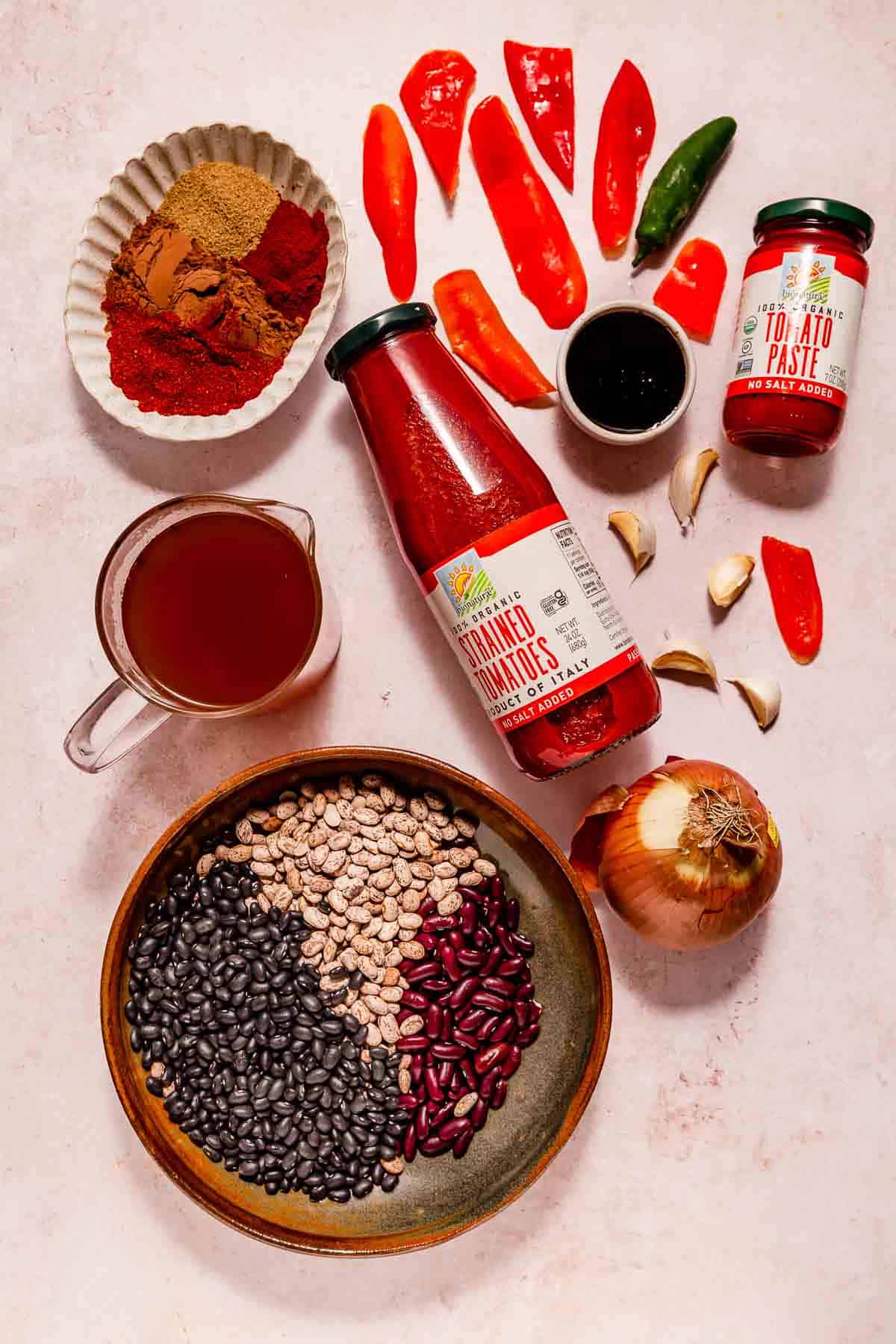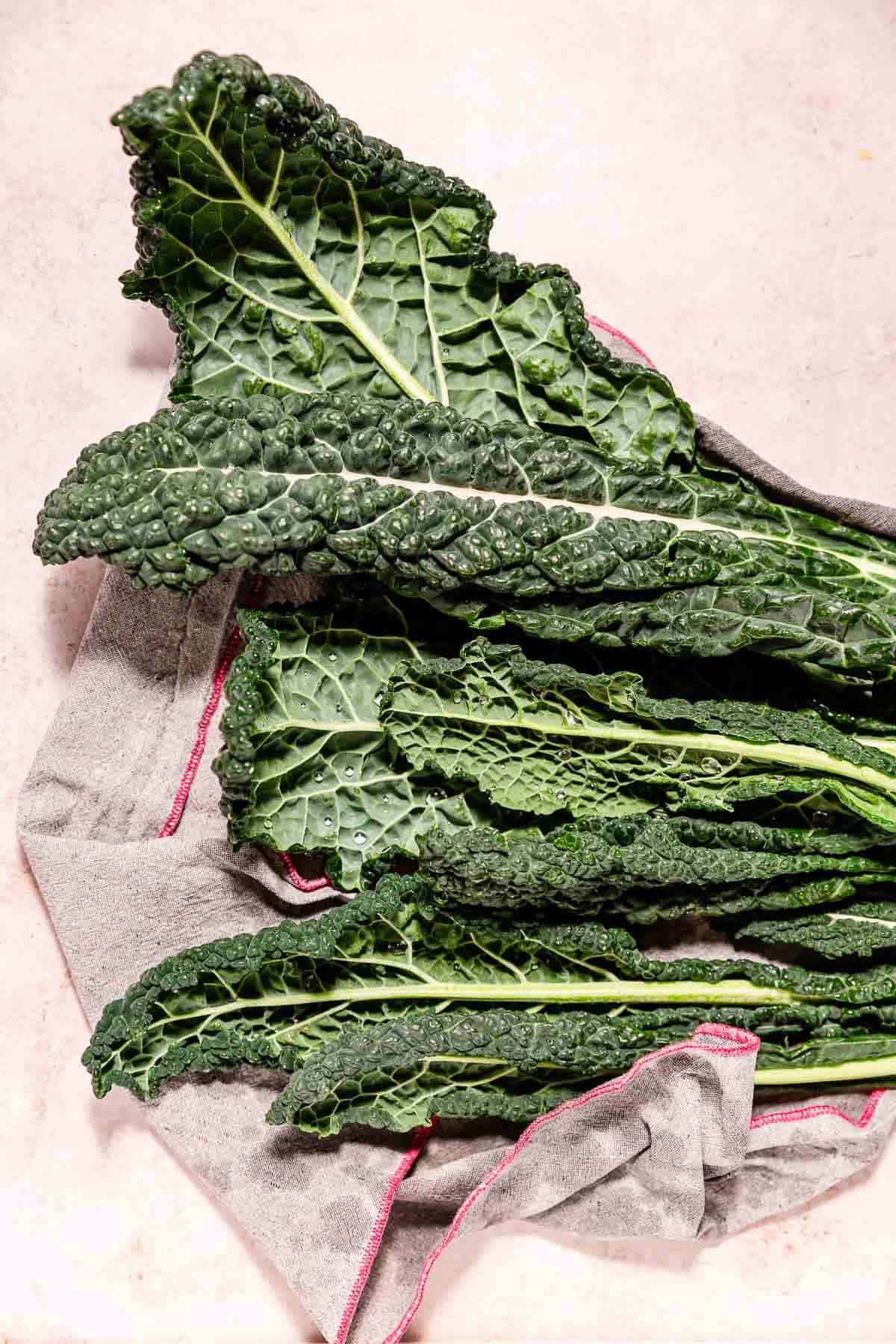 Dried beans: This chili is a classic three-bean version, with dry black, pinto, and red kidney beans. If you only have one of the three, substitute it for the other two - you'll still have a great chili. I've made it with other dried beans like soldier beans and had success, too.
Onion: A red, yellow, or white onion will do here.
Garlic: We're using a good amount of garlic to enhance the flavor of this chili.
Red pepper: This pepper provides a sweet addition; yellow or orange pepper could be used instead.
Jalapeno pepper: Such a wonderful flavor to add. Deseed if you don't want the hot spiciness. This is an optional ingredient, since they're hard to find in some places. The chili will still be great without, but I do recommend if you can find them.
Strained tomatoes: I prefer strained tomatoes over the typical canned diced, both because I like the smooth texture of strained and that they're typically sold in glass bottles rather than tins. That said, if you want to use the canned, you certainly can (hehe), in equal amounts.
Tomato paste: This adds such a nice sweetness to balance the chili.
Veggie broth and water: These provide the liquid base in the chili. The broth can typically bring enough saltiness to the chili so that there's no real need to add any salt, especially if you're topping it with lime juice and the smoky seasoning.
Blackstrap molasses: The smoky sweetness works well with the tomatoes and beans. This is an optional ingredient, since you will likely enjoy this chili with or without it. Optional.
Spices: Chili powder, cacao powder, cumin, smoked paprika, and coriander create a harmony of flavor and depth that makes this chili sing.
Kale: Chopped or shredded kale added to the prepared, hot chili ends up blending in and softening, adding a nice texture and more nutrients without affecting the flavor much at all. Other greens like spinach, cabbage could be substituted. I prefer kale for its texture.
See recipe card for quantities and suggested toppings.
Hot tip on peppers
When peppers are priced low, I stock up and keep them in the freezer to use in meals like this. I've found this works well with jalapeno, red, and other peppers. First, wash and dry them well. Then, for larger peppers, remove the core and stem and freeze in chunks on a tray. For smaller peppers, keep whole. Once frozen, place them in a freezer-safe container and store for up to a few months.
Instructions
The recipe card may look long, but the steps for making this chili are simple. The hands-on time is really just sautéing the veggies before adding all the ingredients. Piece of cake!
Soak the beans for at least eight hours.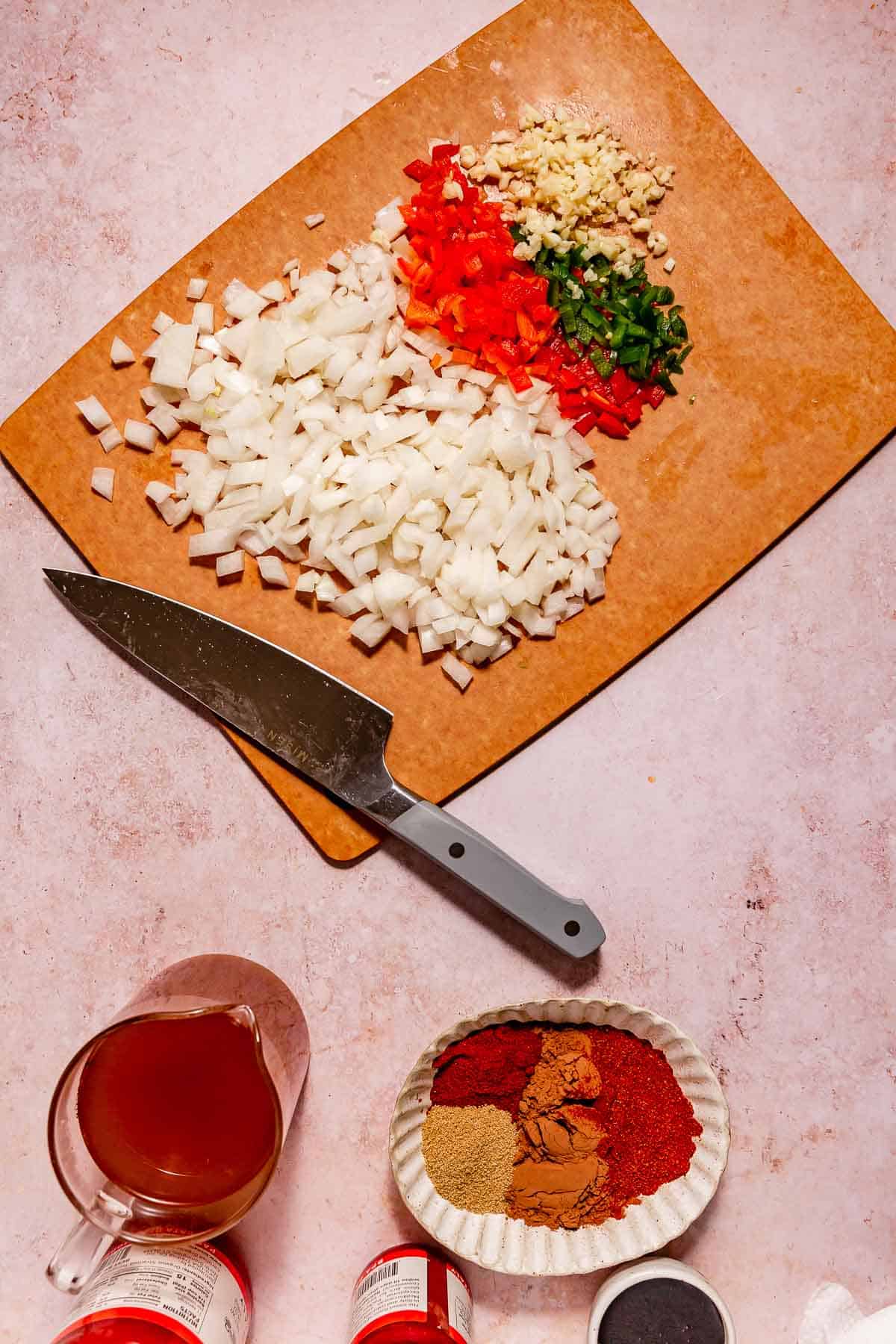 Chop the fresh ingredients (except greens).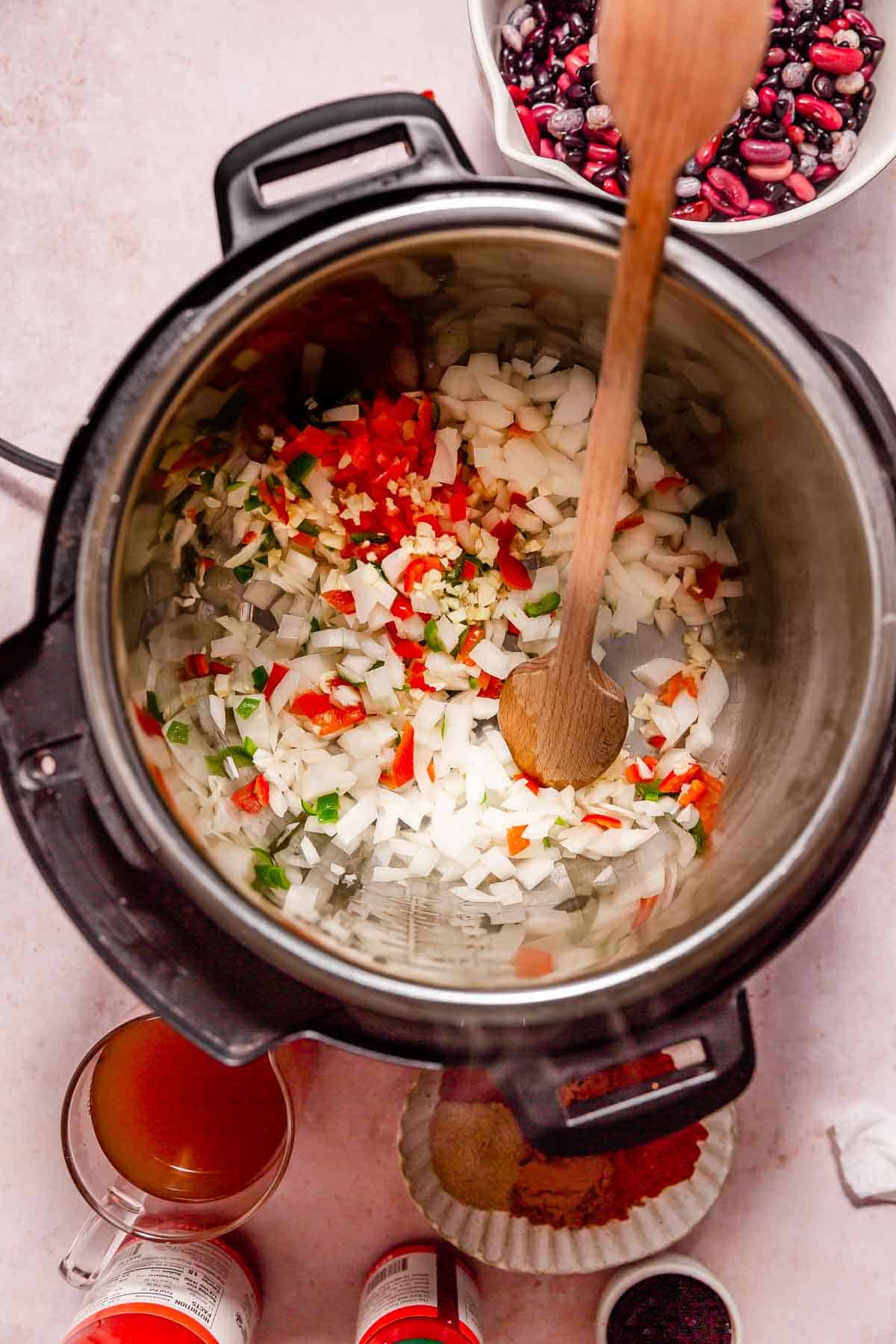 Sauté the fresh ingredients.
Add the remaining ingredients and set the Instant Pot to manual mode for 11 minutes. Let the pressure naturally release.
Once cooked, stir the chopped greens into the pot. If it won't all be eaten at once (in other words, if there might be leftovers), stir the greens into each bowlful.
Note: It can take 20-30 minutes for the Instant Pot to naturally release before you can remove the lid and begin serving.
Variations
Here are some ways you can vary this recipe to suit the needs of those gathering:
Spicy - keep the seeds in the jalapeno
Deluxe - use as many toppings as you can from the list in the recipe card
Kid friendly - remove the seeds from the jalapeno and use the smoother strained tomatoes rather than chunky.
Equipment
This recipe utilizes the Instant Pot, which is a wonderful tool for reducing hands-on time in the kitchen.
Storage
Once the chili has cooled to about room temperature (within two hours for food safety), store the chili in the fridge for up to a few days.
These ingredients do stand up well to freezing for up to a few months.
FAQ
Why vegan chili?
What's great about chili is that it is really filling without any meat. Plus, it's loaded with fiber, something Americans tend to not get nearly enough of.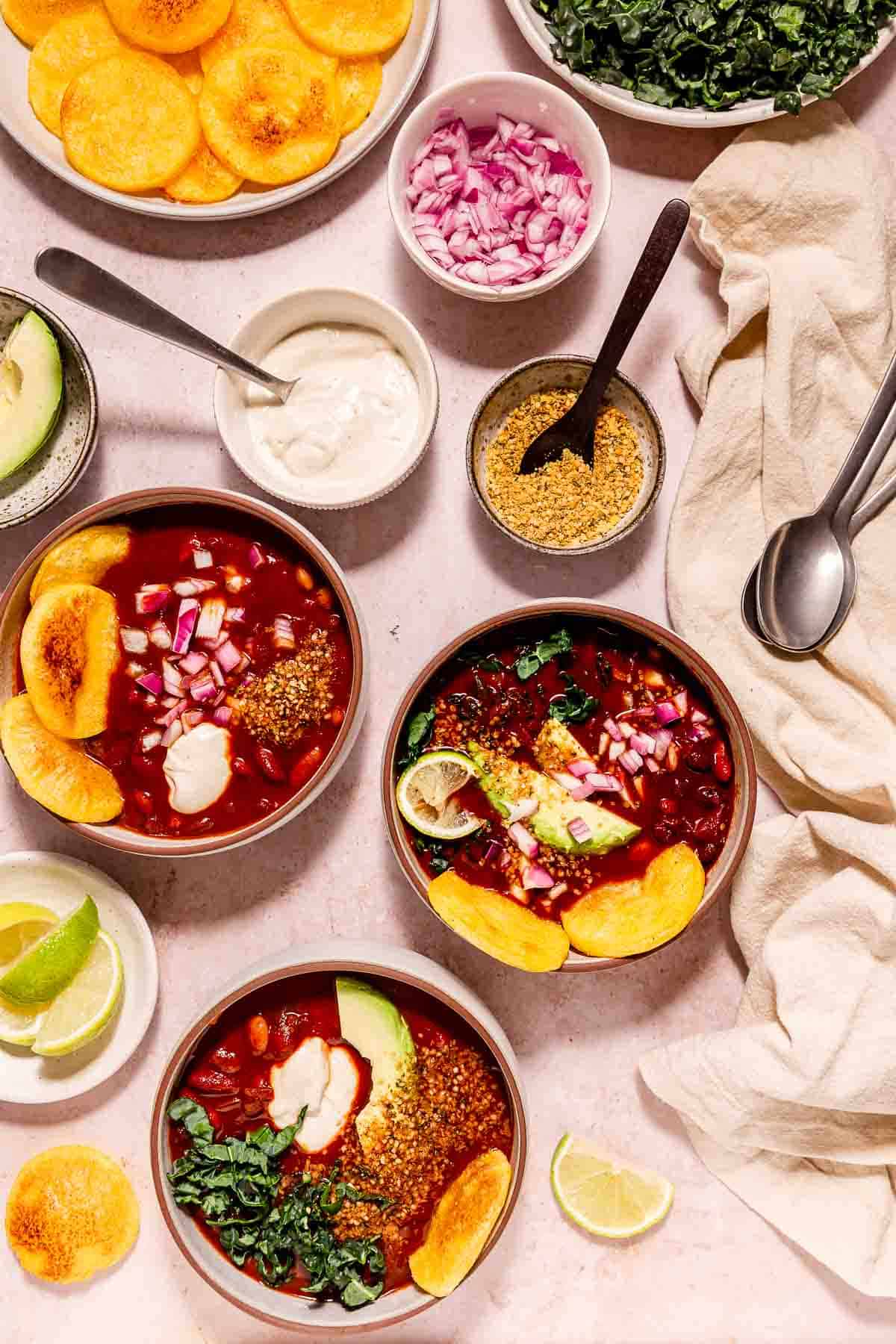 Related
Looking for other recipes like this? Try these:
Pairing
These are my favorite dishes to serve with [this recipe]:
The Recipe
Vegan Instant Pot Chili
This flavor-packed vegan chili with greens requires very little hands-on time, thanks to the Instant Pot. Plus, this recipe requires no oil. Serve up a big guilt-free bowl and enjoy the benefits of its warming comfort, heartiness, and fiber-filled goodness.
______________________
Plant Diversity: 9 different plants in this recipe (including kale topping)!
Print
Pin
Rate
Equipment
1 cutting board and chef's knife

for prepping onion, garlic, and peppers

1 Instant Pot
Ingredients
Beans
¾

cup

dried pinto beans

¾

cup

dried red kidney beans

¾

cup

dried black beans

or all one type of bean, or a mix of two
Veggies
1

onion

large

5

garlic cloves

1

red pepper

or other peppers

1

jalapeno pepper

optional
Spices
2

tablespoons

chili powder

2

tablespoons

cacao powder

2

teaspoons

coriander

2

teaspoons

cumin

1

teaspoon

smoked paprika
Liquids
1

24 oz

strained tomatoes jar

or diced if you like chunky

24 oz

water

fill the emptied strained tomato jar

1

7 oz

tomato paste jar

2

cups

vegetable broth

2

tablespoons

blackstrap molasses

optional
Suggested Topping
3

cups

kale

chopped/shredded, or other greens
Additional Topping Options
nutritional yeast

avocado

sliced or chopped

red onion

sliced, chopped, or pickled

jalapeño

sliced, chopped, or pickled

vegan cheese

such as Miyoko's cheddar

tortilla chips

crushed or whole

tortillas

rolled, torn, toasted or soft
Instructions
Sort through the beans to remove any stones or other debris.

Soak the beans covered in a couple inches of water for 8 hours (they can soak while you're at work, for example). This will help with digestion and reduce cooking time.

Chop the onion, peppers, and garlic.

Turn the Instant Pot on and push the Sauté button.

Add the chopped onions, peppers, and garlic, stirring frequently until the onions are translucent. This should be done within 5 minutes. No need for oil, it will be hot enough to stir them around without.

Turn the Instant Pot off once cooked.

Add the remaining ingredients, starting with the spices and ending with the beans.

Set the Instant Pot to cook on manual mode for 15 minutes. Make sure it is sealed.

When the Instant Pot is done cooking, let it naturally release pressure. This takes about 20 minutes. You'll know it's ready when the float valve drops and you can open the Instant Pot.

Warning: Open the lid away from you, so you keep your face out of the hot steam.

Stir the kale into each bowlful a couple minutes before eating. If all of the chili will be eaten at one meal, stir it into the pot instead. Add additional toppings, if desired.

Store any leftovers in jars or other sealed containers. Keep for a few days in the fridge or store in freezer safe containers and keep in the freezer for up to a few months.
Notes
Note: The time estimate above is not including the time an Instant Pot takes to naturally release pressure. This can be 20-30 minutes. What's nice is that this is hands-free time for you to do other things.
The fiber estimate is including the kale topping (not other toppings).
general food safety
Cook to a minimum temperature of 165 °F (74 °C)
Do not use the same utensils on cooked food that previously touched raw meat
Wash hands and ingredients well before using
Don't leave food sitting out at room temperature for extended periods
Never leave cooking food unattended
Use oils with high smoking point to avoid harmful compounds
Always have good ventilation when using a gas stove