Feel like you're at the spa while at home with this fresh mint flavored water recipe. So refreshing and so easy to make!
Trying to drink more water? I hear you, it's not very exciting - unless it's flavored with a few sprigs of fresh mint! The flavor difference between plain water and mint-infused water is pretty amazing. It really only takes a few sprigs, too.
Why drink more water?
Have you ever noticed how you feel when you don't drink enough water? I know that being dehydrated can make me feel tired, sluggish, achy, and unenthusiastic about the day. When I drink water throughout the day, I feel energized. It benefits our whole bodies, including our brains.
Tips for drinking mint water
Fresh mint can be grown at home (it tends to take over, so I keep mine in a pot on our deck) or found at your local farmers market or grocery store. It may feel like a big splurge to buy a little pack of fresh mint for a few dollars, yet the benefits of drinking more water and really enjoying it are huge - and it's far less expensive than soda or sparkling water. Try it - it's so worth it! I like to fill a large pitcher with filtered water and a few sprigs of fresh mint and keep it with me to fill my glass throughout the day. If you want to conserve on how much mint you use, you can alternatively place a few mint leaves in a glass or water bottle if you're on the go and have another water source you can easily fill it with. The key is to make it easy to keep drinking the water or it may not happen. And you're going to want it to happen because mint water is so delicious! Enjoy nibbling on a mint leaf now and then - an extra perk!
water safety
It's important to wash anything that's going into your water well. Wash your hands and produce well; soaking fruit and veggies for 5 minutes and then rinsing can help remove anything that shouldn't be in your drinking water.
Be sure to drink water with fresh produce in it within two hours. If you're not going to be done by then, place it in your fridge until you're ready to drink more. You can keep a pitcherful in the fridge and just keep pouring it into a glass when needed; it will stay nice and cool that way. Otherwise, keep it ice cold with lots of ice.
There can be a lot of stuff we'd rather not be drinking in tap water. Using filtered water helps remove it.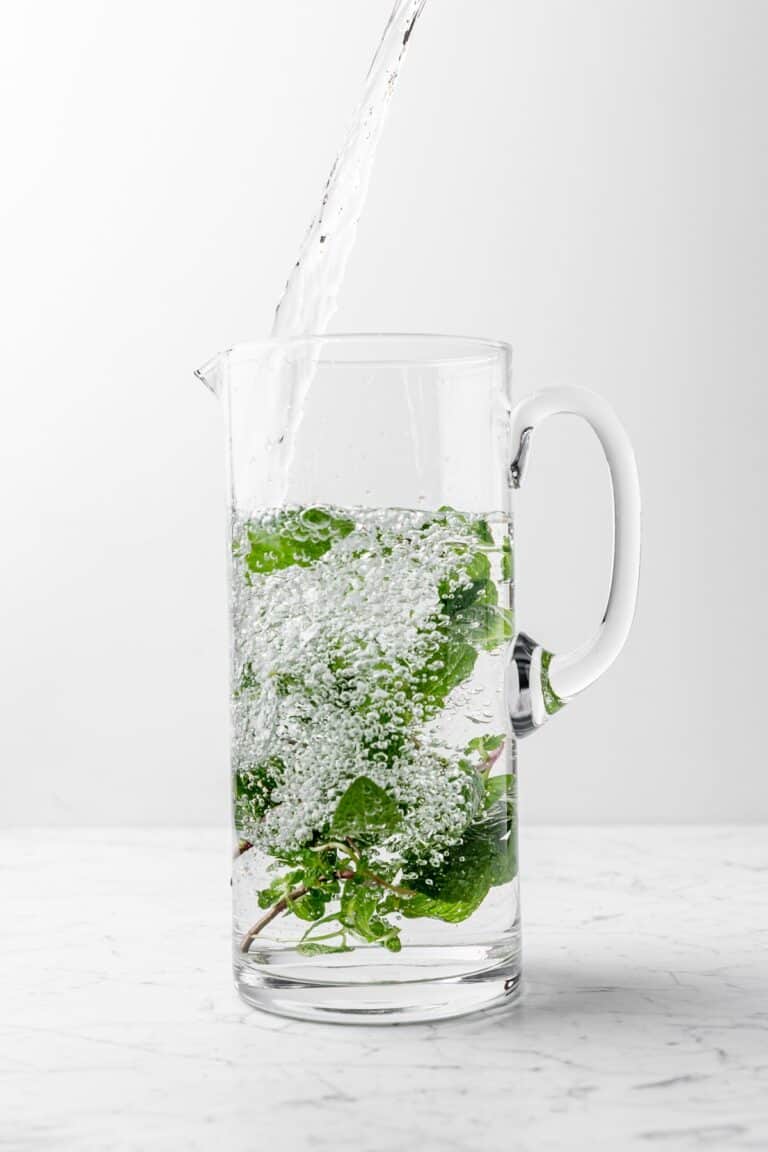 More flavored waters
The Recipe
Mint Flavored Water
Feel like you're at the spa when you're at home with this easy mint flavored water recipe. So refreshing! Fresh mint water is super quick and easy to make and well worth it! You don't need much mint to enjoy this delicious flavored water.
Print
Pin
Rate
Ingredients
3

sprigs

mint

Only have a few leaves? That works - place them in your glass instead of a pitcher.

64

ounces

filtered water

or more
Instructions
Simply wash the mint and place it in a tall pitcher. Fill the pitcher with fresh water and enjoy throughout the day. Refill the pitcher as desired.
Notes
Note:  Muddling the mint brings out more flavor:  Use a long spoon or chopstick to press on the mint and tug it around a few times to bruise it and release flavor.
The conversions and nutrition information are calculated automatically and I cannot guarantee the accuracy of this data. I encourage you to confirm this information with your favorite unit conversion/nutrition calculator if you would like to be more certain.