Strawberries and kiwi make such a wonderful combination, especially as a flavored water! Easily infuse your water with these lovely fruits and skip the expense and waste of store-bought bottled water and the sugar of soda. Strawberry kiwi water is a beautiful way to hydrate, benefiting you and the planet!
The next time you're thirsty, wouldn't it be nice to drink a refreshing fruity drink that doesn't involve loads of sugar? Something that can be made quickly and easily, without a lot of fuss, taste delicious, and be beautiful all at once?
Flavored water is such a great choice for a thirst-quenching, lovely drink. This kiwi strawberry combination is particularly nice, with lots of color and fruity flavor.
Ingredients
We just need three ingredients, and the quantity can be whatever you'd like.
Strawberries: If using fresh strawberries, slicing them can help them emit more flavor. Frozen strawberries don't have to be sliced.
Kiwi: Slice your kiwi however you'd like. If freezing kiwi for later use, be sure to slice it instead of freezing it whole so that the kiwi can release its flavor.
Water: A good filtered water is best, not only for flavor but for health reasons. While the recipe suggests quantities, I encourage you to discover the ingredient balance that you like the most.
Let's make strawberry kiwi flavored water!
Barely a recipe, we're just adding fruit to a pitcher or glass of water. Pressing, aka muddling, the fruit can help enhance the infusion and is highly recommended. Simply use a muddling tool or a utensil, like a spoon or chopstick. This will help the flavors infuse right away; still, the longer the fruit is in the water, the more the flavors will strengthen.
Infused water has a subtle flavor, in general. The more fruit you add, the more flavor you will experience. Start with a small amount, as in the recipe, and add more from there to find your ideal balance.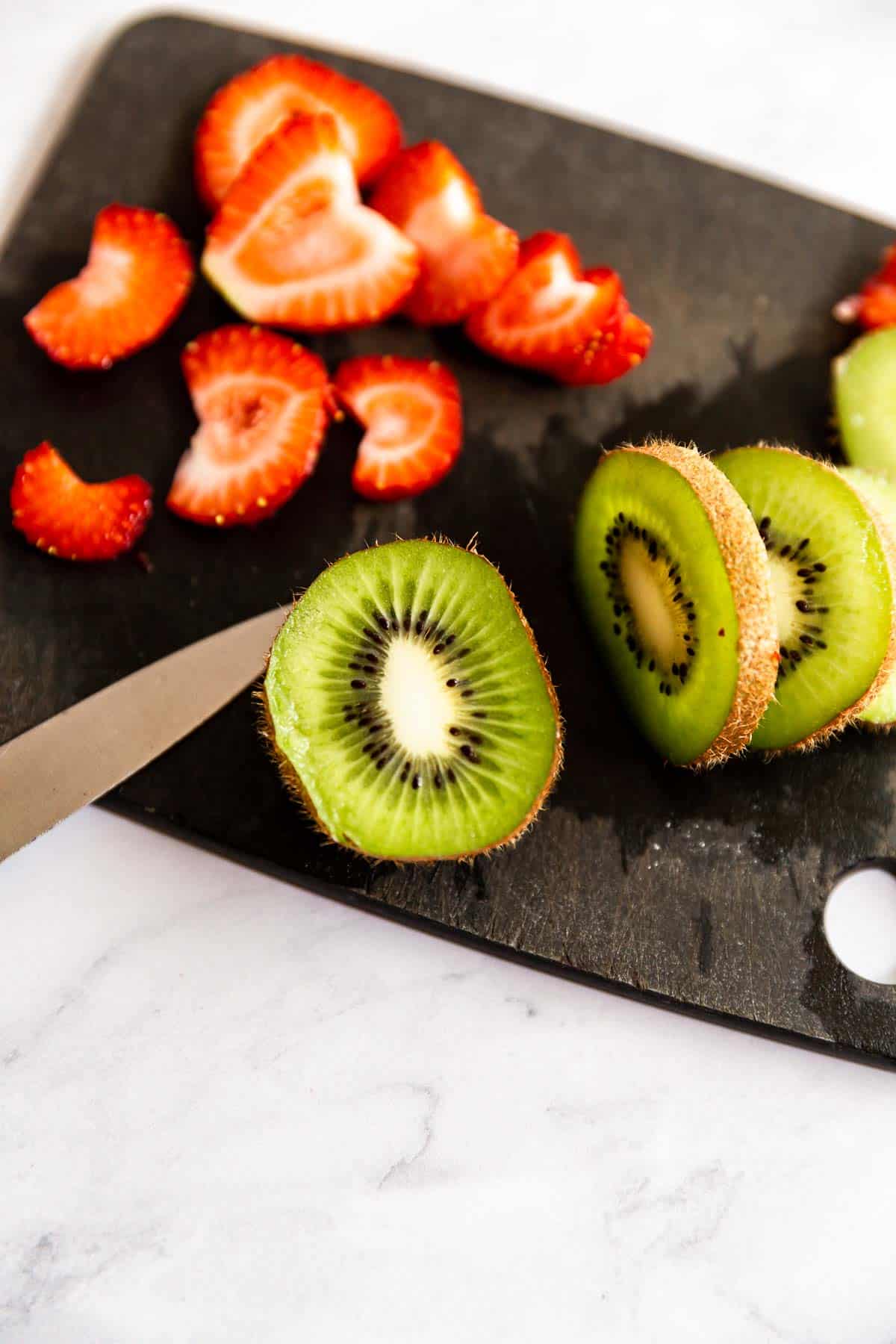 pour
Pause to muddle when the pitcher is about as full as the middle picture below.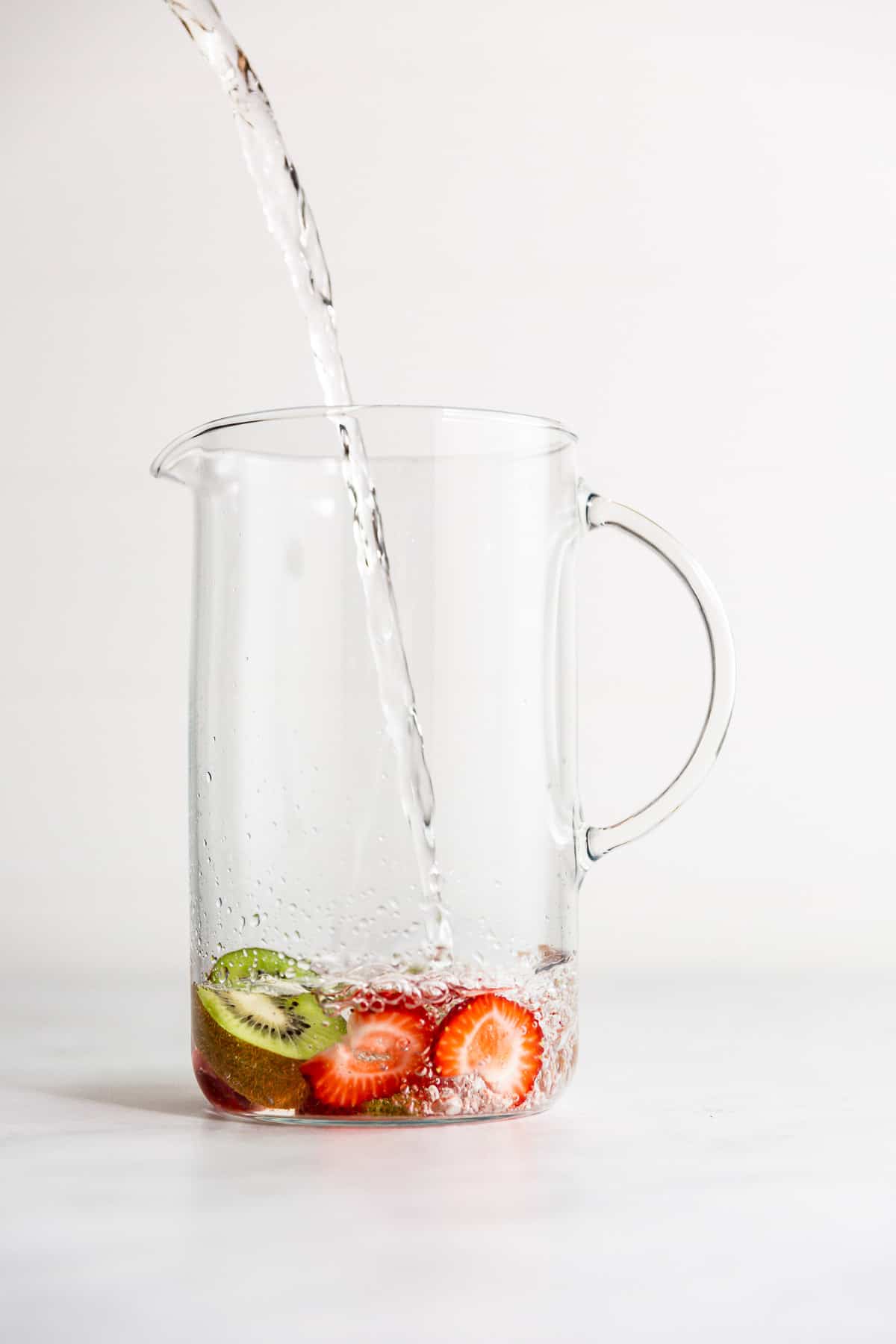 Place the sliced kiwi and strawberries in a pitcher. Add water...
...until the pitcher is filled. Keep chilled when not in use.
muddle
When the pitcher is ¼-1/3 full, muddle with a muddler or utensil.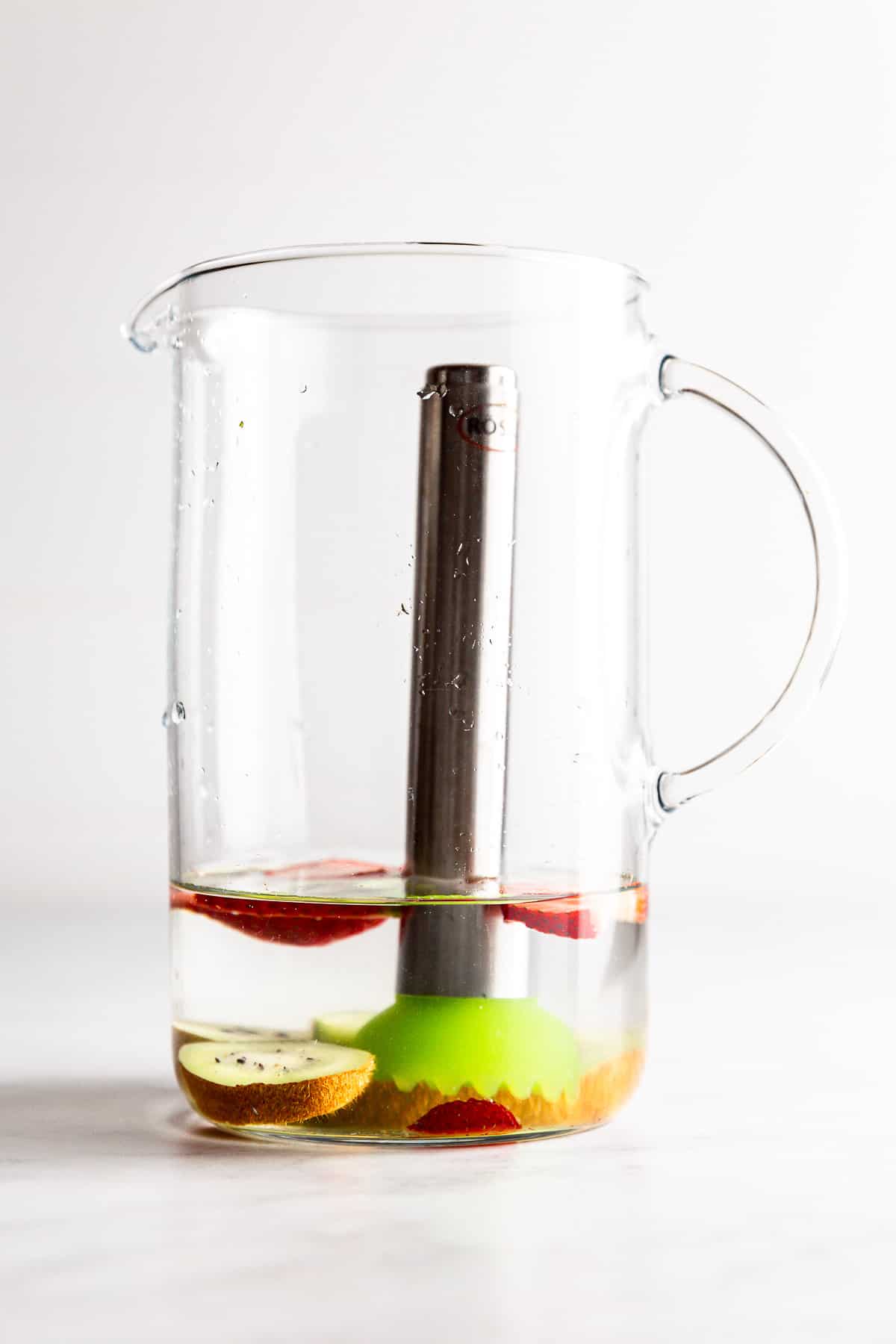 Serving options
Flavored water like this can be made and served in a glass, pitcher, or portable water bottle. I love bringing my infused water everywhere I go!
water safety
It's important to wash anything that's going into your water well. Wash your hands and produce well; soaking fruit and veggies for 5 minutes and then rinsing can help remove anything that shouldn't be in your drinking water.
Be sure to drink water with fresh produce in it within two hours. If you're not going to be done by then, place it in your fridge until you're ready to drink more. You can keep a pitcherful in the fridge and just keep pouring it into a glass when needed; it will stay nice and cool that way. Otherwise, keep it ice cold with lots of ice.
There can be a lot of stuff we'd rather not be drinking in tap water. Using filtered water helps remove it.
More flavored waters
The Recipe
Strawberry Kiwi Flavored Water
Strawberry-kiwi is such a wonderful combination, especially as a water flavor! Easily infuse your water with these lovely fruits and skip the expense and waste of store-bought bottled water and the sugar of soda. A beautiful way to benefit you and the planet!
____________________________________
# of different plants in this recipe: 2
Print
Pin
Rate
Equipment
Water pitcher

2 quart/8 cup
Ingredients
2

strawberries

fresh or frozen (or more if desired)

½

kiwi

(or more if desired)

8

cups

water

filtered
Instructions
If using fresh strawberries, slice them. Leave frozen whole or cut in half.

Add the fruit to a 2 quart pitcher, then pour in the filtered water until the pitcher is about a ¼-1/3 filled. Muddle the fruit, then finish filling the pitcher.

For one person to drink throughout the day, or share as desired. Add more fruit as desired. Keep chilled to keep the fruit fresh.
Notes
Beautiful Ingredient offers nutritional information for recipes on this site as a courtesy. The calculations are automatically provided by an outside service, which at times may not have a reference for every exact ingredient precisely as intended.  Therefore, while accuracy is attempted, calculations should be considered rough estimates.
Note: The nutrition calculations are based on one person eating the fruit. You may not want to eat the fruit after its been infusing all day as it will have lost a lot of its flavor - but totally up to you!