A red, white, and blue star spangled drink for the 4th of July that's simply berry and herb-infused flavored water!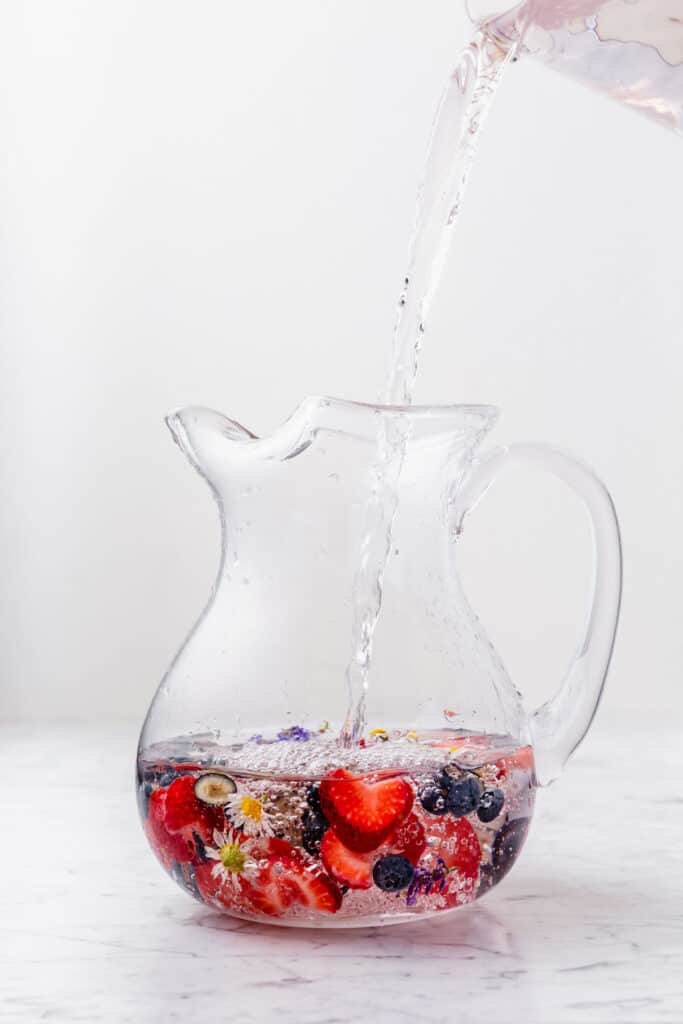 Looking forward to getting together with friends and family this Fourth of July? Me too! At ours, everyone brings food to share, and this year I'm keeping it simple yet festive: a beautiful yet simple salad with herbs and edible flowers from my garden, cut veggies with my family's favorite hummus, and a big dispenser of this red, white, and blue drink - it's like a pitcher filled with beautiful fireworks, yet it's so easy to do!
What makes this a red, white, and blue drink
Natural ingredients create the colors of this flavored water:
Red: strawberries
White: chamomile flowers (or coconut chips, or white chia seeds)
Blue: blueberries and lavender (optional)
Tips for making Star Spangled Water
• Keep it simple. If you don't have access to chamomile flowers, no sweat! Try coconut flakes or chips. It's beautiful and festive with just strawberries and blueberries, too.
• Have extra water available to refill the pitcher. The flavors will be milder but still there and pleasant when refilled. You can always add more ingredients for more flavor.
• Have extra strawberries on-hand to refresh, especially for a long gathering. The strawberries tend to fade over time. If you prefer to remove the old strawberries, bring along a spider strainer, skimmer, or tongs to remove them.
• To bring out the most star-spangled goodness, slice blueberries in half to reveal the starburst pattern inside. The chamomile flowers also read as little stars. Feel free to add any other edible red, white, and/or blue flowers that resemble stars, too.
water safety
It's important to wash anything that's going into your water well. Wash your hands and produce well; soaking fruit and veggies for 5 minutes and then rinsing can help remove anything that shouldn't be in your drinking water.
Be sure to drink water with fresh produce in it within two hours. If you're not going to be done by then, place it in your fridge until you're ready to drink more. You can keep a pitcherful in the fridge and just keep pouring it into a glass when needed; it will stay nice and cool that way. Otherwise, keep it ice cold with lots of ice.
There can be a lot of stuff we'd rather not be drinking in tap water. Using filtered water helps remove it.
Serve the whole crowd
If you have a large group (more than the recipe's 8), use a big water dispenser and double or triple the recipe to suit your needs!
More flavored waters
The Recipe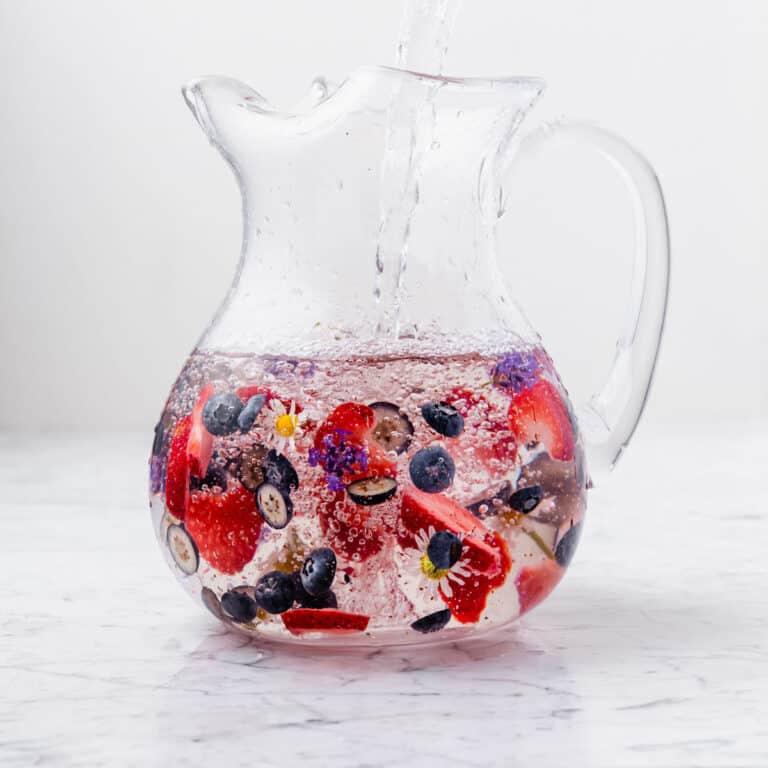 Red, White, and Blue Flavored Water
This red, white, and blue drink is like a pitcherful of fireworks, yet it's so easy to make - it's simply water infused with berries & herbs. Beautiful, refreshing, festive, and so simple!
Print
Pin
Rate
Equipment
A large pitcher/water dispenser (2 - 3 quarts)
Ingredients
5

strawberries

organic/pesticide-free if possible

½

cup

blueberries

organic/pesticide-free if possible

10

chamomile flowers

optional - or use a few tablespoons of coconut chips

5

lavender flowers

optional

2 ½

quarts

filtered water

or up to 3 quarts per recipe
Instructions
For each strawberry, pull the stem off, then carefully cut out the bit of stem remaining so that it indents like the top of a heart. Holding the strawberry upright, slice the strawberry top to bottom so that the slices resemble hearts. You should have 3-4 slices per strawberry.

Slice each blueberry in half horizontally.

Place all the washed, prepared ingredients into the pitcher, then fill with water. (If traveling, wait to do this at your location so that it doesn't spill!)

The strawberries can fade over time, so having extra to replenish can be helpful. If you'd like, remove the original strawberries with tongs or strainer when adding the new.
Notes
Note:  Feel free to add more ingredients if you'd like - too much, however, can make the water bitter.