What's great about this simple baked sourdough stuffing? For starters, it's probably the simplest stuffing you'll ever make. You can assemble all the ingredients right inside the 9x13 baking dish. Also, this is a stuffing (or some call it "dressing") that is toasty and crispy while just a tad ooey gooey, thanks to being baked in its own dish instead of stuffed in a bird. It can feed a crowd, yet can be made for under $10. Most diets are satisfied with this recipe, including vegan, whole food plant-based, and oil-free lifestyles. Even some people who eat gluten-free can eat sourdough!
Stuffing was a Thanksgiving dish I really missed when I first went fully vegan. Then, I experienced one that hadn't been stuffed into the turkey and was happy to realize it doesn't need to be! In fact, I think baked in its own baking dish is so much better - not just because it avoids being full of turkey innards. The texture is wonderful; it's a bit crispy instead of totally soft and mushy. It tastes so fresh by comparison and still very classic for the Thanksgiving feast.
I was inspired to use sourdough after discovering that a family member, who will be at the Thanksgiving table and has needed to stay away from gluten, can actually eat sourdough without the same issues that other gluten-containing foods have caused. More about gluten intolerance and sourdough can be found here.
Keep in mind, this recipe is designed to be a holiday treat and does not contain as much nutrition or fiber (unless you're using homemade sourdough with high-fiber flours; if so, I commend you!) as my typical recipes.
Sourdough stuffing pairs really well with my gravy recipe on this site. I also have a quick and easy fresh cranberry orange relish and air fryer roasted brussels sprouts to help round out the meal. You can find even more options in this collection of 21 easy Thanksgiving dinner recipes!
Jump to:
Ingredients
This recipe is all about keeping it simple. Below is a list of the ingredients. The one possibly hard-to-find ingredient can be substituted or omitted, as indicated below.
sourdough bread
onion granules
garlic granules
mushroom-based umami seasoning mix (pictured above is from Trader Joe's)
vegetable broth
fresh sage
fresh rosemary
fresh thyme
flake salt
ground pepper
See recipe card for quantities.
Substitutions
If you're missing certain ingredients, you can still make this recipe!
Sourdough - If you don't have access to sourdough, other unsliced breads can be used. Sliced breads tend to be to small, which would cause the pieces to get too soaked. We want nice, big chunks of bread for this recipe!
Onion & garlic granules - You can use fresh onion and garlic, if preferred. About one medium onion and four cloves of garlic could be substituted. Note: this would require adding the step of cooking the onion and garlic before adding it to the bread mixture.
Umami seasoning mix - There are different versions of this out there, which will provide different results. I used the one from Trader Joe's. You could use a culinary mushroom powder and pinch of salt as an option. The mushroom is the key to umami, providing a "meaty" depth of flavor to the stuffing. No stress if you don't have any of the above; simply omit it. Since the umami mix contains salt, add a pinch if you feel it needs it.
Vegetable broth - You could also use mushroom broth, which would provide a deeper, rich flavor. If using unsalted broth, remember to provide enough seasoning to compensate. Trying to keep it low salt? You could try adding a little vinegar or lemon instead.
Herbs - I highly recommend fresh herbs! They provide a huge leap in flavor by comparison. That said, dried herbs can be used instead, if needed.
Flaked salt & ground pepper - Maldon flaked salt is ideal to sprinkle on top of this dish; however, any salt can be used. Any mix of ground pepper is nice freshly ground on top. If you only have pre-ground black pepper, that's fine. The salt and pepper can also be omitted, if necessary.
Suggested toppings - Additional fresh herbs, a drizzle of olive oil (if not avoiding oil), a sprinkle of nutritional yeast - any and all of these make great toppings!
If watching salt: There is typically a lot of salt involved at the Thanksgiving dinner table. A nice way to reduce salt while still keeping this dish singing with flavor is to use a low-sodium broth, mushroom powder without the salt, and just the small amount of flake salt sprinkled on top.
If avoiding oil: Note that bread, broth, and other prepared ingredients often contain oil. Check ingredients lists to make sure.
Instructions
I made a point of making this a super simple recipe. Everything is assembled right inside the 9x13 baking dish! Hopefully, you will find it helps you reduce at least a little stress around the big holiday.
Simply cube the bread and place it in a 9x13 baking dish. Top with the minced fresh herbs.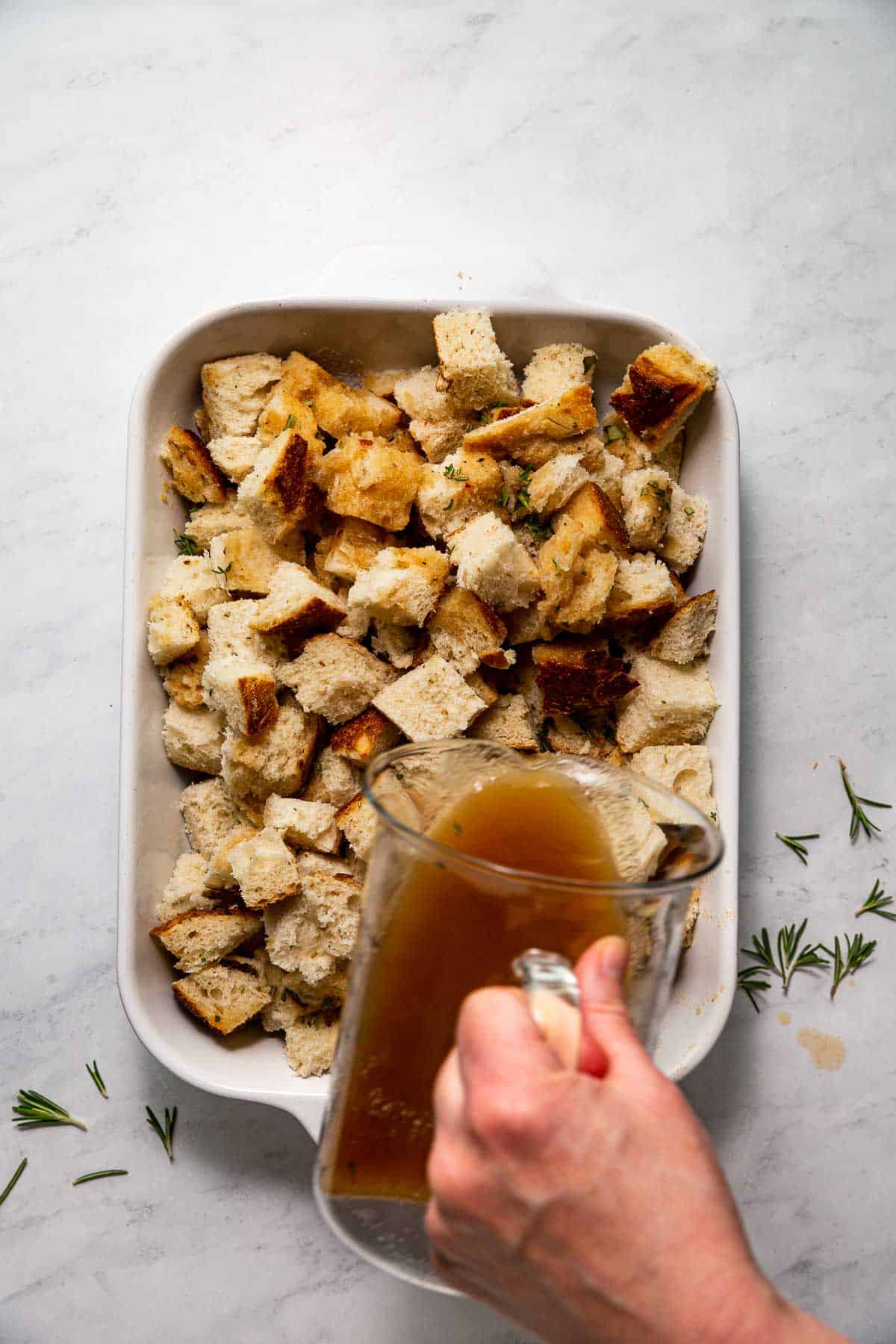 Combine the onion and garlic granules, umami mushroom seasoning, and broth. Pour ⅓ of the mixture over the bread, then toss to distribute. Repeat until all the broth mixture has been used.
After that, bake covered for 20 minutes, uncovered for 15 minutes. The baked stuffing should look toasted and very tempting.
Avoid stirring or tossing the stuffing while it's baking so that it can get nice and toasted while staying soft in the middle.
Baking Cover Tip
To avoid throwing foil away, I cover my 9x13 with a lid or a silicone baking mat, like a silpat. So easy and no waste!
Variations
This is a very simple, basic version of Thanksgiving stuffing. Feel free to add the following to mix it up:
Mirepoix - cook chopped celery along with chopped onion, carrot, and garlic and then add them to the bread mixture. You can omit the onion and garlic granules if making this.
Kid friendly - the recipe as it's written is quite kid friendly, without the texture of cooked vegetables. Sprinkling nutritional yeast on the bread cubes before adding the broth will give it a cheesier flavor that could make them even happier.
Equipment
It's important to use a bread knife to slice the bread into cubes; a different knife just won't cut it. An alternative is to tear the bread into roughly 1 ½ inch chunks.
I've only used a ceramic 9x13 baking dish to bake this stuffing. I can't guarantee a glass 9x13 would have the same results. Keep an eye on the stuffing as its baking in case your cook time is different than mine.
Storage
The stuffing is best assembled and baked right before serving. Leftovers are wonderful and can be kept in the fridge for a few days. It probably won't last that long!
I haven't tried freezing this stuffing. It may not turn out as crispy after being frozen.
Potluck Tip
If bringing this stuffing to a Thanksgiving dinner, you can pre-cube the bread and then assemble and bake it on site. If there won't be much oven time there, go ahead and bake it up at home, then reheat on site.
FAQ
Why can some people who seem to have a gluten intolerance still eat sourdough?
Sourdough is made differently from the way most bread is made today, and the sourdough process helps break down the gluten protein. You can find out more in this article from Dr. Robynn Chutkan's blog, Gutbliss, where she focuses on research centered around the microbiome and digestive disorders.
Are there really 12 servings?
It really depends on who you're feeding. The serving size here is based on serving the stuffing as a side dish with several other food options at the table. That said, some may love it so much their portions don't quite fit the estimate! If feeding big eaters or more than 12, I would bring a second 9x13 of stuffing, just in case.
Do we have to save this recipe for Thanksgiving?
I encourage you to eat this stuffing any time you want. While being a classic Thanksgiving holiday treat, it is also major cozy comfort food to be enjoyed throughout autumn and winter.
The Recipe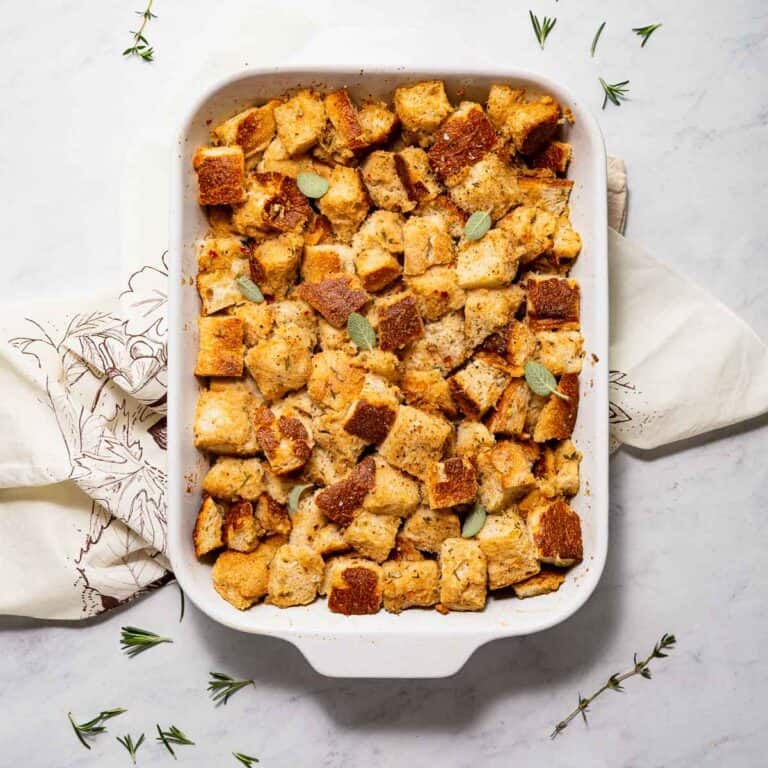 Simple Sourdough Baked Stuffing with Fresh Herbs Recipe (vegan)
This vegan baked sourdough stuffing is probably the simplest stuffing you'll ever make. With luxuriously big toasty hunks of sourdough and fresh herbs to provide lots of flavor, it's an irresistible addition to the holiday table!
_________________________
4 plant varieties in this recipe, plus broth, spices, and toppings.
Print
Pin
Rate
Equipment
bread knife

and cutting board

9x13 baking dish

oven
Ingredients
1

sourdough loaf

large

1

tablespoon

onion granules

2

teaspoons

garlic granules

1

teaspoon

umami seasoning

(like Trader Joe's) or mushroom powder

2

cups

vegetable broth

1

tablespoon

fresh sage

1

teaspoon

fresh rosemary

1

teaspoon

fresh thyme

¼

teaspoon

flake salt

½

teaspoon

ground peppercorns

fresh ground, preferably
Topping ideas
fresh herb sprigs

olive oil

drizzle (if not oil-free)

nutritional yeast
Instructions
Set the oven to 350 degrees and set out a 9x13 baking dish.

With a bread knife, slice the bread into large cubes (about 1 ½ inch). You should have about 14 cups. See notes below for different amounts.

Add the bread cubes to a 9x13 baking dish.

Mince the fresh herbs and sprinkle them over the bread cubes.

Add the onion and garlic granules and the umami/mushroom powder to a 2-cup pitcher, then stir in the veggie broth.

Pour about ⅓ of the broth mixture over the bread cubes. With a large fork, carefully toss the cubes to distribute. Continue this process until you are out of broth. The parts of the bread that are more dry will become crispier, so make sure it's not all soaked through.

Bake covered for 20 minutes. Remove the cover and bake another 15 minutes, until the stuffing is toasted.
Notes
Note: If you have less than 14 cups of bread, use a little less broth; more than 14 cups of bread should have a bit more broth added.
Serving size is based on 12 side dish servings, assuming there are several dishes at the table. As a main dish, it can serve 6-8.
General food safety
Cook to a minimum temperature of 165 °F (74 °C)
Do not use the same utensils on cooked food that previously touched raw meat
Wash hands and ingredients well before using
Don't leave food sitting out at room temperature for extended periods
Never leave cooking food unattended
Use oils with high smoking point to avoid harmful compounds
Always have good ventilation when using a gas stove