This really is such an easy pasta bolognese recipe that happens to be vegan, made with red lentils. It's the ideal weeknight meal, ready in just 20 minutes. This protein- and fiber-packed recipe can take your pasta night to a new level with less of your time. Plus, it's hearty without the health downsides of meat, making it a great Meatless Monday option! Satisfies vegan, whole food plant-based, oil-free lifestyles, and when using gluten-free pasta it also satisfies a gluten-free lifestyle.
When I'm tired after a long day and a bit hangry, I am so thankful for this recipe. In the time it takes to boil pasta, the protein-rich sauce is ready to go - and I am more than ready to sit down and dig in.
If you do have a little more time and energy, this pairs nicely with Maple Balsamic Roasted Brussels Sprouts.
Jump to:
Ingredients
This easy vegan bolognese is created very simply, with inexpensive ingredients: just a jar of your favorite pasta sauce, a bag of dry pasta, and a cup of red lentils is all you need for this recipe.
Your favorite sauce: Grabbing a jar of your favorite pasta sauce makes this recipe super quick and easy. Of course, you can always make a homemade sauce if you prefer. Also, if you only have your least favorite sauce on-hand, go ahead and use it. Sometimes that's what we need to do to get dinner on the table. Plus, it's getting spruced up.
Your favorite pasta: I like spaghetti or penne for this recipe myself, but you do you. Whatever's in your pantry is just fine. Be sure to use gluten-free if needed.
Red lentils: We're using red lentils rather than other varieties because it cooks the fastest, generally taking just 15 minutes. The red lentils are what add several grams of protein and fiber to each serving.
Instructions
Stir together the red lentils and pasta sauce in a sauce pot and simmer on the stove while the pasta cooks in a pasta pot.
Strain the pasta, then place it back in the pot. Check for lentil doneness (the lentils should be soft) and if ready, pour the bolognese over the pasta, tossing to coat. Mangia!
This is the pasta bolognese, ready to eat.
Simple additions include toasted pine nuts...
...nutritional yeast...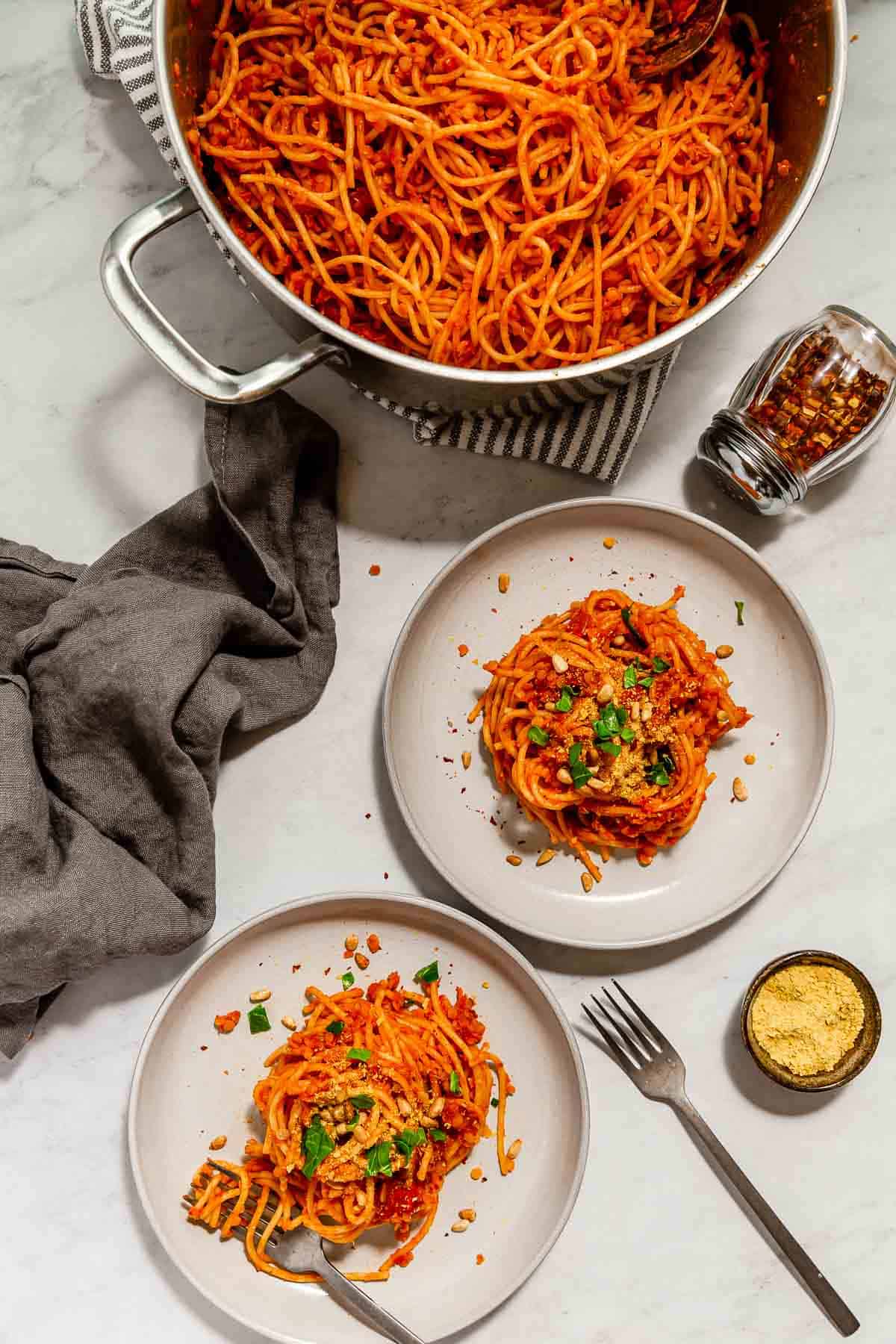 ... and chopped greens, like spinach or parsley.
Toasted pine nut tip: Pine nuts can be toasted in a pan on the stove. An even easier way is to lay them on a baking sheet/air fryer tray set in a toaster oven at its lowest toast setting. Do keep any eye, just in case yours toaster oven toasts more aggressively at that setting than mine.
Variations
This recipe is meant to help you when you have little time or energy to cook, which is why it's very basic. That said, there are so many delicious ingredients you could add to this sauce if you have just a little more time and energy. Here are a few ideas:
Toasted pine nuts, nutritional yeast, chopped greens, crushed red or other pepper: As noted above, these ingredients are simple add-ons.
More chopped greens: To add more than just a garnish of chopped spinach, kale, or other greens on top, stir the greens into the bolognese a couple minutes before adding the sauce to the pasta.
Onion, mushrooms, garlic: These ingredients can be chopped and sautéed in the sauce pot before adding the sauce and lentils.
Vegan cheese: Your favorite cheese could also be added as a topping. We like Miyoko's Garlic Herb or crumbled Lemon Rosemary Vegan Cheese Log.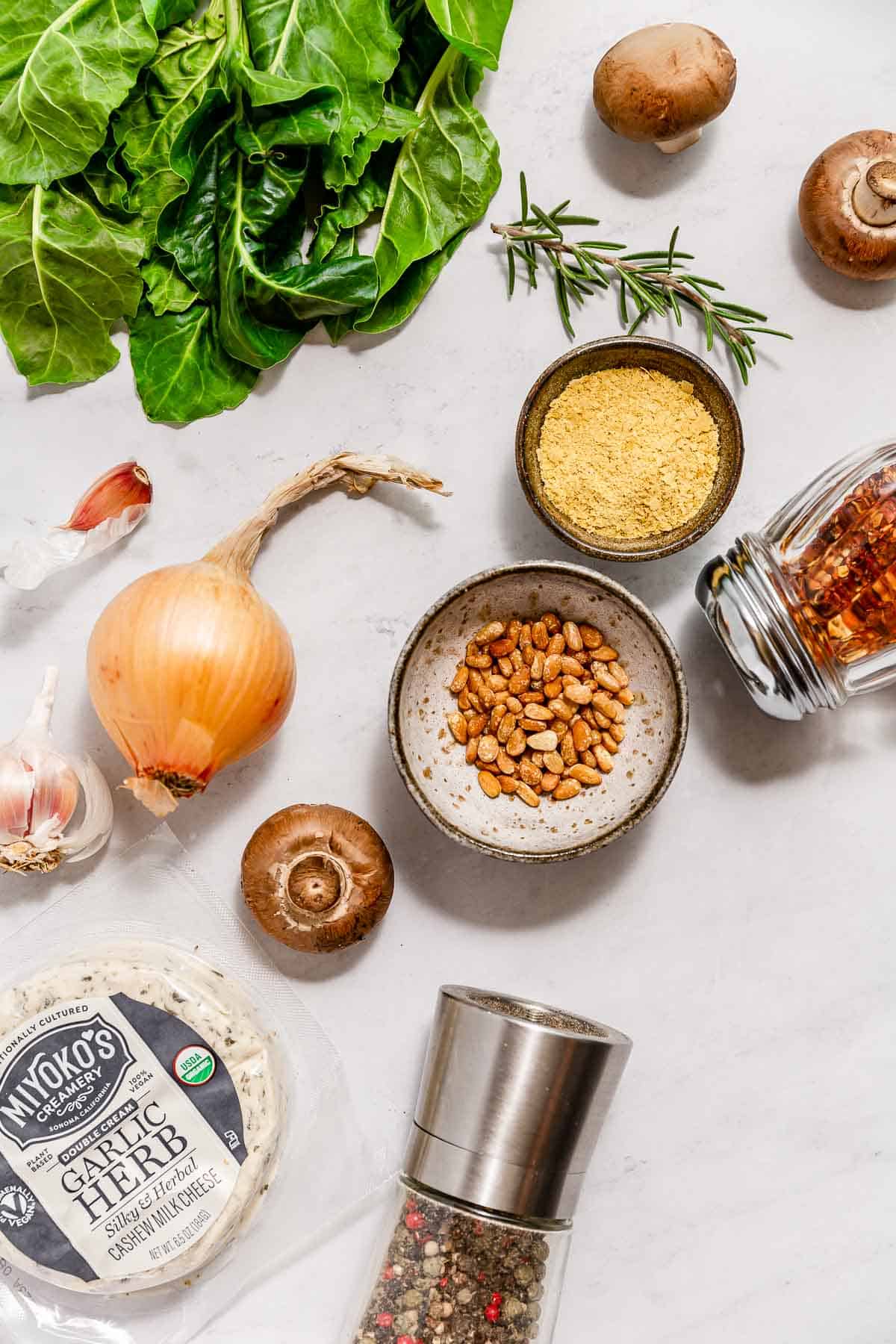 Storage
Because the bolognese sauce is stirred into the pasta, the pasta can be a bit dry for leftovers. Microwaving servings with a small ramekin of water can help. Otherwise, you can serve the pasta and bolognese sauce separately and keep them stored separately. in the fridge.
Tips
Want it even more saucy? Double the bolognese!
Also, if you prefer to have the sauce on the side rather than tossed with the pasta, you do you.
Try serving this to your favorite meat eater without discussing that it's meatless and see how it goes. Consider establishing a Meatless Monday with this recipe.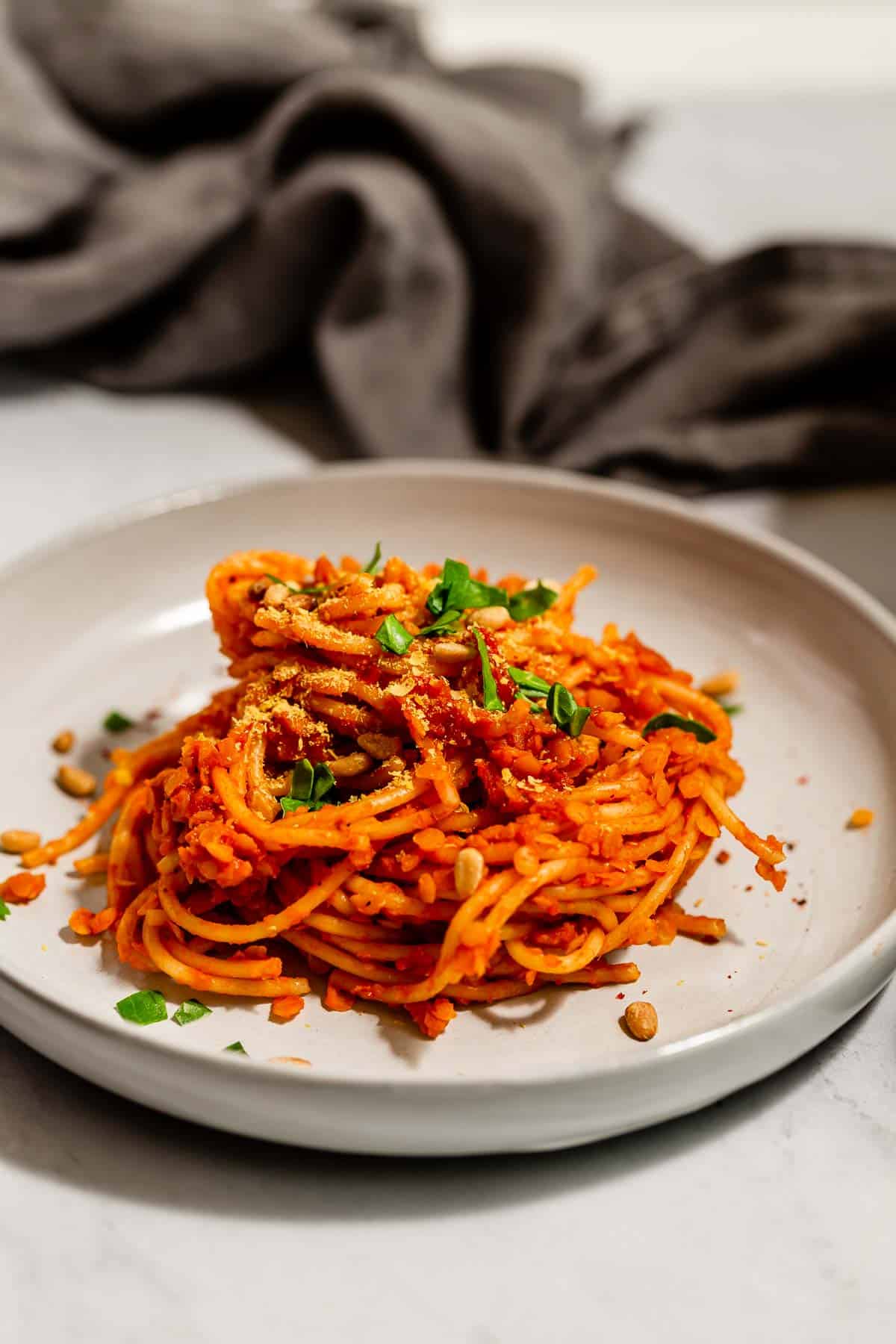 FAQ
Why bother adding lentils to my jar of sauce?
Lentils boost any jar of sauce by adding lots of protein, fiber, and other nutrients. They also add texture and make a sauce more filling. So this vegan bolognese is a full meal on its own, especially when using whole grain pasta.
Does this bolognese taste like it has meat in it?
While I wouldn't say that this vegan bolognese tastes like meat. It is hearty and high in protein like bolognese made with meat, with the addition of fiber and other nutrients and without the fat and cholesterol of meat.

Why red lentils? Can I use other lentils?
Red lentils cook the fastest and blend in well to a red sauce. You can use other lentils, but the sauce won't be as quick for a busy weeknight meal as with the red lentils.
Pairing
The two parmesans and garlic salt are great topping options, and the dressing is ideal for a side salad.
The Recipe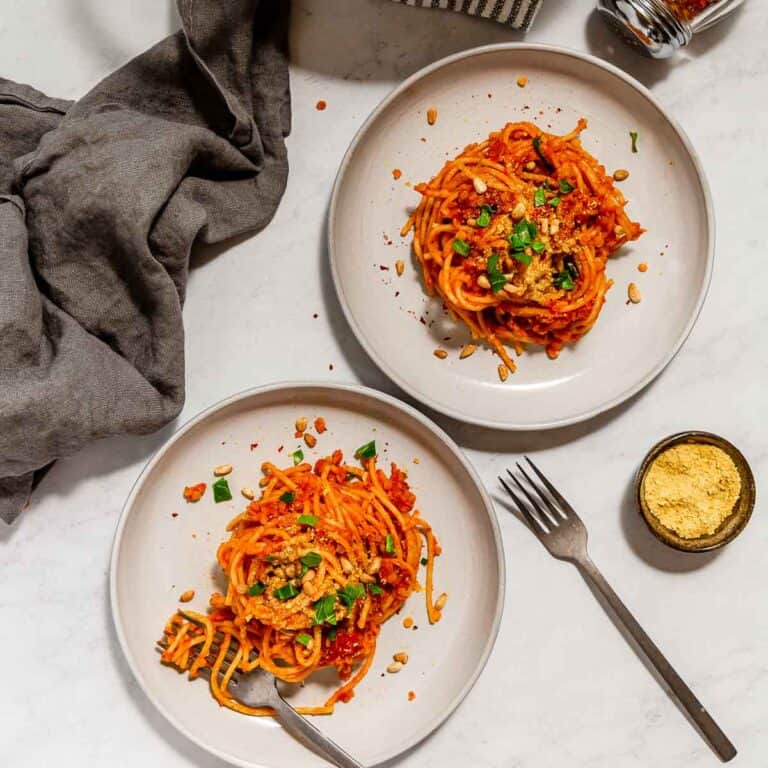 Easy Pasta Bolognese with Red Lentils Recipe (vegan)
The ideal weeknight meal, ready in just 20 minutes. Plus, it's hearty without the health downsides of meat, making it a great Meatless Monday option! Satisfies vegan, whole food plant-based, oil-free lifestyles, and when using gluten-free pasta it also satisfies a gluten-free lifestyle.
Plant Diversity: Striving for 30 different plants per week for optimal gut health.
The number of plants in this recipe: At least 2 plants
Print
Pin
Rate
Ingredients
1

cup

red lentils

dry

1

jar

pasta sauce

your favorite, about 1 ½ lbs, oil-free if desired

1

pkg

pasta

dry, gluten-free if desired
Sauté optional additions
1

med

onion

chopped

6

mushrooms

chopped

2-3

garlic cloves

minced
Topping optional additions
pine nuts

toasted, sprinkling

greens

chopped, like spinach, kale, chard

nutritional yeast

sprinkling

vegan cheese

sprinkling

crushed red pepper

sprinkling

fresh herbs

chopped

parsley

chopped
Instructions
To make the bolognese: Rinse the red lentils and place them in the sauce pot with the pasta sauce.Sautée additional ingredients (optional): Heat the sauce pot and sauté these in it first, then add the lentils and sauce.

Heat sauce: Bring the heat to medium-high and stir occasionally to keep the lentils from sticking to the bottom. Make sure the lentils are under the surface of the sauce. Add a bit of water if needed.Heat pasta water: Meanwhile, fill the pasta pot with water and place over high heat.

Simmer sauce and boil pasta: Once the sauce is simmering, reduce heat to low and cover. Remove the lid occasionally to stir, replacing it each time. No lid? It's ok; the lentils just may take a bit longer to cook.

Once the pasta water is boiling, add the pasta and cook according to package instructions.

Strain pasta and test lentils: When the pasta is done, strain out the water and place the pasta back in the pot.

Test the lentils to see if they're done. Usually, they will be ready, but some batches take longer. If they aren't yet soft, cook a few minutes more until they are.

Serve: Pour the sauce over the pasta in the pasta pot. Using two servers, forks, or tongs, toss the pasta until coated with the sauce. Alternatively, serve separately.

Serve with additional toppings if desired.

Store: The pasta bolognese can be stored in the fridge for up to a few days.
Notes
When serving six, there are more than 13 grams of fiber and 18 grams of protein per serving!
General food safety
Cook to a minimum temperature of 165 °F (74 °C)
Do not use the same utensils on cooked food that previously touched raw meat
Wash hands and ingredients well before using
Don't leave food sitting out at room temperature for extended periods
Never leave cooking food unattended
Use oils with high smoking point to avoid harmful compounds
Always have good ventilation when using a gas stove