The ultimate summer salad - my vegan take on Kate Middleton's fave! This refreshing watermelon salad is full of flavors, featuring my tofu feta, cucumber, fresh mint and basil, your favorite lettuce, and more. A beautiful salad to share at your next gathering. It looks fancy, yet it's so easy to make. With the tofu feta, this salad can work as a light meal on its own, or add a simple soup and some sourdough for a full dinner. This recipe is dairy-free, vegan, gluten-free, oil-free, refined sugar-free, and full of whole foods!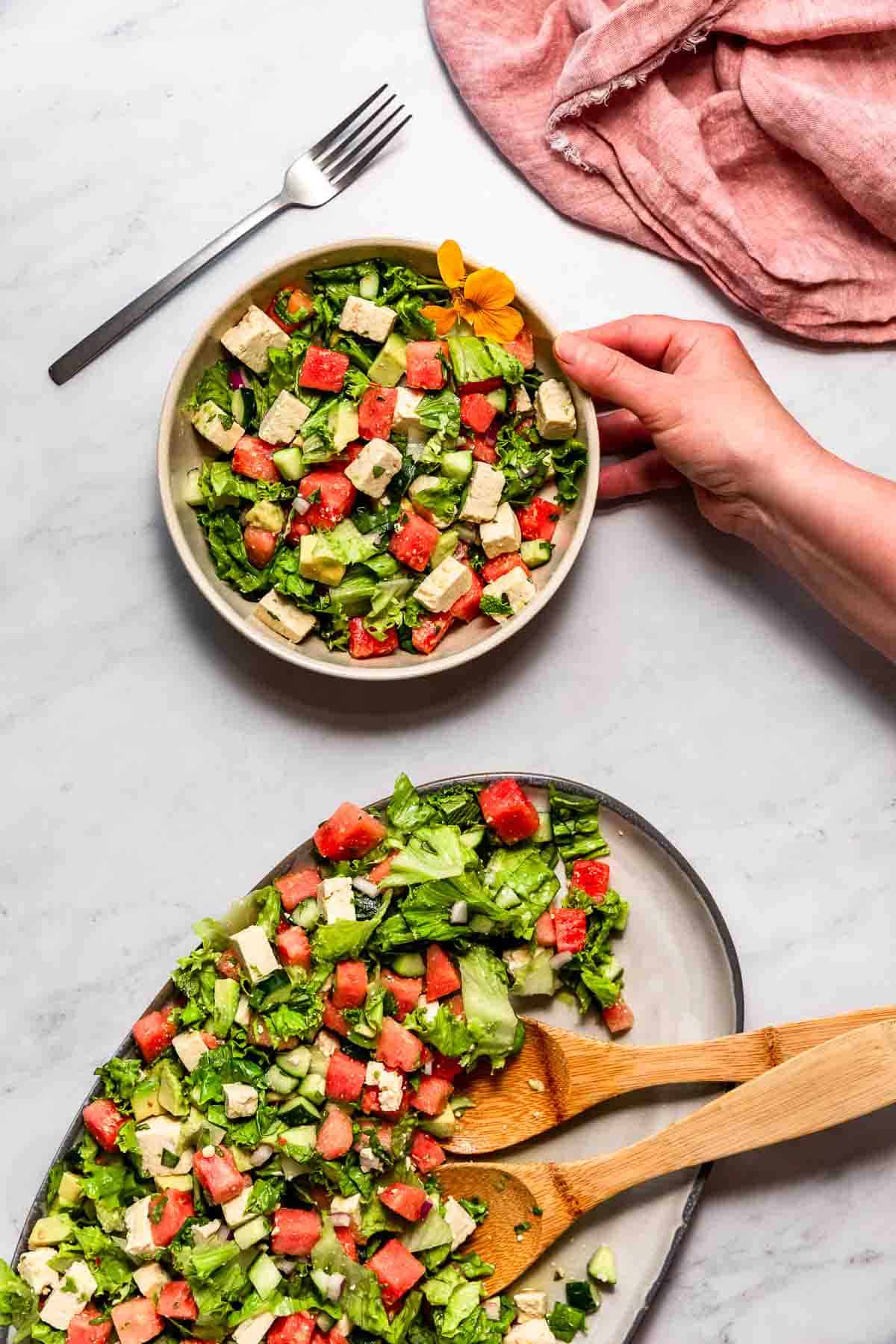 You may have heard that Kate Middleton's favorite salad is watermelon salad! I get it. The sweet, hydrating cucumber and melon juxtaposed with the bright feta, herby mint - so refreshing and delicious! As soon as I heard, I couldn't wait to create a vegan version of watermelon salad.
Jump to:
what you'll love about this recipe
This salad may look fancy, but it is so easy to make. It also is very versatile, depending on how many ingredients you have on-hand. If all you have is the watermelon, tofu feta, and lettuce, you've still got a great salad. (Though I highly recommend using all the ingredients to see how amazing this salad really is!)
The flavors and textures are on point. Everything goes so well together, it's just dreamy!
While pretty and tasty, it's also satisfying enough to be a full meal on its own, thanks to the tofu feta. This non-dairy version has less fat and more nutrition, too.
If you're looking for low calorie density for weight loss or maintenance, this salad is it - also thanks to the tofu feta, plus the fact that it's loaded with fruit and veggies! A large bowl of this salad, which the serving sizes are based on, is very low in calories.
There's no need for adding salad dressing! The ingredients provide enough flavor without it, especially with the tofu feta marinade.
The vitamin C in watermelon helps us absorb the iron in this salad and any other iron-containing foods we eat with it.
ingredients and substitutions
Watermelon is the star here! You just need half a mini/baby watermelon to create this recipe. It adds a welcome sweetness, texture, and hydrating quality.
Tofu feta is the second lead in this star-quality salad. It brings a bright, zesty, zippy counterbalance to the watermelon and makes the salad so satisfying, yet still light. It can be made ahead in just 10 minutes. While it isn't just like dairy-based feta, this vegan tofu version fills the void with its tart flavor and rich texture. It can be crumbled or left in pieces.
Use your favorite lettuce greens! Any of the standards like butter lettuce, romaine, bibb, oak, red or green leaf will do nicely. I'd avoid strong flavors like arugula. I prefer the fluffy lettuces mentioned over something like spinach, too. If you want leftovers, a strong lettuce like romaine works well.
Cucumber adds a nice crunch and is also hydrating. The flavor works well with the other ingredients here.
Avocado has a creamy quality that adds another layer of texture and balance. It can be omitted if you don't have any and the salad will still be wonderful - just not quite as amazing as it could be with avocado!
Red onion has so much flavor that is unique to every other in this recipe. If someone isn't into red onion and you need to omit it, still make this salad! Personally, I will always add the red onion, yumm.
Finally, fresh mint and basil add herby flavor that really makes this salad ideal. Ok, if you have to make it without, you can - the watermelon, tofu feta, and lettuce could pull off this salad by themselves and really be delicious. But, adding the mint and basil really takes it to the next level.
instructions
This recipe really couldn't be simpler. Follow these basic steps: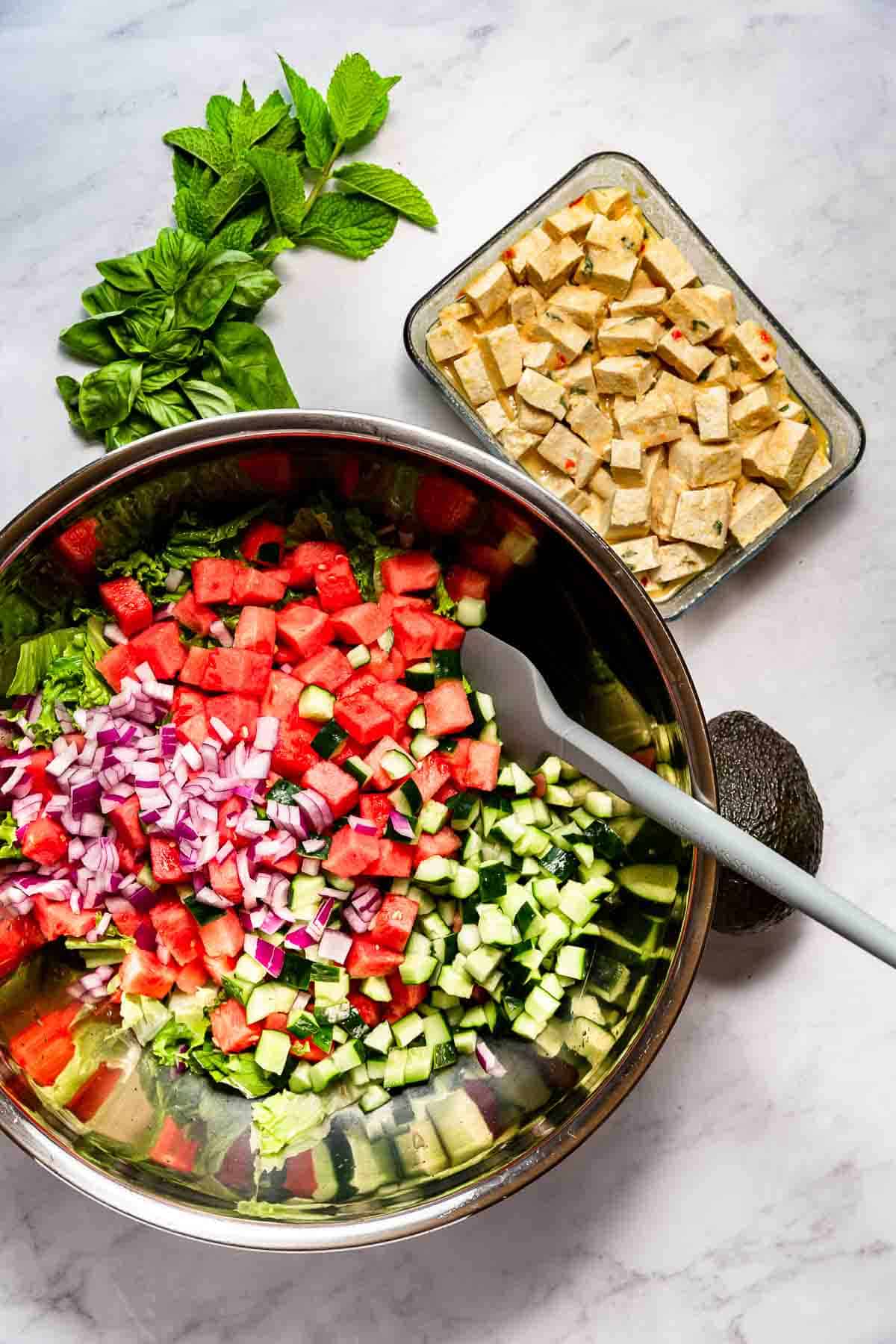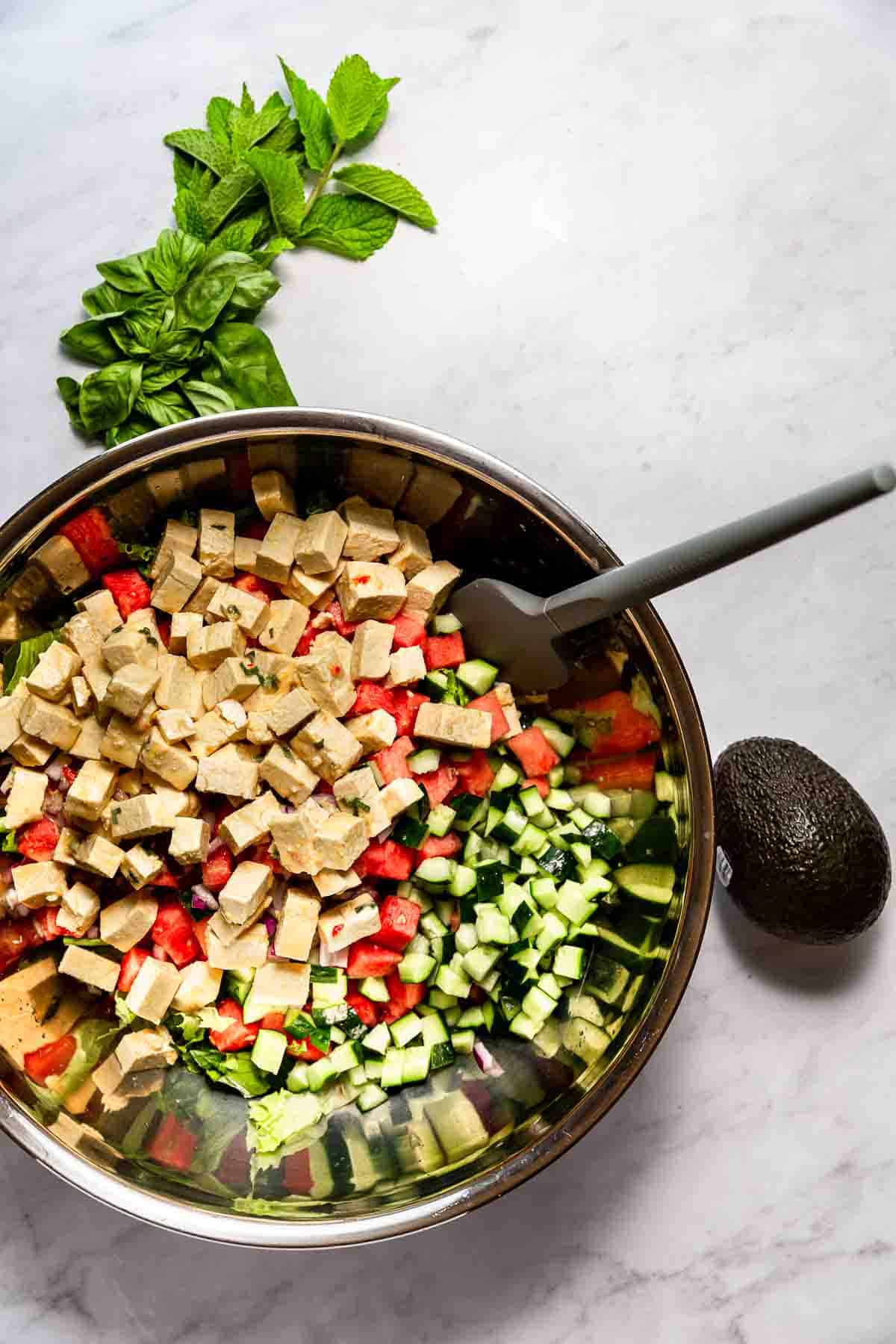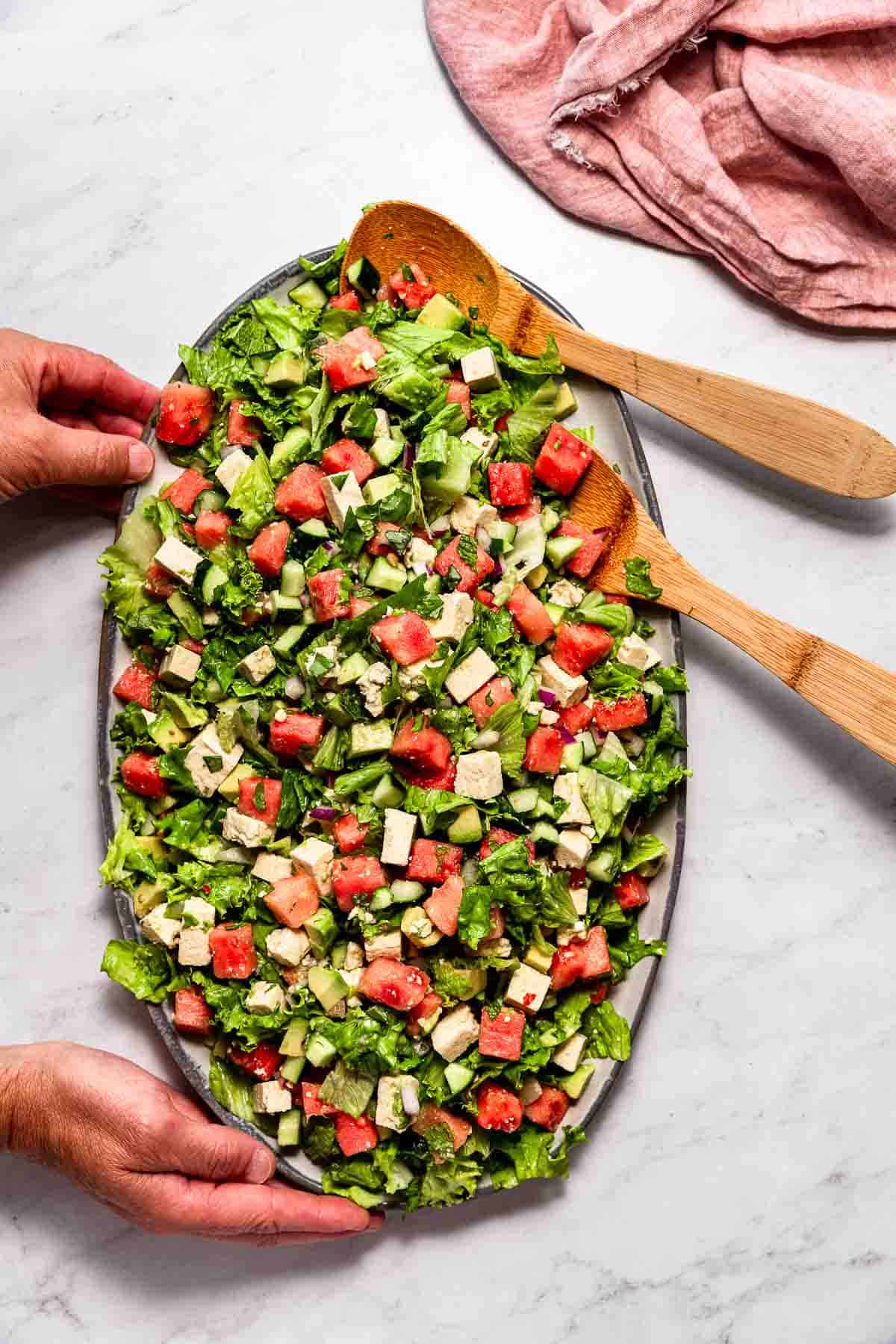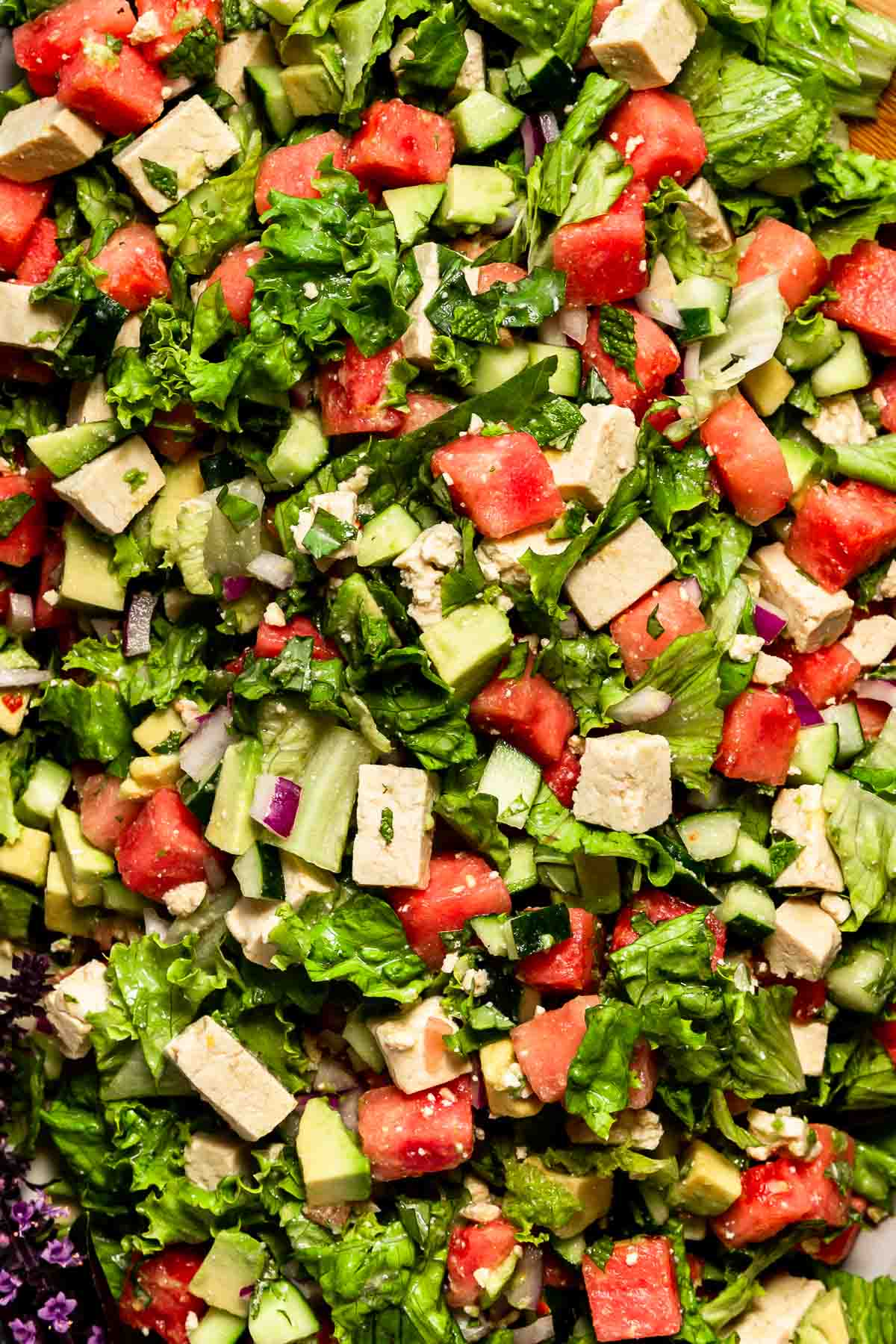 serving and storing
This is a real crowd pleaser of a salad, sure to bring oohs and aahs. While it serves six as a hearty main-course salad, it can serve 2-3x that at a gathering. This salad packs well, especially with a firmer lettuce like romaine, so you can easily bring it to work or on a picnic. If you'd like leftovers, I suggest keeping the tofu feta separate and adding it, along with the avocado, just before serving to avoid the salad from getting soggy overnight.
Our plan is to enjoy this yummy vegan watermelon salad as our go-to all summer! How about you?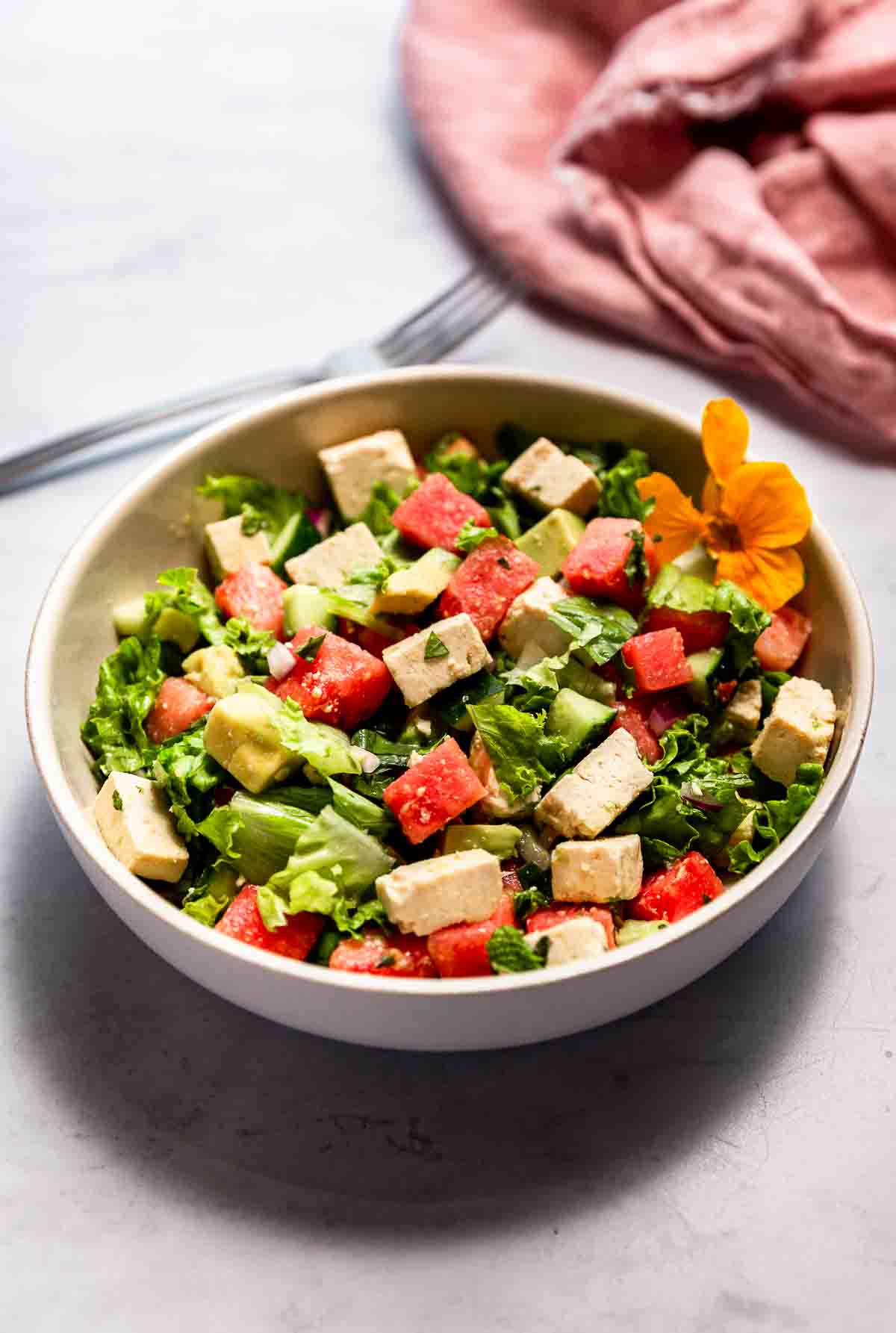 You can find the tofu feta recipe here.
other tasty salads
The Recipe
Vegan Watermelon Salad Recipe (oil-free)
The ultimate summer salad - like Kate's fave, but vegan! This refreshing watermelon salad is full of flavors, a beautiful salad to share at your next gathering. It looks fancy, yet it's so easy to make. Can work as a light meal on its own. This recipe is dairy-free, vegan, gluten-free, oil-free, refined sugar-free, and full of whole foods!
________________________________________
# of plants in this recipe: 13 (with tofu feta)
Print
Pin
Rate
Equipment
chef's knife

cutting board

large bowl
Ingredients
½

watermelon

small, chopped into bite-sized pieces.

1

batch

tofu feta

1

head

lettuce

your choice, chopped

1

cup

cucumber

chopped

¼

red onion

slivered or chopped

1

avocado

chopped

¼

cup

fresh basil

minced/chiffonade

¼

cup

fresh mint

minced/chiffonade
Garnish ideas
basil

mint

edible flowers

like nasturtium

olives

chopped

lemon wedges
Instructions
Prepare the tofu feta in advance.

Prep all the vegetables and place them in a large bowl together. Add the tofu feta with its marinade and gently stir the ingredients together.

Add the chopped avocado and minced herbs and gently fold them in to combine.

Add garnishes, if desired, and serve immediately. Leftovers generally keep well overnight in the fridge; for best results, use a firm lettuce and separate the tofu feta and marinade from the remaining ingredients, combining them when ready to serve.
Notes
Nutrition facts are approximate, utilizing a third-party service.
Six servings would be six large salads as a main course. You could easily get 12 side salads out of this recipe!
If making ahead for the week, store the tofu feta and its marinade separate from the other salad ingredients. Prep the avocado just before serving.
This recipe was inspired by all the buzz about Kate Middleton's favorite watermelon salad. While I have seen many variations online, I am not sure I've seen the actual version she eats! Nor have I seen one just like the one I've created here, which is 100% plant-based. The idea of putting watermelon in salad is genius, in my book! I'm so happy with how this version turned out, and I hope you like it, too.