This vibrant vegan sesame tofu salad is my twist on the classic chicken version. It's full of flavor, color, texture, and veggies! This recipe includes an oil-free option and is meatless, dairy-free, and satisfies a whole food plant-based lifestyle. Ooh, that crispy tofu is calling my name!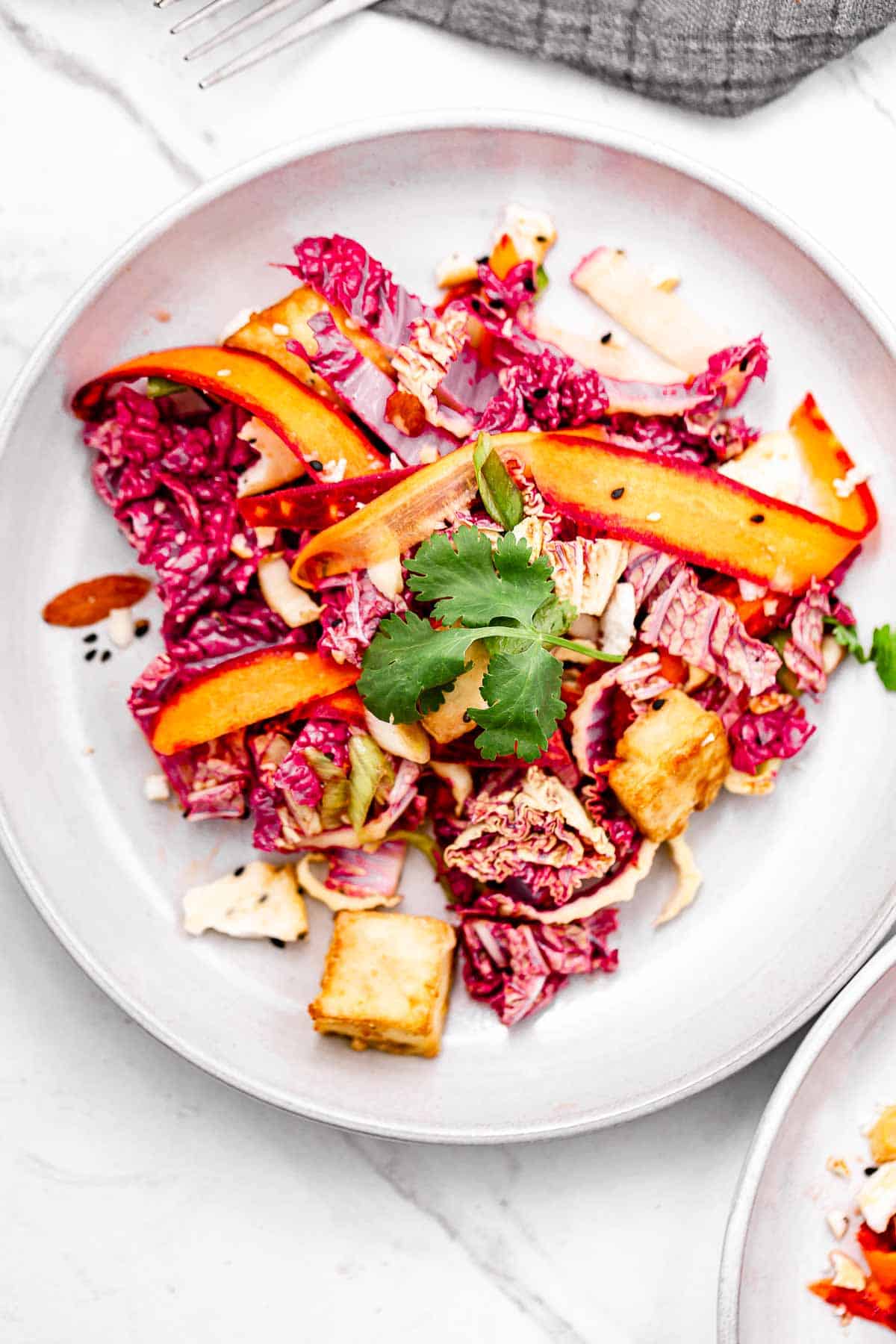 Ready for a crisp salad that is pure bliss? Depending on the veggie colors you choose, this sesame tofu salad also might be the most vibrant salad you've ever eaten!
what we love about this salad
All the crunch! The variety of ingredients, like the crisp cabbage and crunchy sesame crackers, provide a lot of texture.
All the color! The veggies used in this salad come in lots of beautiful colors, which you can curate every time you serve it!
Because the ingredients are generally available all year long, you can make it any time of year.
This salad is really satisfying, great for lunch or dinner.
Especially with the oil-free option, it's filling and high in nutrients while low in calories, so it's great for weight loss or maintenance.
The crispy tofu is divine and filling.
It's a beautiful salad for a gathering, keeping its texture longer than lettuce-based salads.
ingredients and substitutions
I was lucky enough to find red napa cabbage for the photo shoot, making this salad particularly colorful. It's not common, but if you come across it don't pass it up! The color just makes this salad extra fun. Napa or savoy cabbage are lovely for this salad, even when they're green instead of the red used here.
Extra-firm tofu is crisped up with tamari (or soy sauce) and arrowroot powder (or cornstarch).
Carrots, scallions, and radishes bring more variety to this salad. If you are out of carrots or radishes, they can be omitted. The scallions bring so much flavor balance, though, I discourage omitting it.
The dressing is meant to be quick and easy, so it utilizes powdered ginger and garlic instead of fresh. Rice vinegar is best here, but white wine vinegar or lime juice can substitute. Toasted sesame oil really brings a lot of sesame flavor. Some sesame oils are flavorless, so make sure you get the toasted sesame oil. For oil-free, substitute with water and ground sesame seeds.
Maple syrup (or date syrup), tamari (or soy sauce), and chili paste (or garlic chili sauce) finish off the dressing.
The optional sesame crackers are crushed and sprinkled over the salad at the end, adding more sesame flavor and crunch. I like using them to replace the typical chow mein noodles, which can still have partially hydrogenated oils in them. If you're opting for oil-free, omit or use an oil-free cracker, such as Mary's Gone Crackers Seaweed & Black Sesame.
what makes this salad so colorful
red (purple) or green napa or savoy cabbage (beautiful either way - pictured is the purple)
red, orange, yellow, or purple carrots
red, pink, white, purple, black, or watermelon (green & pink) radishes (watermelon radishes are less common, but again, they'll really brighten the salad if you can find one!)
green cilantro
green scallions
black & white sesame seeds and crackers add a nice neutral balance to the vibrant colors
Instructions
Drain, press, and cut the tofu into about 30 cubes. Stir together the tamari and water and dredge the pieces in it. Then, roll each piece in the arrowroot, tapping off excess. Bake or air fry until golden.
While the tofu cooks, prep all the veggies.
When the tofu is out of the oven, make the dressing. In a large bowl, toss the veggies, tofu, and dressing together.
Note: I figured out how to bake the tofu without any oil and still have it come out with a nice, slightly crisp exterior - but if you want it to be even crispier and don't mind adding oil, you can always add a little to the tamari coating. To achieve the best toasty bake on the tofu, it's important to coat the tofu well with the tamari and water before rolling them in the arrowroot powder, and also important to tap off excess powder so it's not visible once it's cooked. Don't worry about it too much, though, since it will be covered in dressing once it's in the salad.
Doubling the tofu portion can be a great way to go so that you can save the extra in the fridge to make a nice tofu dinner. We recently had leftover baked tofu with sautéed broccoli, rice, and peanut sauce - so good, and so quick and easy!
serve and store
This salad is best served right away; however, it will stay crisp longer than most salads, due to the ingredients used. For best storage, store the elements separately. Or, serve with the crackers on the side so that everyone can place them on their own salads. That way, the salad in the serving bowl can keep in the fridge without the crackers getting soggy.
more salad recipes
You can find additional salad recipes and more through Recipes here and at the top of the page.
The Recipe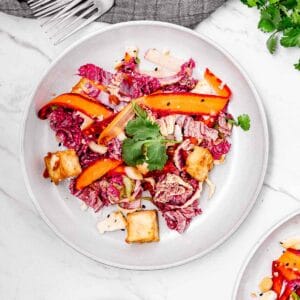 Sesame Tofu Salad Recipe
This vibrant vegan sesame tofu salad is my twist on the classic chicken version. It's full of flavor, color, texture, and veggies! This recipe includes an oil-free option and is meatless, dairy-free, and satisfies a whole food plant-based lifestyle. time: 35 minutes | cook time: 20 minutes | total time: 55 minutesServings: 6 mains or 12 sides
Print
Pin
Rate
Equipment
cutting board and chef's knife
Ingredients
16

ounces

extra-firm tofu

2

teaspoons

tamari

or soy sauce (which contains gluten)

1

teaspoons

filtered water

1

tablespoon

arrowroot powder

up to 2 tablespoons

½

cup

almonds

slivered

1

napa cabbage

or savoy; medium, green or red/purple

3

red carrots

medium, or color of choice

2

scallions

2

radishes

medium, color of choice, thinly sliced and then cut into matchsticks
For the dressing
½

teaspoon

powdered ginger

½

teaspoon

garlic granules

3

tablespoons

rice vinegar

1

teaspoon

toasted sesame oil

or for oil-free: 2 teaspoon water + 1 teaspoon ground sesame seeds

1 ½

teaspoons

maple syrup

1 ½

teaspoons

tamari

1

teaspoon

chili paste

or garlic chili sauce
Garnish
¼

cup

cilantro

optional

3

tablespoons

sesame seeds

black or white

6

sesame crackers

crushed, optional
Instructions
Tofu: Drain the tofu and press with a tofu press or wrap in a lint-free towel and press with a heavy pot lid or similar for at least 15 minutes. Then, set the oven to 400 degrees and begin slicing the tofu into cubes by cutting its thickness in half, then stacking the two pieces and cutting 3x5 (three rows lengthwise, five rows horizontally), ending up with 30 pieces. Place the tofu pieces in a bowl, sprinkle with the tamari and water, and toss gently to coat. Put the tofu on a lined baking sheet, then pour 1 tablespoon of arrowroot powder into a prep bowl and take a piece of tofu, roll it in the powder to coat, tap off excess powder, and place it back on the tray being sure to spread the tofu out evenly, with none touching. Repeat for each piece, then bake for 20 minutes at 400 (5-10 minutes with an air fryer). Remove from oven, add the almonds to the tray, turn the oven off, and place them back in the oven with the almonds for 5 minutes, until the almonds are toasted.

Vegetables: While the tofu is being pressed and cooked, prep the vegetables. Chop the cabbage into bite-sized pieces. Use a peeler to create carrot ribbons. Thinly slice the scallions, including the dark green part. Thinly slice the radishes and then chop them into matchsticks.

Dressing: When the tofu is done cooking, make the dressing by combining all the dressing ingredients, stirring well. Assemble the vegetables and tofu in a large salad bowl, drizzle the dressing over the top, and toss to coat. Crumble the sesame crackers over the top, then Garnish with the cilantro and sesame seeds and cr

Serve immediately, with crackers on the side so they aren't in the serving bowl in case of leftovers. Ingredients can be stored separately in the fridge overnight and assembled just before serving, though they may lose some of their crispness.
Notes
Note: I love this crisp salad as is, without grains (other than the crackers). To make it a little heartier, though, it's also wonderful with cooked and cooled rice noodles added. If adding rice noodles, double the dressing recipe to make sure you have enough.
This recipe makes about 6 main dish salads or 12 sides.