Looking for a mayo-free, egg-free, vegan potato salad? This is it! It's got those classic potato salad flavors plus a subtle, lovely lemon essence. If you like an eggy texture, you're in luck: I've included a vegan "eggy" option! This whole food, plant-based recipe meets most dietary needs, including gluten-free, dairy-free, oil-free, and egg-free.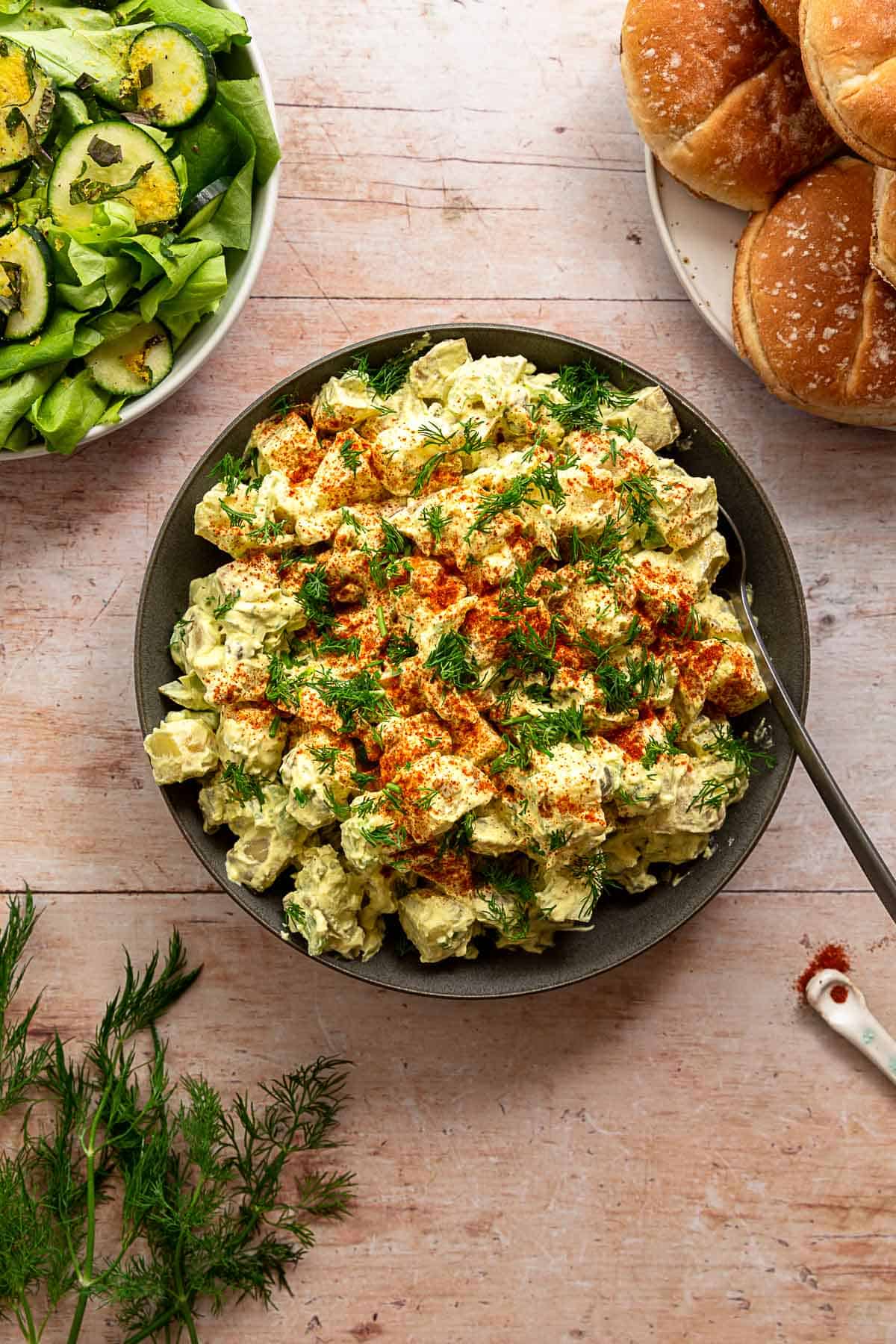 The next time you head to a potluck picnic or family BBQ, share this tasty potato salad with your friends and family. They may be shocked to learn that it's naturally nutritiously plant-based, but if you don't decide to mention that, all they will really know is that you brought something truly delicious.
Jimmy Fallon dreams of a potato salad without mayonnaise, and I've created this recipe with people like him in mind. Mayonnaise, which is traditionally made with egg yolks, oil and vinegar, is not my thing, either. I've been avoiding that white stuff on my sandwiches for years. A classic potato salad like this would typically have mayo as its sauce base - but not here. I've opted for plant-based whole food ingredients, which are more nutrient-dense, and while this potato salad reminds me of the traditional one I grew up with (which I loved even though it was made with mayo), the feedback I'm getting is that it's waaay more delicious. And I have to agree. I think Jimmy will love it, and I think you will, too.
Ingredients and variations
It may look like there are a lot of ingredients for this recipe, but they're mostly ingredients you probably have in your pantry. This really is an easy recipe!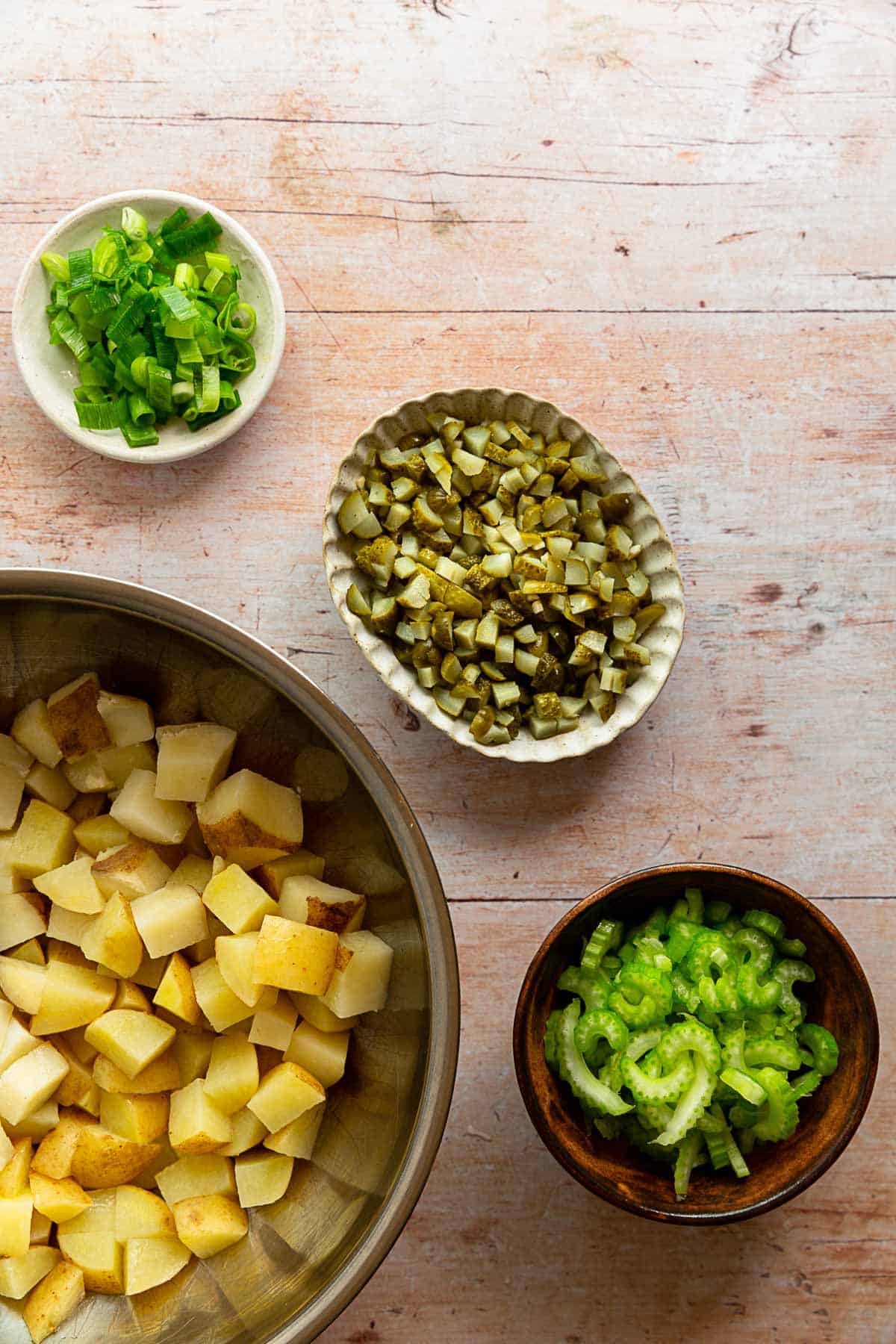 For the salad
Red and yellow potatoes have a nice texture for potato salad, though any savory potato will do. Pictured is a mix of yellow and russet potatoes. I like to leave the skins on for texture and nutrition.
Pickles really add an important, zippy layer to this salad. I've suggested an amount, but really you can use as much as you'd like! This is a dill-based potato salad so I'd use dill pickles; it's a different potato salad with sweet pickles.
Celery adds a nice crunch and melds well with the flavors of this salad. Slice it thin so that the celery is evenly distributed and not too overwhelming in each bite.
Scallions, aka green onions, add a lot of flavor. For more flavor and less bite, use the dark green portions of the scallion. Be sure to wash inside the dark green tubes well, as they can be filled with dirt.
For the dressing
Cashews add so much creaminess, you won't miss the mayo! Be sure to soak them for at least two hours so they're nice and soft - that's how they blend up to be so creamy.
Red onion or shallot adds lots of flavor to the dressing. Either will work well.
Lemon zest adds that lovely lemon flavor, and while it's optional (some purists just want the classic potato salad flavor), I highly recommend it.
Lemon juice brings a fresh tanginess.
Apple cider vinegar also brings the tang - an important part of a potato salad.
Fresh dill adds beautiful flavor and texture. Lovely as a topping in addition to being a recipe ingredient.
Dijon mustard is another flavor that is part of a classic potato salad. It also adds to the color. In a pinch, another mustard like yellow could be used.
Turmeric brings more of the traditional yellow that we're accustomed to seeing in a potato salad, traditionally created with egg yolk and mustard.
For a more lemony, less vinegary flavor: Reduce the mustard by half and replace the vinegar with more lemon juice. Add more zest if you'd like, too - a lemony potato salad is a delicious option!
For eggy potato salad
A crumbled block of extra firm tofu provides that soft egg texture, and because it absorbs the flavors it's added to, it may not be recognized as tofu.
To add an eggy flavor, you could sprinkle the tofu with kala namak, aka black salt. This type of salt has a sulphur-y flavor that passes for egg.
If you're going for the egg option, be sure to make 1 ½ batch of the dressing instead of just one. This is important since the tofu will absorb dressing - we want to make sure there's plenty!
Let's make vegan potato salad
Now all we have to do is prep the salad ingredients and blend the dressing ingredients.
Cooking the potatoes: While you can boil them whole and then chop them, I find it's best to chop them into bite size pieces first and then steam them. This helps the pieces stay in tact nicely.
Once the salad ingredients are ready and waiting in a large bowl, simply fold the dressing into the salad until it's all covered in creamy goodness.
Store in a sealed container in the refrigerator for a few hours before serving so the flavors have a chance to meld.
Eggy potato salad option
Crumble the block of tofu into the potato salad ingredients and then add the dressing. Chopping the tofu is another way to go. Remember to add the extra dressing and kala namak salt.
More summer recipes
The Recipe
Vegan Potato Salad Recipe
Classic potato salad flavors plus a subtle, lovely lemon essence.
________________________________________
Plant Diversity: Striving for 30 different plants per week
The number of plants in this recipe: At least 6 plants
Print
Pin
Rate
Equipment
steamer basket

and pot, cooktop

blender

preferably high speed, like Vitamix

large bowl
Ingredients
2

lbs

potatoes

yellow, red, other

2

celery stalks

1 ¼

cups

pickle

½

cup

scallions

sliced

salt & pepper

to taste, optional
Dressing
1

cup

cashews

soaked at least 2 hours

¼

cup

red onion

or shallot, coarsely chopped

½

cup

filtered water

1

teaspoon

lemon zest

ideally heaping, about one medium lemon

3

tablespoons

lemon juice

about one medium lemon

2

tablespoons

apple cider vinegar

2

tablespoons

dijon mustard

2

tablespoons

dill

fresh

½

teaspoon

turmeric
For "Eggy" Potato Salad
½

dressing ingredients additional

make 1 ½ total of the dressing recipe

1

block

extra firm tofu

drained and pressed

½

teaspoon

kala namak

black salt, or more to taste
Optional Toppings
capers

dill

paprika

sweet

lemon zest

microgreens

scallions

chives
Instructions
Cook potatoes: Wash the potatoes and remove any ugly spots. Peeling is optional. Chop them into bite sized pieces and steam in a steamer basket for 15 minutes, until a fork can go through them easily. Remove the steamer basket from the steamer pot and let the potatoes cool.

Prep the salad ingredients: Chop the pickles and slice the celery and scallions while the potatoes cook. Place them in a large bowl. If making the eggy option, crumble the tofu into the bowl and sprinkle with the black salt.

Blend dressing: Meanwhile, place all the dressing ingredients in a blender and blend on high until really smooth - a little longer than you might think; at least 30 seconds, depending on your blender. Add a little more water if necessary. This really works best with a high-speed blender that has a tamper to push ingredients so you don't end up adding too much water.

Combine the salad and dressing: Add the potatoes to the celery, pickles, and scallions, then add the dressing. Fold the ingredients carefully to combine until thoroughly coated in the dressing.

For eggy option: Crumble or chop the tofu and add it to the salad, along with the kala namak (black salt) and extra dressing, carefully folding the ingredients.

Chill: Chill the potato salad in the fridge for at least 2 hours so that flavors can combine. Best made the day before.

Serve: Enjoy cold with your favorite summertime meal.
Notes
The total time reflects prep and cook times, not the pre-soak time for the cashews. This recipe can take less than the time indicated when prepping the dressing while the potatoes steam.