This easy vegan potato corn chowder is filled with flavorful spices and is ready in just 30 minutes. It's a non-dairy recipe that is made without cashews or coconut milk; instead, we're using selenium-rich brazil nuts, potatoes, and corn to make this creamy soup. The recipe is full of whole foods and satisfies lifestyles that are plant-based, non-dairy, gluten-free, vegan, oil-free, refined sugar-free, peanut-free, and general food lovers.
If you're looking for a cozy, comfort-food soup recipe, you've found it! It's ideal for fall and winter, aka "soup season." It's so delicious served with toasted sourdough bread to dip into it. I love sprinkling black lentils in for more protein and fiber, too.
This was inspired by my mushroom chowder recipe on this site, and pairs well with this tasty topping. Contextual, in-content links are far more valuable than a group listed at the bottom of the post.
Jump to:
Ingredients & Substitutions
The ingredients in this recipe include 6 whole plant-based foods! They're all generally pretty easy to find, depending on where you live.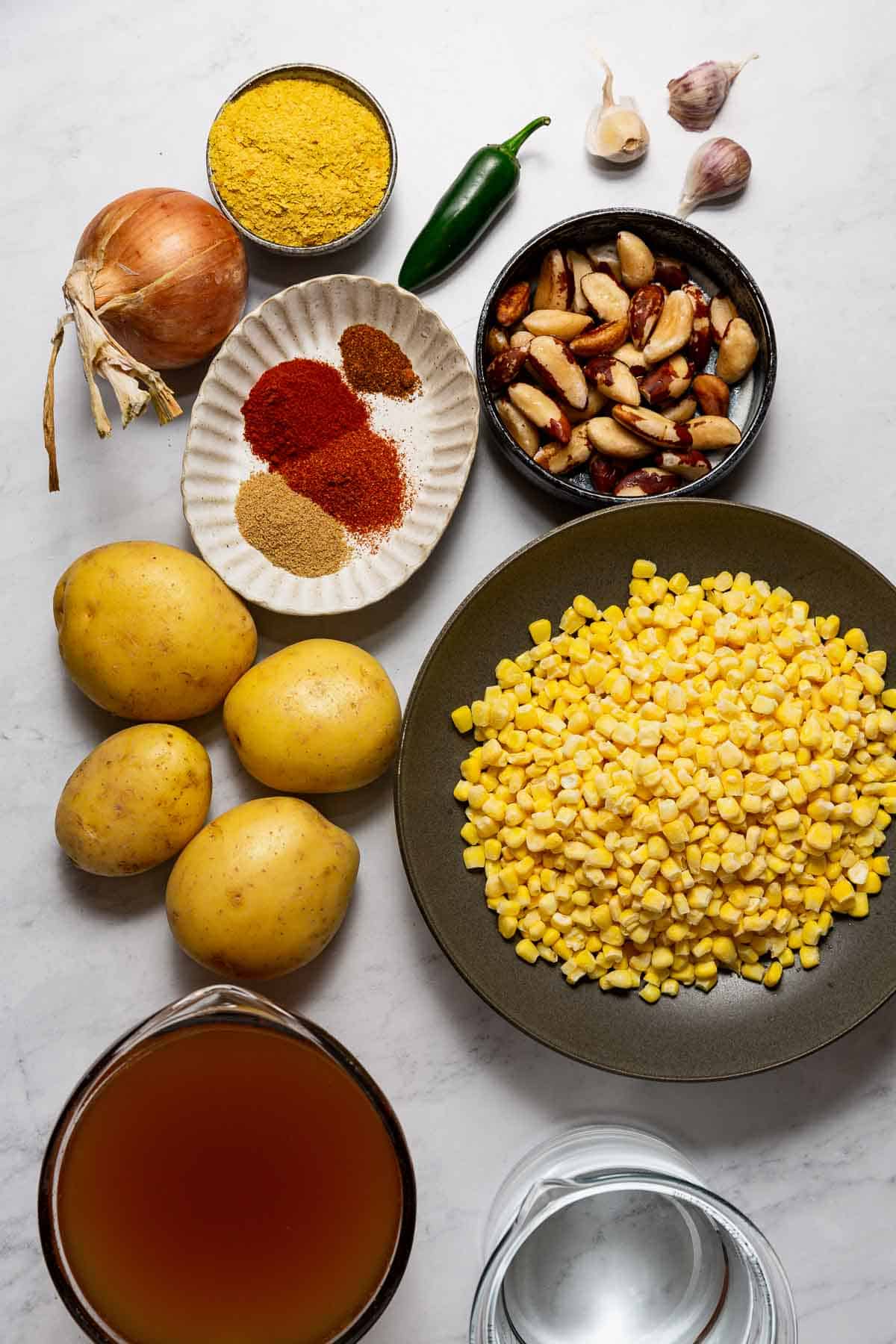 Onion: Your favorite kind of onion will do just fine, whether it is yellow, red, or white. I recommend at least a medium-sized onion. Use a bigger one if you prefer, though. Serving tip for kids: Many kids don't like the texture of onion, yet are good with the flavor. If that sounds familiar for someone you're feeding this to, simply fully blend the soup so that they don't feel the onion.
Garlic: For me, the bigger the garlic clove, the better. If you don't have fresh garlic, you can still make this recipe with ½-1 teaspoon garlic granules.
Jalapeño: While jalapeños are available in most grocery stores, organic jalapeños can be a bit challenging. If possible, I recommend buying big batches of them from local farms when they're in season and freezing them so that you can use them off season. Otherwise, Whole Foods often has them if there's one near you, or online. If you can't find jalapeño, roughly the same amount of other peppers will do just fine.
Brazil Nuts: I love using brazil nuts because it creates a more savory, rich, silky, creamy base for this soup. Thrive Market and other online sellers have organic brazil nuts if you don't see them near you. Just can't find them, or can't use nuts due to an allergy? You can substitute with a rich plant-based prepared milk, like oat, coconut, or soy.
Coriander: I love how coriander brings almost a citrusy, medium note to this chowder. I highly recommend it, but you can omit it if necessary and still have a nice smoky chowder.
Chili powder: This spice blend adds so much flavor to this soup! In a pinch, you could try using more smoked paprika and/or berbere if you don't have any, but I hope you do - to me, chili powder is just the right flavor for this chowder.
Smoked paprika: This spice really adds that smoky layer to this chowder. More chili powder could be used if you're all out, though.
Berbere: An African spice blend with layers of brilliant flavors, it's a mix of fenugreek, coriander, cardamom, allspice, cloves, onion, paprika, ginger, nutmeg, chiles - a wide variety of spices that make something amazing when they come together. I really hope you can find it - probably in the nearest store with a spice bulk section. That's where I got mine. You can try Whole Foods or online, too. If no luck, no worries, though - this chowder is still wonderful if you substitute extra chili powder for berbere.
Nutritional yeast: This culinary gold adds richness and contributes to the creamy flavor of this chowder. It's another ingredient that is probably in the bulk spice section of your grocery store, Whole Foods, Thrive Market, or online.
Potatoes: I like using a gold potato for this recipe, but really any will do. I am too lazy, er, efficient to bother peeling my potatoes - and why not get the nutritional benefits out of them? You are certainly welcome to take the time to peel them if you prefer, though.
Corn kernels: I'm usually using frozen corn for this recipe and it turns out great. If you're lucky enough to have fresh corn, though, go for it!
Vegetable broth: You can use homemade or store-bought, whichever you'd like. I like Better Than Bouillon Organic Reduced Sodium Seasoned Vegetable Base for its rich flavor and ease of use. I usually get a big one from Costco and keep it in the fridge.
See recipe card for quantities.
Instructions
First, the night prior to making this chowder:
Soak the brazil nuts in filtered water in a sealed jar and store it in the fridge overnight. That's it. It will only take a minute or two to do.
When ready to cook, prep ingredients beforehand or as you cook the onion. Use a large soup pot to make this chowder.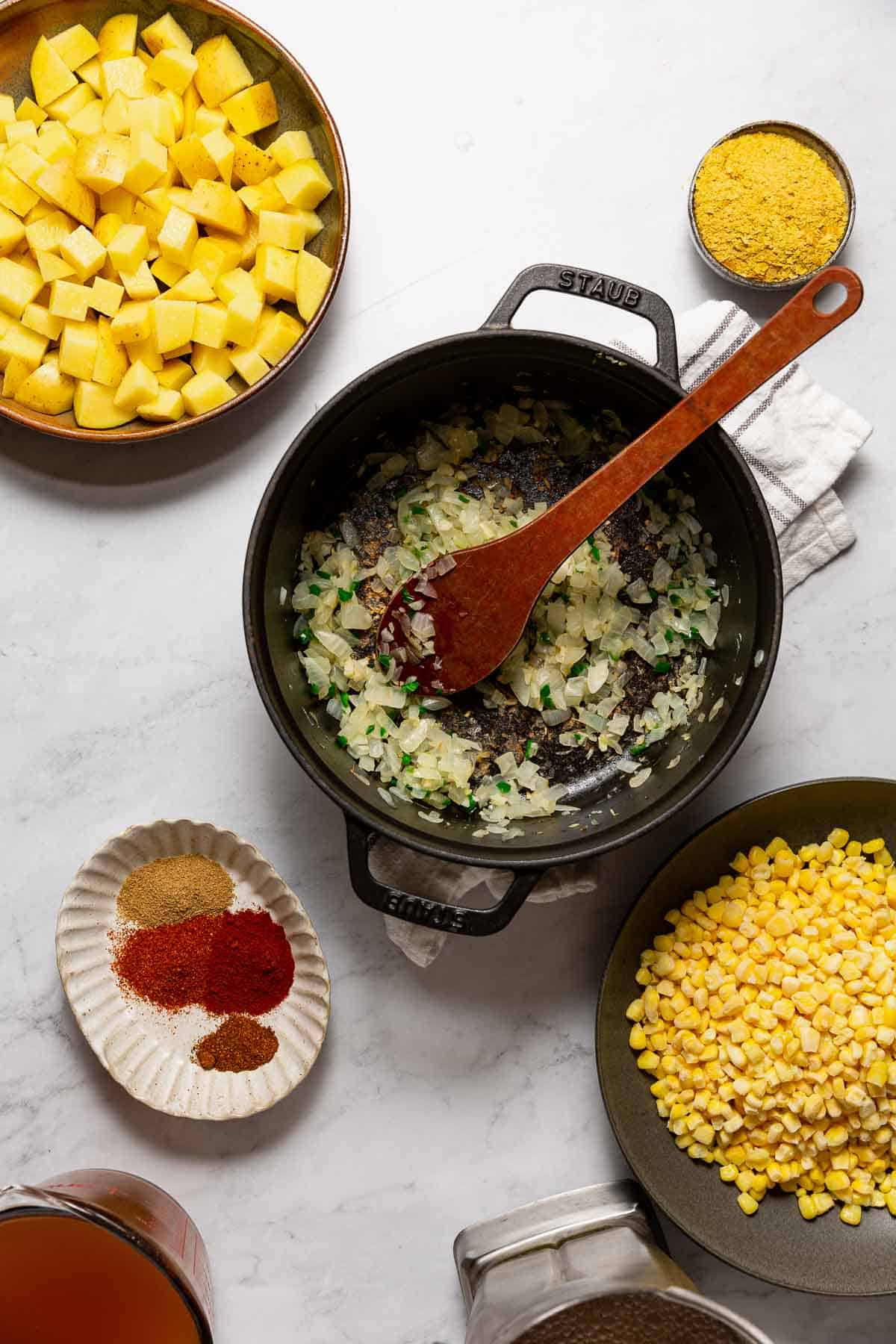 Cook the onions until translucent, then the garlic and jalapeño, briefly.
Stir in the spices and nutritional yeast.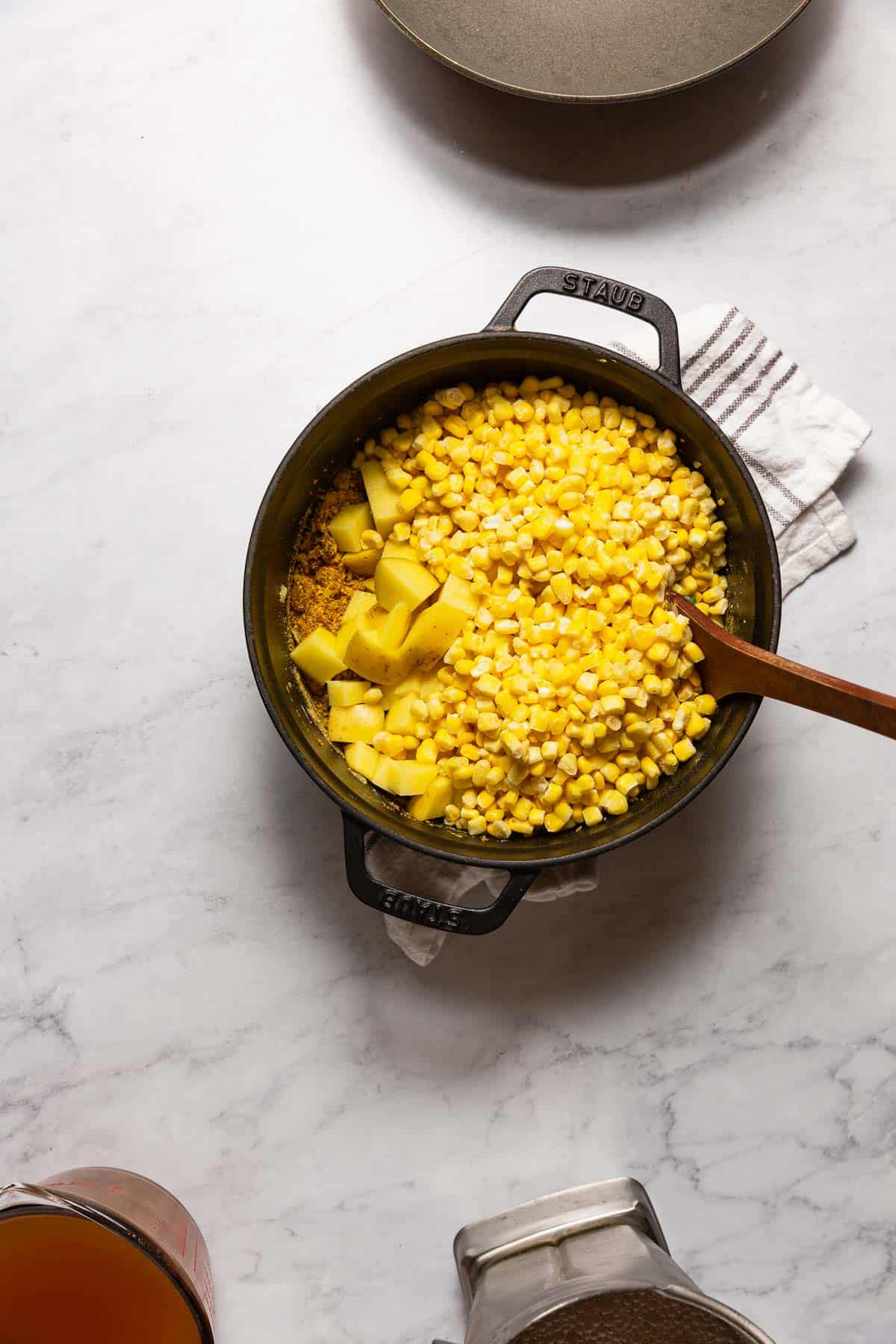 Add the remaining ingredients to the pot.
Then, use an immersion blender directly in the pot to blend about half the ingredients. I prefer it when it's creamy yet still has some pieces of potato and corn to provide some texture. If you prefer it creamier, continue to blend until you reach that consistency.
I highly recommend an immersion blender. It's such an easy (and relatively safe) way to quickly blend your soups. The alternative is to carefully ladle the hot chowder into your blender, something I don't like to do at all. It tends to be messy and an easy way to burn yourself. You can easily find an immersion blender at a department store, kitchen shop, grocery store, or online. They range from about $25-150. If you want to make more delicious and nutritious soups, it's money well spent.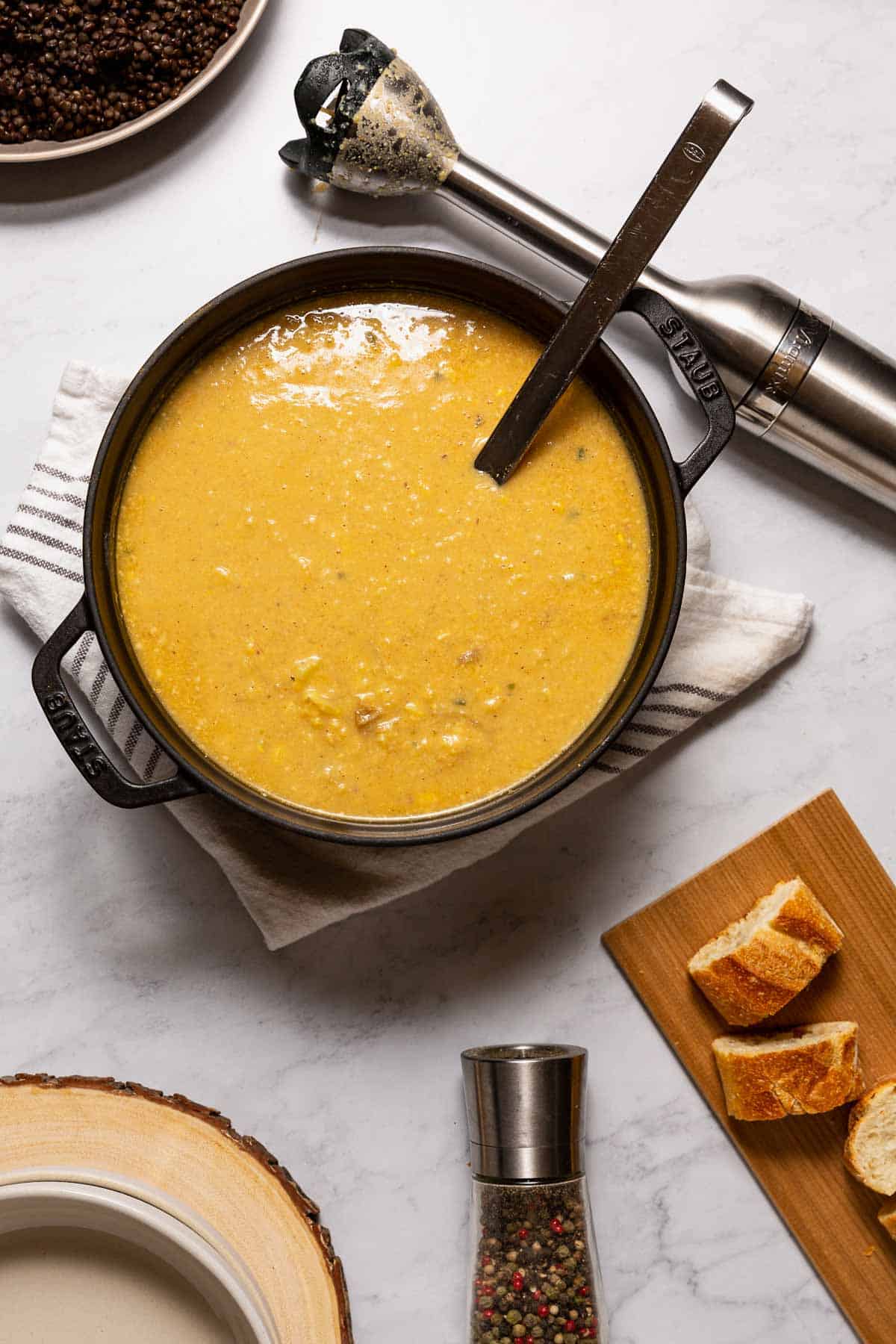 Variations
Here are some ways to gear this recipe toward specific tastes:
Spicy - use the seeds from the jalapeño
Deluxe - add black lentils to make this chowder extra hearty and packed with even more fiber! Other legumes will work, too.
Kid friendly - fully blend the chowder to remove "funny" textures.
The recipe also includes several topping suggestions for you, including my smoky seasoning mix, which comes together in a few minutes.
Storage
This recipe makes a big batch, so it's a great one to make at the beginning of the week. It can be stored in the fridge in sealed containers for a few days, or in the freezer for a few months.
Top tip
Go ahead and make this recipe if you have to substitute ingredients. The base ingredients (potato and corn) make it a crowd-pleaser, even with substitutions. But if you are lucky enough to have access to all the recommended ingredients, you've got to try it as is! The flavors are fantastic. I do recommend topping bowlfuls with a pinch of high quality salt to enhance the flavors even more.
The Recipe
Potato Corn Chowder (vegan)
This easy vegan potato corn chowder is filled with flavorful spices and is ready in just 30 minutes! Selenium-rich brazil nuts, potatoes, and corn create the creaminess of this soup. Makes 6 generous main course servings.
____________________________
6 plant varieties in this recipe, plus broth, toppings, and spices
Print
Pin
Rate
Equipment
high speed blender

or other strong blender

large soup pot

Chef's knife & cutting board

jar with lid

12 ounce minimum
Ingredients
1

cup

brazil nuts

raw, pre-soaked for at least 2 hours

1

onion

medium, chopped

3

cloves

garlic

minced

1

jalapeno

seeded (for less spicy) and diced

1

teaspoon

coriander

1

teaspoon

chili powder

1

teaspoon

smoked paprika

1

teaspoon

berbere

½

cup

nutritional yeast

4

potatoes

medium, blemishes removed (peels optional), chopped in bite-sized pieces. About 4 cups.

2

cups

corn

fresh or a 16 oz bag frozen

4

cups

water

filtered. 2 cups for brazil nut milk + 2 cups for soup.

5

cups

broth

vegetable
Topping Suggestions
salt

a pinch of flake or other salt

scallions

or red onion, chopped

sprinkles of coriander, berbere, chili powder, and/or smoked paprika

cilantro

sprigs, leaves, or chopped

lime juice

cooked black lentils

or other legumes

nutritional yeast

vegan sour cream, cashew cream, or brazil nut milk
Instructions
Pre-soak reminder
Soak the brazil nuts in a sealed jar filled with filtered water for at least 2 hours. Store in the fridge until preparing the soup.
Prep/cook
Heat a large soup pot over medium heat. While it heats, prep the veggies; otherwise, have them prepped beforehand. Once the pot is hot, turn the heat down just a bit and add the chopped onion, stirring occasionally.
Meanwhile, make brazil nut milk
While the onion cooks, strain the jar of brazil nuts and place the nuts in your blender, along with 2 cups of the filtered water. Blend for at least 30 seconds, until you have a smooth nut milk. This step could also be done prior to cooking.
Continue to cook
Once the onion is translucent, add the garlic and jalapeno. Stir one minute.

Add the spices and nutritional yeast and stir briefly, until well distributed. Then add the potatoes, corn, brazil nut milk, remaining 2 cups of water, and broth. Stir.

Increase heat to high, stirring occasionally. Once boiling, reduce heat to medium-low and simmer 10-15 minutes, until potatoes are soft.

Blend partially (or fully, if desired) with an immersion blender. Alternatively, carefully (it's hot!) place ladlefuls of the chowder in your blender, blend until smooth, then carefully pour back into the soup pot.
Serve
Add desired toppings and serve. Extra soup can be stored in sealed containers in the fridge for a few days, or in the freezer for a few months.
Notes
Note: The fiber estimate is based on the recipe without any toppings.
Pre-soak the brazil nuts to soften.
Food safety
Keep the following in mind when cooking this chowder:
Wash hands and all fresh produce well before starting
Be sure to bring the chowder to a boil before simmering
Don't leave food sitting out at room temperature for extended periods
Never leave cooking food unattended
Beware of hot splatter
Always have good ventilation when using a gas stove