Time for a refreshing glass of lemon mint water! This recipe is so simple, it's hardly a recipe. It really serves as a reminder that we can choose to drink beautifully. This recipe is sugar-free, sugar substitute-free, vegan, and satisfies a whole food plant-based lifestyle. Spa water at home!
If you're looking for ways to get more water into your life, here's a tasty one. It can be surprising just how easy it is to turn plain old water into something delicious. This is a drink that is simple yet so satisfying any time of day, especially through the warmer part of the year, and if you drink it instead of lemonade - well, think of all that sugar you're saying goodbye to. I know I don't miss it.
I love lemon water, and I also enjoy mint water now and then. There's just something extra spa-like special about the combination!
What you'll love about this recipe
A full day's worth of lemon mint water can cost less than one can of your favorite sparkling water.
So quick and easy! Make it in 5 minutes, then store it in your fridge to enjoy all day.
The flavor is outstanding!
No sugar!
Less waste than buying canned or bottled water.
It's such a satisfying way to hydrate. Feels like you're at the spa, really taking care of yourself. Because you really are taking care of yourself!
Ingredients and Substitutions
You only need three ingredients for this recipe. Note: For the lemon and mint, choose organic if you'd prefer pesticide-free water. These days, pesticides are so prominent in some areas that they find their way to organic crops, so I recommend washing even with organic.
Fresh, clean, filtered drinking water.
That piece of lemon that didn't get used last night.
A couple of fresh mint sprigs. Ok, even one will do. Growing your own in a pot is a great way to save money. Note: mint tends to take over a garden, so container gardening is helpful.
A note on obtaining fresh mint: Growing your own mint is a great way to save money. In the spring, I like to buy a little pot of organic mint for under $5 at my local garden shop and plant it myself. (Sometimes, my grocer will offer this, too.) Mint requires little care; in fact it grows so well that it tends to take over garden beds so I plant mine in a pot, which will keep me in mint all spring and summer. Yes, months and months of lemon mint water (and mojitos!). Otherwise, you can buy one of those little packs in the fresh herb section at your grocery store. It's so worth it! You'll have several days worth.
This year, I'm growing ginger mint! In the past, I've grown lavender mint, pineapple mint, orange mint - have fun discovering which variety your local garden store carries.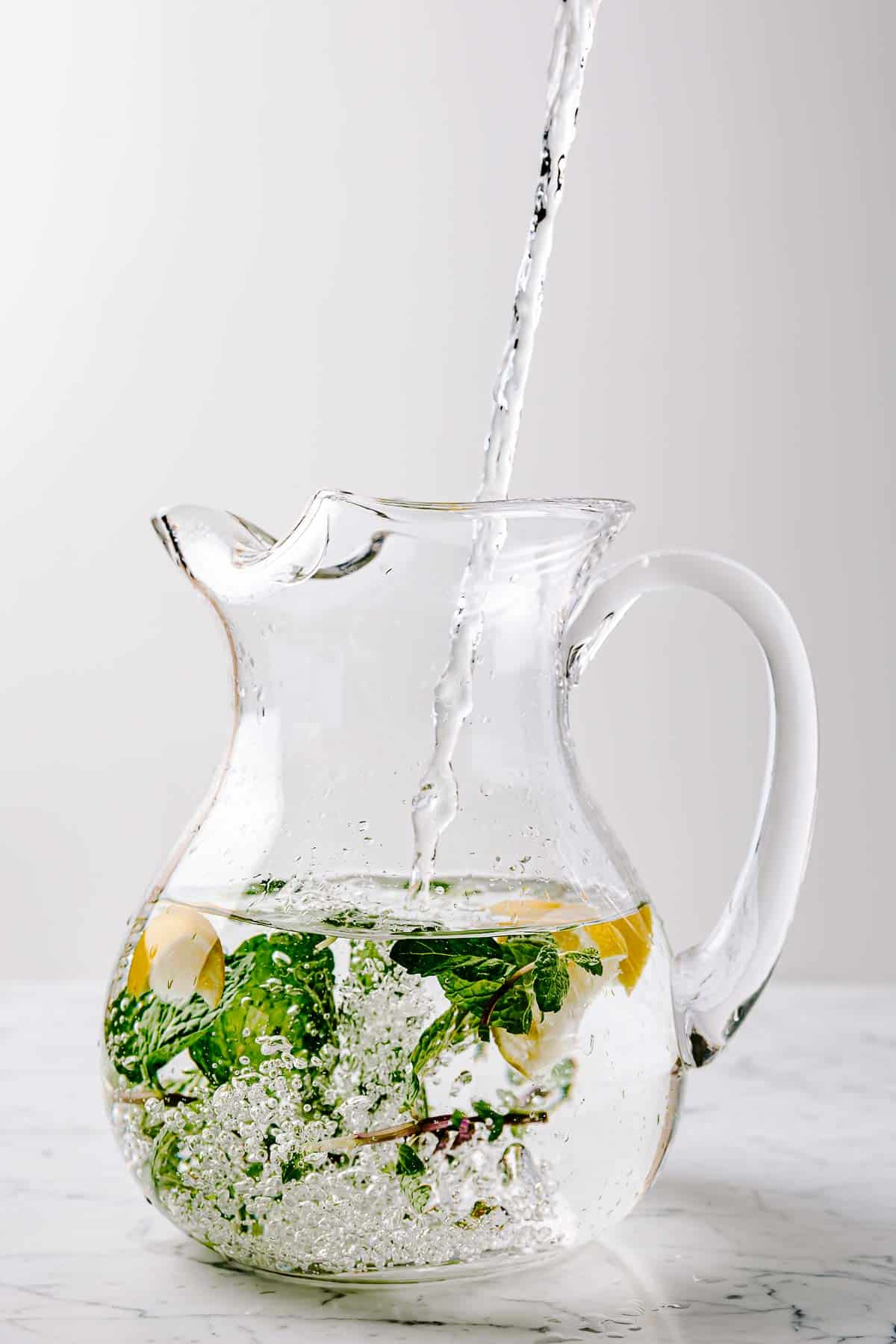 Instructions
Simply place the ingredients in a pitcher and enjoy! For extra flavor, pour a little water into the pitcher, then stir/muddle with a utensil to bring out more mint and lemon flavors. Finish pouring. That's it!
water safety
It's important to wash anything that's going into your water well. Wash your hands and produce well; soaking fruit and veggies for 5 minutes and then rinsing can help remove anything that shouldn't be in your drinking water.
Be sure to drink water with fresh produce in it within two hours. If you're not going to be done by then, place it in your fridge until you're ready to drink more. You can keep a pitcherful in the fridge and just keep pouring it into a glass when needed; it will stay nice and cool that way. Otherwise, keep it ice cold with lots of ice.
There can be a lot of stuff we'd rather not be drinking in tap water. Using filtered water helps remove it.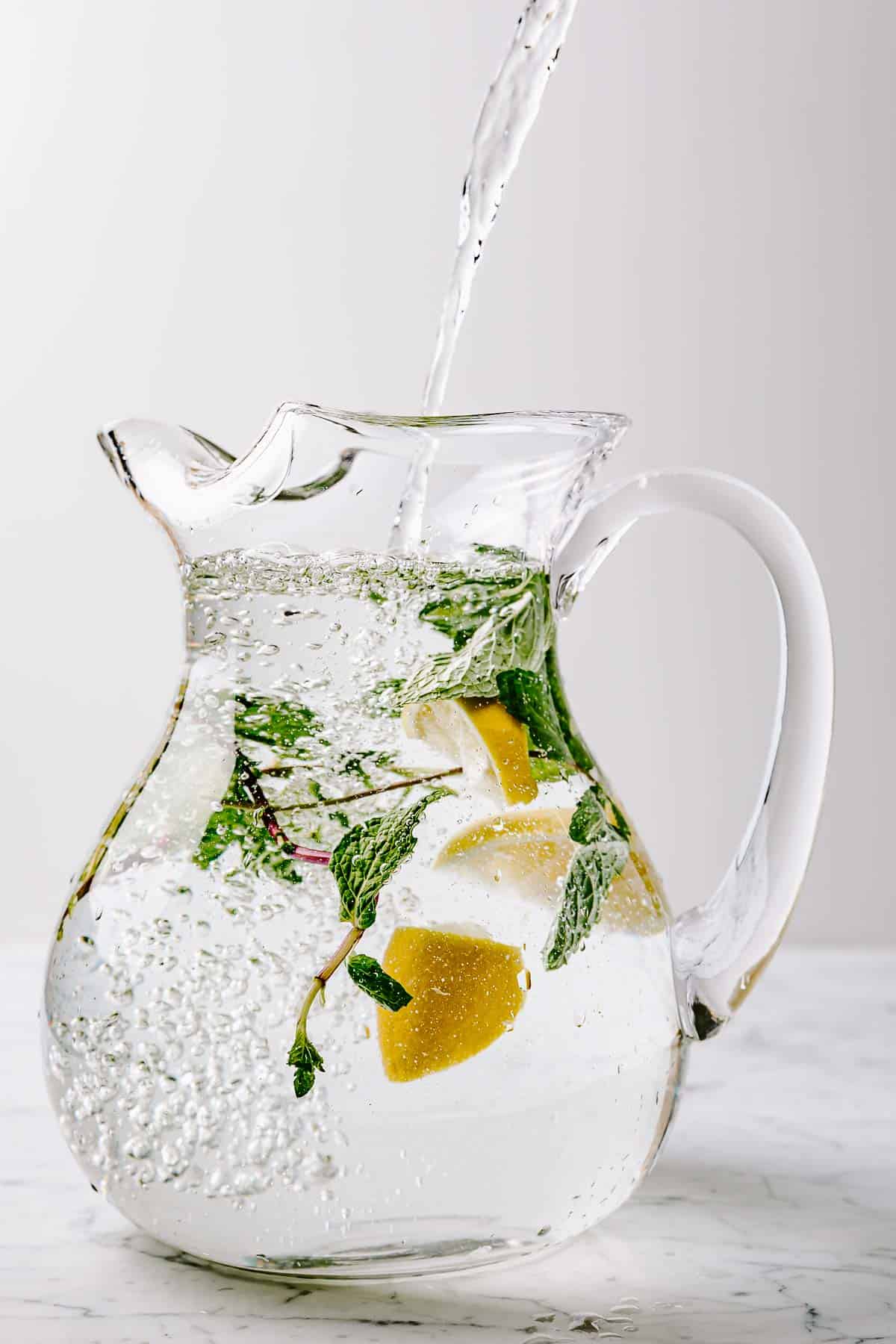 Serving
Lemon mint water can be served in lovely glass carafes at the swankiest parties or in a basic pitcher at the family table. Either way, it elevates mere water to something special that cleanly quenches thirst and calls people back for more just because it tastes so good.
Some people like a punch of flavor in their water, others prefer a subtle infusion. For subtle flavor, I recommend at least one large sprig of mint, crushed to bring out the flavor, and two lemon slices or thin wedges per 64-ounces. My personal preference is at least two sprigs of mint and three lemon slices or small wedges. You can start drinking right away, though flavors will become stronger the longer they mingle.
Protect your teeth, a serving tip: I recommend drinking anything with acidic properties that can affect tooth enamel, like citrus or apple cider vinegar, with a reusable straw.
Which makes better lemon water, lemon slices or wedges? Well, I'll start by saying that if you were to just squeeze lemon into water, the result is pretty much just bitter water. The bright yellow part of the lemon rind - the part used to make zest - is important because it's what gives lemon that lemony flavor. It's why we zest, right? It seems by my own taste-testing that my water has a little more lemony flavor and a little less bitterness with unsqueezed wedges rather than slices. Is that because there's more exposed yellow rind? Maybe. Slices are so pretty though, and the difference is minimal, so I will use either slices or wedges, usually depending on the occasion. Remember, if the lemon becomes too bitter in your water, simply remove the pieces from the water. The lemon flavor will still be there.
More flavored water recipes:
The Recipe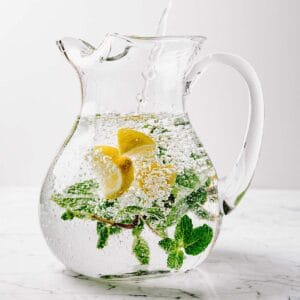 Lemon Mint Flavored Water Recipe
Time for a refreshing glass of lemon mint water! This recipe is sugar-free, sugar substitute-free, vegan, and satisfies a whole food plant-based lifestyle. Spa water at home! Drink the whole pitcherful yourself throughout the day or share it at a gathering with friends.
Print
Pin
Rate
Equipment
chef's knife and cutting board

Water pitcher

or other large serving container
Ingredients
¼

lemon

up to ½ a lemon, sliced or cut into wedges

2

mint sprigs

1-3 work well

2

quarts

filtered water

64 ounces
Instructions
Slice the lemon into rings or wedges and place them into your pitcher. Squeezing them will add bitterness to the water.

Crush the mint in your hand and rub it a bit to bring out the flavor, then place it in the container.

Pour the filtered water into the container, place the lid on, and refrigerate.

If you find the lemon flavor is getting too strong over time, remove the lemon.

Store sealed in the refrigerator and enjoy within two days. Due to the acidity of the lemon, reusable straws are recommended to protect teeth enamel.
Notes
My goal is to provide recipes that are easy and relatively quick; doable during a busy week. Kitchen times are approximate and will depend on various factors, like your personal kitchen speed and how many hands you have working with you. Cooking can become a centering experience that brings family together. I hope you enjoy the ride!