Macadamia nut butter is already out of this world, and we're adding pretty pink fruit powders to take it to a whole new level! So simple and so rich and luxurious.
Making this treat for someone could certainly be interpreted as an act of love, whether for your lover, kids, parents, friends, enemies, acquaintances, or yourself. It's a macadamia nut butter love note. It can't help but bring a smile to the face of any recipient. And when you wonder how it tastes so good and then realize the only added sweetener is a teaspoon of maple syrup in the whole batch and sprinkles of powdered fruit, with natural colors and no added oil, your smile is likely to get wider. So. Good.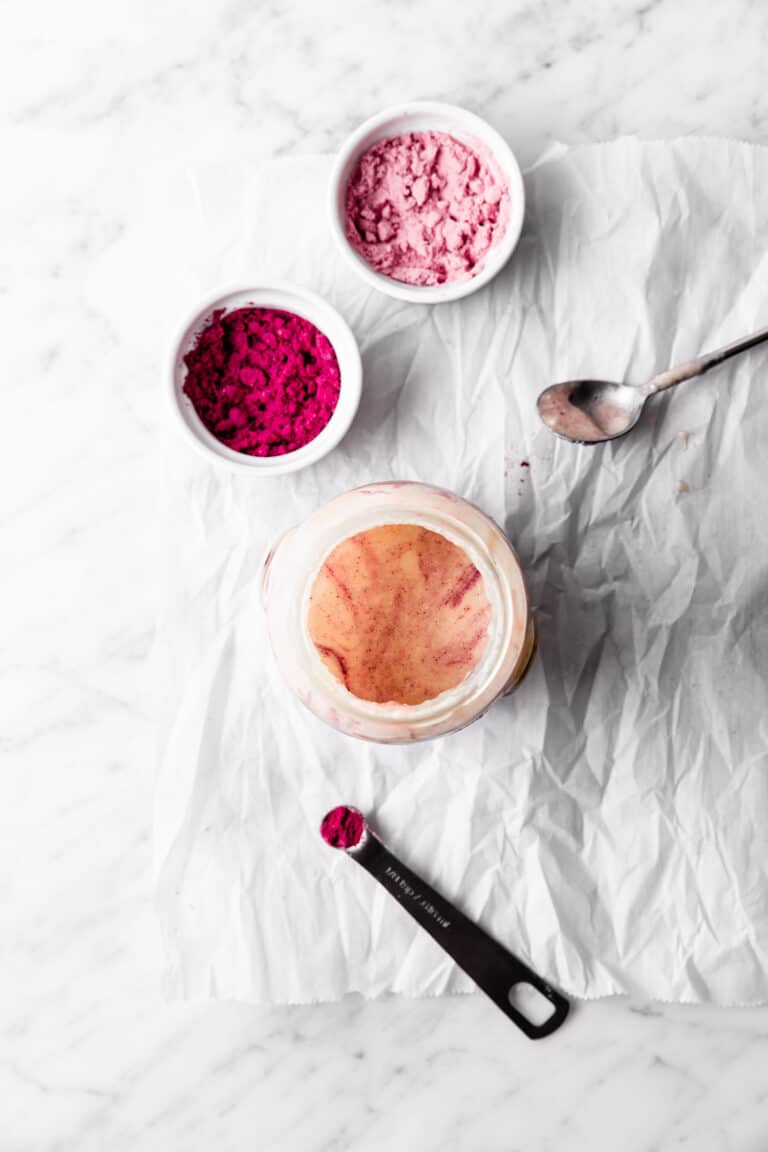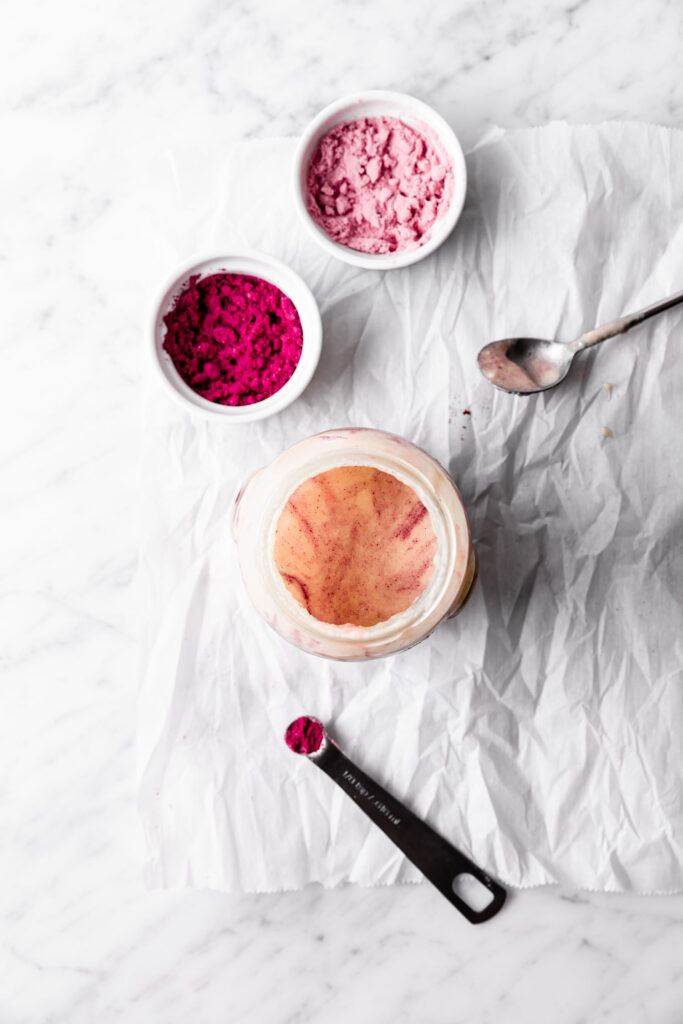 Ingredients and variations
Just a bag of macadamia nuts, a tiny bit of maple syrup, fruit powders, and a touch of salt - that's it! I've used pitaya (dragon fruit) and pomegranate powders to achieve the pretty pink colors. There are other fruit powder available that you could certainly try, too.
Equipment
After toasting the nuts in the oven or toaster oven, they are processed in a food processor. A high speed blender may also work, though I haven't tried it yet.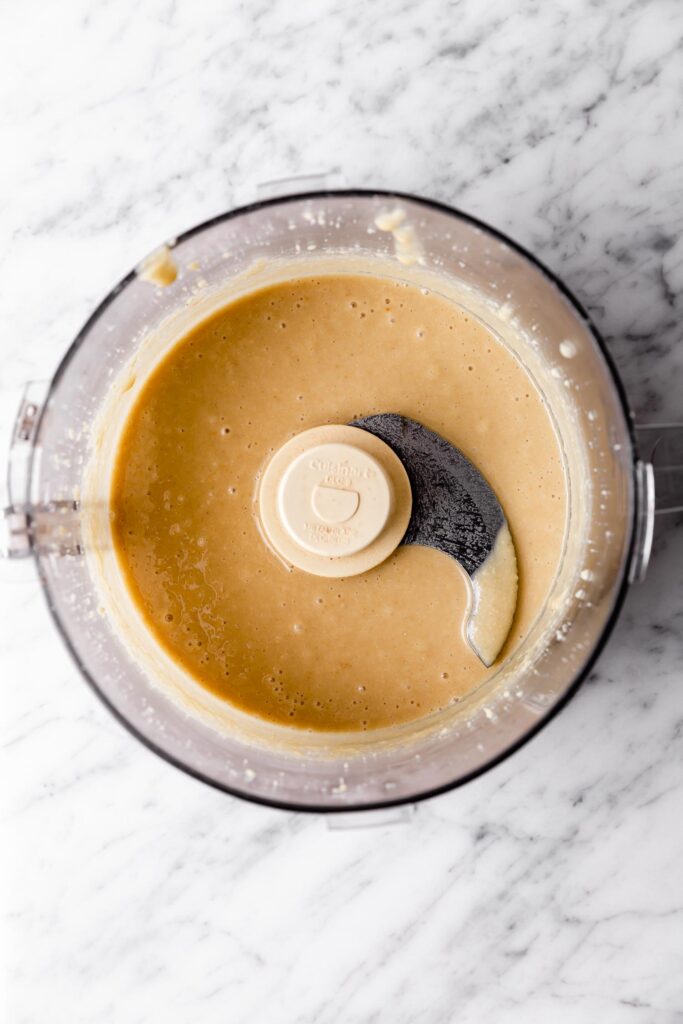 Instructions
Another good thing about Love Note Macadamia Nut Butter? It's super easy to make. If you haven't tried making your own nut butter, it only involves stirring nuts with a touch of maple syrup and salt, toasting them for a bit, letting them cool, and then putting them in your food processor for a few minutes until nice and creamy. That's really it. To get the sweet pink swirls, simply add a bit of the nut butter to a jar, sprinkle a bit of fruit powder along the outer edge (against the side of the jar), and continue alternating until the jar is full. Poke a knife through the powders to create the swirls and you've got yourself something special to give.
I love having this pretty nut butter on-hand any time of year, and it's especially fun for Valentine's Day. It's so nice to have a pretty Valentine's Day treat without loads of sugar. It feels extra special! Often, macadamia nuts are available in bulk bins at the grocery store. You only need 8 ounces to make this recipe. Look for raw nuts rather than roasted. The fruit powders aren't cheap, but a bagful will last a long time.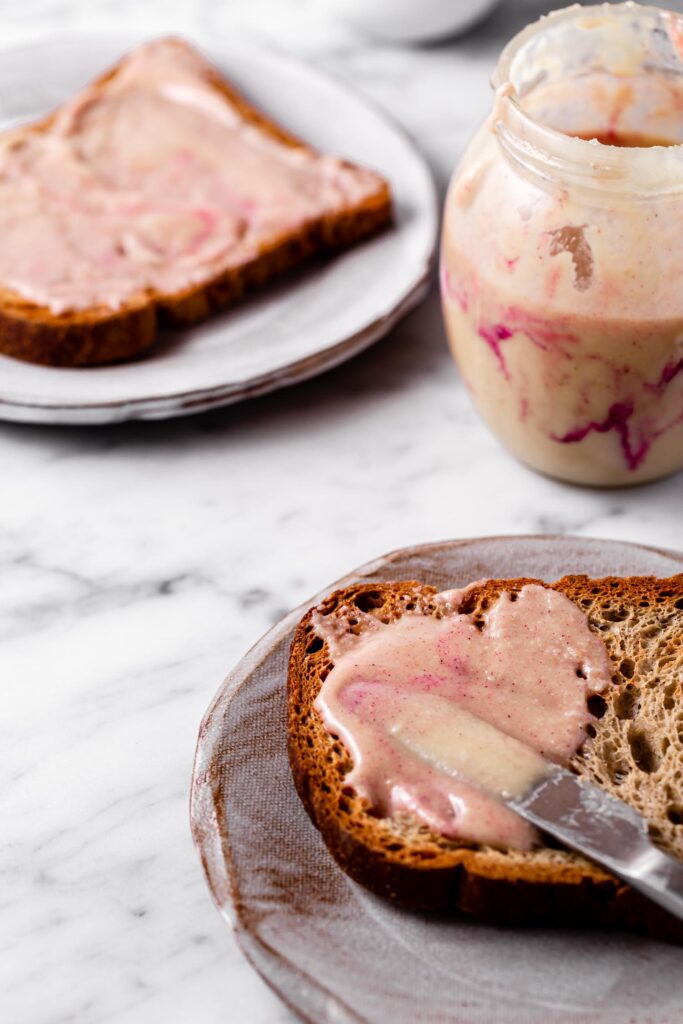 Looking for more colorful treats? Check out the Chocolate Berry Pistachio Stuffed Dates.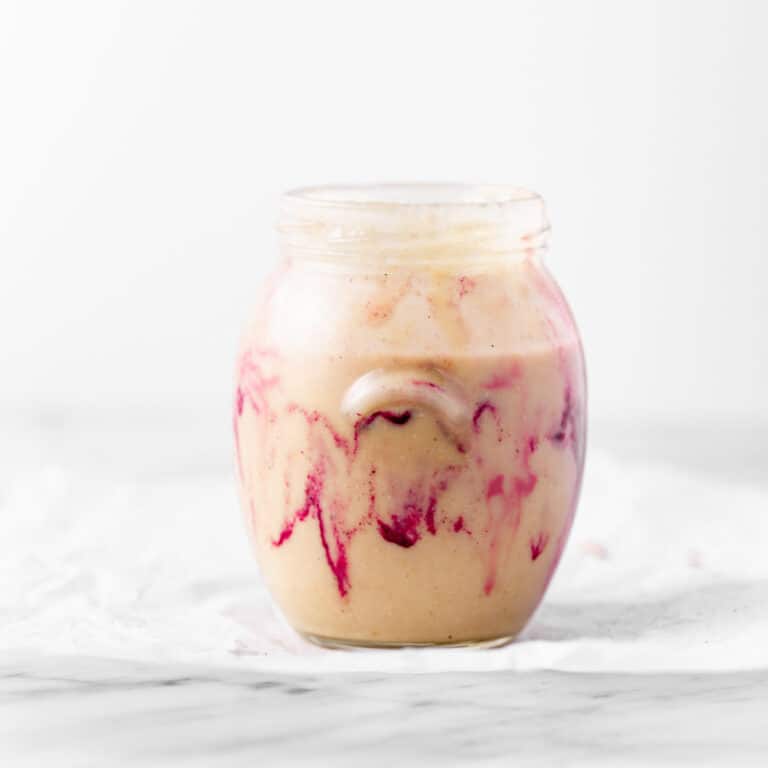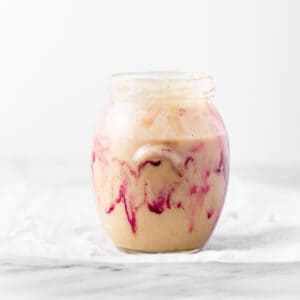 Macadamia Nut Butter with Pink Swirls Recipe
This quick treat is pretty in pink and so tasty! A delicious peanut-free option that is gluten-free, has no added oil, and is made with just five ingredients. Makes one 8-ounce jar.
Print
Pin
Rate
Ingredients
8

ounces

macadamia nuts

raw organic

1

teaspoon

maple syrup

⅛

teaspoon

salt

1

teaspoon

pitaya powder

aka dragon fruit powder

1

teaspoon

pomegranate powder
Instructions
Set the oven to 325 degrees. Place the macadamia nuts in a bowl and stir in the maple syrup and salt. Pour onto a baking sheet lined with parchment and bake for 12 minutes, until the nuts are golden and fragrant. Remove from oven and let cool about 5 minutes.

Place the toasted nuts into a food processor and process until smooth, stopping to scrape the sides down as needed.

Meanwhile, place the fruit powders in separate small prep bowls.

Using a spatula or serving spoon, carefully transfer a scoop of the nut butter to a jar. Then, sprinkle an ⅛ teaspoon of one of the fruit powders into three separate spots on top of the nut butter, making sure it's sprinkled along the outer edge so the color will show through the glass jar, as pictured (if desired). Add another scoop of nut butter, then sprinkle the other fruit powder in the same way the previous fruit powder was sprinkled, aiming for different spots around the outer edge. Continue to alternate nut butter and fruit powder until all of the nut butter is in the jar.

With a knife or narrow spatula, poke through the areas of fruit powder, continuing around the jar to create swirl patterns. Be careful not to stir or over mix the nut butter in the process so that the swirls remain visible.

Serve in any manner you enjoy nut butter. Keep sealed in the fridge for up to a month or so.
Notes
Note: If you love the flavor of macadamia nuts, you'll love this! There's a slight fruity flavor added with the pretty pink powders; I find that no other sweeteners are needed (like jam) to enjoy this nut butter thoroughly, but that's totally your call. Keep in mind that the color of fruit powders can vary by brand.
More sweet treats