This vegan spinach salad includes crispy bacon-flavored tempeh, ready in just 15 minutes. Easy, simple, and a real crowd pleaser! Oil-free, gluten-free, refined sugar-free.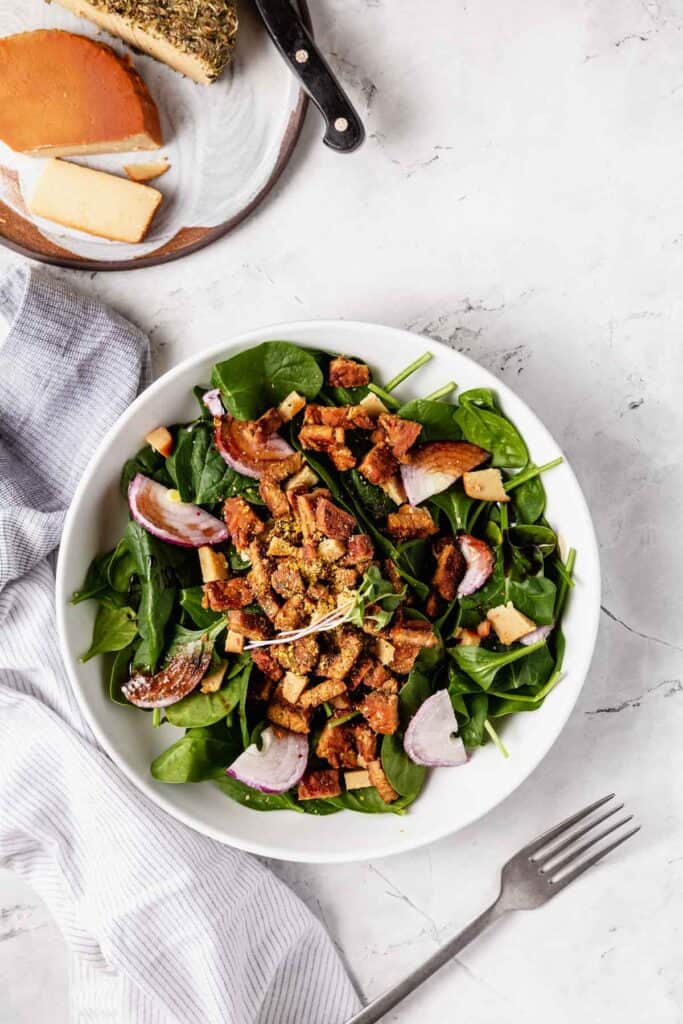 This is one of those salads that is so easy and delicious, it is likely to be on repeat throughout the spring and summer. If you're a fan of spinach salad with bacon but would like a more nutritious alternative, this vegan version is for you. The recipe is even oil-free (even with Miyoko's Aged Herbes de Provence Cashew Milk Cheese!), gluten-free, and refined sugar-free. It's such a delicious and satisfying way to get your greens on. Plus, it can be thrown together in just 15 minutes! Yep, this is the ideal salad.
Tempeh Bacon
Thankfully, you can usually find ready-made tempeh bacon in most grocery stores, part of what makes this salad so easy. If you don't expect it to taste like actual bacon, you'll likely love it. Tempeh bacon is its own thing. It has a nice chewy texture and smoky flavor, making each bite of this salad amazingly yummy.
Other Vegan Bacon Options
If you have a little time to make your own, there are other great plant-based ways to go for a nice bacon flavor. Check out these recipes, also on the blog: Quinoa Bacon Bits, 4-Ingredient Coconut Bakin and Oil-Free Shiitake Bacon. Any of these vegan bacon options would also be really delicious in this spinach salad, and they're all vegan!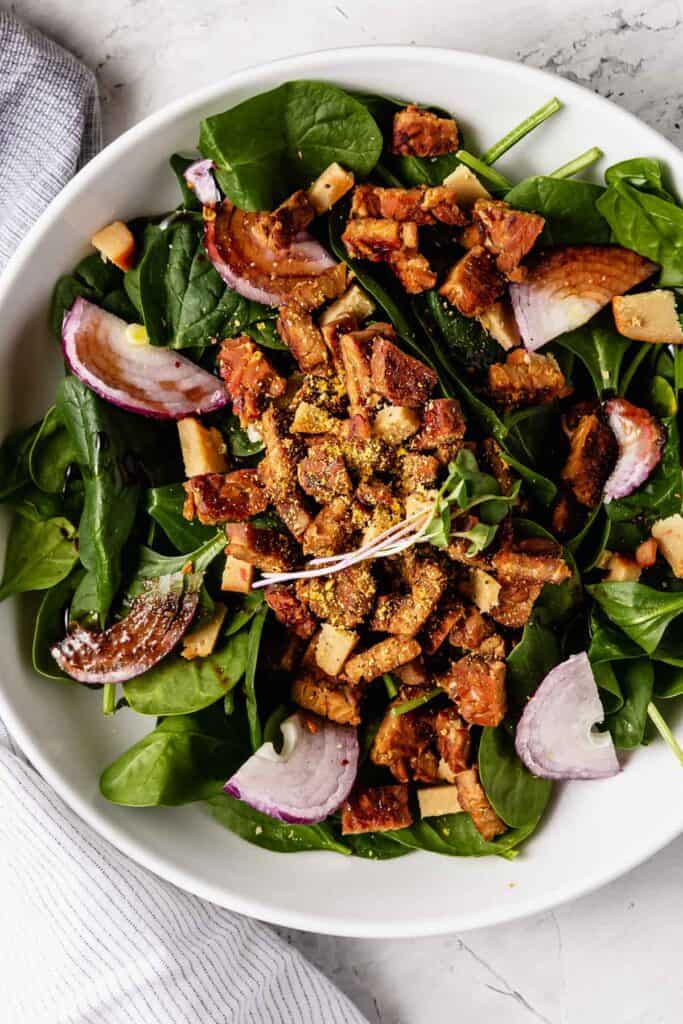 Ingredients
Spinach: The foundation!
Tempeh bacon: There are various options for this at grocery stores. I like Tofurky's version.
Red onion: The rainbows are created by slicing the onion into thin rounds, then cutting those in half to create the arches. Red onion is the best for this, with spring onions, scallions, or shallot options if you don't have any.
A note on red onion: I love red onion in anything raw and savory, from sandwiches to salads to sushi. It adds a wonderful flavor and balance to most dishes. Another benefit: red onion contains anthocyanins, which are the pigments that give purple and red foods their color. Anthocyanins have been shown to have several health benefits - another reason I like to include them, and other purple foods, whenever I can.
Aren't these rainbow shapes extra fun? If you only like a little onion, though, try separating the pieces instead of keeping them as rainbows. That way, you won't get as much onion in your bite. If that's still too much for you, of course feel free to mince or reduce or even omit the onion - you do you!
Aged balsamic vinegar: This is the thick, rich type that is amazing all by itself without any olive oil. A glaze makes a decent substitute, though they're often made with added sugars and other ingredients. See the dressing section below for more on this.
Nutritional yeast: Provides a cheesy flavor and B12.
Red pepper flakes: Gives this salad a little kick.
What can make this salad even better? Vegan cheese! Preferably, the really tasty artisan type like you can find at Miyoko's Creamery. So far, the one I've found to go best with this salad is the Aged Herbes de Provence - wow, so good! Just adding small bits elevate the flavors and textures to extra dreamy.
The Dressing
One of my favorite discoveries when I visited Italy a couple years ago was the highly-regarded aged balsamic vinegar. It's exclusively from Modena or Emilia, made though a specific process from grape must and aged for years. This thick, sweet-tart "liquid gold" is so wonderful on its own, not even olive oil is needed to go with it. A really good olive oil with balsamic do make a delicious pairing - but if you're trying to avoid oil, this balsamic is all you really need.
I'm not talking about the kind of balsamic that you see everywhere in the US, which is thinner and more vinegary. I'm talking about the rich, thick, flavor-balanced aged balsamic tradizionale. It's going to be more expensive, but totally worth it - and a little goes a long way. It is the only dressing needed for this recipe. Once you have a bottle on-hand, you'll likely want it as a finishing touch to more of your salads, roasted veggies, bread, pretty much anything.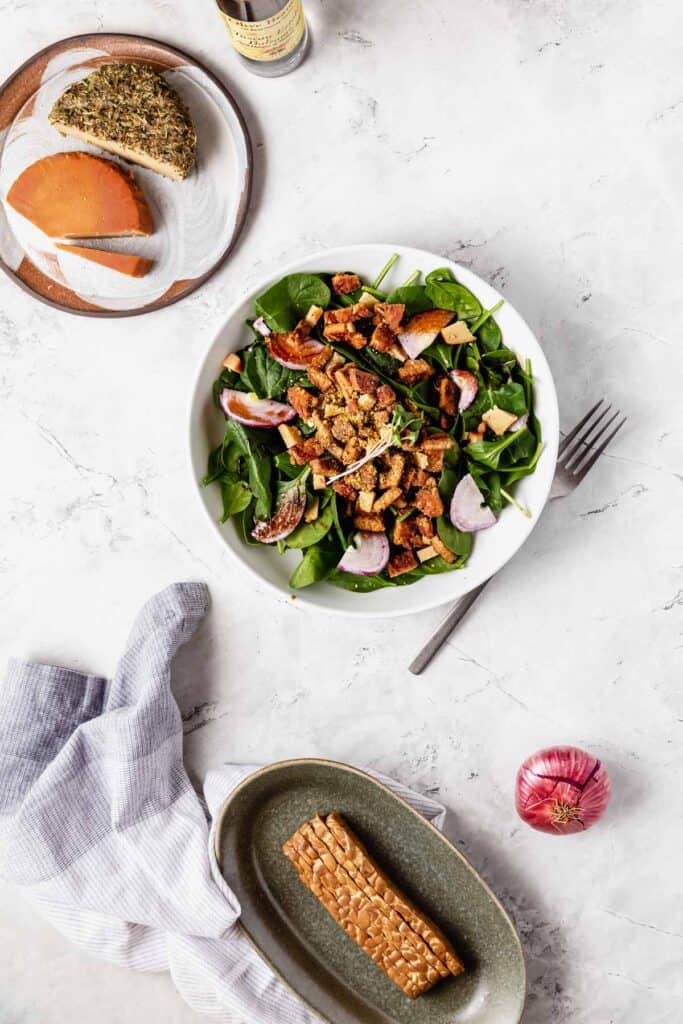 Instructions
Chop the tempeh bacon, then add it to a hot pan and brown. Alternatively, air fry the tempeh bacon pieces.
Then, toss the spinach and onion with the balsamic. Sprinkle the browned tempeh bacon, nutritional yeast, red pepper flakes, and bits of vegan cheese (if using) over the salad. Serve.
A Note on Portions
This recipe serves four as a side; however, it makes a meal all by itself quite nicely. To serve four as a main dish, simply double the recipe.
Serving and storing
Serve immediately, or hold off on adding the balsamic until serving. Doing so will allow it to store well in the fridge for up to a few days and pack well in a cooler lunch pack.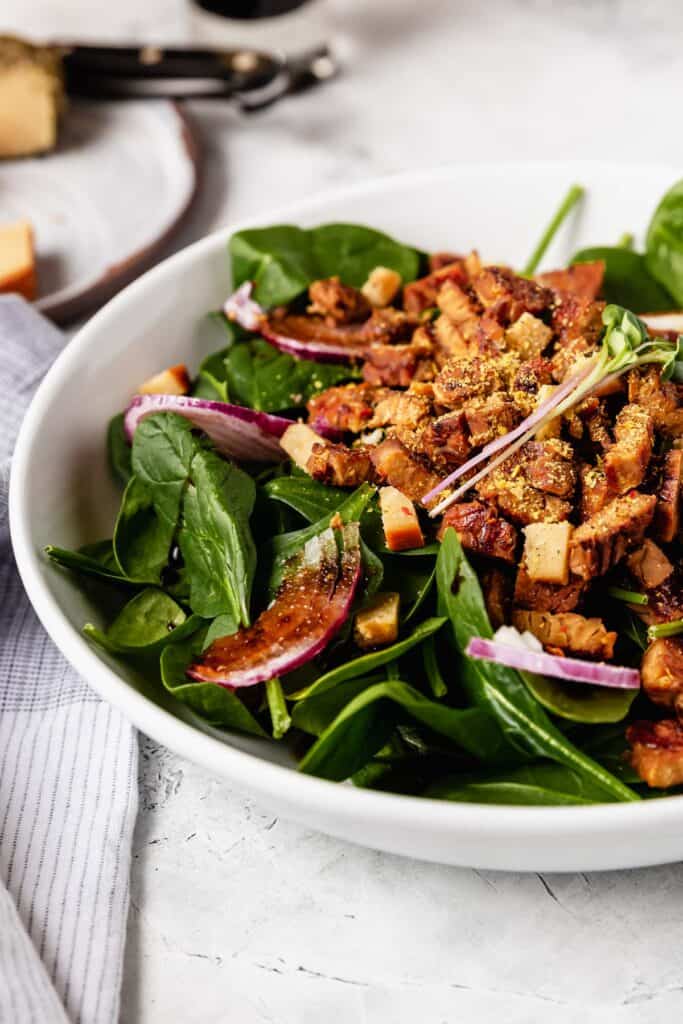 More summer salad ideas
The Recipe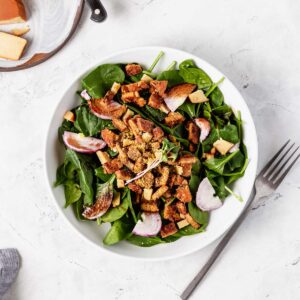 Vegan Spinach Salad Recipe
This vegan bacon-flavored spinach salad quickly comes together in just 15 minutes and is a real crowd-pleaser. It's so easy, with simple, delicious ingredients like crispy bacon-flavored tempeh, and an aged balsamic vinegar.
___________________________
Plant Diversity: Striving for 30 different plants per week
The number of plants in this recipe: At least 3 plants
Print
Pin
Rate
Ingredients
6

cups

spinach

⅓

cup

thinly sliced red onion

then cut in half for rainbow shapes

1

package

bacon-flavored tempeh strips

chopped

3

tablespoons

aged balsamic vinegar

2

tablespoons

nutritional yeast

¼

teaspoon

crushed red pepper flakes

Salt & pepper to taste
Topping Ideas
2

ounces

vegan cheese, like Miyoko's Artisan cheese

Herbes de Provence is delicious with this salad

2

tablespoons

chopped chives

2

tablespoons

hemp seeds

2

tablespoons

sunflower seeds
Instructions
Stovetop option: Heat a stainless steel or cast iron skillet over medium heat until hot, then add the chopped tempeh bacon, filling the pan in one layer.  After 3 minutes, check them and if browned, flip them over to cook the other side for another 3 minutes.  Once browned, set aside to cool.Air fryer option: Place the chopped tempeh bacon onto an air fryer tray in one layer and air fry them for 5 minutes at 400 degrees, or until they are lightly browned.

Place the spinach in a large bowl, then add the sliced onion.  Pour the balsamic over the top, then toss to coat.

Spread the bits evenly over the salad, then sprinkle the nutritional yeast and crushed reds evenly over the top.  Add salt & pepper to taste, then serve.