with a butterscotch option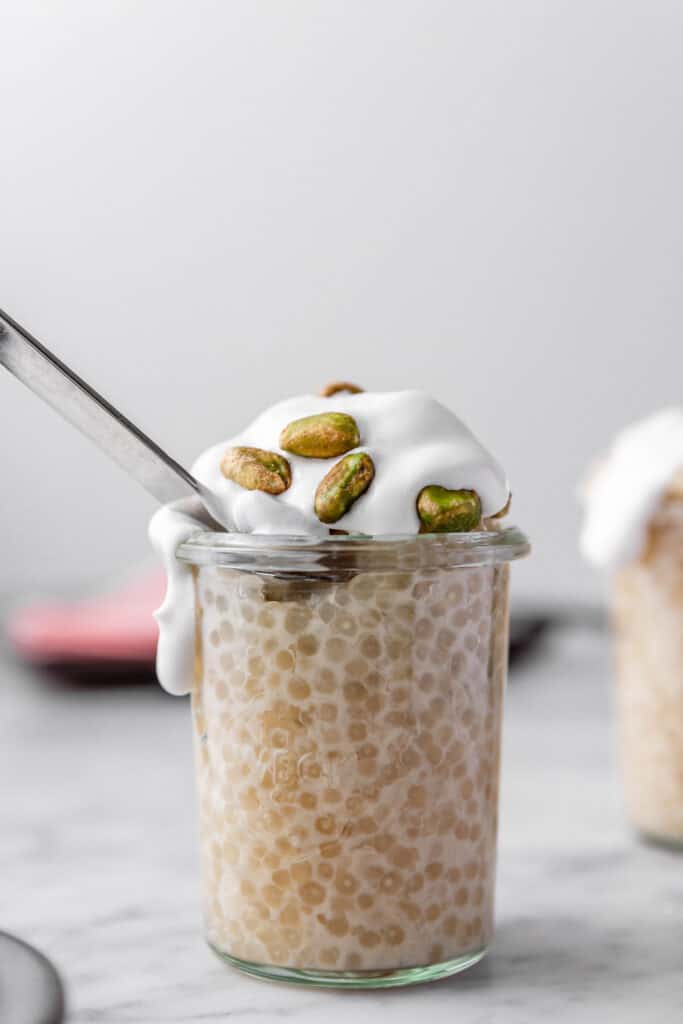 Tapioca pudding is weird. Those of us who love it get that, right? It's partly why we love it! It has a wacky, bubbly texture that, admittedly, not everyone vibes with. My mom made it a few times for me when I was a kid, even though she was not a fan herself (she taught me how to make it for myself pretty quickly!). I loved it then but for some reason never got around to making it since - until recently, when I realized I had some in the pantry. I've heard from enough of you that you love it, too, so I've created this plant-based version.
HOW I DESCRIBE THIS TAPIOCA PUDDING
•VEGAN
•GLUTEN-FREE
•EASY
•ONE-POT PREP
•READY IN UNDER 30 MINUTES
•REFINED SUGAR-FREE
•OIL-FREE
•DAIRY-FREE
•LIGHT
•FUN TEXTURE
•VANILLA FLAVOR
Made of starch from cassava root, tapioca is satisfying yet light for a dessert - especially this version, which avoids the usual heavy cream. This version is less creamy than most, focussing on that tapioca texture. (If you prefer it extra creamy, you can try adding more plant-based milk). The pearls swell as you cook them until they are soft little orbs that fascinate the tongue. See what you think! They only take about 20 minutes to make. Most people like this dessert chilled, though you can eat it warm.
The darker pudding below (on the right) came about during recipe development when I tried making tapioca using coconut nectar instead of maple syrup. It turned a beautiful golden color and had more of a butterscotch flavor, so if that sounds good to you, sub out the maple syrup for coconut nectar! I of course encourage you to try both to see which you prefer. I'm always curious about what you like, so feel free to contact me to let me know your preference. Either way, my favorite way to eat this pudding is sprinkled with salty pistachios, sometimes with coconut-based whipped cream, too. So. Good.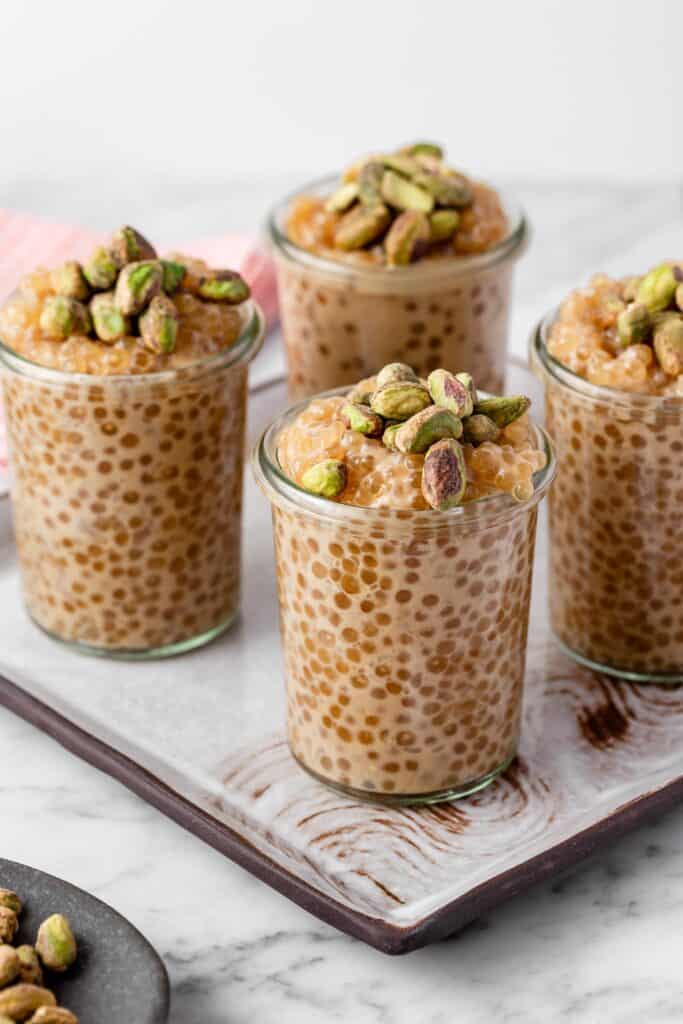 TIPS FOR MAKING THIS TAPIOCA PUDDING
The hands-on part of this recipe is only about 20 minutes. Stirring throughout the cooking time is important to keep it from burning or boiling over. This stuff really wants to boil over, especially if you take your eyes away for just a second, so be watchful and ready to lift the pot off the heat until it's at a calm simmer.
You can pour the cooked pudding into individual servings, though I find that the pearl distribution doesn't always end up very even that way. Filling each serving jar half way by pouring and then filling the rest with a spoon will help you control this. Otherwise, pour all of it into a large container and divide once cooled. It will be more clumpy serving it this way, so give it a good stir first.
I used Bob's Red Mill Small Pearl Tapioca because they were what I could find. If you use a different type, like a larger pearl, the pudding may come out differently.
The pudding firms up as it chills. If you prefer the final product creamier, you can try adding more plant-based milk so that after 20 minutes you end up with a spoonful that is maybe half pearls instead of mostly pearls. I haven't yet tried this because I like the texture as is - let me know if you do!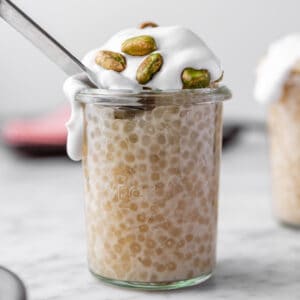 Vanilla Tapioca Pudding Recipe
vegan • gluten-free • ready within 30 minutes • refined sugar-free • oil-free • quick & easy dessert
Print
Pin
Rate
Ingredients
3

cups

unsweetened vanilla coconut milk

or other unsweetened plant-based milk

⅓

cup

maple syrup

for more of a butterscotch flavor, use coconut nectar instead

4

teaspoons

vanilla or vanilla powder

⅛

teaspoon

salt

½

cup

tapioca pearls
Optional Toppings
4

tablespoons

pistachios

and/or fruit

4

tablespoons

coconut whipped cream
Instructions
Combine the milk, syrup, vanilla, and salt in a pot over medium-high heat and stir frequently. Keep watching and stirring frequently until the mixture begins to steam and seems close to boiling. Watch very closely and once the first sign of bubbles appear, remove from heat and stir in the tapioca pearls. Warning: This pudding will boil over very easily in the next step, so keep a watchful eye! If you are using an induction cooktop, you're less likely to have boil-over.

Reduce the heat to low, set your timer for 15 minutes, and place the pot back on the heat, carefully watching and ready to lift off the heat again if the boil begins to rise (it can rise quickly, so be careful!). If that happens, remove the pot from the heat for a moment or two, then try putting it back. Continue until the pot can sit on the heat simmering without removing it, stirring frequently.

Continue stirring. When the timer goes off, see if a spoonful comes out filled mostly with pearls. If it's mostly filled with milk, stir a few minutes more until mostly pearls.

Pour into a large jar or other glass container and cool until able to refrigerate. Refrigerate, covered, for at least 3 hours before serving.

Add toppings or eat it as is and enjoy this happy moment.
Notes
The conversions and nutrition information are calculated automatically and I cannot guarantee the accuracy of this data. I encourage you to confirm this information with your favorite unit conversion/nutrition calculator if you would like to be more certain. 
Nutrition
Carbohydrates:
39.2
g
|
Protein:
3
g
|
Fat:
10.9
g
|
Saturated Fat:
5
g
|
Sodium:
320.1
mg
|
Potassium:
194
mg
|
Fiber:
1.8
g
|
Sugar:
18
g
|
Vitamin A:
31.1
IU
|
Vitamin C:
0.8
mg
|
Calcium:
268.1
mg
|
Iron:
1
mg