Quick & Easy!
vegan | natural coloring | gluten-free | dairy-free | quick | easy | ready in 15 minutes | summer
I'm so happy to share this easy and very festive recipe with you. It's the ideal breakfast to fuel the kids before a packed 4th of July holiday. It's full of red, white & blue splendor without any artificial dyes. Really! Strawberries are all you need for the red, and the blue is represented with blueberries and natural blue powder - either Blue Majik (pictured), which is a spirulina extract, or blue butterfly pea flower powder. You can often find both now at health food stores. They don't really add flavor, but boy do they add color!
Textures and sweet flavors are plentiful in these parfaits. After you gaze at their beauty and congratulate yourself on the red & blue fireworks display you so easily and effectively created on top, you'll find that first bite is filled with the creamy whipped cream and a little strawberry essence - plus if you're lucky, a sweet-tart pop of blueberry. Digging down, you'll find the smooth yogurt juxtaposed with the crunch of granola and chia seeds, and finally, that icy-cold strawberry sorbet with little berry chunks throughout. Berry good!
So before you go to the parade, classic car show, fair, pig races, barbecue, beach bonfire, and fireworks show, make it easy on yourself and throw these nutritious, delicious parfaits together for breakfast - you'll be eating them within about 15 minutes and kicking off the day beautifully. Really, you're just a blend-stir-scoop away from eating these sweet treats, and after you try them, I think you're going to want to make them all summer long!
I hope you have a fun, safe holiday filled with love and kindness.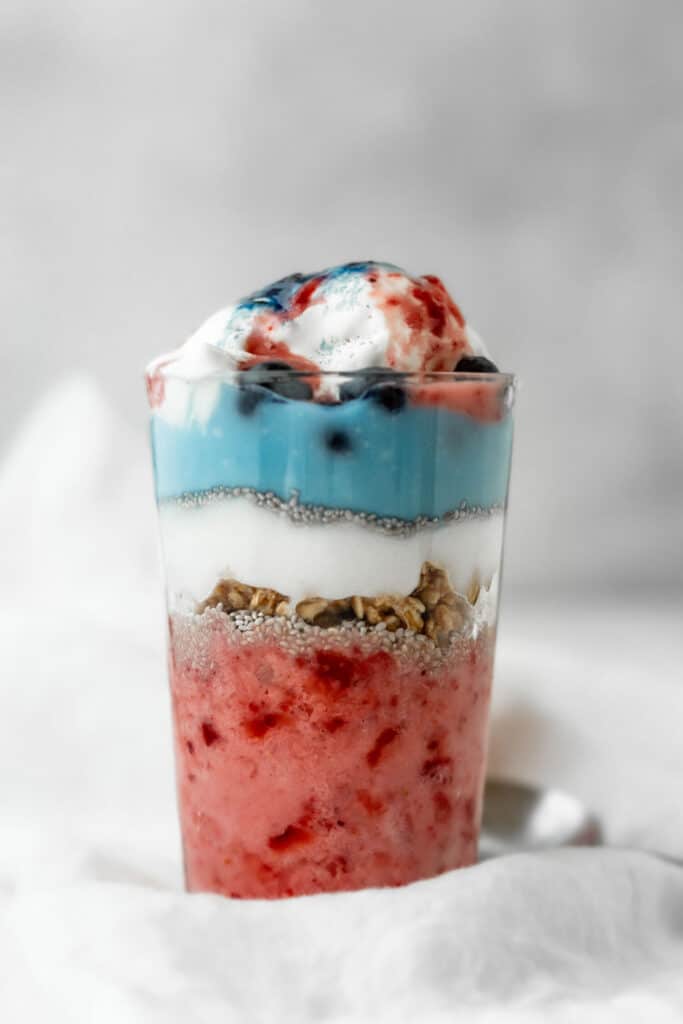 QUICK & EASY RED, WHITE, & BLUE YOGURT PARFAITS WITH STRAWBERRY SORBET
vegan | natural coloring | gluten-free | dairy-free | quick | easy | ready in 15 minutes | summer
PREP TIME: 15 minutes | TOTAL TIME: 15 minutes | SERVINGS: 2 servings
RECOMMENDED TOOL: high-speed blender
INGREDIENTS
1 cup frozen strawberries

½ cup coconut milk or other plant-based milk

2 teaspoons date or maple syrup

1 6-ounce container vanilla or plain coconut (or other plant-based) yogurt

⅛ teaspoon blue majik powder* or blue butterfly pea flower powder

4 teaspoons chia seeds (white preferred)

½ cup granola

⅓ cup fresh blueberries

two scoops of coconut whipped cream (I like So Delicious CocoWhip! Light)
*While Blue Majik is becoming a popular way to color food and some sources say that it can help with flexibility, energy, vitality, endurance, and cellular protection, I've noticed that the E3Live site recommends consulting your healthcare practitioner prior to use if you are pregnant or nursing. I've not seen the same for blue butterfly pea flower powder, but I feel it's a good idea to do so with any ingredient you're unfamiliar with.
METHOD
Place the strawberries, syrup, and milk in a high-powered blender. Slowly turn it to high, then use the tamper to push the strawberries into the blade until small pieces are formed. Set the mixture aside.

Divide the yogurt into two bowls. Add the blue powder to one of the bowls, stirring until the color is well distributed.

Choose your parfait glasses or bowls. (I use 8-10 ounce tall drinking glasses so the layers can be seen.) Work in layers to fill each:

For the bottom layer, divide all but a few spoonfulls of the strawberry mixture between the two.

Turning the glass as you go, sprinkle a teaspoon of chia seeds into each glass around the outer edge of the strawberry mixture, creating a ring of seeds, so that the seeds are visible when looking through the glass.

Sprinkle ¼ cup granola into each glass, covering the strawberry mixture and chia seeds.

Spoon the white yogurt around the outer edge of the granola so it can be seen well from the outside, dividing it between the two.

Sprinkle another teaspoon of chia seeds into each glass in the same manner as before.

Spoon the blue yogurt over the seeds, same as the white yogurt, dividing it between the two.

If there is an open ring down the center, fill it with blueberries.

Top each with a scoop of whipped cream.

Garnish with blueberries, a sprinkle of blue powder, and the remaining spoonfulls of strawberry mixture.

Enjoy immediately. Yum!