This vegan parmesan is made of hemp seeds instead of nuts or coconut. It's the first of six recipes that create one epic seventh recipe, from Dustin Harder's new cookbook, Epic Vegan: Wild and Over-the-Top Plant-based Recipes. This recipe is meatless, dairy-free, vegan, gluten-free, nut-free, and is super quick and easy to make.
epic vegan cookbook
This is the first of a seven-part post series celebrating Dustin Harder's new cookbook, Epic Vegan: Wild and Over-the-Top Plant-Based Recipes. I'm so excited for him! After all his epic experiences as The Vegan Roadie on YouTube and his first great cookbook, The Simply Vegan Cookbook: Easy, Healthy, Fun, and Filling Plant-Based Recipes Anyone Can Cook (you can check out a recipe from that book here), Dustin is now focusing on going big in the kitchen by compiling several delicious recipes into one. Some examples: Almost Famous Buffalo Chicken Lasagna, Crab Rangoon Pizza, Caramel Cookie Brownie Milkshake - you get the idea. And yes, it's all vegan! He finds a fabulous way in each recipe.
Dustin asked me to showcase an Epic Vegan Recipe on my blog. It was hard to choose! Then, when I came upon this one, I couldn't pass it up. (drum roll, please): the Bacon Macaroni and Cheese BBQ Blue Burger. !!! I thought you might like it, am I right? In this series, we are going to be building our way to the Epic Vegan Recipe. This particular epic burger recipe involves six recipes!
the epic recipe
On my site, I tend to focus on quick and easy recipes. The nice thing about this epic recipe is that each element is pretty easy to make. Therefore, I'm breaking the Epic Vegan Recipe up into smaller "bites," so to speak. I want you to be able to enjoy each of these and see that they do each stand on their own. I often choose one to have on-hand for the week. After that, if you have the time to put them all together - it's epic!
all seven recipes
Recipe 1 of 7: hemp parmesan
The first recipe required to make the epic burger seems unassuming: Hemp Parmesan. It may seem too simple and unlikely to seem like parmesan. Don't let it fool you. It is rich in flavor and a welcome option to what is often a nut-based recipe in the world of vegan cheeses.
In addition, this vegan parmesan only takes 5 minutes to make! No soaking nuts for this one. I like to have it in the fridge to toss on a salad, beans and rice, pasta, you name it. It just adds that extra yum factor to a dish, achieved even with just a little bit of this kitchen gold.
The Recipe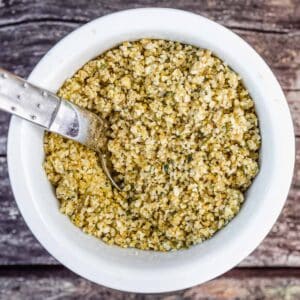 Hemp Parmesan (vegan)
vegan | gluten-free | nut-free | quick | easy | 15 minutes or less | year-roundPREP TIME: 5 minutes | TOTAL TIME: 5 minutes Yields ½ cup (80 g)
Print
Pin
Rate
Equipment
high speed blender

such as Vitamix
Ingredients
½

cup

hemp seeds

60 g

2

tablespoons

nutritional yeast

10 g

½

teaspoon

sea salt

1

teaspoon

maple syrup
Instructions
Add the hemp seeds, nutritional yeast, and salt to a high-speed blender or food processor. Blend on low speed for 30 seconds, scraping down the sides if needed. Add the maple syrup, ½ teaspoon at a time, pulsing the mixture until well combined.

Store in a sealed container in the refrigerator for up to 1 week.
Notes
Author's notes: In my first book, The Simply Vegan Cookbook, I made a walnut parmesan. In this book, I wanted to create a nut-free version that also packs a nutrient punch, so I turned to the good ole hemp seed. I like to have this condiment handy inthe refrigerator to use on pizza and pasta at the ready!
Tip: You can use agave as a substitute if you don't have maple syrup on hand—or even organic cane sugar if you're really in a pinch.
more recipes from the epic vegan series