with the cheesiest cheese sauce
Creamy vegan shells and cheese that are wonderful on their own or in a burger! This is the second of a seven-part post series for Dustin Harder's new cookbook, Epic Vegan: Wild and Over-the-Top Plant-based Recipes. The idea behind this awesome book: Dustin takes a collection of tasty recipes and puts them together to make one epic creation - and it's all vegan! Dairy-free, quick enough to have ready in 30 minutes (with a baked option) and gluten-free option.
The Epic Recipe I chose to share here: Bacon Macaroni and Cheese BBQ Blue Burger.
all seven recipes
recipe 2 of 7: Vegan Shells and Cheese
Today, we are focusing on the mac and cheese part, with actually two recipes from the book: Cheesiest Cheese Sauce and Easy Creamy Shells and Cheese. It is just what it sounds, super creamy and this recipe makes a nice big batch. I had never tried using sauerkraut in a cheese sauce until now, and while it might sound strange, it actually adds a little pleasant tanginess that helps balance the other ingredients - genius! There are a lot of veggies in this sauce, so it's a nutritious winner for the whole family.
More recipes in the series
The Recipe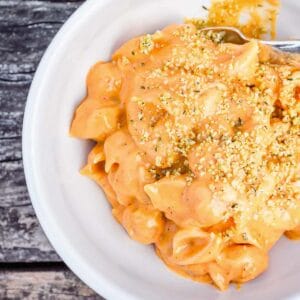 Easy Creamy shells and Cheese with The Cheesiest Cheese Sauce
from Epic Vegan by Dustin Harder
Print
Pin
Rate
Ingredients
2 ½

cups

570 ml water

570 ml

2

cups

squash

10 ounces/340 g, peeled and cubed kabocha or butternut

1

russet potato

peeled and cubed, large

⅓

cup

arborio rice

50 g

2

tablespoons

olive oil

30 ml

½

cup

onion

80 g, chopped

½

cup

red bell pepper

75 g, chopped

4

cloves

garlic

roughly chopped

½

cup

sauerkraut

71 g

¼

cup

tahini

60 g

2

tablespoons

dijon mustard

30 g

1

tablespoon

white wine vinegar

15 ml

2 ½

teaspoons

sea salt

½

teaspoon

black pepper

½

teaspoon

paprika

1

lb

pasta

(1) 454 g or (2) 8-oz boxes pasta shells (gluten-free if desired)

Hemp Parmesan

optional
Instructions
In a large saucepan, combine the water, squash, potato, and rice. Cover and bring to a boil. Reduce to a simmer and cook for 10 minutes, or until the squash is fork-tender. Do not drain the water.

Heat the olive oil in a medium skillet over medium heat. Add the onion, bell pepper, and garlic. Sauté for 3 to 5 minutes, or until soft and fragrant.

Meanwhile, get a pot boiling and cook your pasta shells according to the package instructions.

In a high-speed blender, combine the sauerkraut, tahini, mustard, vinegar, salt, black pepper, and paprika. Transfer the contents of the saucepan (including the water) and the contents of the skillet to the blender. Remove the plug from the lid of the blender and place a dish towel over the hole to allow steam to escape. Blend on low and increase the speed until the mixture is creamy and smooth, about two minutes.

In the large pot that the shells were prepared in, combine the cheese sauce and the shells until the shells are entirely coated. Serve topped with the parmesan, if desired. Serve warm on recipes as needed or toss it with steamed broccoli or your favorite vegetables! Store in a sealed container in the refrigerator for up to five days. Reheat in a saucepan over low heat when needed.

To bake: While the shells cook, preheat the oven to 400°F (200°C, or gas mark 6). Transfer the finished mac and cheese to a lightly greased 9 x 13-inch (23 x 33-cm) baking dish. Bake for 35 to 40 minutes, or until the edges have started to brown and crisp. Remove from the oven and sprinkle with (vegan) parmesan, if desired.
Notes
Author's note: I once was a close contender for a spot on the Food Network's show The Great Food Truck Race. If chosen to compete, I knew I wouldn't be able to rely on things like nutritional yeast and miso, which can be challenging to find sometimes. I set forth to create a cheese sauce with ingredients I knew I could find anywhere in the country so I could effectively compete in any given situation, and that's when I got obsessive about creating this recipe. It's so versatile; I hope you love it as much as I do!
Tip: I prefer kabocha squash, as it is slightly richer in flavor and color, but if you can find only butternut squash, that works as well - and you can sometimes find it already peeled and cubed in the grocery store! Mac and Cheese: This recipe comes together in a cinch. While your pasta is cooking, whip up the cheese sauce. Crunch up potato chips for an extra-fun crust on top.