This bbq sauce recipe is the 4th of 6 recipes culminating in one epic 7th recipe for the Bacon Mac & Cheese BBQ Blue Burger, from Dustin Harder's cookbook, Epic Vegan: Wild and Over the Top Plant-based Recipes. This recipe is easy, vegan, gluten-free, and wonderful anytime.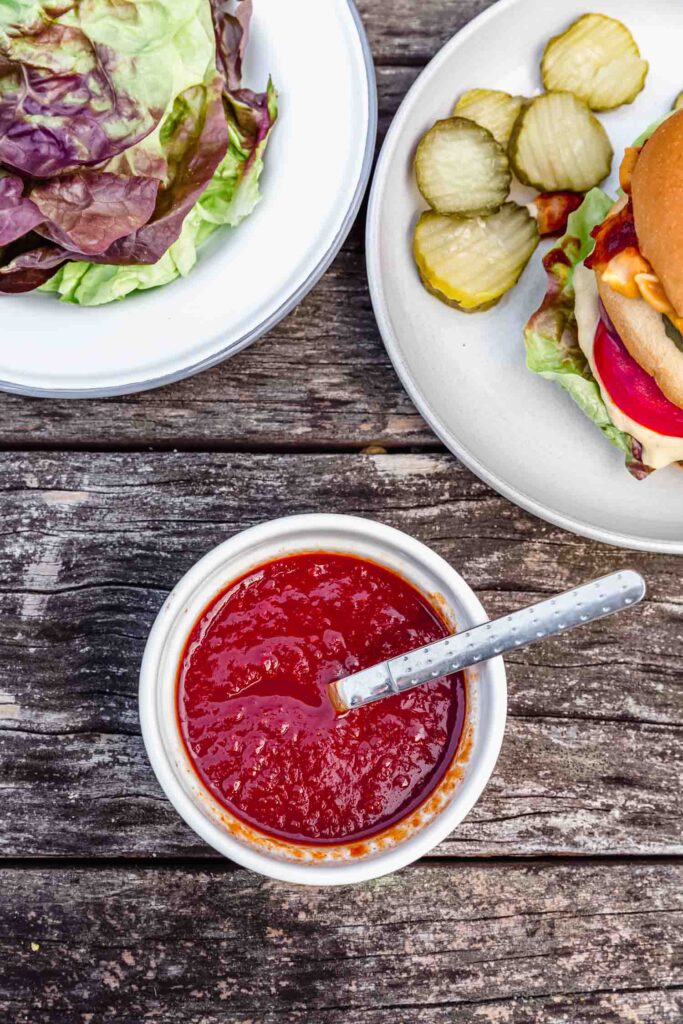 recipe 4 of 7: red bbq sauce
The fourth recipe in our Epic Vegan series is a summery treat that doesn't take much effort to make: Red BBQ Sauce. So delicious slathered onto anything grilled, it's a great all-around bbq sauce. And once you discover how easy it is to make BBQ sauce at home, you may find yourself experimenting to create your own brand. Fire up the barbecue and make this bbq sauce!
All seven recipes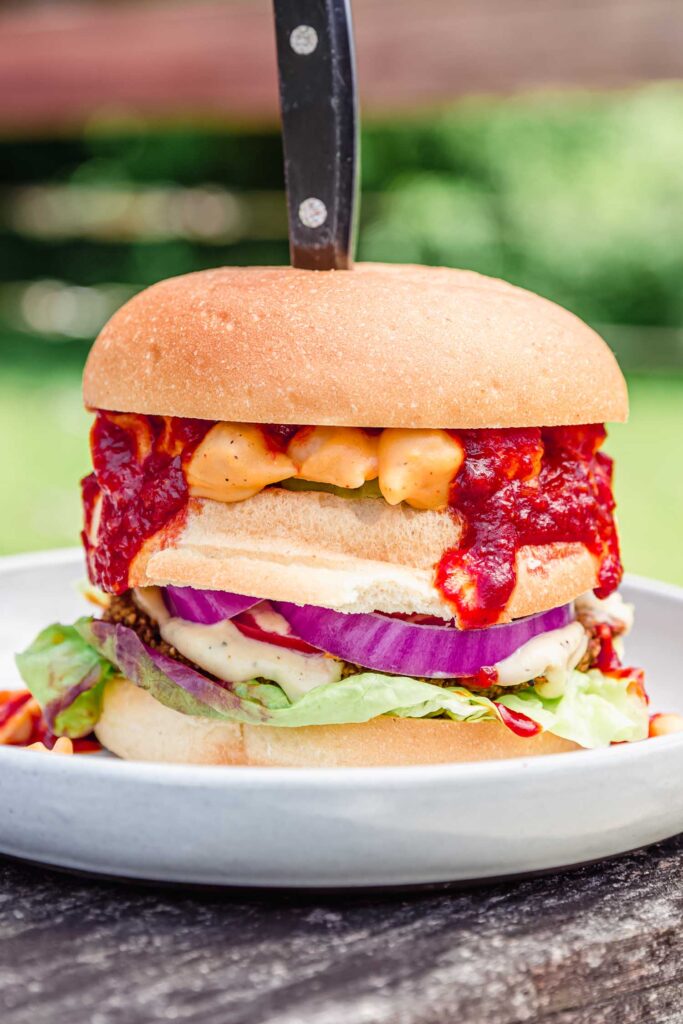 Ingredients
While Dustin uses olive oil in the recipe to sauté the onion; as you'll see in my recipes, onion can be sautéed without oil. Simply preheat the pan well before adding the onion.
Onion and garlic are delicious aromatics, adding flavor. Bourbon adds a beautiful depth of flavor, too.
Ketchup is an easy way to bring a tomato vibe in - I look for ketchup without added sugar.
Brown sugar brings another level of deep flavor. I've found that coconut sugar works well, too.
Chili powder and smoked paprika bring the kick.
Dijon, red wine vinegar, and molasses each brings its own level of flavor.
Let's Make Red BBQ Sauce
Sauté the onion and then garlic in a large skillet, then cook off bourbon. Add the remaining ingredients and simmer 20 minutes, then blend until smooth. Easy!
More recipes in the series
The Recipe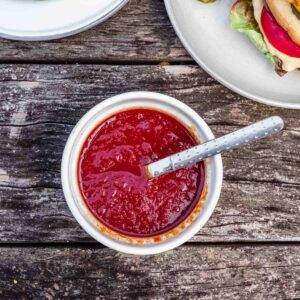 Red BBQ Sauce from the Epic Vegan cookbook by Dustin Harder
The Red BBQ Sauce recipe from Dustin Harder's cookbook, Epic Vegan: Wild and Over the Top Plant-based Recipes. This recipe is easy, vegan, gluten-free, and wonderful anytime. Yield: 1¼ cups (440 g)
Print
Pin
Rate
Ingredients
2

tablespoons

olive oil

30 ml (optional)

1

onion

chopped

3

cloves

garlic

chopped

½

cup

bourbon

120 ml

1

cup

ketchup

240 g

⅔

cup

water

160 ml, divided

¼

cup

dark brown sugar

60 g, organic (or coconut sugar)

2

tablespoons

chili powder

16 g

1

tablespoon

smoked paprika

7 g

1

tablespoon

Dijon mustard

15 g

1

tablespoon

red wine vinegar

15 ml

1

tablespoon

molasses

15 ml
Instructions
Heat the olive oil in a large skillet over medium heat. Sauté the onion for 3 to 5 minutes, or until softened. (Kari's note: I sauté without oil, just a hot pan.)

Add the garlic and sauté 1 additional minute, until fragrant.

Slowly add the bourbon and cook for 4 to 6 minutes, or until the bourbon has completely cooked off.

Add the ketchup, 1⁄3 cup (80 ml) of the water, brown sugar, chili powder, smoked paprika, mustard, vinegar, and molasses. Stir well. Bring to a simmer and cook for 20 minutes, stirring occasionally.

Transfer to a high-speed blender (see Tip), add the remaining 1⁄3 cup (80 ml) water, and blend until smooth.
Notes
Author's note: One summer I designed a menu with a friend of mine at her restaurant, Urban Vegan Kitchen in NYC, for a pop-up dinner with a BBQ theme. We wanted to include as many styles of BBQ sauce as we could on the menu. I'm delighted to offer a couple of the variations to you, as these BBQ sauces came about from nights of testing them over and over, making the smallest adjustments with my dear friend Pamela Elizabeth. Both are super tasty, but the white BBQ sauce won over the crowd at the dinner; hopefully it does the same for your hungry family and friends.
Tip: Blenders and heat don't mix! Either let the mixture cool completely before transferring to the blender, or remove the plug from the top of the blender and cover with a towel. Start blending on low and increase the speed until the mixture is smooth and creamy.